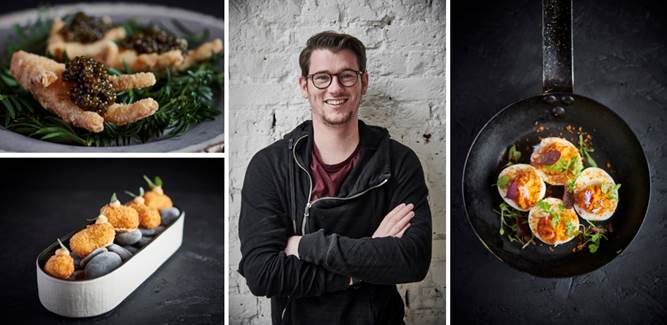 Adam Handling will launch a new casual, sustainable restaurant concept in collaboration with Cadogan, Quintessentially Foundation, and The Felix Project.
Ugly Butterfly will be a restaurant, Champagne bar, and "sustainability conversation hub", and will open on the King's Road, Chelsea, on Wednesday November 13.
"Aiming to demonstrate that zero-waste can be luxurious, and creating something beautiful from ingredients which are usually thrown out, Ugly Butterfly represents the second generation in sustainable hospitality," an announcement said.
The chef has joined forces with Chelsea enterprise Cadogan, as well as funding group Quintessentially and London-based food charity The Felix Project to launch the new venture.
All dishes will be made from the parts of ingredients that are usually discarded as waste, most of which will come from Adam Handling Chelsea, with an emphasis on the four most-wasted foods – bread, milk, eggs, and bananas.
The menu includes some daring dishes created by Handling and his team at Adam Handling Chelsea (located at the Belmond Cadogan hotel on Sloane Street), such as deboned crispy fried chicken feet with caviar; cheese doughnuts made with left-overs from the cheeseboard; banana bread and chicken butter; lobster shell soup; broccoli stalk Caesar salad; retired dairy cow tartare, crispy potato peelings; and reformed doughnuts (made with leftover bread) and overripe fruit jam.
2.5% of the takings will be donated to The Felix Project to support their many projects fighting food waste, while the restaurant will also act as a community space for a number of other charitable schemes. As well as dining, Ugly Butterfly will look to support vulnerable people and provide opportunities to talk about facing up to the food challenges of today.
Said Handling: "This is such an exciting collaboration. Across my restaurants and bars we have a strong commitment to achieving zero waste and in setting up Ugly Butterfly, we can help to move the sustainability agenda forward even further by bringing together the pioneers in sustainable food and drink, fashion, business, furnishings, technology, arts and crafts and giving them a home for some really interesting discussions.
"We want everyone to be able to drop in for some really tasty food, and delicious Champagne, and to contribute to building awareness of how we can live our lives, every day, on a more sustainable basis."
Hugh Seaborn, CEO of Cadogan, said: "Adam was a breath of fresh air when he opened his destination restaurant on Sloane Street earlier this year – we are delighted to champion his brave zero-waste ethos further at this exciting new venture and use it to stimulate conversation around sustainability more widely, as well as raising funds for the impressive Felix Project.
"Ugly Butterfly resonates strongly with our ongoing commitment to long-term stewardship and reducing environmental impact; we hope that it is a creative way to inspire the community, both residents and businesses, to think differently for the future."
CEO of The Felix Project, Mark Curtin, added: "The Adam Handling Restaurant Group is leading the way defining a new responsible and sustainable business model; we at The Felix Project are extremely grateful to be chosen as their charity partner and excited to help Adam and his fantastic team push the message of food waste reduction and sustainability in such an innovative and exciting environment."