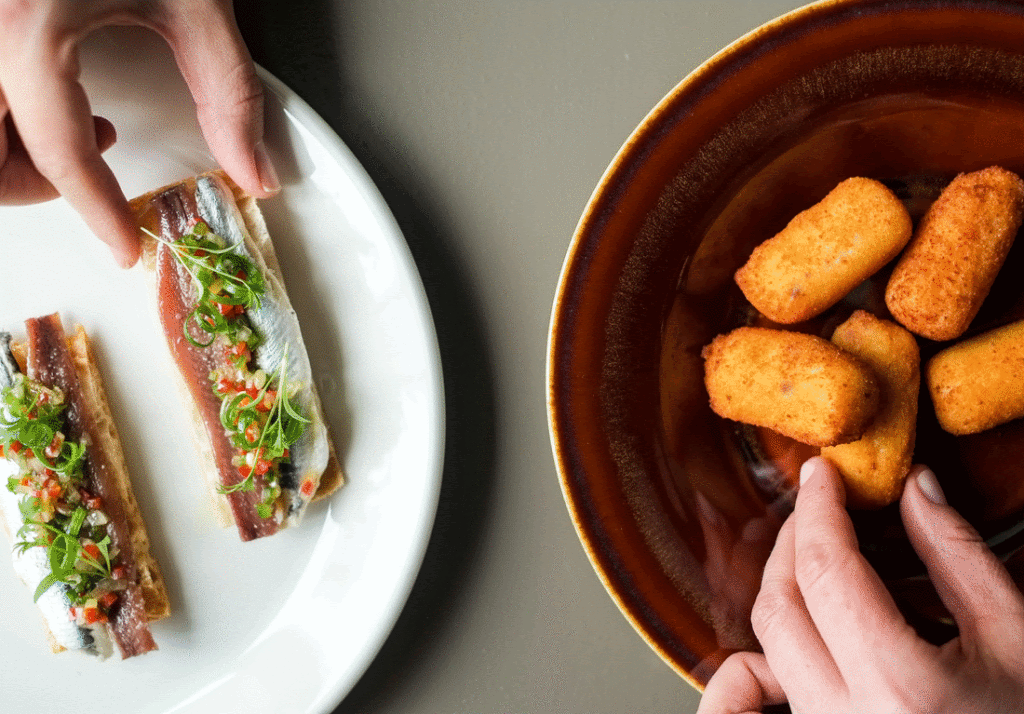 This November, the husband and wife team behind Mimo, the award-winning cookery school and chef's table, will launch Batera, a pintxos bar at The Borough Market Kitchen.
Meaning 'together' in Basque, Batera will draw on the culture of the pintxos bars that line the streets of the old town in San Sebastian, where Jon and Nicole Warren founded Mimo. The bar will serve seasonal, daily-changing pintxos made with Basque specialties and British produce, sourced from bustling Borough Market itself.
Batera will offer pintxos from executive chef Joseba Lasa and head chef Ander Macho. As in Basque country, a line-up of different tortillas will be sliced throughout the day, with fillings such as salt cod, local cheeses, or foraged mushrooms.
Higher-end dishes will include olive oil confit cod with piperade, leek and black olive confit; crab dressed in smoked oil and lemon zest, with spicy miso mayonnaise; and guindillas and pyke caviar. A changing dish of the day might include the likes of red wine braised oxtail .
Batera will also be pouring Zapiain cider from a height, just like the cider houses of San Sebastian, using special cider glasses to hold chilled, 100 per cent natural 'sagardoa'. There'll also be beers, wines, both predominantly sources from the region and from wider Spain.
"Mimo was originally inspired by the food culture of Basque country, so it was a natural choice to found our cookery school in San Sebastian back in 2009," said founder Jon Warren.
"Now we're looking forward to bringing more Londoners together and introducing them to the best of San Sebastian at Batera in Borough Market: where the emphasis is on fantastic produce, a respect for everyday dining, and a convivial approach to eating."
Recent News from Harden's