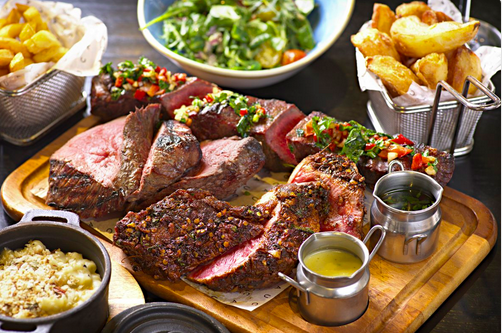 Having last year emerged from a bruising year, its casual Cau brand gone, and with the appointment of a new CEO, Gaucho will celebrate its 25th anniversary in 2019 with a bold new strategy, and a new site in London.
To mark the milestone, the group said it has set out a "socially responsible vision for the way restaurants operate both socially and environmentally: in particular, the production of premium beef."
The new 128-cover restaurant will be on Charlotte Street in Fitzrovia. Billed as "Gaucho 2.0", the venture will launch on December 9 and will come armed with "a host of new features, innovative approaches and design aesthetic." The updated look will eventually be rolled out across all 16 sites.
There'll be a steak bar, cinema screenings, "destination cocktails", and an expanded wine list concentrated on Argentina and the new world. All will be under the watchful eye of CEO Martin Williams, who took charge as Gaucho emerged from administration.
Gaucho's aim to forge a new, persuasive brand, are timely. Most importantly, its current ratings no longer hit the heights they once did, and while some reporters find the experience "fun", many have come to believe dishes are "overpriced" and that there are better alternatives.
In any case, the food will be overseen by culinary director Mike Reid, a long-time Gaucho stalwart.
Starters include scallop ceviche and a selection of empanadas, while classic cuts of steak will take centre stage. The main crucial difference seems to be that Gaucho will aim to be as environmentally friendly as possible. But with climate change concerns not going away any time soon, it seems a smart move to take the brand back onto the front-foot in this regard.
More from Hardens