Here's our regular summary of what the national and local restaurant critics have been writing about in the week ending 12 June 2022.
*****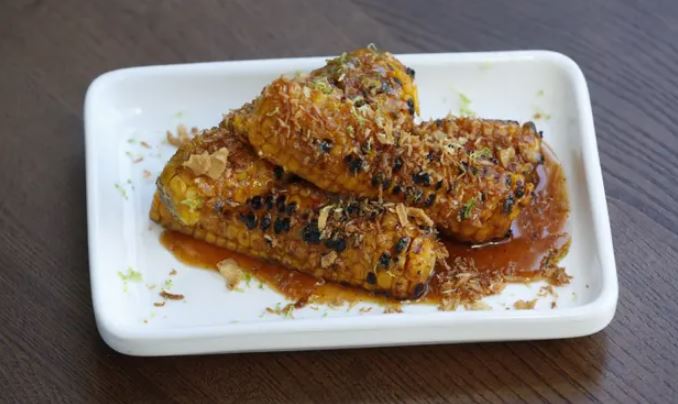 The Observer
"Can you enjoy a good meal in a bad building?"
Jay Rayner was in Edinburgh pondering an odd question; it was pertinent as the restaurant he reviewed, Ka Pao (a "boldly eclectic southeast Asian bistro where they thrill you with big flavours and thrill you again"), is in the St James Quarter development that's been "nicknamed "the dog turd" by many in the city".
Edinburgh is a city not known for being "massively keen on major architectural change"; even so, "there's no denying the impact of that aspect of the St James Quarter on the skyline" – especially its likeness to "the poop emoji".
"It is meant to be a joyous, elegant urban retail "experience"… in truth it's just a bloody great, soulless shopping centre".
But more about the restaurant: Ka Pao (Thai for 'holy basil') is "tucked away on the fourth floor which, courtesy of Edinburgh's hills and a delicate rip in space and time, somehow also manages to be at street level". Sibling to the Glasgow original (which occupies a "dreamy art deco building"), it offers "borderless cooking" that's "a proper slap about the chops. It's bold and exciting, every dish a bang of flavour and intent."
The sharing plates include "most diverting" corn cobs (pictured) "slathered with a sweet salty coconut, shrimp and lime sauce. Eat them as you would spare ribs. Protect your shirt".
At the end there's a "very reasonable bill" and a trip home through the shopping centre, which "sours what should otherwise be a beguiling experience".
*****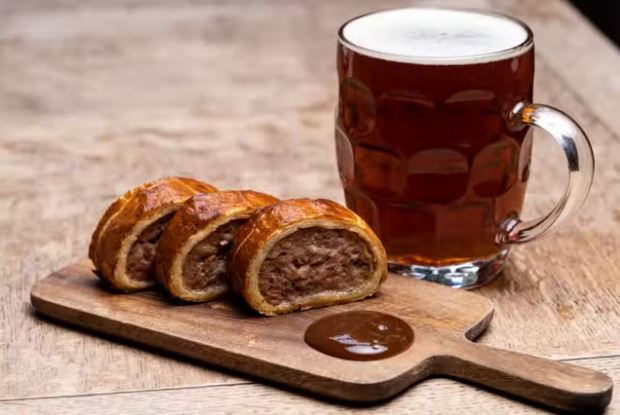 The Evening Standard
"A big-hearted endeavour… the kind of warm, inviting atmosphere that makes you never want to leave."
Jimi Famurewa ventured out west (west London, that is) to visit "gastrobombed" boozer The Pelican, which "has stood on All Saints Road since 1872".
"I got the distinct sense of a pin having been recently pulled on a tasteful interiors grenade." Despite this, and the staffing issue that meant he could only eat from the "expansive bar menu" ("augmented, here and there, by evening dishes that had already been prepped"), the meal was "characterised by gutsy, sneakily creative food" from chef Owen Kenworth.
Even better, it's "already a convivial gathering point for an eclectic local crowd", a "reminder that pubs, if they are any good, truly feel like they belong to the community".
*****
Also in The Standard, news that Mei Mei's founder Samyukta Nair is to open an izakaya called Koyn in Grosvenor Square, and James Cochran is to open Valderrama's, a "sports bar fuelled by fried chicken" on July 7.
*****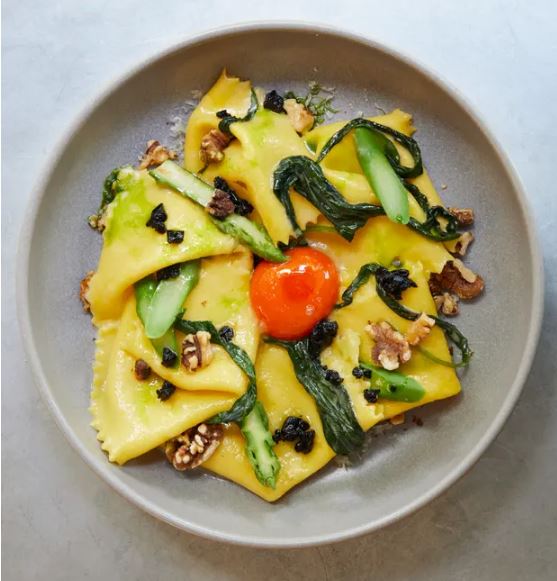 The Guardian
Grace Dent reviewed Noci, "a casual Italian restaurant on that pretty, green part of Islington's Upper Street " which, "like many of the restaurants I visit these days… is well-meaning, pared-back – and slightly wonky".
"I chose to visit Noci partly because its pricing felt relatively sane compared with many other restaurants at the moment." In the world of fine dining, "we are now in the era of £250-plus-a-deposit tasting menus… Fine dining, I fear, will soon be only for multimillionaires, so places such as Noci are vital".
The other reason was chef Louis Korovilas's "simply irresistible" dish (pictured) of "silk handkerchief pasta with walnuts". ("The calorie count on the menu helpfully points out that those handkerchiefs contain 734 cal. Thank you so much, Boris. We were almost enjoying ourselves for a moment there.")
"My Noci experience is symbolic of a lot of my eating out nowadays: functional, occasionally delicious, sometimes slapdash and lacking any pizazz. I am rapidly losing reasons to leave the house."
*****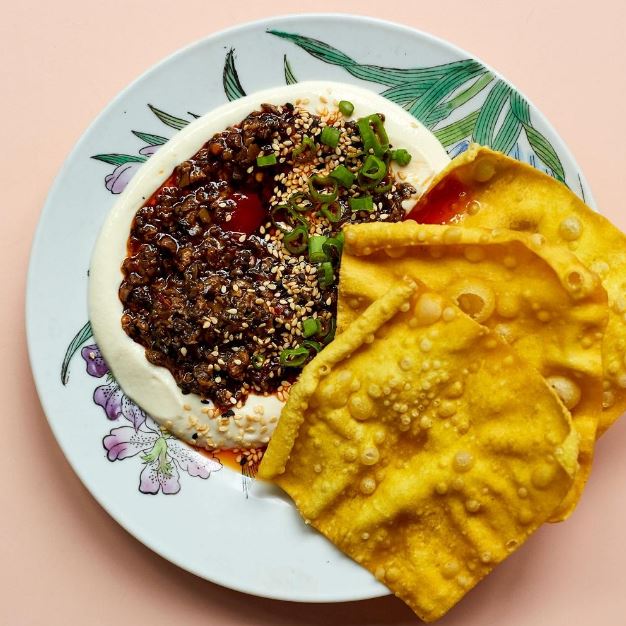 The Sunday Times
Unable to secure a booking by phone, Marina O'Loughlin turned up at Karamay in Homerton High Street at "6pm on a Tuesday evening, a slot guaranteed to have availability almost anywhere on the planet. But the place was heaving, as was the reservations list for weeks to come.
Having done all the research required on the Muslim Uighur diaspora from China, she was disappointed, and looked around for an alternative. In stepped Lucky & Joy, a Chinese that "isn't pretending to be purist or wildly authentic". But it was "super-cute" and "kitsch" and delivered some impressive food.
"Dish after dish appears from the grill-scented open kitchen as it's made. Each one is a small revelation." Much of Marina's meal was "almost accidentally vegetarian", but "carnivores aren't overlooked".
"Green beans in pork mince… virtually has me face-planting in the little plastic platter. It's bellowing with flavour", while the cold starter of mapo mushrooms (pictured) was a "sensory riot".
"Coming to this candy-coloured, smoke-fragranced little joint is the happiest of accidents."
*****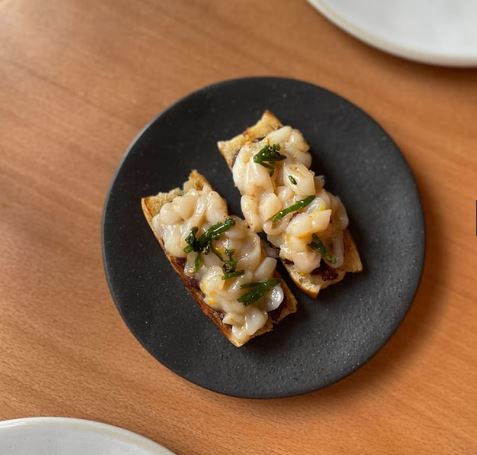 The Independent
"If you think you know traditional Portuguese food, think again."
Hannah Twiggs reviewed Lisboeta, Nuno Mendes' "bold return to the London restaurant scene" on London's Charlotte Street, where "rubs shoulders with some of the capital's trendiest restaurants" and delivers "a creative menu (with the occasional misfire) and a sexy setting".
Mendes is "probably known best for two things: a certain fearlessness in the face of stuffy diners in search of the best Instagram photo, and deeply caring about the cooking and the story behind it."
"It was hard not to linger in the "Snacks, Charcuterie and Cheese" section" (she's been thinking about the Morcela sausage and razor clams on toast ever since).
"For what it is and where it is, it's fairly inexpensive, too."
*****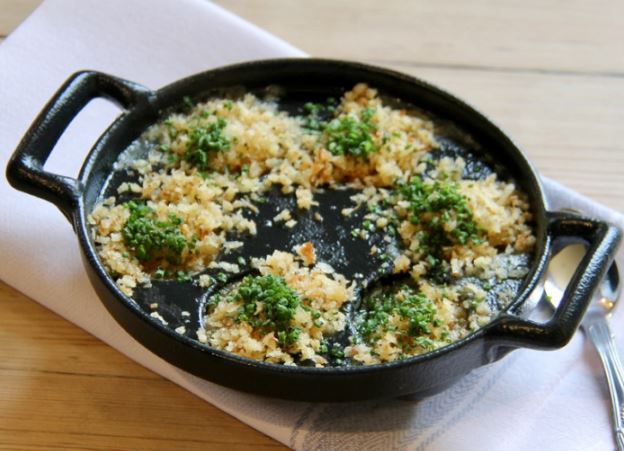 The Mail on Sunday
"Technical skill and attention to detail combine with unashamedly big flavours and an innate culinary intelligence."
Tom Parker Bowles for YOU Magazine in was in Berkshire, at The Beehive in White Waltham, where a "rainy day… is brightened by pub grub a step up from standard gastro fare" that's "posh but not pretentious, with service to match".
Chef-owner here is Dominic Chapman, "not just a scion of a great cooking family (his father Kit is the man behind the Castle Hotel in Taunton) … but a man who trained under Heston Blumenthal … and Rowley Leigh".
"His cooking sits somewhere between the two, precise and inventive, but classic and gutsy, too" make this country pub a Beehive "with more honey than sting".
*****
And also…
In her regular Tatler column, Fay Maschler paid a visit to The Aubrey, the "Japanese izakaya experience with lashings of Knightsbridge luxe" that's the newest restaurant to open at the Mandarin Oriental Hyde Park, taking over the space vacated by "Daniel Boulud's much-appreciated Bar Boulud".
The decor – as the name suggests – is "inspired by the artist and dandy Aubrey Beardsley" and the influence that "Japonisme" had on his life. The menu, which "kicks off with oysters and caviar and utilises A4 Kagoshima wagyu tenderloin, Ibérico secreto pork and Alaskan king crab leg" , accompanied by "inventive bespoke cocktails" and "rare sake" is not for the faint hearted: "there are ways to eat more casually and less expensively".
*****
Giles Coren for The Times took himself off to Detox Kitchen to see if some healthy eating would help his gout.
*****
In The Scotsman, Gaby Soutar reviewed "excellently-named" Shucks, the hotly-anticipated "new seafood restaurant… owned by the team behind Glasgow's Michelin-starred Cail Bruich, Epicures and Brett",
"It's rather lovely inside, with a smallish bar downstairs and a smart mezzanine level, where you can see their coppery fish scale wall art."
The on-the-bone Shetland plaice was "downy and perfect, like eating oceanic candyfloss".
*****
In The FT Magazine, Tim Hayward insists that "you'll love this little French bistro. Especially if you order the pouffe-sized croque" at Funky Cellar in London's Spitalfields, which "has simple hospitality, '70s decor and a sense of humour".
*****
The Birmingham Mail visited Varanasi, where Johnny Depp apparently spent £50,000 on hiring out the whole place, which is the biggest restaurant in the city; it "really is amazing – and a hidden gem. It felt a bit like a fantasy, rather too good to be true. The décor was decadent, sophisticated and stunning" and the food was a "taste sensation".
*****