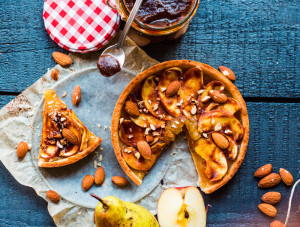 French haute cuisine, the wellspring from which culinary magic seems to flow across the world, has been sidelined of late in favour of rusticity, simplicity and (let's face it) dirty great burgers. But can the classics ever truly go out of style? Surely we all just need a gentle reminder of France's culinary prowess? Well, as we near Bastille Day (14 July) Harden's is here to champion champignons à  l'ail, cry 'confit de canard' and promote pâtisserie. Here are the UK's top 30 French restaurants according to our 2016 survey…
LONDON
£55 and over
£72
"A haven in a busy part of Soho" – this "delightful"Georgian townhouse is "made all the more special by having to ring the doorbell" to enter, and once inside, its "peaceful" series of rooms "exude romance". However "it's the food that's the key element" – Alexis Gauthier's "top-league French cuisine" features "brilliant flavour combinations", and is matched by a "varied and exciting" wine list, while staff provide "wonderful hospitality from start to finish".
Top Tip – "the lunchtime deal is amazing value".
£132
London's oldest temple of Gallic gastronomy narrowly missed the No. 1 slot in this year's survey, but for its legions of fans remains "the absolute pinnacle of fine dining". Established by Albert Roux nearly 50 years ago (and run by his son, Michel Roux Jr for the last 25), its hallmark style combines "richly indulgent" cuisine (overseen by head chef Rachel Humphrey) and an "astonishing, predominantly French wine list", served in a "classy" if "dated", "'70s-France" basement setting, while it follows a pleasing, "slightly anachronistic"formula ("jackets required for men, ladies' menus don't have prices"). "Ever-attentive, charming and unostentatious" staff add further to the experience, as does the "accessibility and personal attention" of the main man, who is much in evidence. The price? – best not to ask, but the set lunch is "stonking value".
Top Menu Tip – soufflé Suissesse.
£83
"The wonderful flavours of Southern Europe"("sharing plates, that are not your typical French food: much lighter and fresher", prepared to "an incredibly high standard" and with "everything tasting of its ingredients and the sun!") – plus a "fantastic", Côte d'Azure atmosphere to match, inspire "simply outstanding" feedback on Arjun Waney's "busy and noisy" Mayfair haunt… even if "prices are flabbergasting" and "it's something of a hedge fund canteen".
£112
"In spite of another chef change, it goes from strength to strength!" – David Moore's "intimate"Fitzrovia townhouse is one of the capital's most enduring havens of gastronomy, with "very precise, fine attention to every detail". "Staff are charming from start to finish" and Andy McFadden's "assured" cuisine can be "extraordinary" ("he makes the food burst into life!") There's "one of the best cellars in London" too, presided over by the "helpful and hugely knowledgeable sommelier", Mathieu Germond.
£134
"You may feel you've taken a sip of something psychedelic!" as you take in the "fabulously camp"decor of this "spectacular" Mayfair dining room, overseen by superstar chef, Pierre Gagnaire. The idiosyncratic cuisine can be "fantastic" too, but the "complicated" combinations can also seem "too clever by half". Hallucinogens may be advisable on arrival of the bill…
Under £55
£51
Ed Wilson's "intelligently thought-out" dishes "always give the same hearty, down-to-earth impression" ("simple, with no pretension, but clearly demonstrating a superb level of skill and creativity, and great ingredients") at his East End venture (nowadays under his sole ownership). "It's a light and bright room" epitomising "the best of East London design hype – an ex-workshop, with exposed brick, and zinc things", and "those who dine in the back room have the benefit of being able to see the open kitchen". The "unusual and intriguing" wine list "is not a brief read, but it rewards those who select 'off piste' options".
£39
"A touch of France in the centre of London" – this "buzzing" two-year-old "feels like it's been in Soho for years" and is "an excellent place for the price". "Traditional-ish Gallic dishes with a tapas twist" – "rustically presented and packed with flavour" – include "a good selection of regional French cheeses and charcuterie". 'Blanchette East' opened in mid-August 2016 on east London's curry mile, with a similar menu, but also new Southern French and North African dishes.
£45
"Are you sure this isn't really in a French suburb?"– this "real Gallic bistro in Bermondsey" serves "classic bistro fare with a twist" from a "simple and well-executed menu" on "a daily changing blackboard". "You'll have to breathe in to sit down in this tiny place when it's busy, but it's worth it!"
£53
Created originally as an auction house – the "lovely airy space" creates a "classy" but "refreshingly unstuffy atmosphere" at this favourite legal-land rendezvous (whose best seats are in the "wonderful booths"). Service is "swift", and the Provençal cooking is "exceptionally good (and never too heavy)".
£45
"Interesting regional French dishes (if in slightly modest portions for the price)" inspire lots of affection for this "cute little French bistro" in Smithfield (near its parent, Club Gascon). "It's great for business lunches", but the "lovely casual Gallic ambience" is also "perfect for date night" too.
Top Menu Tip – "the foie gras duck burger is worth the coronary!"
UK RESTAURANTS
£230
"On a fine summer's day, nothing can be more enchanting" than Alain Roux's Thames-side epic (founded in 1972 by his father Michel), whether you are "sipping pre-dinner cocktails on their electric launch (and looking forward to a sumptuous meal after you glide back to the dock)", or "sitting under the willow tree watching the boats go by as you sip a vintage champagne". A further boost is provided by its "absolutely impeccable" service ("nobody runs a better dining room than maître d' Diego!"). When it comes to the classic haute cuisine, however, there seemed to be "a number of question marks" this year and its rating sipped a notch; it has always been "eye-wateringly expensive", but even some who praise the food as "exquisite" can also find it "unimaginative" or "dated" in style ("like taking a time machine back to the '80s"). That's still a minority view however; on the vast majority of accounts this is a case of "perfect food in a perfect setting".
Le Manoir aux Quat' Saisons, Great Milton
£198
"One of the most beautiful places in the UK"; Raymond Blanc has created "a jewel-like experience" (especially for couples who stay over in one of its rooms), at this "immaculately kept"Elizabethan manor, in a small village south of Oxford – "an iconic destination" (and the survey's most mentioned outside London). "From the moment you step out of the car", the "staff's welcome instantly makes you feel at ease", and a visit to the gardens – including the large kitchen garden that partly supplies the dining room – is an essential part of the trip; "even in the icy cold of February they are a pleasure to wander around", and "make one truly believe that fairy tales are indeed true!" For some reporters the atmosphere in the dining conservatory itself is exceeded by other elements of the experience, but quibbles in this respect are few. Meanwhile, if there's a gripe about the "beautiful and typically French haute cuisine", it's that some find it "slightly lacking innovation" – but for the vast majority of guests its "finesse" and "awe-inspiring attention to detail"contribute to an overall occasion that's "a benchmark for all things good in hospitality". Naturally it's best not to dwell on the prices, but the overwhelming verdict is that it's "worth it!"
Andrew Fairlie, Gleneagles Hotel, Auchterarder
£133
Andrew Fairlie's "romantic" dining room in this famous Scottish bastion won particularly strong ratings this year, with top billing going to his "pretty much perfect" cuisine. "Sumptuous dishes"feature on a "perfectly balanced tasting menu which flows splendidly, and lets the amazing ingredients sing", and come with "an accompanying wine flight that's impeccably matched and presented with great aplomb by the sommelier". It's a windowless space, but fans "like that it's closed off" – it's "like stepping through a door into another world…."
£109
"Mark Wilkinson seems to be taking the cuisine to another level" at his "small but perfectly formed"12-cover foodie Mecca, on the fringe of Birkenhead. His "dazzling, flavour-packed and perfect" dishes are married with "playful" décor and "superb and attentive" service. "Hard to get a booking, but worth the hassle!"
Martin Wishart, Cameron House, Loch Lomond
£108
Martin Wishart's "lovely restaurant in an amazing setting on Loch Lomond" has beautiful views and is extremely "romantic" ("we felt like we were the only people on Earth!") Prices and/or portion size inspired flak in some reports this year, but most feedback is rapturously positive, describing "food and service that's always fantastic".
Winteringham Fields, Winteringham
£107
"We travel miles, spend hundreds on trains and taxis to get there, but it's worth it!" – Colin McGurran's "comfortable and stylish" retreat, near the banks of the Humber, is "back to its best after a few years in the wilderness". In particular, its 7-course and 9-course tasting menus are "exceptional", with "a fabulous wine selection"and "staff are very professional, knowledgeable, and charming". "We love it and just wish we lived nearer!"
£79
"The Box Tree is class, and exudes it from its every pore!"; Simon and Rena Gueller's "special and quirky" institution is "that very rare thing these days: a posh restaurant (jackets for men, tablecloths for tables, sculpted butter, eau de toilette in the gents, etc.) serving classic food in the French tradition… might one call it the Gavroche of the North?" Results are generally "faultless" – from Lawrence Yates's "meticulously prepared", "classic-style cuisine", to the "amazing and extensive wine list (you could spend some serious money getting into very rare wine here)", and the "wonderfully relaxed yet civilised ambience".
£75
"I cannot understand why this simply sublime restaurant has yet to achieve a Michelin star!" – inexplicably, Laurie Gear's "classy" operation in Old Amersham continues to fly under the tyre men's radar. "Chef Laurie always seems to be in the kitchen, and the entire team provide a genuinely warm welcome combined with professional service" in a setting that's "very pretty and cosy". "Fabulous tasting menus deliver so many flavours and textures"…"some dishes are so memorable, and all are delightful", and it's good value too – "at the high end of fine dining and the lower end of the haute-type price bracket!"
£75
Not 100% French, but heavily influenced by Gallic cuisine thanks to founders Stephen Toman and Alain Kerloch's time in some of Paris's finest kitchens. This acclaimed riverside three-year old wins raves for its "fantastic" food and "great eclectic wine list" (courtesy of their next-door wine bar the Ox Cave); "opt for a tasting menu with matching wines, or just sit in the Cave and nibble on amazing cheese and charcuterie".
£74
"You don't expect to find such sophisticated and refined food in the wilds of Wales", but prepare to be wowed at Stéphane Borie & Sarah Francis's "beautiful" inn. "They have stopped doing à  la carte and now only offer a tasting menu" – the latter is "truly outstanding".
£67
Perhaps Michelin should take one of the stars from the nearby Hand & Flowers and give it to Michael Macdonald's "wonderful" venture? "It's like having a world class chef invite you to his house" – "the dining room is tiny and it can feel like eating in a home" – but the "exciting" cuisine is "always brilliant", and "staff are attentive and knowledgeable too".
£64
"Regis Crepy's brilliant restaurant in the heart of Lavenham never falters" and wins praise in many reports for a "perfect meal from start to finish". It occupies an "exquisite" timbered building, and provides "classic French cuisine, locally sourced, served in style, plus a great place to stay". What's more, "being taken into another room to peruse the amazing cheeseboard is always a treat to be relished!"
£64
"THE place to go in the Eastbourne area for a memorable meal", say fans of this "excellent", long-established (but contemporary-style) venture in a beamed building with marvellous views of the South Downs; its "stylish cooking" shows a strong Gallic slant.
£62
"Another scintillating year for this outstanding local" – a "French-influenced" restaurant-with-rooms, which is "supplying increasing amounts of food to the Orient Express", and where food and service achieve the "highest level"; it's certainly consistent ("in 20 or more years of visiting we have never had a poor meal!")
£60
This "ever popular French gem lost in suburbia", delivers "a really enjoyable experience every time". The interior is "slightly poky", but that's the sole caveat: service is "with grace and kindness"with "excellent attention by owner Sarah" and the cuisine is both "faultless and sensibly priced".
£56
"Just lovely", "immense attention to detail", "beautiful fish dishes", "A1 service", "top-class environment"…the superlatives flow in feedback on Pascal and Karine Canavet's "very French"luminary, near the cathedral of this gorgeous town; its speciality is "fresh fish, cooked to perfection".
£56
A visit to Bernard and Jane Lignier's "sublime" Gallic stalwart is "like being transported to a small town in the Midi"; Jane "is attentive, friendly and efficient", while Bernard oversees a "great gastronomic experience" – "the difficulty is choosing, with every dish being so inviting".
Yalbury Cottage, Lower Brockhampton
£54
"Worth a huge detour"; reporters have "absolutely no complaints" about Ariane & Jamie Jones's "tiny"yet "charming" and exceptionally "welcoming"cottage-restaurant, in a village on the outskirts of town. "Every delicious item is home made" and comes "in very generous portions, and at good-value prices".
£53
Ex-Waterside Inn chef, Josh Overington's "tiny"(seven-table) venture, a follow-up to the Blind Swine, is "excellent on all levels". "The most important thing you have to do is trust" – "there's no menu", so you just choose "six or nine courses of whatever the kitchen is preparing that day" – and "you will get the most extraordinary meal". It's a "bloody bargain", too!
£52
"A piece of France in the New Forest"; from its "superb" location ("overlooking a green, where ponies frequently wander by"), to the "very well-cooked and well-presented French cuisine at reasonable prices", and a wine list "full of unusual South African rarities", Claude Laage's Gallic operation is a real "gem" and "terrific value".
Recent News from Harden's