Here's our regular round-up of what the nation's restaurant critics were writing about in the week up to 7 May 2023.
*****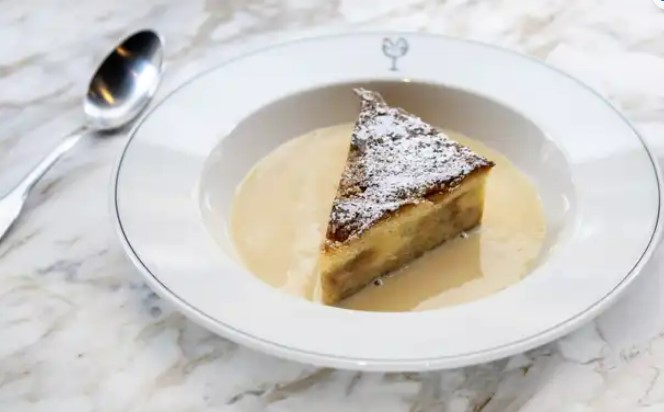 The Evening Standard
"Days after visiting, I am still trying to fully compute each nook and cranny of its stylish, subtly affecting excellence."
Jimi Famurewa gave his top score to Story Cellar in Covent Garden; "ostensibly a Paris-inspired rotisserie chicken spin-off of Tom Sellers's two Michelin-starred Restaurant Story", but actually a "fanatically detail-oriented team stacking a careful Jenga tower of elements onto a deceptively basic concept".
There was roast chicken and frites as advertised (albeit "with a luscious, deep savour… and the sort of nuanced, profoundly flavoursome jus that induces a body shudder") but also grilled root salad, barbecued lamb skewers, fresh pasta and XO scallops.
To finish, go for "the bread and butter pudding that may genuinely be one of London's best desserts" (pictured) – Jimi described it as "just about the most abominably pleasurable thing I've experienced at a dining table in months".
Now's the time to go, when the staff of Restaurant Story team are cooking while the flagship is undergoing refurbishment. (*****)
*****
Also in The Standard, news of a new plant-based Sri Lankan restaurant that's opened in Dulwich; Trinco is a "community focused, sustainable restaurant" that pays homage to the food of owner Vibushan Thirukumar's childhood.
*****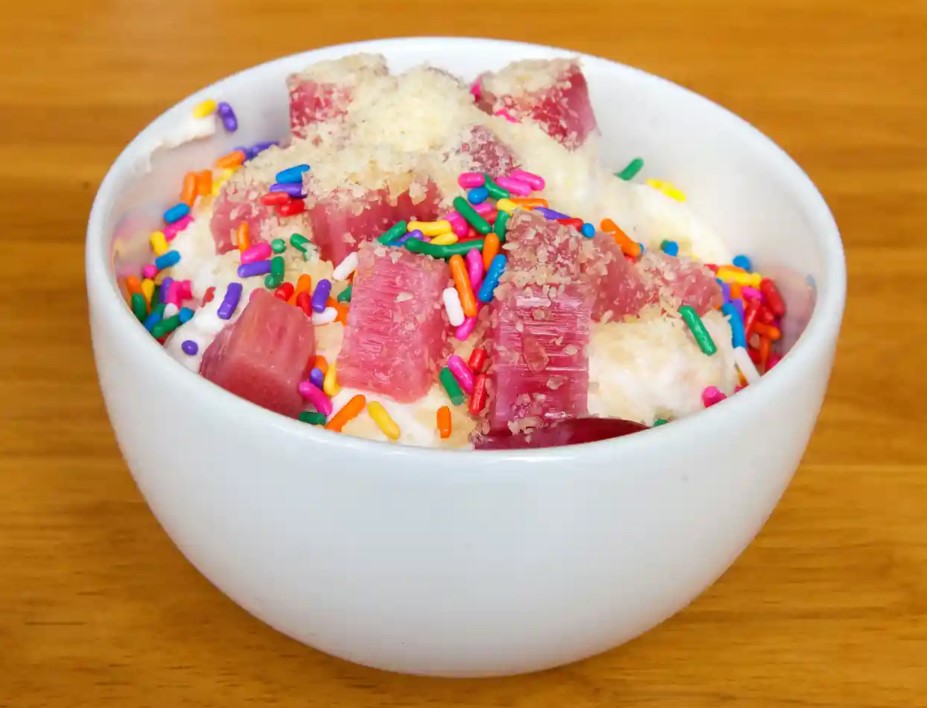 The Guardian
"For anyone older than 28, a quick shufti at Matthew Scott's menu and Charlie Carr's wine selection will probably provoke an "old man yells at cloud" reaction."
Grace Dent visted Papi, the permanent site for the team who have been behind the "Hot 4 U pop-up" over the past few years, bringing the "foie gras-wrapped Mini Magnum" and militant winelists to London. "Hot 4 U's menu wording was chaotic, while the vibe was dreamy and a little revolutionary."
Thankfully – or not, depending on your view on foie gras Magnums – "Papi is a proper restaurant in London Fields, and its menu seems a little calmer". And actually, "Scott is such an accomplished cook" he doesn't need to hide "his talent behind perceived wackiness"; the "small plates selection… was all executed with great finesse".
"If you go expecting chaotic cooking, loud music and an abundance of offal, you'll be disappointed. Instead, Papi is genteel." There are still hints of the former "zany reputation", though, including "jubilant, multicoloured sprinkles" on the dessert (pictured).
*****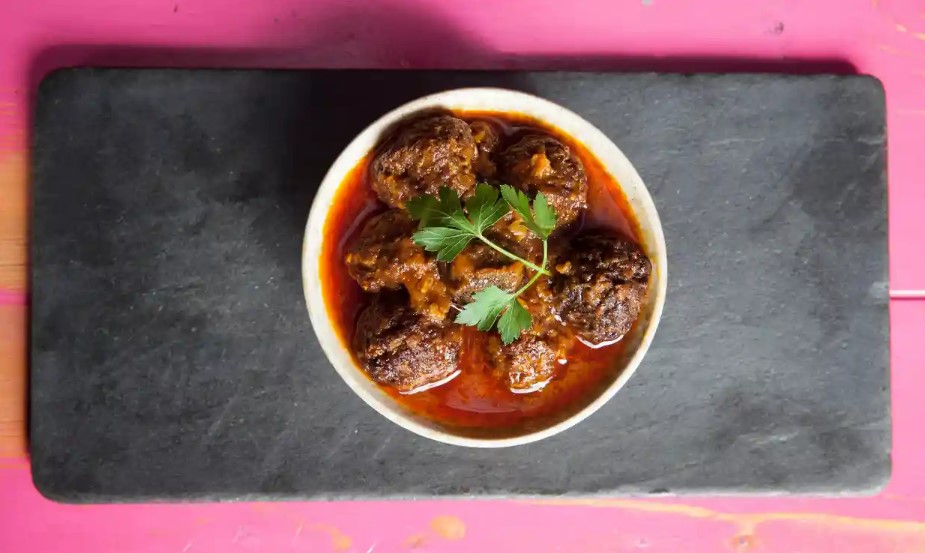 The Observer
Jay Rayner made a trip to the south coast, to Plymouth, where his BBC Radio 4 Kitchen Cabinet show was on tour, and took a large group to eat at Toot, a Persian restaurant that opened a few years ago (near the site of those felled trees that lost the Tories the recent local elections).
"Inside, there are saffron-coloured walls to match the rice and rough-hewn furniture in candy crush shades."
Between the nine of them, they ate "an awful lot of things. We tear at soft folds of warm flatbread, and mop and dredge and mop again." Rice arrives, as do kebabs and a "sour and savoury and compelling" stew.
"If there was ever a rice Olympics, which is a sporting tournament I could very much get behind, those cooking it in the Persian way should easily take the gold. God, it's good."
"Toot gave us a very good time indeed and at a very good price."
*****
In his News Bites column, Jay shares news of the opening of several restaurants in the Saudi capital – including "British-born" brands including "Richard Caring's Sexy Fish and Scott's and the JKS backed restaurant Gymkhana" – while simultaneously pointing out that the crimes of the "famously repressive" regime include "the murder of dissident journalist Jamal Khashoggi".
*****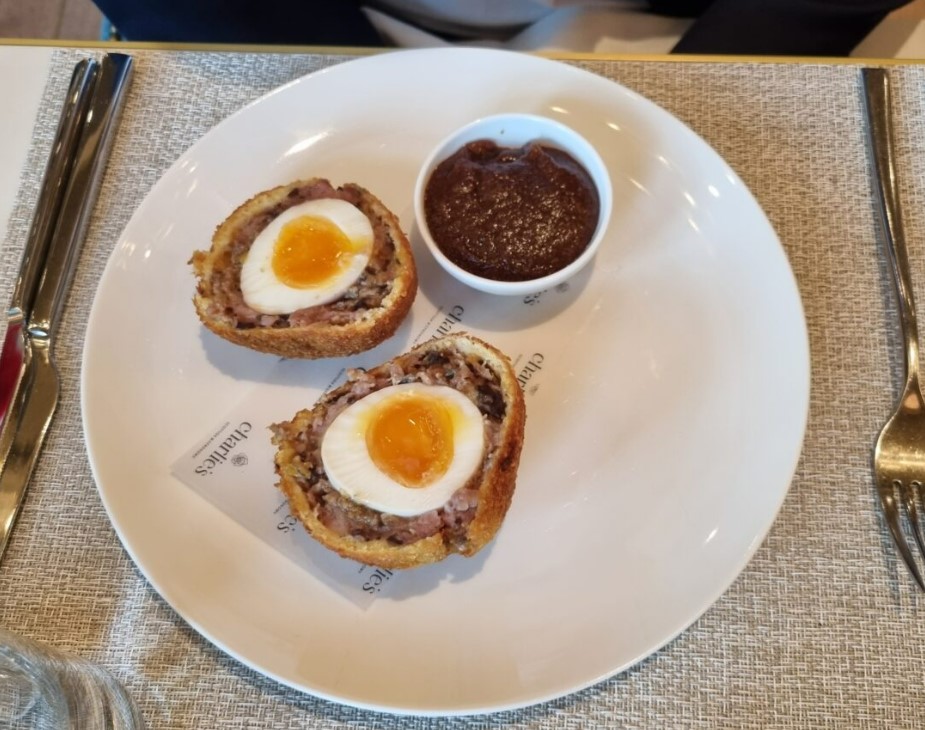 The Scotsman
Gaby Soutar reviewed Charlie's restaurant at the new SCHLOSS Roxburghe hotel in Kelso. It's the all-day eating spot, offering "Scottish bistronomy" – "the jewel in their crown will be their fine-dining Sunlaws restaurant, which is due to open soon-ish".
"The grub is relatively casual, but pricey" – the haggis Scotch egg (pictured) was an "expensive snack" at over £15. (15/20)
*****
Also in The Scotsman, Rosalind Erskine reviewed The Skillet on a Glasgow site that's seen several restaurants come and go in recent years; "we visited within the first week of opening and were instantly impressed with the look, feel and service which was friendly but not intrusive from the get-go".
"While the food… didn't blow us away, it's a nice neighbourhood restaurant that deserves a second visit." (13/20)
*****
And also…
In the FT Magazine, a review of Nessa, a restaurant "on the corner of old Soho and slick Mayfair" that "brings out the best of both worlds": 'It feels a bit like the future".
*****
Manchester Evening News took a peek inside the newest branch of Rudy's; the two-floor pizzeria "seats up to 170 covers and will soon boast Rudy's first pizza school".
*****