Our weekly round-up of what the national and local restaurant critics are writing about, for the week ending 6 December 2020.
Post-lockdown, England is now operating under a strict tier system that controls whether or not pubs and restaurants can open; anywhere in Tier 3 is unable to open for diners (but can still operate a takeaway or delivery service): https://www.gov.uk/find-coronavirus-local-restrictions
Restaurants in Wales were told this week that they can't serve alcohol and must close by 6pm: https://gov.wales/coronavirus-regulations-guidance#section-48600
Scotland is operating under a different system of COVID protection levels: hospitality venues in level 4 must remain closed: https://www.gov.scot/publications/coronavirus-covid-19-protection-levels/
Restaurants in Northern Ireland must remain closed until December 11: https://www.nidirect.gov.uk/articles/coronavirus-covid-19-regulations-guidance-what-restrictions-mean-you#toc-9
Please continue to ordering takeaways, DIY kits and deliveries from your favourite spots if you can; the restaurant industry and everyone involved in it need our support in what is usually their busiest time of year.
*****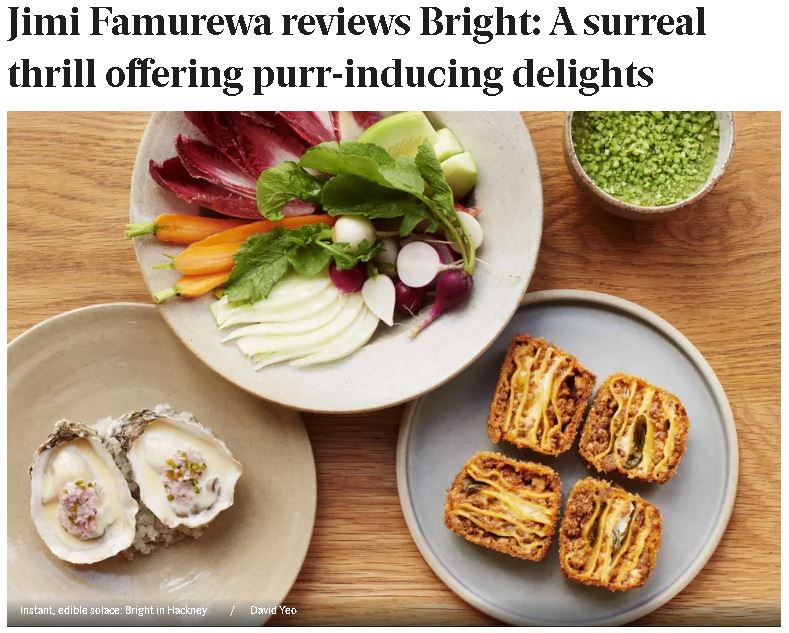 The Evening Standard
Jimi Famurewa reviewed Bright during lockdown 2, collecting his order from Broadway Market, an area that became all-too popular this summer: "even as I rolled up on a Saturday afternoon, in the depths of locked-down late November, it was a scarcely believable scene worthy of the Pyramid Stage".
Bright became famous "thanks in large part to an Instagram-approved squid sandwich", but has demonstrated qualities beyond social media hype. In this second lockdown, they "have unlocked a new level of creative purpose and vigour", with a "recent hot takeaway offering of forward-thinking, well-travelled comfort dishes" that were "a thing of profound, purr-inducing delight and enthralling, centre-of-the-universe excitement".
From the chicken sando ("a sort of Zinger burger of the gods") to "climactic sesame seed panna cotta", eaten in a nearby park "in the biting chill", Bright's new dishes were "a foil-wrapped reminder that emergency measures can still yield something magnificent".
The "feted" squid sandwich was "wholly worth the fuss", by the way.
*****
Also in The Standard, a list of "40 recipe boxes, DIY meal kits and finish-at-home dishes from top London restaurants",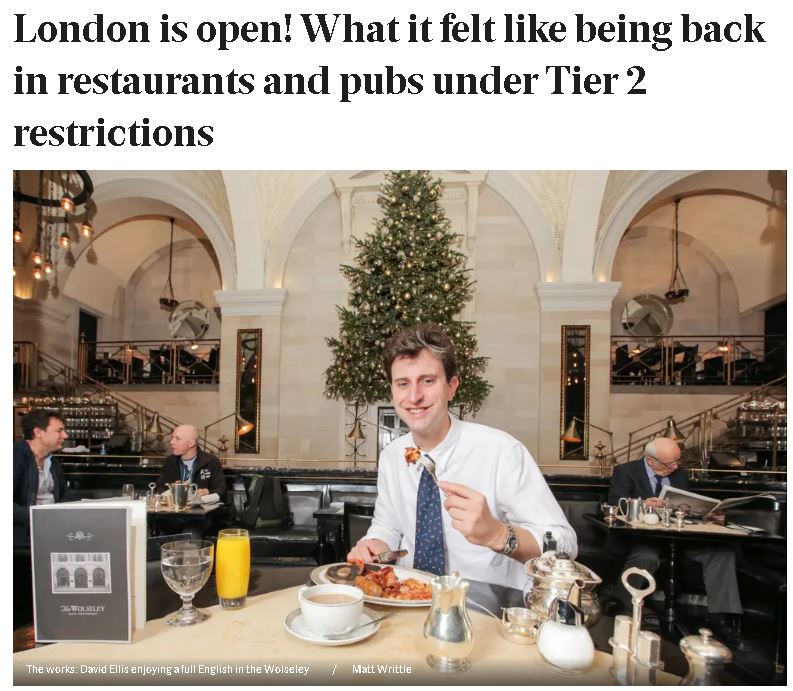 David Ellis wrote about what it felt like to be back in London's restaurants last week. He was first at the doors of The Wolseley on Wednesday. "For thirty seconds, I had one of London's hardest-to-book dining rooms all to myself." He tried to order Champagne to celebrate, only to be told he was two hours too early for licenced hours.
"Silverware seemed to shine brighter, waiters seemed to skip. Hospitality is having a hard time of it, to put it mildly, but staff looked buoyed to be back – and customers thoroughly relieved."
"On this morning's showing London, as ever, is set to make the best of it."
*****
David also caught the mood of chefs on the first night back in a separate article: "Being back in the kitchen is a joy", according to Pali Hill head chef Avinash Shishandra. "You could feel that energy from every member of staff."
*****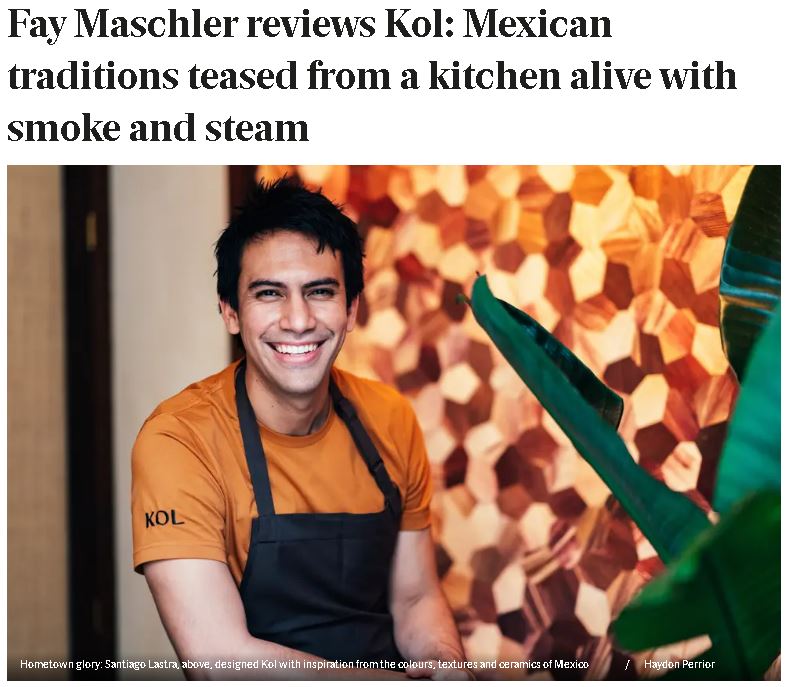 Fay Maschler reviewed Kol just before lockdown 2, and admired the "colours, textures and ceramics of Mexico" inside the venue almost as much as she admired the chef. ("He is wonderfully handsome.")
Chef Santiago Lastra's journey to opening has been longer than most: "a long road of travel, pop-ups, pop-downs" and , of course, "significantly two years ago, a seminal involvement in Noma Mexico".
"Tasting menus with a vegetarian option are the order of the day"; the whole table must have the same menu, a "doctrinal and financially demanding approach" that "is reminiscent of Noma" but justified by "the labour intensity — apparent in the open kitchens".
Seafood dishes stood out, one vegetarian dish (cevicje made from kohlrabi) was "inexplicable" but there's a notable and worthy "determination to adapt Mexican traditions to native produce".
*****
Fay's week in food included cooking mince with her sister, a Korean meal, "a Bubbleshop Home Kit with Mexican and chilli cheese dogs and a bottle of Collin-Guillaume Brut Rosé" and Dead Hippies from the new branch of MEATLiquor at Brunswick Centre (they "will be part of my life hereafter").
*****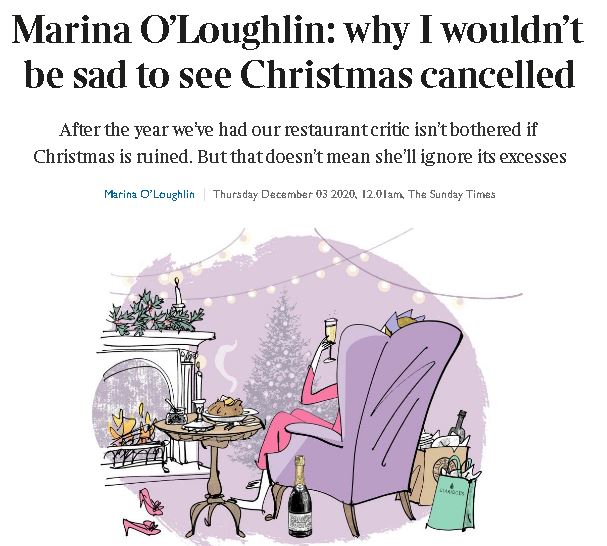 The Times
"I don't need Marks & Spencer to tell me how to spend time with my friends and family."
Self-confessed "Madame Grinch" Marina O'Loughlin is all for cancelling Christmas – "is it really worth another lockdown in January in return for a five-day Christmas slumpathon?"
It's not just for lockdown reasons, either. "The whole overblown "gifting" bacchanalia makes me feel nauseous" and she loathes the "whole stress and dyspepsia-inducing carnival" of the food preparation, especially the "screeds" written about how to prepare a turkey.
And don't get her started on the "Frankenfoods" on offer from the supermarkets – "porcini Yorkshire puddings, glittered prosecco-flavoured crisps, cheddar pocked with cranberries."
"I'll be donating what I don't spend on getting stupefied by food to, among others, the charities Trussell Trust, Foodcycle, Crisis and Shelter. And I wish nothing but love and strength to those alone not by choice."
*****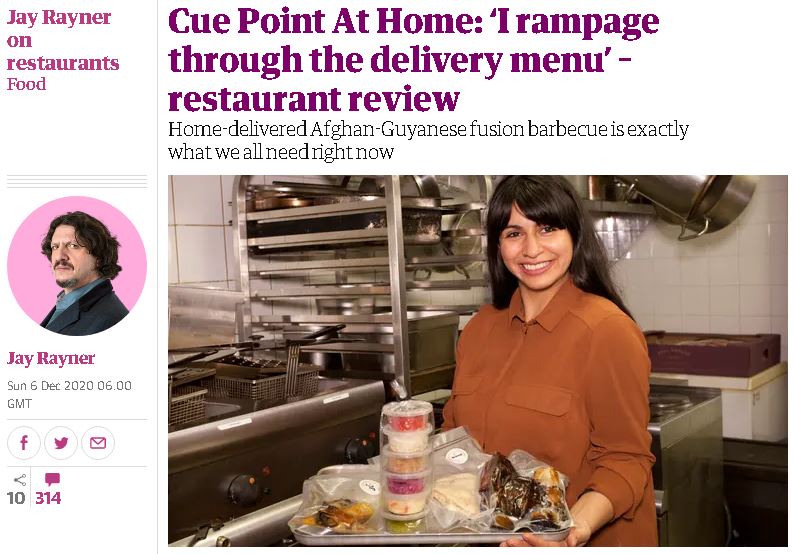 The Observer
"There are many things we want from brilliant cooks. One of them is that they do for us that which we could not realistically do for ourselves."
Jay Rayner enjoyed a home delivery of "serious low and slow barbecue" from Cue Point at Home (a "British Afghan smoked BBQ company", available nationwide, restaurant hopefully to follow), partly because he'd never attempt to make it from scratch at home, as it requires "hours of nerdy attention to detail", not to mention "spice rubs, smoke and a bucket full of high-grade testosterone".
"Before 2020 I would not have dreamed of ordering boxes of Afghan-influenced barbecue. Now it seems a logical response to the situation in which we find ourselves." His kitchen filled with the "comforting" smells of "wood smoke, of the autumnal crackle of smouldering log" as he prepared the dishes.
Cue Point is run by Mursal Saiq, who came to the UK with her family as an asylum seeker from Kabul. "She's not your classic London BBQ operator" – her business is "both halal and vegan-friendly", for starters. With her business partner ex-Smokestak chef Josh Moroney, who is of British-Guyanese heritage, she has created "palm-sized breads in which to wrap everything", a "cross between naans and tacos" that they call 'nacos'.
"I rampage through the delivery menu and end up with a tightly stacked fridge." The delivery comfortably covered two meals, ending in a "dangerous" dessert – "a wrist-thick, foot-long sausage of raw chocolate chip cookie dough. I am meant to slice it into rounds and bake it, but I start eating it raw, because that's what you do during a pandemic when no one is watching".
*****
Elsewhere, Jay taste tested "supermarkets' mince pies, cheese, chocolates and more" with chef Ravinder Bhogal in a fun, Christmas article; they agreed on only two products (and not in a good way).
*****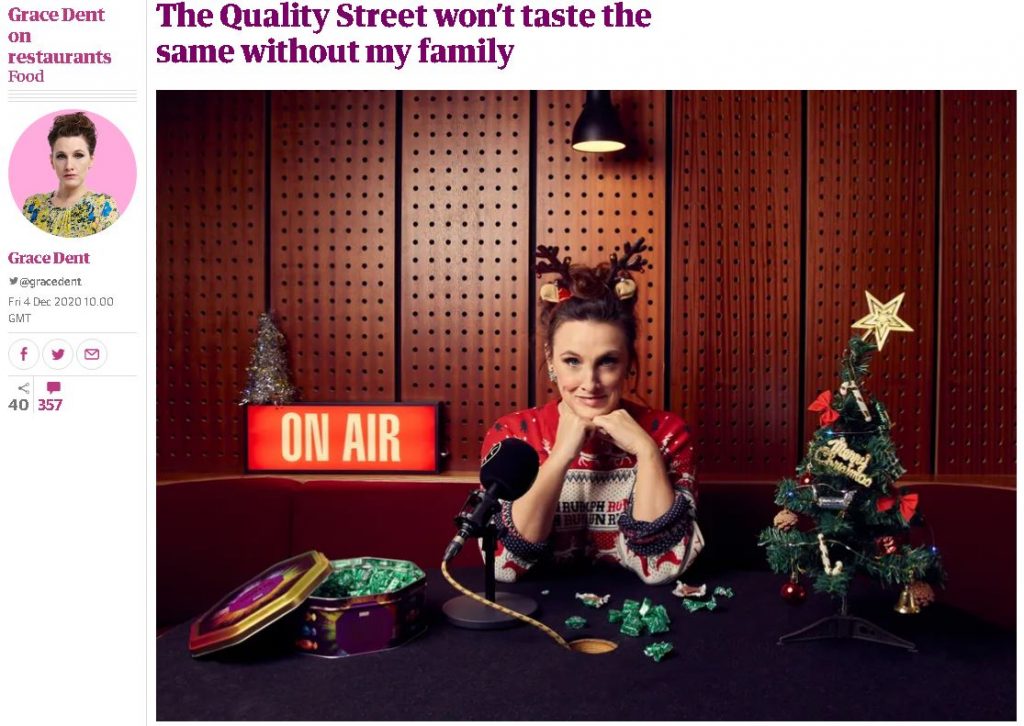 The Guardian
"Christmas 2020… will be a year of missing people and missing ingredients."
Grace Dent is working on Christmas Day this year, partly so she can "play Wham! to millions after going on air after Gary Davies", but also to avoid the "really very peculiar Christmas" bits – and people – that she won't have due to restrictions in the north of England.
"I'm running a Christmas dinner after-party for millions of listeners in their kitchens as they load dishwashers and make turkey sandwiches (pro tip: double mayo, English mustard, layer of chopped cornichons)."
Grace Dent's Festive Feast is on BBC Radio 2 from 5-7pm on 25 December.
*****
Also in The Guardian, a thought-provoking and inspiring article from "a restaurateur, a radical chef and a cook-turned-campaigner" on "what 2020 has taught us"; subjects range from Black Lives Matter to food inequality.
*****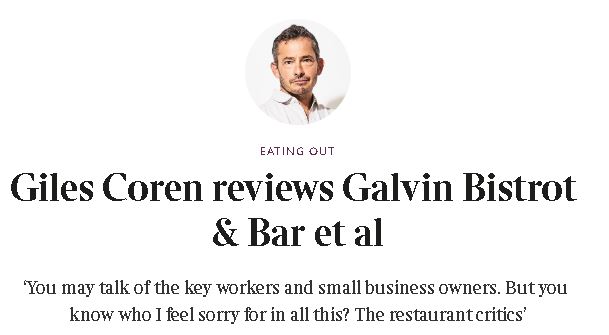 The Times
"You know who I feel sorry for in all this? The restaurant critics."
Giles Coren, in his classic, slightly offensive, tongue-in-cheek style, ignores the plight of the bankrupted restaurateurs, the out-of-work hospitality workers, the overworked carers, and the sick and dying, and goes straight for the heart of the matter – how lockdown 2 has affected him.
"Have you any idea what it's like, not knowing from one week to the next whether there is going to be anywhere open to write about? And, if there is, whether by the time you have written about it, it is still going to exist? "
Unlike the other broadsheets, his 'ready to go' reviews were shelved in favour of more of his corona-column with his wife ("me and Esther arguing about meal plans and childcare"), so the magazine kept relevant and not like "some sort of date-irrelevant in-flight magazine or timeless dentist's waiting room Reader's Digest compendium".
"I have half a dozen places here that I've been trying to tell you about for weeks. So buckle up, get a notebook and pen, and start planning your Advent days and evenings out."
"First of all, for God's sake, go to Daffodil Mulligan (8/10)" Giles visited the day they announced the first lockdown in March, and was about to re-visit his review when the second lockdown hit.
He also recommends The Spread Eagle (5/10) in Homerton as "a vegan pub that is more or less survivable" ("it's a good-looking spot" and "the staff are great") but would "more heartily recommend Flora at Joy" (8/10) from Stevie Parle, a "glorious indoor/outdoor space".
From Kkini (7/10), a new Korean in Tuffnell Park with great "takeaway packaging, presentation, attitude and efficiency" whose "banging KFC (Korean Fried Chicken)… more or less single-handedly kept my kids alive this last lockdown", he moved on to Eldr at Pantechnicon (7/10) a "beautiful, airy dining room" serving "beautifully presented, colourful modern Scandinavian cooking".
Lastly, he went to Galvin Bistrot & Bar (9/10), a "glorious repurposing of what used to be the Galvin Hop pub" where the Galvin brothers have "introduced the menu and spirit of their great first venture – Galvin Bistrot de Luxe on Baker Street – which closed to an ocean of tears in 2018". "I can't think of a better spot to get over the past few months and prepare for whatever the coming ones have in store."
With lunches planned at Taka and Big Jo Bakery, it's increasingly hard to feel sorry for him.
*****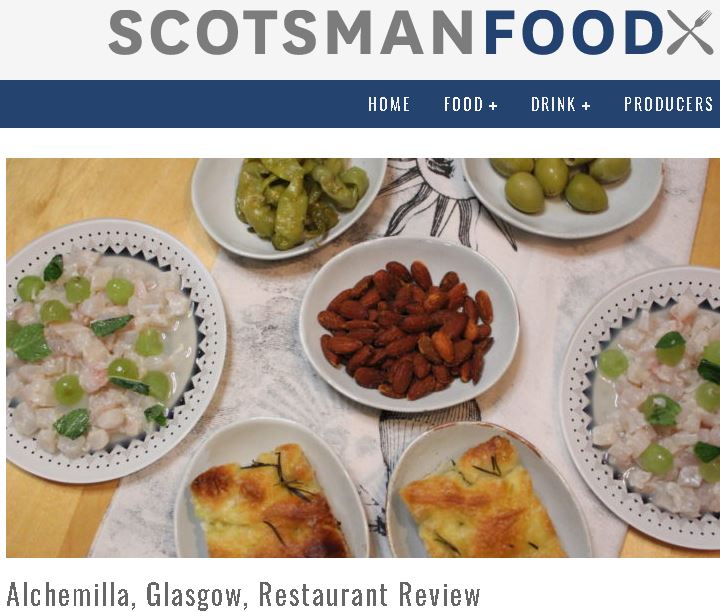 The Scotsman
Like so many of us, for Rosalind Erskine, "Groundhog Day is the lasting feeling of 2020". ("I've walked the same route around where I live so often, that even the dog is now bored.")
"Luckily, Alchemilla in Finnieston is offering a cook at home menu that'll transport customers across the world without leaving their dining room." Chef and co-founder Rosie Healey trained with Yotam Ottolenghi, and is also responsible for the newer Gloriosa, just up the road.
"Specialising in small sharing plates and a Middle Eastern and Mediterranean menu", Alchemilla's 'cook at home' kit is definitely "restaurant quality" and can come with wines and cocktails too. "With the dishes spanning Italy, South America and the UK, this is probably the only chance to travel this year – and it's a delicious way to do it."
"Cooking was minimal and each dish just got better and better. Portions are bigger than you might expect from the restaurant, making this meal not only extremely tasty but great value for money too." (90%)
*****
Also in The Scotsman, an interview with Tom Kitchin on how Covid has affected his businesses, and why he thinks that the "one-size fits all approach to hospitality restrictions" needs shaking up. "All of hospitality is under the same umbrella and I don't understand that. Restaurants are a controlled, safe environment, so are hotels." He also discussed children's nutrition, one of his passions, "winning The Catey's 2020 Chef Award" and his Swedish-Scottish Christmas plans.
*****
And also…
The Financial Times provided articles on solo dining in Hong Kong ("five restaurants where you can practice social distancing and relish the joy of eating alone") and also how chefs are emerging as menswear influencers: "The casualisation of chefs' clothing is inspiring a locked-down world".
*****
Birmingham Mail reported on Carters of Moseley, which is offering a 'posh kebab' menu on Friday nights while it is closed under Tier 3 restrictions.
*****