Our weekly round-up of what the national and local restaurant critics are writing about, for the week ending 6 September 2020.
Restaurants, pubs, bars and cafes in England are still re-opening at their own pace, and we are seeing an impressive number of new restaurants starting up. The government's 'Eat Out to Help Out' scheme successfully boosted the restaurant sector during August; several restaurants are choosing to continue the discounts this month, without the government subsidy.
Check with your local and favourite restaurants before heading there; many are still operating strict timings due to reduced cover numbers and social distancing requirement, with reduced menus and booking systems (even if they didn't take bookings before); look at their social media pages for details – all available via hardens.com.
*****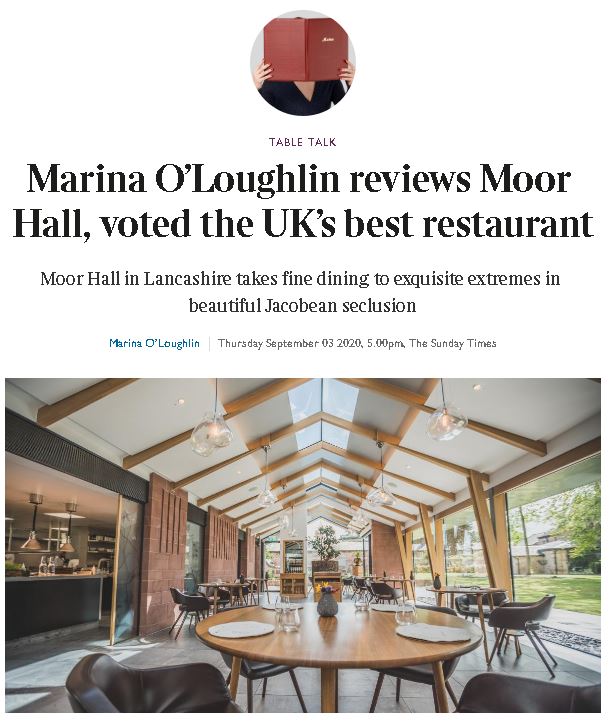 The Sunday Times
"Those of us way too invested in restaurants have been peering into very cloudy crystal balls trying to figure out what's on the other side of All This. Will the small, passionate independents die, our world falling to the corporate-ho likes of Ramsay and White on the one hand, sterile Starbucks and zombie scarecrow Tim Martin on the other? All our worst nightmares."
Marina O'Loughlin tested out her theory, starting at the very top, with Moor Hall just north of Liverpool. Regularly voted 'Best in Britain', Moor Hall is a "Jacobean manor house" with seven bedrooms (all fully booked the night she was there, so "here, at least not only is the industry's high end soldiering on, it's thriving") and a restaurant run by chef-patron Mark Birchall, ex-head chef of L'Enclume, who's "at the height of his powers".
The restaurant's "new-build extension is beautiful, airy, modernist-ish, lit by iridescent glass shades that look like magical bubbles", with an open kitchen, "a temperature-controlled cheese room", amazing lake views and a "beautiful kitchen garden".
From the tasting menu ("a full 16 small dishes"), each dish is "ravishing" and makes up "an unforgettable dinner". A single Louët-Feisser oyster was "intoxicating", tartare of raw mackerel "with tiny frozen beads" was "a tiny slap in the taste buds"; "part of the pleasure of this kind of tasting menu is the element of surprise; another part, the narrative flow. (Pretentious, moi? Under these circumstances, you betcha.)"
There's "no denying the kitchen's genius", from a strong "luxury-ingredient game" to "elements paired with wit and intelligence". "Clientele [are] dressed to the nines" and the "whole team — kitchen and FOH — is drilled not to skip a single beat".
"Backed by serious — like, serious — money, this is the sort of operation that could survive almost any calamity."
*****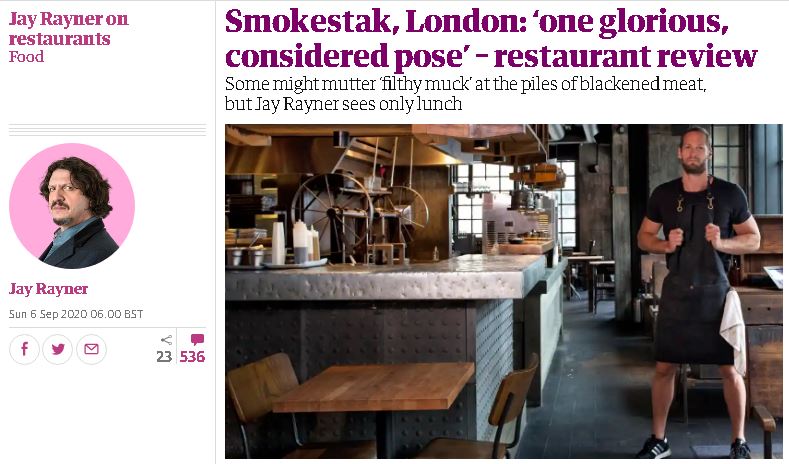 The Observer
"Is it cooked food, or something you'd cook food over? Both the sawn-off beef rib and the plank of pork belly are not just darkly sauced. They're mostly black."
Jay Rayner sees the food at Smokestak not as charred offerings, but as "joyous caramelisation and the deep flavours gifted by the Maillard reaction, when heat says hello to amino acids and natural sugars and they all get along famously." He also sees the whole restaurant for what it is, "one glorious, considered and completely uncompromising pose".
Even the decor is a giant pose; there's uncomfortable seats, raw tables, blackened walls, "ducting, and naked wiring, and rough floors and hard edges. It's catering inspired by Hieronymus Bosch." But "all restaurant design is like this", it's about "creating a space that tells you about the food you're about to eat".
"At the heart of the operation is a very large smoker, of the sort you could you use to dispose of a body. It scents both the air and the food" and "gets involved in cooking most things". Jay's starter of "crispy ox cheek with anchovy mayo" is a "powerful and dramatic plateful". The pork belly rib's "crisped, sauced, charred surface" gave way to "a thin layer of fat on the verge of melting away, and then the soft meat below". It was too warm for the sticky toffee pudding, but the "salty-sweet malt-flavoured soft serve" hit the spot, and gives Jay an excise to return in cooler weather.
"I am four years late to the Smokestak party. I intend to make up for lost time."
*****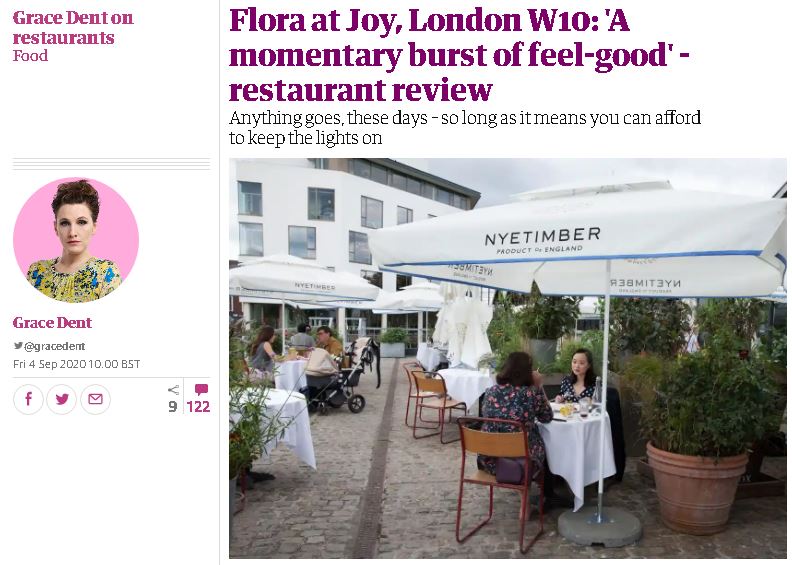 The Guardian
Grace Dent visited the old (and "gargantuan") Portobello Dock site that's been turned into a pop-up store (Joy) with a "new venture by Stevie Parle and Tom Dixon" (Flora) – it's also reviewed by Tom Parker Bowles (see below).
"Only a bold heart would call a dining spot Joy in 2020… But joy is exactly the emotion I crave right now." Seeing a friend for the first time in six months, Grace pondered on the word: "Joy is a different thing from happiness, and is much less oppressive in its demands. Joy is a momentary burst of feel-good – a menu, a glass of wine, friendship – that reminds us life is worth living."
Joy sells market garden vegetables, has bottle and honey stores and you can order organic meat there too, something Grace found "highly symbolic of hospitality land right now". 2020 "is the year for ripping up rulebooks and flying by the seat of your pants. Anything goes, so long as it means you can afford to keep the lights on, and we're going to see more and more of it as time goes on."
Weather dependent, you eat "outside on the cobbles, alfresco, while at other times it's dragged indoors to avoid downpours". (Grace rightly reminds us here that "all British restaurants that have managed to stay afloat this summer by using terraces, gardens and rooftops are now being hit with autumn temperatures, downpours and a whole new set of challenges").
She ate "feisty" cod's roe with "vegetables served Bugs Bunny-style, whole and raw", "a classic Tuscan tomato-and-bread soup and a large bowl of fresh clams with guanciale (cured pork cheek)", chicken on "juice-soaked sourdough toast", "rare wood-grilled beef" and a "lockdown lobster". Despite that list, "vegans and vegetarians will do well here" too.
"Actual happiness is slim on the ground out there right now, but there is joy in Portobello."
*****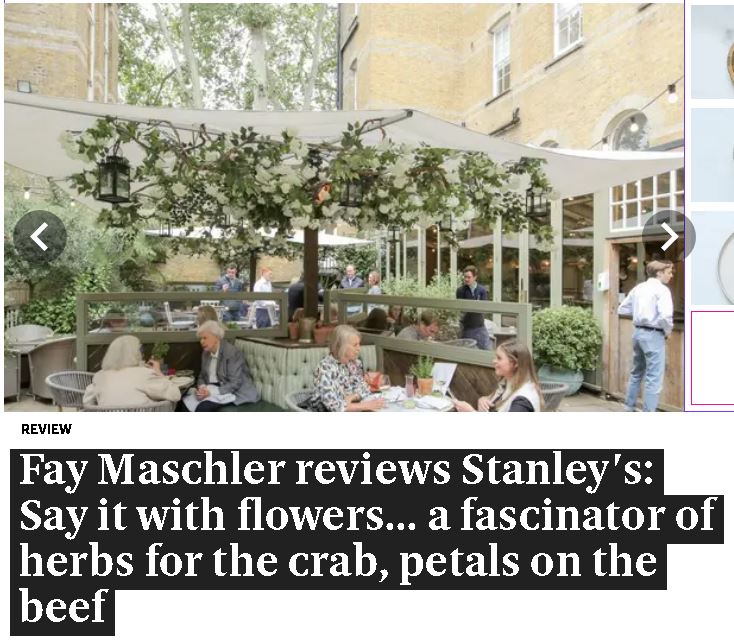 The Evening Standard
Fay Maschler dined at Stanley's in Chelsea, which her companion described as "Harry Enfield's character Tim Nice But Dim… reincarnated as a restaurant ". It has "a large terrace that allows a safe space for social distancing" and is wreathed in "bowers of white flowers".
It's new from chef Olivia Burt, a "MasterChef: The Professionals finalist and, perhaps more meaningfully, also a Roux Scholarship finalist". She previously worked at Simon Rogan's Fera at Claridge's, which might explain the "liberal use of edible flowers".
The seasoning of Fay's beef tartare starter was "wan"; we're unsure as to why "with only three choices in each course it seems perverse to offer Dexter beef as a main-course option" (Fay plumped for roasted halibut), and for pudding there was Burt's plums and custard dessert from MasterChef on offer, but she chose "a creamy ball infused with fig leaf propped up with shards of meringue and scattered with flowers" instead.
"The bar is an important part of Stanley's, and easy-going all-day hours accommodate the flâneur that a sunny day brings out in most of us."
*****
Fay's regular week in food column included dim sum at Royal China Club, pork ribs with "wild east spicing" at Gunpowder and a "Full English" at The Compasses Inn in Chicksgrove, Wilts, "the sort of breakfast heaven you only find away from home".
*****
The Standard has updated its list of restaurants extending their Eat Out to Help Out deals into September.
*****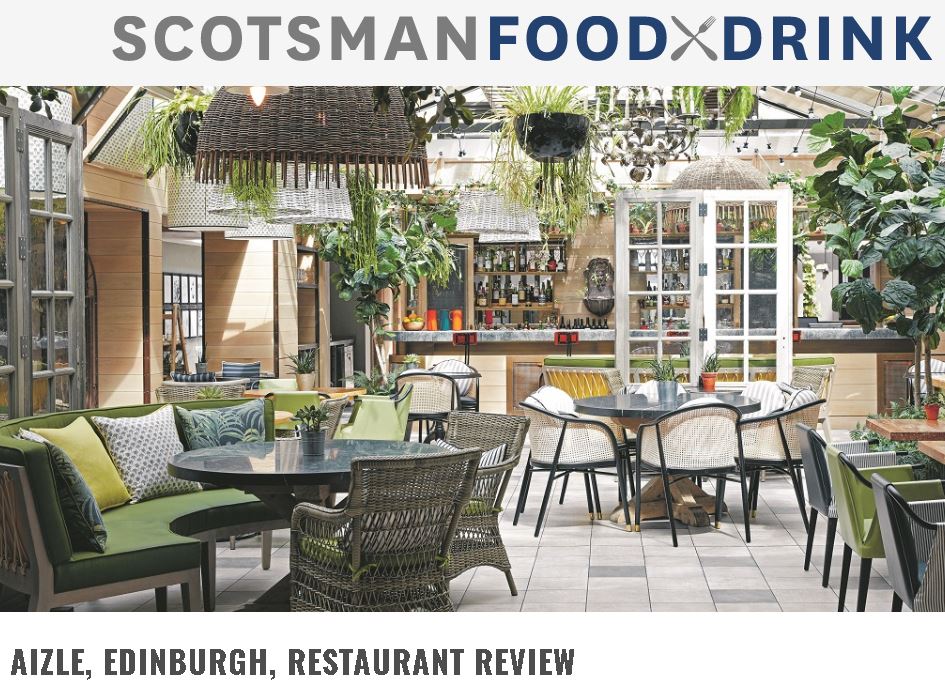 The Scotsman
"I'd kind of forgotten why we love going to restaurants. If anywhere might re-enthuse me, it's Aizle."
Gaby Soutar visited Aizle in its new location in The Garden Room at The Kimpton Charlotte Square, a central hotel (and "their Pleasance-based regulars and fans of sister restaurant, Noto, on Thistle Street, have followed them. Thus, they've been booked up since opening and we could only get a 5pm dinner slot").
It's a "greenhouse of a space, with grasses in vases on the tables, and bottles of hand gel that smell like turps" and a six-course tasting menu priced at £70.
The first course, a trio of "snacks" was "so gorgeous, chewing them to a pulp felt like delicious vandalism", all "equally heavenly".
"Course two was a riff on tomatoes. I'm not sure at what point this humble sandwich fruit stops being a tomato, and becomes a deity, but it had completed the transition." After a pause for bread, "the courses kept coming, each with equal pizzazz" with "no sagging middle". Two dessert courses were followed by petit fours; "we were supercharged all the way home".
"For Aizle, I would walk 10 thousand steps and I would walk 10 thousand more." (90%)
*****
The Mail on Sunday
Stevie Parle's "return to Portobello Dock with Flora at the pop-up Joy is a rare glimmer of, well, joyous, news. Bees buzz, the outdoor grill smokes gently, and we sit in the shade of parasols".
Tom Parker Bowles (in his new column with wine expert Olly Smith) in The Mail's YOU magazine enjoyed "hyper seasonal" and also "hyper fresh" food at the old Portobello Dock site, eating raw vegetables with "a softly saline slick of smoked cod's roe", chicken salad, clams ("the juices are so good that I slurp them from the bowl"), charred Welsh lobster, a pork chop and stewed borlotti beans washed down with " ice-cold rosé".
"Every detail is just right, from the warmest of service, to the sheer brilliance of the ingredients and cooking. It takes hard work and talent to make things seem so effortless. This place makes me very happy. Joy indeed."
*****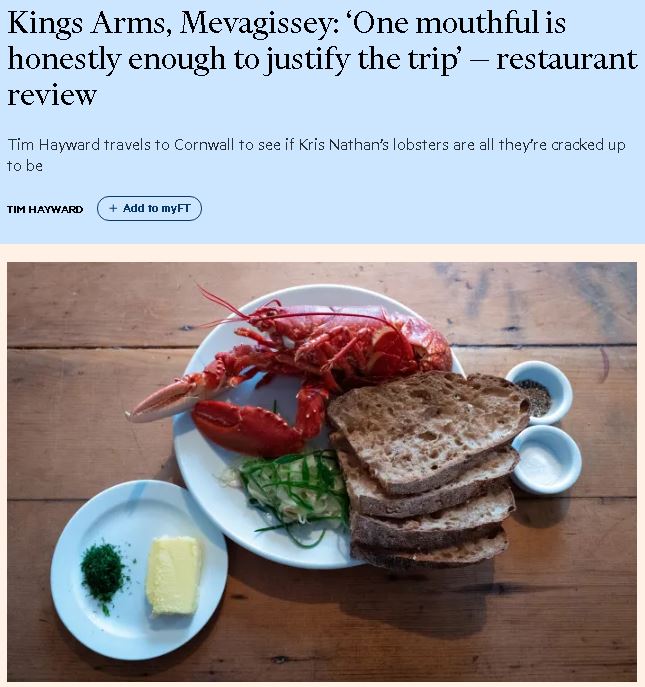 The Financial Times
Tim Hayward travelled 300 miles to Cornwall and The Kings Arms in Mevagissey "to see if Kris Nathan's lobsters are all they're cracked up to be"; and decided that "one mouthful is honestly enough to justify the trip".
"Helen and Kris Nathan met at university in Bristol" then ran The Green Man in the city for years, which gained a reputation for being an "authentically grimy" pub with "a proper wine list and spectacular food". They moved to Cornwall and bought The Kings Arms, "an equally disreputable fishermen's boozer, just off the working harbour of Mevagissey".
"It's hard to express just how minuscule, how evanescent the whole operation is. They sail, as they say, extremely close to the wind financially." The business was only just "finding its feet" when Covid-19 hit, but they pivoted, selling cooked lobsters, bread and wine from "Helen's tremendous list".
They weren't yet open again when Tim visited (they are now, with just 12 covers), so they "cleared a space among the stacked wine crates on the bar, where I can sit splendid and alone, and dig in"; "sucking the last scraps out of leg and claw, I realise that every inch of twisting road only served to build anticipation".
*****
And also…
The Financial Times also interviewed chef Daniel Boulud on "fine dining in the age of Covid" after "lockdown forced the New York restaurateur to cut back his menu and broaden his clientele".
*****
In his first published restaurant review since March, William Sitwell of The Telegraph visited Dorset and the Station Kitchen in West Bay, housed in a converted railway carriage on the edge of the old station, which he called a "surreal experience", but still gave the cooking four stars out of five.
*****
CODE Hospitality published a list of lockdown's hospitality heroes, who thoroughly deserve every commendation.
*****
Manchester Evening News reported on the new branch of the legendary Koffee Pot, which is opening on the ground floor of the Deaf Institute, in collaboration with The Charlatans' front man Tim Burgess, and also the replacement for Mr Cooper's at The Midland Hotel, which is now home to Mount Street Dining Room.
*****
Recent News from Harden's