Harden's weekly update of where the critics are eating, recommending and avoiding, for the week ending 5 January 2020 – our first round-up of the decade.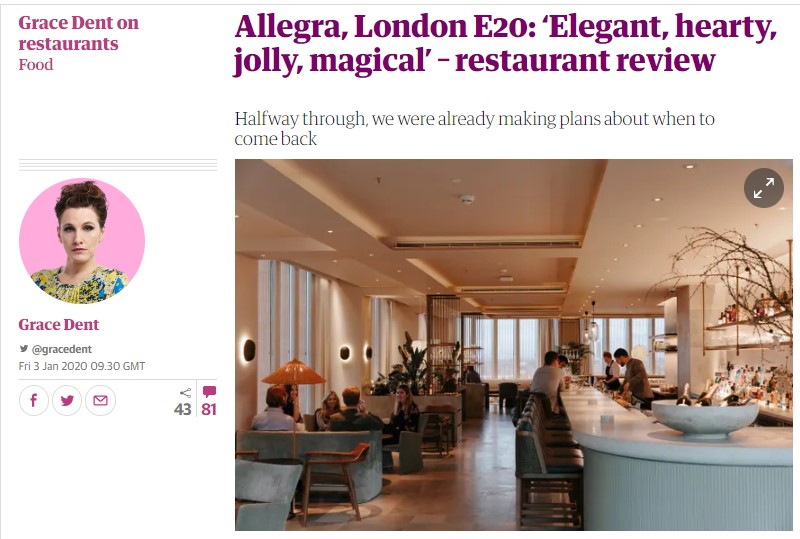 Grace Dent for The Guardian had a hard time convincing friends to join her for a meal at Allegra. It's just "so far away" and "Londoners will rarely trek right across the capital for dinner". In reality, it's "just six brief minutes by rail from King's Cross St Pancras", inside The Stratford skyscraper, "at the edge of the former Olympic Park", and the first thing you see as you leave the station, so it's hard to get lost.
And it's definitely worth the 'trek', according to Grace. "Chef Patrick Powell, formerly of Chiltern Firehouse, Wild Honey and Dublin's L'Ecrivain, is doing something… really quite magical up on the seventh floor."
Despite PR claims and photography that are trying to position Allegra as a new Noma, "sterile and Scandic, with a retro whiff of 80s yuppie", it's an "all quite taupe" room with "upbeat and flawless" service and "a brilliant Irish chef… making elegant yet hearty, jolly and wholly delicious dinners".
On the menu is smoked eel pithivier (which should always now be known by her description as "a fancy, boob-shaped pasty"), wild venison loin on roasted celeriac, and a sharing platter of rib-eye with onion tarte tatin. Grace's artichoke velouté with shaved chestnuts came with "a heavenly brioche" – she also praised the soda bread ("the most sumptuous in London") and a side dish of a side of pink fir apple potatoes with chives and sweet-and-sour onion ("an orgasmic hit of pickle vinegar, soft spud and creamy, crunchy caramelised onion ring").
It was "one of those dinners where by the midway point we were already making plans about when to come back". Nobody went to The Chiltern Firehouse ("Dante's hidden level of hell") for the food, but "Allegra's food, on the other hand, is the whole point of the schlep." (25/30)
---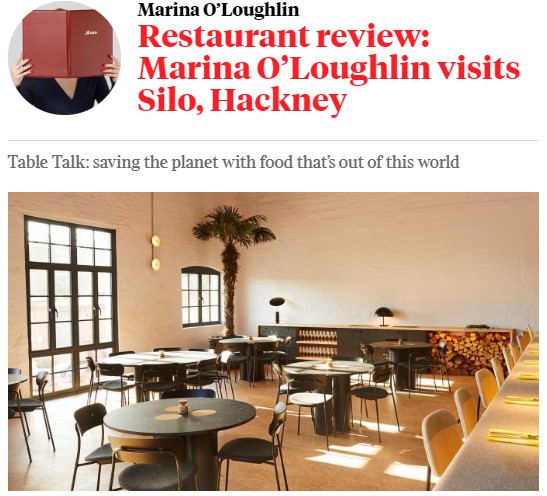 Marina O'Loughlin for The Sunday Times was looking at the bigger picture in her review this week; instead of a healthy-eating 'New Year, new you' type of meal, she headed to Doug McMaster's Silo, a zero waste restaurant recently crowdfunded and relocated from Brighton to Hackney Wick. "It's not just our bodies' consumption we need to curtail, but our world's."
It's a "beautiful… vast-windowed, warehousey space overlooking the River Lea" with all fixtures and fittings made from recycled and reconstituted materials. A "vast aerobic digester, capable of turning 60kg of organic waste into compost, overnight" removes the need for bins. It's "clear that the ambition here is a lot loftier than mere worthiness".
A six-course, regularly changing, tasting menu is the only thing on offer at the moment – it's projected onto the wall, and each dish comes with lengthy, food-cooling, descriptions ("sermons") from the "evangelical, bright-eyed acolytes" ("yes, shades of cult). Every ingredient has its own story, from the vegetable treacle made from offcuts and trimmings to the caramelised whey that's a by-product of cheesemaking.
"Nothing fails to impress throughout the whole performance."
"All you need to know is that McMaster's team manages to wreak preternatural deliciousness out of the most unlikely components… completely convincing… Complex, multilayered and sophisticated as any high-end swankpot, but with an almost living freshness and vibrancy."
"It's to be marvelled at, Silo… like cute, hip young Wombles, they've created something enchanting out of the things everyday folks leave behind"
---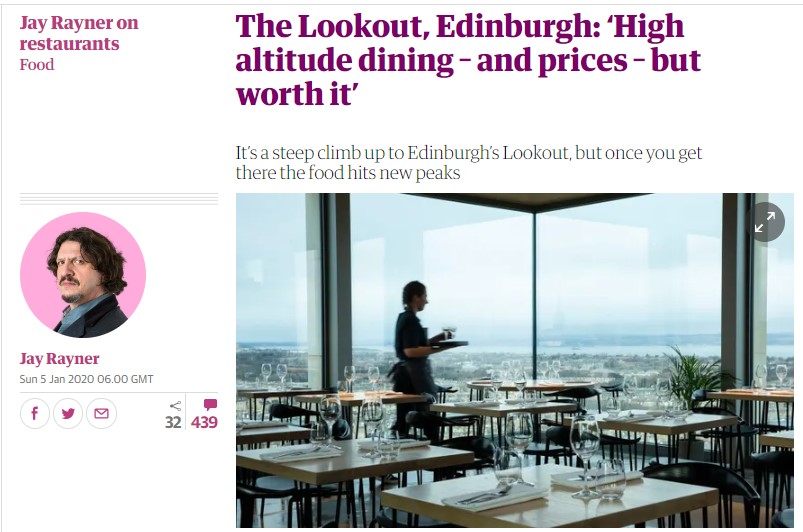 The Observer's Jay Rayner starts his 2020 reviews with a trip to Edinburgh. The Lookout makes you you work for your dinner with a "major yomp uphill" to Calton Hill's Observatory Buildings.
Outside, it's "toilet-block chic" but once, you're in, the "drop-dead, look-at-me-I'm-Instagram-ready gorgeous" interior matches the stunning views over Edinburgh to the Firth of Forth.
Like many of Edinburgh's top restaurants, it's tasting menu only in the evening (more of an endurance test for Jay); the cheaper lunchtime menu is more "worth busting your lungs for" – "simple ideas, well executed, using great ingredients in the service of big flavours". Either way, it's "high-altitude dining, with prices to match".
Jay ate rock oysters (one tempura, the others raw with XO sauce that he "ends up spooning away neat") and cuttlefish risotto topped with fresh cockles ("salty and sweet and bright"). Mains included "pearly hake" on a mess of leeks and a "perfectly grilled and glazed beef fillet". The "open kitchen with a fire grill" doesn't have quite effective enough extraction, so they'd been smelling the beef long before eating it ("be prepared to put all your clothes in the wash the moment you get home").
"With mains around the £20 mark the bill will build up quickly" (though there is a no-choice weekday three-course set lunch for £25) but – even with the trek uphill – it's "absolutely worth it".
Jay also mentioned the release of our UK restaurants guide (thanks, Jay!); "The top 100 UK restaurant list, compiled by the crowd-sourced guide Harden's from their contributor's reports, makes interesting reading. 10% of them are Indian, Kent is the strongest county in the UK, and the North West makes the strongest showing after the South East."
---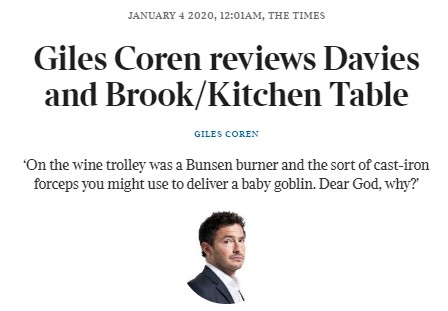 Giles Coren in Saturday's Times magazine doesn't enjoy the 'theatre' involved in many fine-dining experiences; he calls trolleys, whether they deliver pudding, cheese or Champagne, "sinister four-rollered food Daleks". So he wasn't terribly pleased to hear a wine trolley clinking its way over towards him in Davies & Brook – and that's before the painful performance of opening the bottle began, involving a Bunsen burner and giant forceps.
Food-wise, he wasn't that impressed either; from the "dingy oversweet aubergine starter" to the excess of squash and the "perfectly awful duck" that was coated all over with "whole or crunched" seeds and peppercorns "that filled the mouth with peppery grit like something dredged through spicy cat litter". (There were parts he enjoyed, and chef Daniel Humm "is clearly a lovely guy").
"I love Claridge's to bits. And this place is jollier than Fera. But oh, dear God… It's all just so … not where we are right now."
As an afterthought, Giles mentioned a visit to Kitchen Table at Bubbledogs: "I'd never thought to go, it being very much about the "theatre" of sitting at the huge horseshoe kitchen bar, watching chef James Knappett and his elves at work. But then I went as a guest of friends and was dazzled by dish after dish after dish and I decided that I loved it, after all."
---
Tom Parker Bowles for The Mail on Sunday is not a fan of the theatre ("uncomfortable chairs…  endless sanctimonious shushing" – and what could be worse than the "ruinously expensive, lukewarm Champagne in the interval"?) but he is a fan of good restaurants attached to theatres, like St John at The Bridge, and Boulevard in Soho, where he ate this week. It's attached to both a theatre and also the newly renovated Raymond's Revuebar – but he didn't go and watch anything.
Tom and his companion ate a "soft, spongy twice-baked Wookie Hole Cheddar soufflé", a whole curried cauliflower that was "magnificent, charred and still firm, with a hefty chilli kick", mushroom arancini balls, deep-fried sumac chicken and pork chops, accompanied by "very good" wines.
"They take their plants very seriously here indeed. So much so that any non-vegan dish is marked with v (vegetarian), m (meat) or f (fish). But it's all discreetly done. No grand standing or finger wagging here. Just a commitment to serious, assured modern cooking where all tastes are welcome."
"This is a serious restaurant with a theatre attached." (****)
---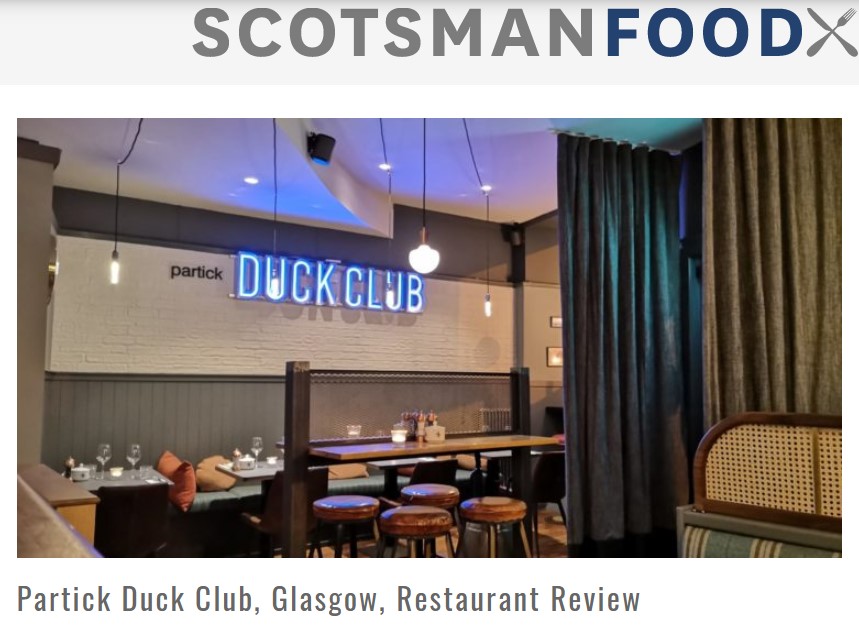 Catriona Thomson for The Scotsman reviewed a "simple, relaxed and informal dining space" in Glasgow, named after a drinking club of Glasgow merchants in the early 1800s. "Old daffy plays an important part on the menu" still, and "the drinks offerings available are extensive" – the merchants would approve.
It's a "swanky place… in the heart of the bohemian West End" with an interior that's all "cool chic and subtle hues" with "tweed-clad dining booths".
A starter of Orkney crab rarebit had "great depth and intensity of taste", and was awarded 10/10. Catriona's main, a "dark and flavoursome" caramelised shallot tart, was "equally stupendous" while her companion enjoyed the 12 hours cooked duck leg with deep-fried duck eggs.
"We loved this place." (80%)
And also…
Challenged to go vegan, William Sitwell for The Telegraph headed to San Carlo for the vegan tasting menu: "After a crispy artichoke in a dressing of sweet agave, I was aching for some actual food". (****)
In The Financial Times, Seabird was reviewed as "a great new restaurant with fantastic seafood and incredible views" – "proper, old-school rooftop-restaurant magic".
More from Hardens