Harden's weekly update of where the critics are eating, recommending and avoiding, for the week ending 29 December 2019 – our last round-up of the year. Some more critics looked back over their past visits – perhaps we should call this week's page "Review of the review of the reviews"?
---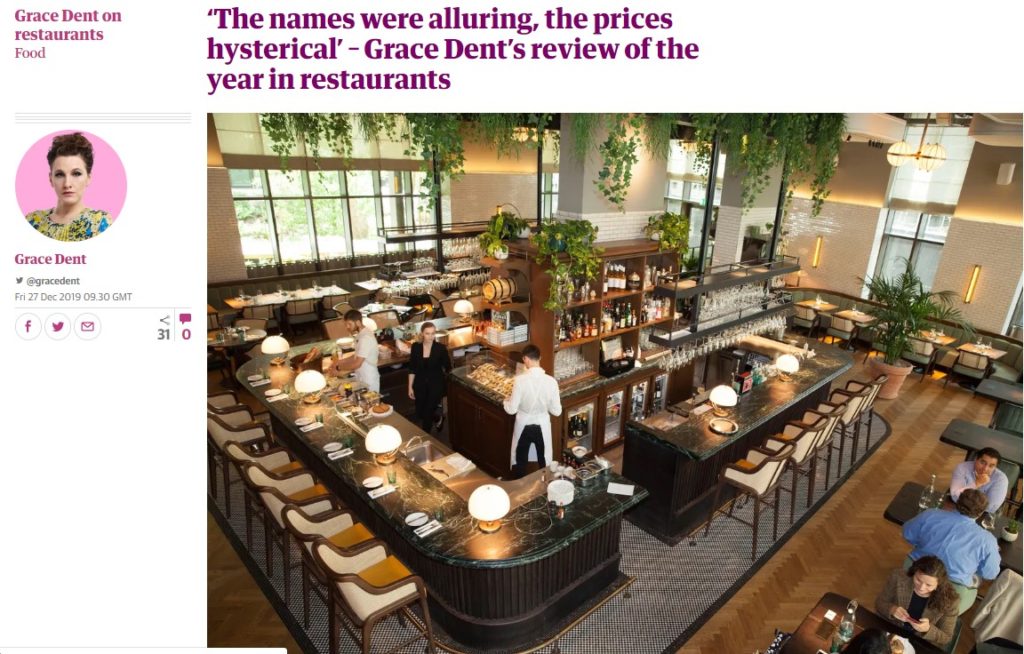 This week's 'best of the year' round-up came from Grace Dent in The Guardian. "In a year of baffling food halls, aloof 'kitchen spaces' and high-end multi-course snacking, there were a few gems worth a detour."
"Don't ask me to feign shock about the end of Jamie's Italian, Prezzo or Levi Roots' Caribbean Smokehouse. Britain in 2019 has some great casual dining… the Big Mamma group, which has dazzled London with Gloria and Circolo Popolare, proved that an 11 quid margarita pizza and a silly cocktail served with panache in a meticulously styled palace of bric-a-brac will draw queues down the street nightly."
"That said, if casual isn't your thing, 2019 also brought a plethora of places in which to burn money" – Siren, The Betterment, Arros QD, Decimo and even Lucky Cat "are all living proof that investors know there are still big bucks to be made at lunchtime".
Grace namechecked Bottega Caruso, The Folkestone Wine Company, Xi'an Biang Biang and The Yan, but her favourite meal of the year – out of an estimated 150 meals out – was Darby's, the "fancy and Irish" Robin Gill restaurant "tucked behind the brand new US embassy in Vauxhall".
"This was a year when it was vital that the cognoscenti thought very deeply about our dinners. And I do – but sometimes I just can't be bothered … I certainly didn't have any big, deep thoughts about anything when I waddled out of Darby's."
---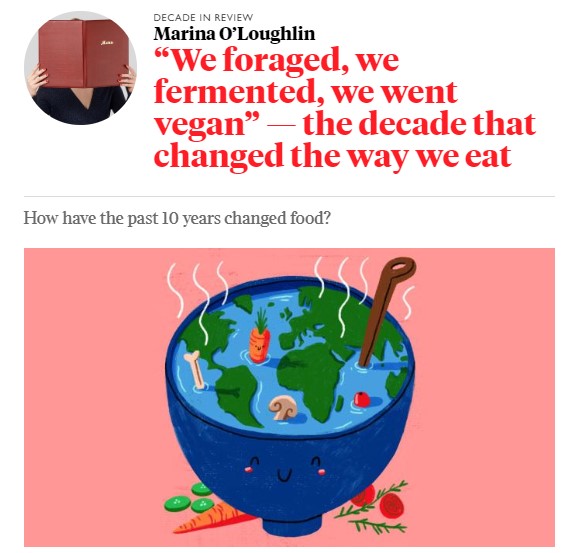 Marina O'Loughlin for The Sunday Times went one step further with a review of the decade: ten years in which "trend-defining restaurants changed almost out of all recognition". No more fancy hotel restaurants (although they are making a comeback), "food artfully arranged into towers" or feeling like the youngest in the room.
"At the high end, the Nordic factor (canonised by Noma's René Redzepi, patron saint of the movement and pin-up for many an inked and bearded chef) is unignorable." His ideas have led to "a revival of the crafts of foraging and pickling and fermenting", and to locality, regionality and seasonality being real considerations – if only they didn't all come with a side dish of "eye-gouging earnestness".
"Mid-market chains — some of them, anyway — smartened up their acts, cheerled by Wahaca, Wagamama and the excellent Dishoom", while the corporate chains run by "cynical, boardroom-led profiteering" have faltered and closed.
The street food phenomenon can't be ignored, either. What Marina calls a "youthquake", in which "eating out turned into a festival, with street food no longer the preserve of draughty forecourts and car parks" has changed the face of eating out.
Hand-in-hand with the street food goes "the most significant element in the changing face of restaurants these days …the arrival of Netflix and social media". 'Hero dishes', influencers and snap-happy diners can dictate the rise or fall of any newcomer.
Celebrity chefs are now those seen on TV, not in restaurants. "Nobody is queuing for the latest Gordon Ramsay except a handful of restaurant critics and tourists. These dinosaurs have taken the money and run with it. Those who still create real culinary trends — the likes of Yotam Ottolenghi, Simon Rogan and Fergus Henderson — do so with integrity, without the need to lend their names to Argos saucepans or grasping airport franchises selling pap to a captive audience."
But with economic uncertainty looming, and potential loss of the immigrant workforce our restaurant trade relies upon, what will the next decade look like?
---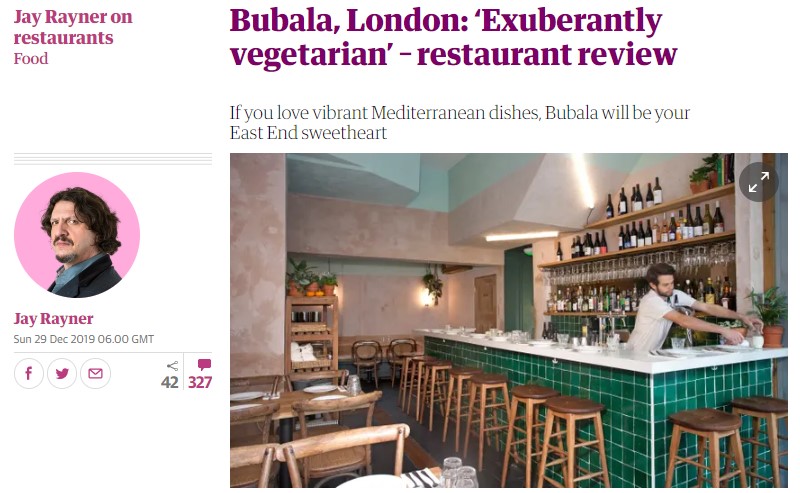 The Observer's Jay Rayner has some stern advice for the owners of Bubala: "Rehang the bloody door". The breeze from the front door actually gave him déjà vu from the previous incumbent of this site (he Googled himself, and read that he'd complained about the draught two years ago as well, when it was Gul Sepoy).
Onto the food: "Bubala is roughly the Yiddish for sweetheart or darling… Yiddish is the language of the Ashkenazi Jews of central and eastern Europe. And yet the menu at Bubala concerns itself with food from the far eastern Mediterranean and Spain, which I associate with the Sephardim".
Wherever it's from, the food at Bubala is "entirely, robustly, exuberantly vegetarian"; Jay enjoys dips with "pillowy, singed flatbread", "still-warm falafel", roasted aubergine and "mellow halloumi… crisply fried and dressed with black-seed honey". "A chunk of cabbage comes seared and blackened and pelted with pomegranate, hazelnuts and tahini by a kitchen that has never heard the phrase "enough already"." One issue Jay has is that the 'confit potato latkes' are really just deep-fried confit potatoes, and not latkes at all.
There's no desserts apart from ices – "what you want is friable pastries; something made with crushed nuts and syrup and orange blossom, and maybe sweetened cream cheese".
"Bubala deserves to last" – "because there is no meat or fish on the menu, prices stay down." It would even be "close to perfect if they got themselves a pastry chef. And if they rehung that damn door."
---
Tom Parker Bowles for The Mail on Sunday found a new local in Sam's Riverside, which he found to be "reassuringly straightforward" – much like the "late, much lamented Café Anglais" and Kensington Place, both of which also had chef Rowley Leigh in attendance (he's menu consultant here).
There's "no slavish adherence to trends, no pickles or ferments, no greeters, dancers or million-pound sound systems. Just a handsome, light-flooded room with sinuous, deep blue banquettes … a place designed for long, civilised lunches, and dinners that linger merrily on."
The eponymous Sam is "a natural host, ever warm and smiling" and his team are "similarly adept, slick and professional".
Tom, along with son and dog, picked at oysters, sardines and beef tartare, while other families plumped for roasts "with billowing Yorkshire pudding, thick slices of rare roast beef and burnished roast potatoes". "Cauliflower cheese is a course unto itself, more cheese than roux, the vegetable still left with a little bite. Simple things, done properly." (****)
---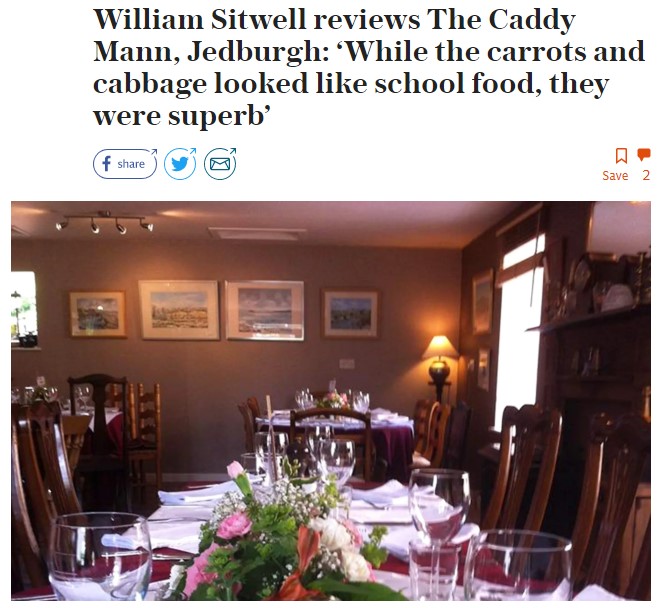 William Sitwell for The Telegraph complained about the carpet, the tablecloths and the bric-a-brac for sale at The Caddy Mann – even saying it has a "Misery vibe" – before admitting it provided him with "friendly service and a very wholesome and delicious lunch".
Some of what offended William's "absurd southern sensibilities" can be easily explained by the fact that it's on St Cuthbert's Way, a four-day walk to Holy Island, and walkers are encouraged to remove their muddy boots – the carpet keeps their feet cosy.
The menu "is a celebration of British classics and local produce, from pigeon and beef to venison and haggis" – he ate chicken liver pate that "could not have been bettered", slow-cooked lamb ("a succulent and tasty dream") served with chips and vegetables that may have looked like "school food" but were "superb: sweet, cooked to just the right texture… faultless", and a chocolate tart with "delicious" crunchy chocolate ice cream.
"As we dined and feasted and lapped up every morsel of every dish, I felt a little guilty about my initial thoughts. But then how fabulous it would be if the décor and vibe could match the exquisite precision of the chef?"
---
See you in 2020! The Evening Standard has listed the exciting London openings due in January to get us in the mood.