Harden's weekly update of where the critics are eating, recommending and avoiding, for the week ending 22 December 2019.
This week's Christmas article / 'best of the year' round-up came from The Evening Standard's Fay Maschler, whose 'favourite restaurants' article featured many of her friends from her decades of reviewing (and "do not necessarily adhere to predicted trends such as plant-based protein, zero waste, fermentation, market halls, Sri Lanka; they are about enjoyment, which takes many forms"). Some of the 15 listed include Norma, Orasay, imperial Treasure and Da Terra.
---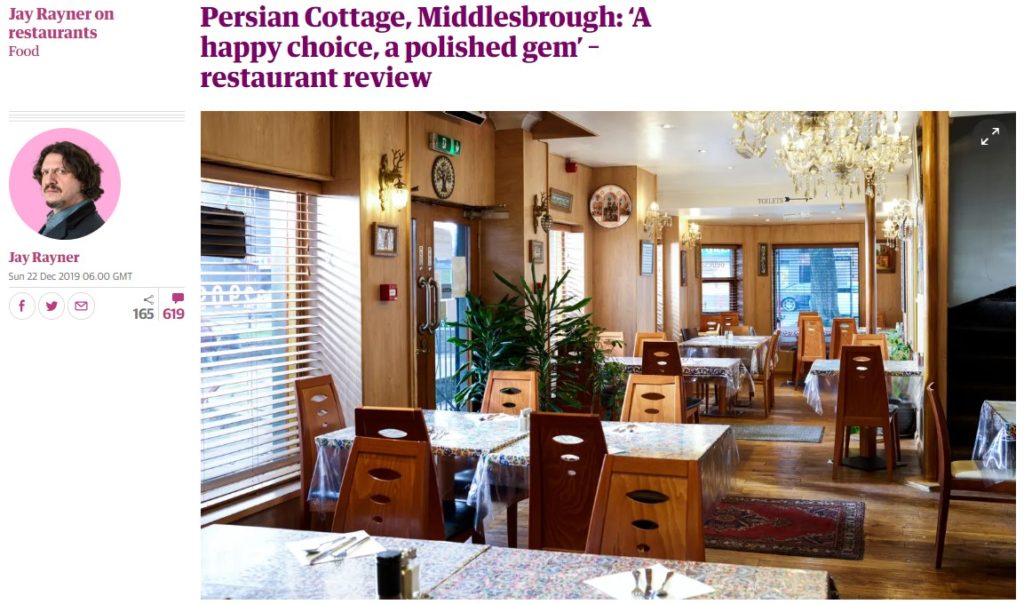 Apparently there are people (we won't admit to being one of them) who track The Observer's Jay Rayner around the country noting the correlations between his restaurant reviews and how they match up to "locations for episodes of Radio 4's Kitchen Cabinet", which he chairs.
This not only makes perfect fiscal sense, but has also brought us some vintage Jay reviews from less well-known culinary destinations, so there's no criticism from here. Not all of his meals have been great, but some of the reviews have been so joyful that we have been known to Google how long it would take to drive there, right now, for a taste of "what he's having".
This week's review (in Middlesbrough) came about after recording a local piece about chicken parmo. Persian Cottage is a "polished gem" among the Middle Eastern joints in the area, a "brightly lit, wood-floored space just beyond the town centre, where the ornate tablecloths come plastic-covered for a quick wipe down". Last year, they famously topped "the rankings of a restaurant review site which I won't name because it will only encourage them".
The Persian rice ("the best way with rice") came with "the woozy aromatics of saffron" to accompany the "groaning mixed grill of kebabs, still smoking lightly from the charcoal", lamb chops, whole grilled chicken, hummus and flatbreads and aubergine "two different ways". A no-alcohol policy helps the prices stay low.
---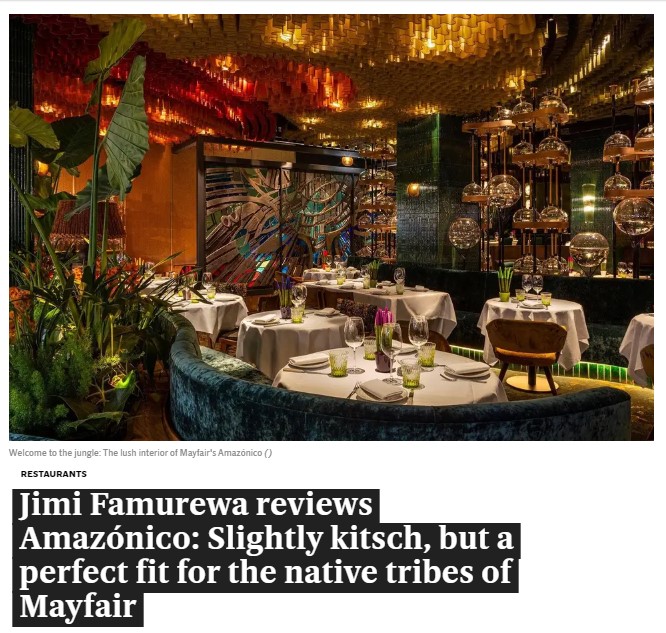 "In a year that has been partly defined by competitively overblown London restaurant interiors, Mayfair's Amazónico has the initial air of a late arrival at a drunken party, escalating wildly in order to not be outdone."
Jimi Famurewa for The Evening Standard was expecting to find a "shamefully fun, bacchanalian fantasia in a repurposed Rainforest Cafe; a sustained, full-bore assault on taste, subtlety and the senses" after hearing reports of tables booked well into 2020 and "live jazz, sea urchin-topped guacamole and DJs spinning something mildly terrifying called 'electropical' music".
What he experienced was a "very big, fairly functional South American barbecue restaurant with a job-lot of fake plants" filled with "thick, guffawing hordes of fur-clad women and heavy-watched, yacht-tanned men" – albeit one serving food that was "mostly better than the disastrous, culinary wildfire" usually found in novelty restaurants. Here, it's "shareable Latin-Asian fusion wheezes of varying quality". Some dishes (cured yellowtail in a "tingling, utterly slurpable passionfruit marinade", "magnificently grubby" chicken tequenos and "gratifyingly sticky and boozy" rotisserie pineapple) were particularly noteworthy.
"Amazónico's secret is to offer wealthy people a glitzy alibi to enjoy quite junky, unsophisticated pleasures." (6/10)
---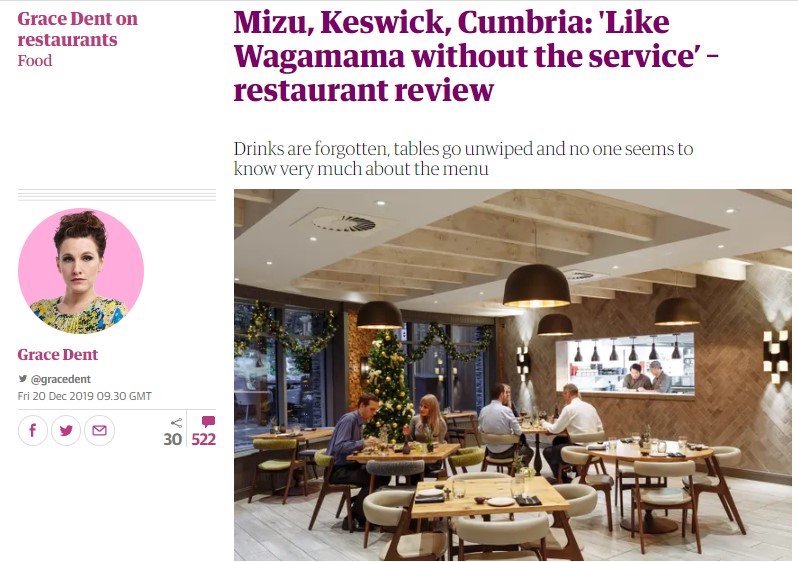 Grace Dent for The Guardian has a lifetime of advice for visitors to the Lake District searching for a restaurant: "the reputable, forever-namechecked ones are usually fine-dining, once-in-a-lifetime joints, while the very good, hearty, jolly, family-friendly places are rare and, rightfully, always booked up". Which leaves "whole lot of substandard, this-will-do-they're-only-tourists cash pits".
Mizu, a new-ish hotel restaurant in Keswick "is most certainly plugging a gap in the Lakes", where there's a shortage of any form of Asian cuisine. But sadly it falls into the third category of Lakes restaurants, failing on almost every point, with no welcome, "flawed" presentation", tired sushi and disappointing cooking. It "feels a bit like a Wagamama without any of the diligent service one expects from that chain".
Not even "an outstanding vanilla creme brulee" saved the day. (8/30)
---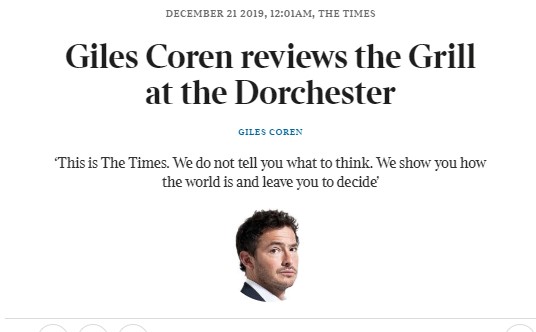 Giles Coren in Saturday's Style magazine in The Times was at the Dorchester Grill, in a bit of a quandry. Recalling Jay Rayner's Observer article (although not by name, obviously) from exactly five years ago (which slammed the place, not just because the owner, the Sultan of Brunei had just introduced sharia law there, "including the stoning to death of homosexuals", but also because the recent makeover had left it "all mirrors and gilding and desperation… like the inside of a little girl's plastic music box" and the food was "nursery food at stupid prices" – read Jay's full 2014 review here), Giles wasn't sure if it was ethical to visit.
"What are we, the humane, ideologically sound, restaurant-reviewing fraternity to do, now that the Dorchester Grill is excellent? Not just excellent, but excellent, charming, progressive and fun?"
Actually, it turns out that he didn't have an ethical dilemma beforehand, as he just popped in (with Monica Galetti) and claims he "honestly forgot that the Dorchester was owned by a world leader of medieval awfulness and unspeakable cruelty" but went in after hearing about a "brilliant new young chef" and "a bit of a refurb had been undertaken" – on, and "they had room for me at short notice".
In a nutshell: "the refurb is good." ("Tall, curved, white banquettes for two have added some intimacy. New tables are of bare, pale wood."); "the acoustics are fantastic"; and "the cooking is wonderful" (ironically, he turned down the foie gras option of starters "for ethical reasons").
Giles tried Monica's scallop ceviche and declared it "wonderful". His middle course of sweetbreads with lentils was "truly exceptional", and was followed by "the best lobster thermidor I've ever known", delivered by the 26-year-old head chef (almost every member of staff there is under 30).
"We saw enough across those three courses to know that this is a hugely talented young chef and team breathing ebullient, squeaky-cheeked new life into a room that is learning to be fun again, in a hotel that has little to do with the way we live now, owned by a man I'd rather see impaled on the sharp end of a popular revolution."
He ended his review by saying that was all just his personal opinion ("This is The Times, and we do not tell you what to think.") but we think – for once – we agree with him.
(Cooking 9/10 Service 10/10 Owner 0/10)

---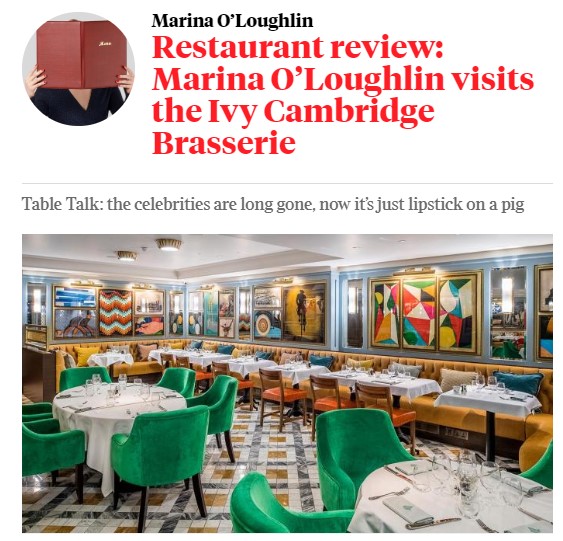 Marina O'Loughlin for The Sunday Times went to the original Ivy just after it had been "saved from sinking into obscurity by the magic touch of the arch-restaurateurs Messrs Corbin & King" – and experienced the "ineffable metropolitan glamour" that made it so famous and desirable, with celebrities on every other table, she and her friends were "treated like goddesses".
Her opinion of the roll-out and dilution of the brand – specifically her visit to the Cambridge branch – can be summed up by the sub-heading of the entire article: "the celebrities are long gone, now it's just lipstick on a pig".
---
Finally, Tom Parker Bowles for The Mail on Sunday has come across a restaurant "unlike anywhere I've ever eaten before". The original Ivy Asia opened in Manchester in late 2018, and Tom visited the new London branch, in the former Barbecoa site overlooking St Paul's.
"Imagine Jeff Koons, Elton John, Wong Kar-wai and Ridley Scott sitting in an underground Tokyo nightclub" coming up with an idea for a pan-Asian restaurant ("Money no object. Spend, spend, spend.") – then give them "nuclear-grade LSD" and multiply by 100 the "outlandishly OTT psychedelic smorgasbord" they come up with … "and you're still not close to the sheer crazed exuberance of The Ivy Asia".
Much has already been written about the décor (jade floors, samurai in the toilets), but TPB went in to some detail about the food too. Korean lamb chops were "Roka level excellent, pink, juicy and fiery" and tuna tataki was made with "spanking fresh fish", although he advised against the crisp duck salad ("gloopy and dull").
"Despite the ear-bleeding racket and questionable dancing girls and ever-upselling waiters, you won't forget this place in a hurry." This "extraordinary slice of ersatz Asian insanity" is a "blockbuster, a blast, a bejewelled two fingers up to austerity". (****)