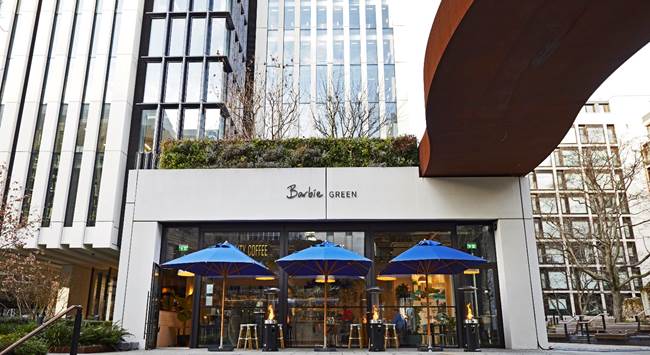 The Daisy Green Collection has announced its second City of London site, Barbie Green. Located within Wall Place, Barbie Green brings the restaurant group's Australian bottomless brunch, coffees and wines, and a new pizza menu.
Pizza is a first for the Daisy Green Collection. Varieties include 'Hot Sausage', made with spicy chorizo, nduja, organic tomatoes, London Mozzarella and lacto-fermented jalapeno hot sauce; 'The Aussie', with house-cured leg ham, organic tomatoes, BBQ pineapple, London Mozzarella, Clarence Court egg and pink pickled onions; and the vegan 'Dirty Cauli' with sticky cauliflower, crispy tofu, BBQ sauce and cool ranch dressing.
A more familiar bottomless brunch, as well as new sharing plates, including the vegan wings and halloumi fries, will also be served. It's a bit of tried and tested and a bit of experimental.
Founder and director Prue Freeman, who raised an enormous sum by crowdfunding in order to expand in London, said: "After a record year of trading, we're delighted to round out 2019 with a stunning new site in the City, taking us back to 2012 where we started selling our coffee outside The Gherkin building.
"Our uniquely Australian all-day offering is continuing to defy the well-documented challenges facing the hospitality industry, as Londoners discover, embrace and support their local Daisy Green café more than ever."