Our weekly round-up of what the national and local restaurant critics are writing about, for the week ending 4 October 2020.
The 10pm curfew for restaurants and bars, on top of the 'rule of six' guidance, could be a "hammer blow" to the industry, as The Evening Standard claims in its interview with top chefs and restaurateurs (Tom Brown, chef/owner at Cornerstone's interview is particularly spicy).
Check with your local and favourite restaurants before heading there; many are still operating strict timings due to reduced cover numbers and social distancing requirement, with reduced menus and booking systems (even if they didn't take bookings before); look at their social media pages for details – all available via hardens.com.
Please consider ordering takeaways or deliveries from your favourite spots if you can; the restaurant industry and everyone involved in it are going to need continued support for some time to come.
*****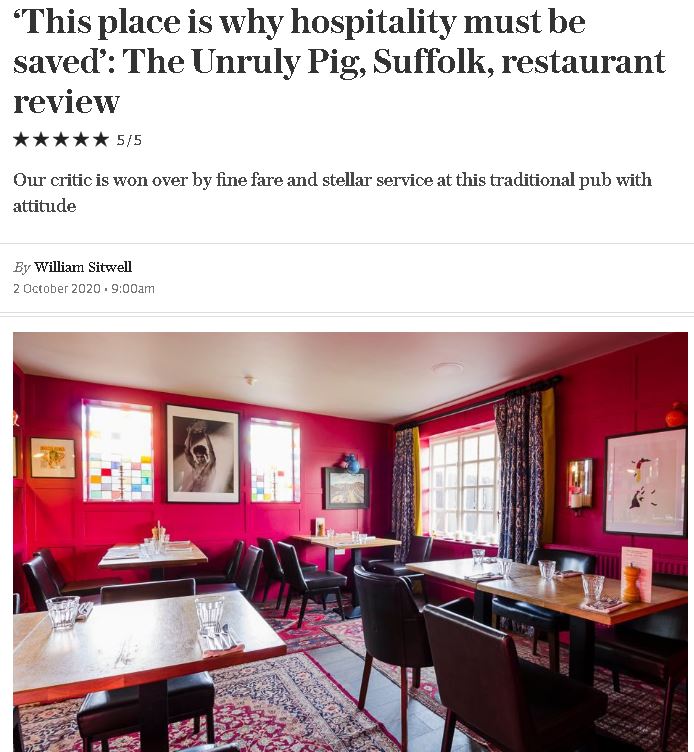 The Telegraph
"This is why we eat out… it's why restaurants exist, to take us out of our lives." It's also "why the restaurant industry must be saved".
William Sitwell delivered a 5-star rating to Suffolk inn The Unruly Pig, which he calls "a proud display of the culinary journey this country has made in the past half-century", a "joyous reminder" of "how far we have travelled".
He particularly praised the service; "warm professionalism simmers at every turn as you are led into your booth, cooked for and served". The food was "delicious" and there's "a decent wine list, too".
"The Unruly Pig is a standard-bearer for the new normal. Seriously good, unfussy food, fine service, a nod to fashion and a firm grasp of how fine hospitality can and should be." (5/5)
*****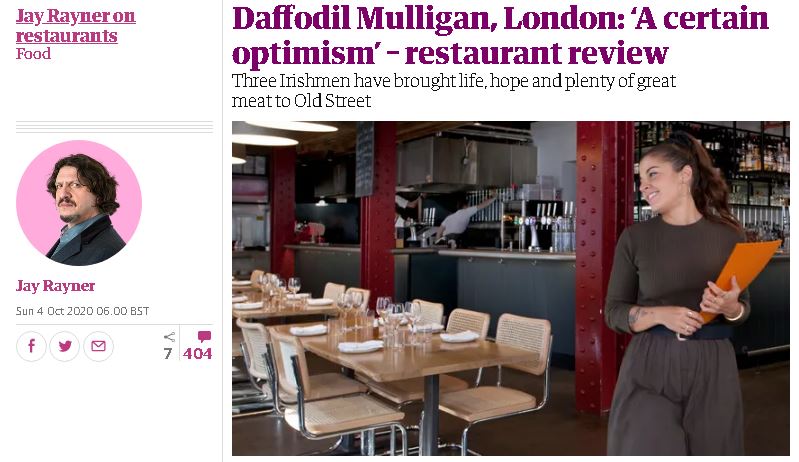 The Observer
"Even on a quiet weekday lunchtime, when custom is thin on the ground, everything about Daffodil Mulligan – the food, the staff, the well-spaced sunlit room with its polished concrete floors and olive-green banquettes – thrums with a certain optimism."
Jay Rayner had a "crushing bear hug of a welcome" (a socially distcnced and metaphorical one, naturally) from Richard Corrigan's latest restaurant (opened in November 2019 with Dublin publican Tony Gibney and London-based restaurateur John Nugent, and serving "fourth Irishman" Peter Hannan's meat; "just so damn good").
"Step in here for a bit of Dublin craic… complete with roaring grill and a menu full of hilariously huge, uncompromising flavours, standing proud, refusing to back down." Corrigan has "always been a pleaser and a feeder" (Bentley's was Jay's lockdown longing, for the "best oysters and spiced mussel soup and fish pie").
"There is nothing subtle about any of this food. It laughs in the face of subtlety. This is cooking determined to show you a good time, and to wear a party hat while doing so." Small plates are priced from £6-£8, including specials ("a more moderately priced proposition than either Corrigan's or Bentley's"). Even the sharing steak was just £17; desserts "continue the come-hither joys".
*****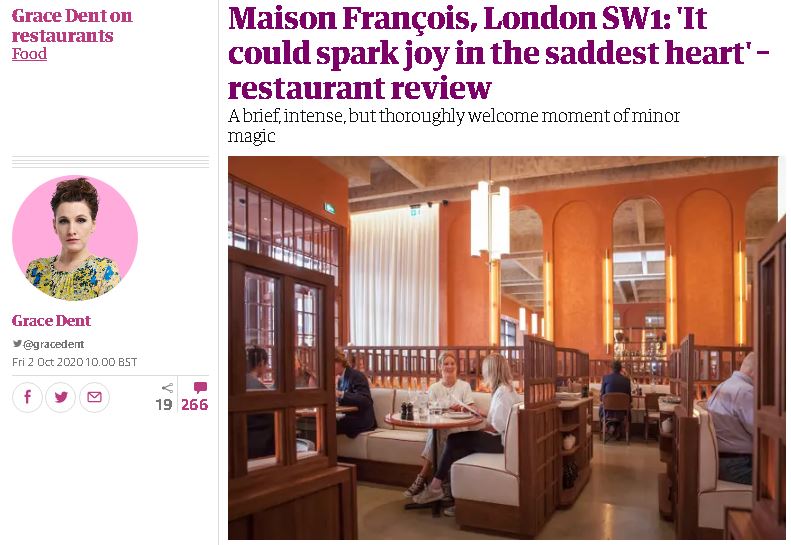 The Guardian
"I consider the French all-day brasserie to be one of the high points of modern civilisation."
Grace Dent visited Maison Francois, the "new, Gallic-style, all-day brasserie close to Piccadilly Circus" to see it matched up to her ideals. The answer is yes; "Maison François is a good shout if you're braving the West End. The food is generously, memorably seasoned, and oil-, butter- or garlic-drenched."
"Opening any sort of restaurant in central London right now is like willingly putting your head into a lion's cage and hoping it might merely rearrange your fringe" but Maison François "has more of a fighting chance than most" with a pedigree including ex-MasterChef 2018 finalist and ex-Isabel chef Matthew Ryle, the "affable" François O'Neill (founder, formerly of Brompton Bar & Grill) and the "rather brilliant" Ed Wyand (previously at Scott's and Verden) on front of house.
"It would be possible to eat here many, many times and never order the same thing twice… Maison François has the definite backbone of classic French cuisine… but there is also a modern, future-facing feel."
"Service throughout is well-drilled and observant, the wine list sweeps you around 250 vineyards, and the basement bar, Frank's, is so low-key deluxe, I've been in two minds about telling anyone" about it.
Lastly, the "multi-drawered pudding trolley" with "shelves full of chocolate eclairs, tarte tatin, canelés and macarons" could "spark joy in the saddest heart" ("It is impossible not to grin foolishly.")
*****
The Evening Standard
"Even if you are familiar with the cult appeal of the Towpath Café… even if you know that it is virtually a point of religious pilgrimage for those devoted to the singular joys of olive oil cake, quince jelly cheese toasties and fried eggs with mojo verde — little can prepare you for the beguiling chaos of it on a sunny day."
Before the rain set in, Jimi Famurewa bagged himself a rare table at Dalston's legendary spot on the banks of the Regent's Canal, which "gave the impression of a picturesque outdoor party forever teetering on the brink of collapse" as walkers, joggers and cyclists "weaved hazardously" by.
"It felt, depending on your mileage, like either the apex or nadir of a specific kind of London brunch mania; the sort of breathless, frantic scenes that precede a meal that's doomed to disappoint." But it did not disappoint: "I can confirm that Towpath is, in fact, that rare dining establishment that is exactly as good as everyone says it is. It's a slender miracle of atmosphere and community where each deft, multilayered dish arrives rendered with rare skill and a spirit of bountiful generosity."
The "highly seasonal menu" ("something between vibrant, Ottolenghian sharing plates and… robust, British minimalism") delivered "an experience that packs all the escapist joy of a continental holiday into a few hours". Their recently-published cookbook could be the only holiday souvenir we get this year.
*****
The Evening Standard announced The Tramshed Project, opening this month, which resurrects Mark Hix's Tramshed venue as a Covid-safe restaurant, bar, events and co-working space; the newspaper also featured also the permanent Carnaby Street home for Imad's Syrian Kitchen, and the "death by curfew" of Milk & Honey (although we learned in July that it was closing at the end of September due a lack of lease agreement).
*****
The Standard also interviewed the chefs calling for a staggered approach to the 10pm curfew, as Paris has, after the curfew "led to scenes of chaos in central London… with diners and drinkers pouring on to the streets as the clocks struck 10". One study suggested that "allowing restaurants in the capital to stay open later could be worth nearly £1 billion in extra revenue by next March".
*****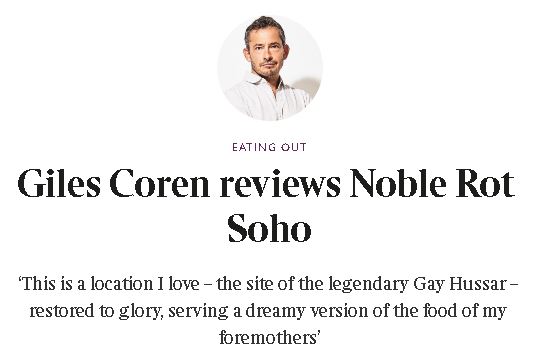 The Times
"Noble Rot, which, despite its excellent food (overseen by Stephen Harris of the Sportsman) and delicious wine list, feels – thanks to a pervading sense of intelligent, boozy loucheness – like a kindred spirit to the Gay Hussar."
Giles Coren visited Noble Rot Soho, newly opened on the site of the legendary Gay Hussar; early on in the development stage, he attended a dinner at the original Noble Rot which endeavoured to persuade the "Goulash Co-operative, founded in 2013" (which had "considerable funds" and plans "for a customer buyout") that Noble Rot was a suitable new incumbent.
It was clearly a successful evening; "you should get down there and bear witness yourself to the emergence of this phoenix from the ashes of a London restaurant legend".
There are still cartoons by "all-round literary genius Martin Rowson" whose drawings had decorated Gay Hussar (even one of Giles himself); there are "Hungarian nods on the menu", including a goulash. His whole roasted chicken with morels and vin jaune was "an absolute showstopper of a dish".
"This is a location I love, restored to glory by friends, serving a dreamy modern version of the food of my foremothers." (27/30)
*****
The Mail on Sunday
Tom Parker Bowles (in his new column with wine expert Olly Smith) in The Mail's YOU magazine reviewed Bellamy's. Regular ROTR readers will know that he went with Giles Coren, who featured the meal in The Times last week as part of his spoof anthropological intent to "learn and observe the customs" of a culturally different group of Londoners.
" At Bellamy's, a discreetly civilised restaurant a mere Lobb's trot off Berkeley Square, it is forever cocktail hour." It's a "gilded escape, a respite, an oasis of civilised calm in these strange, tumultuous times".
"Tables wear thick white tablecloths, and front of house staff don't so much walk as glide. It's a room designed for a long lunch."
*****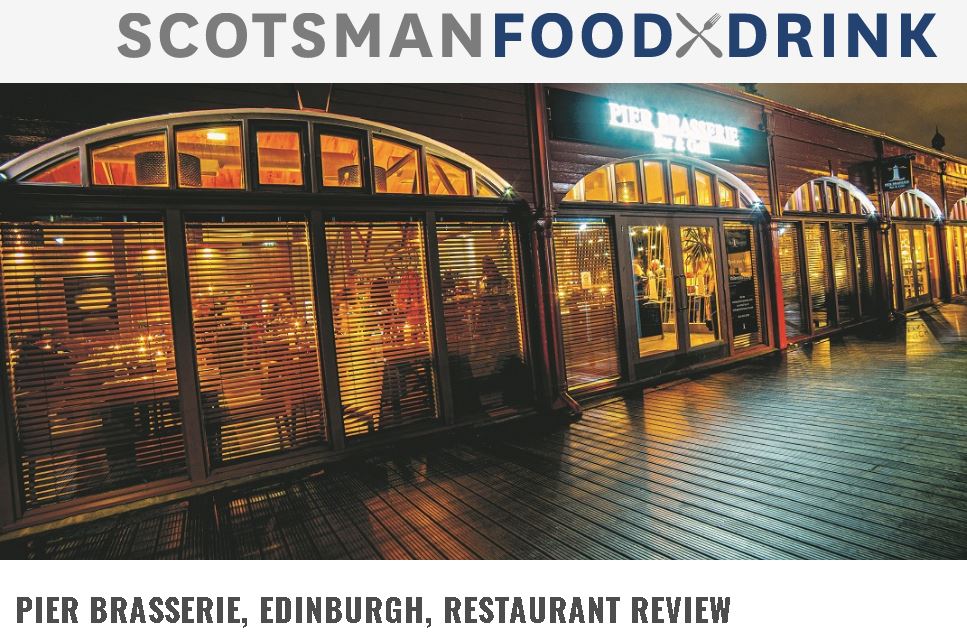 The Scotsman
Gaby Soutar followed the seagulls to Pier Brasserie in Newhaven, which opened just a month before lockdown and "thanks in part to offering takeaway, has scraped through, despite being too new to qualify for covid grants and furlough schemes".
It's owned by Mark Patonyi, formerly of Steak restaurant, and offers a similar menu ("steak, fish and chips and burgers"); even the decor is "vaguely similar, in that it has a theatrical thing going on, with dark wood and spotlights". (70%)
*****
And also…
In The Sunday Times, Flora, daughter of the legendary food critic AA Gill, was on the panel for choosing the winner of the AA Gill Award for emerging Food Critics with Marina O'Loughlin, Jeremy Clarkson, the Dish editor Lisa Markwell, the restaurateur Jeremy King, Ian Murray of the Society of Editors and her brother Alasdair. This year's winner was a just-pre-lockdown ode to Quo Vadis' signature dish, the smoked eel sandwich, from Jemma Paek, who worked there.
*****
The Financial Times reviewed London's best new dining destinations ("from Japanese patisserie to Hungarian goulash, the city's culinary scene is hotting up – despite the crisis") and visited Fish in Bristol: "superbly fresh" – "one of the most relaxed and happy eating experiences I've had since this whole thing kicked off".
*****
Bristol Live featured the nine newest local restaurants, including Klosterhaus and Pipal Leaf.
*****
Recent News from Harden's