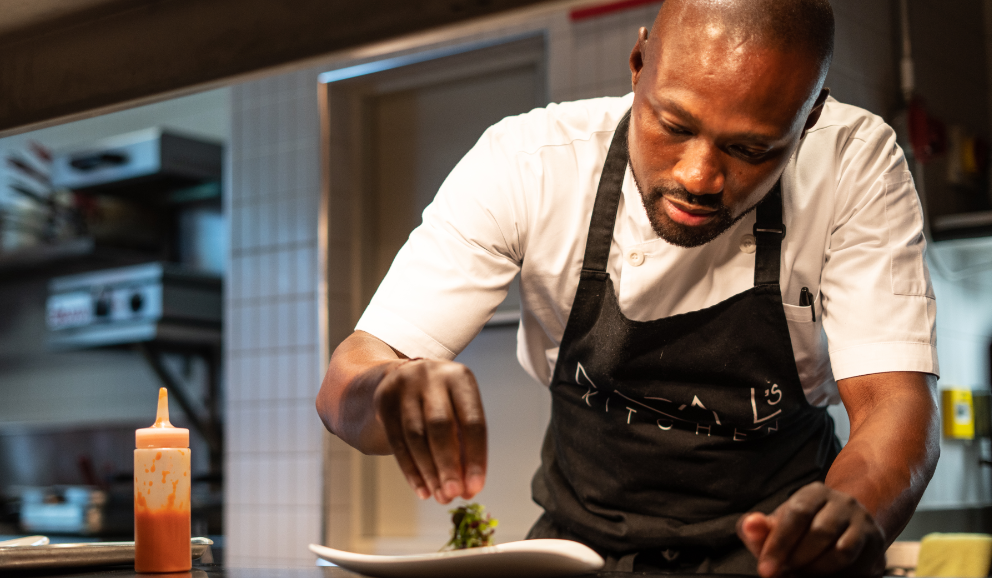 A new "West African-fusion" pop-up restaurant will launch in Fulham on October 9 from chef Lawrence Gomez, who found himself made redundant from his former position at the Gojk Lounge in July due to the coronavirus.
The chef will "return to his roots" and launch Papa L's Kitchen for a six-week run from October 9, with dishes paying homage to his childhood growing up on the Gambian coast.
Gomez began his career at The Ivy in West Street, and also worked at the likes of Sexy Fish and Scott's in Mayfair. Private chef work has led him to cook for celebs including Prince Harry, David Beckham, and Patrice Evra.
Gomez calls his food "African fusion cuisine". Dishes on his a la carte menu are inspired by the food cooked in Serrekunda, a small village on the Gambian coast where he grew up. Reference is paid to his mother's cooking.
On the menu will be tempura okra with lemon and chilli sauce, rib-eye steak with cassava chips, and barbecue stone bass with benachin rice. Cocktails with feature rum, coconut, and grenadine, and the playlist has even been curated by Gomez, himself a former DJ.
"The concept for PAPA L's KITCHEN and African-fusion cuisine is to take modern British food and the classical dining experience and infuse them with high quality, fresh West African ingredients to create delicious seasonal dishes complemented by the subtle African music, dynamic art-work and colourful decor." Gomez explained.
"The whole dining experience I'm offering now is a culmination of my career and my life from growing up in Gambia and watching my Mum cook, to working at The Ivy and Sexy Fish to being a DJ in Central London.
"The music is curated by me and the fun and relaxed vibes come from that time in my life. I'm trying to create an atmosphere where people are just having fun – that's a huge part of the Gambian culture."

Gomez is financing the venture himself. There will be 25 per cent off the food bill during the opening weekend and 15 per cent off every Thursday during Black History Month.
Recent News from Harden's