There's a lamentable crop of reviews this week – Tom Parker Bowles failed to appear in The Mail on Sunday, there's just one review from The Telegraph, Grace Dent would rather be in east London and The Times reviewers probably just wish they hadn't bothered.
Rovi, London W1 (****)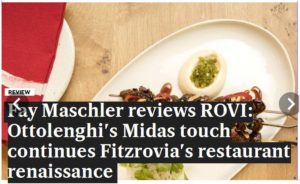 Fay Maschler for The Evening Standard declares for London's latest Ottolenghi outpost, in Fitzrovia, a place where "vegetables barnstorm the menu, fermentation is bubbling under and most of the cooking is over charcoal". The Ottolenghi influence, combined with ex-Grain Store chef Neil Campbell's cooking brings "a new definition of virtue, health, temptation and redemption", apparently.
Snacks and lighter meals including lobster crumpet toast, celeriac shawarma and grilled tomatoes with cold yoghurt were dispatched with "palpable pleasure". A Sunday lunchtime visit was found to be "very confidently priced" (even more if you buy a monogrammed napkin, available for £20), but she highly recommends the "superb" dessert of "apricot clafoutis with fig ice cream."
Fay's week in food included a visit to Notting Hill newcomer 7 Saints, an alfresco dinner at The Athenaeum club, meals at Pique-Nique, Wild Honey ("one of the most reliable and rewarding" restaurants in London) and Caravan Fitzrovia, where "the menu backpacks around the world as energetically as any New Zealander".
Gazelle, London W1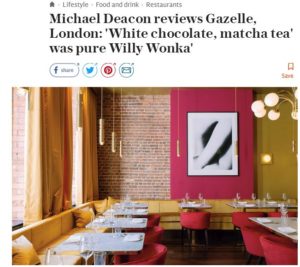 Micheal Deacon in The Telegraph was entranced by the "pure Willy Wonka" dessert of 'white chocolate, matcha tea' at Mayfair's Gazelle, and pondered the "mental thunderbolts that impel someone to try the untried and do the undoable" during a meal full of "fantastical combinations"
The Painswick, Gloucestershire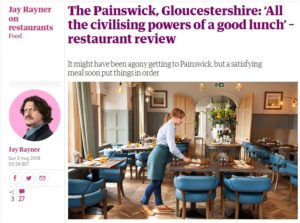 After a trying journey by train (and cab), The Observer's  Jay Rayner's mood was lifted by a meal at The Painswick, a boutique Cotswolds hotel that's "exactly where you want to be" after "a hot summer's day …journey from hell". The chef trained under Anthony Demetre, and his menu features the same sort of "confident bistro food aimed at a grown-up crowd" – it isn't "worryingly contemporary… just really solid… extremely enjoyable".
Not everything was perfect – a gazpacho was "underpowered" and pricing is "enthusiastic", but the "civilising powers of a good lunch" are not to be underestimated. Jay was clearly impressed – he didn't even complain when his strawberry and meringue dessert came perched on a "grassy, creamy… edible lawn" of avocado.
Just don't believe everything you read on their website…
Ruya, London W1 (13/30)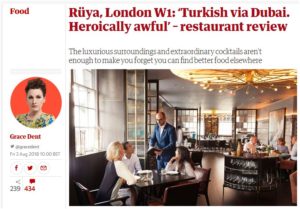 The "luxurious surroundings and extraordinary cocktails" at this Mayfair newcomer weren't enough to make Grace Dent forget that she could find better Turkish food elsewhere – and considerably cheaper, given that many areas of London are "swimming in exemplary, family-run, pocket-friendly Turkish restaurants where a family of five could eat like sultans for 60 quid". Her review in The Guardian focuses heavily on the cost of this "Turkish via Dubai" restaurant, for while it is "very beautiful", it's also a place where you can "rapidly rattle through handfuls of cash on wagyu kebabs and Black Sea pide".
It's not an entirely critical review, however, despite an entire paragraph mocking the 'phenomenon' that is Salt Bae, for Ruya has one trick up its sleeve: a "fabulous, world-class bar". From the "exquisitely pretty bar area" to the "crisp, en pointe service" and the "gaspingly expensive chandeliers", it's a treat for the eyes, but – most importantly, "they can seriously make cocktails… Order an Ottoman old fashioned. Order a Turkish colada with oolong tea. Order the whole bloody lot.".
But the food? "Heroically awful."
Dammika's, London SW1
In The Sunday Times magazine, Marina O'Loughlin takes an unusual line, strenuously recommending that you don't visit to this week's reviewed restaurant, a little-known Westminster spot serving Sri Lankan cuisine, in case you "throw them into an absolute lather". The food "ranges from the terrific to the gnarly"; on the latter end of the scale were mutton rolls "with the subtlety and delicacy of a Bible Belt preacher", while kottu was "the living incarnation of 'hot mess'".
There's "zero pandering to mimsy Western tastes here" and everything comes in vast portions. It's "the real deal", definitely "an experience", with "the air of another time". But maybe it's the last time Marina visits a resturant she discovers on her bus journey home.
Babel House, London W1
Giles Coren can't recommend his visit this week either. He and his companion "had a really, really nice time" doing his Style review of Mayfair's Babel House; and he didn't want to do another "mean review" so hot on the heels of his damning criticism of Laurent at Cafe Royal.
But the food (advertised as cuisine from the shorelines of the Black Sea) was just not good: Giles's beef stroganoff was a "flavour vacuum", which didn't even improve with salt ("like salting a soggy sock drawer"). Better luck next time, Giles…
Freak Scene, London W1
In The Financial Times, Tim Hayward has no hesitation in recommending the pan-Asian/fusion cooking at Soho Hot Newcomer  Freak Scene: "[Scott] Hallsworth is making the kind of food that people who love food, love".
More from Hardens