Here is our weekly round-up of what the national and local restaurant critics are writing about, for the week ending 28 March 2021.
England remains in national lockdown, although with a 'roadmap' of dates with restaurants and pubs closed until 12 April at the earliest, and then only open to serve single households seated outdoors: https://www.gov.uk/government/publications/covid-19-response-spring-2021/covid-19-response-spring-2021-summary.
All of Wales is at alert level 4, but the stay-at-home restrictions have been lifted: https://gov.wales/alert-level-4
Mainland Scotland is also in a national lockdown with guidance to 'stay at home': https://www.gov.scot/publications/coronavirus-covid-19-protection-levels/
Northern Ireland is under strict restrictions until 1 April: https://www.nidirect.gov.uk/articles/coronavirus-covid-19-regulations-guidance-what-restrictions-mean-you
Please continue to order takeaways, cook-at-home kits, vouchers, merchandise and deliveries from your favourite restaurants if you can (we include links to those mentioned); the restaurant industry and everyone involved in it need our continued support.
*****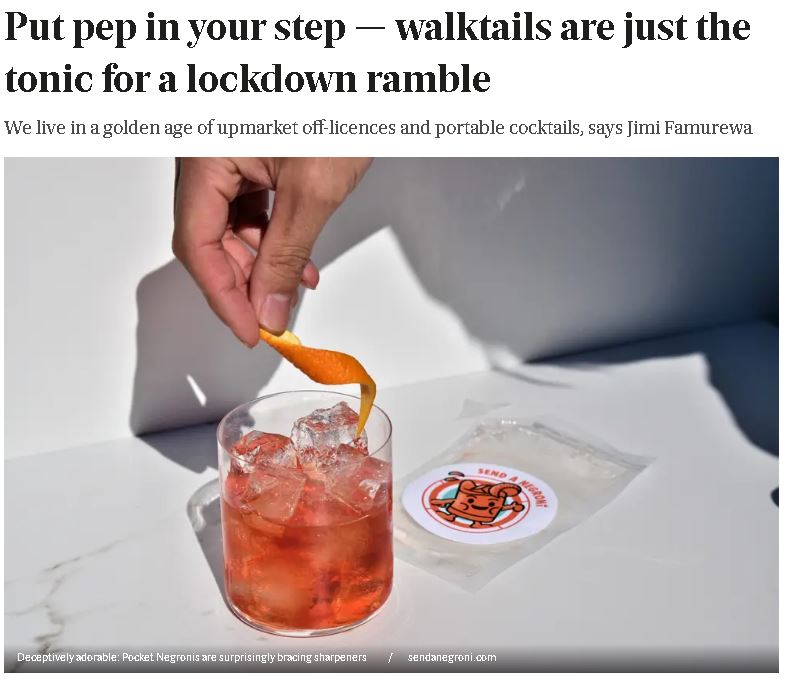 The Evening Standard
"There are no fixed rules for what is essentially a roving liquid picnic."
With restrictions in England easing from Monday 29 March, to allow small groups of people to walk and socialise together outside, the Standard's chief restaurant critic Jimi Famurewa  featured the companies catering for those wishing to do so with a drink; "walktails" are officially a thing.
He and a friend enjoy "a gentle booze-fuelled ramble among the rich, chaotic tapestry of music-blasting picnickers, slaloming bikes, people scrambling into bushes for furtive wees and other grown adults embracing park drinking with the gusto of teenagers".
"When I picture my most vivid memories of the past year, I think of sunset post-tennis beers as bats flapped overhead, foaming frizzante in Victoria Park and that shared sense of making the best of having literally nowhere else to go… so let us savour the walktail for as long as we can. It is a tonic, no matter what you happen to be drinking."
*****
Also in The Standard, David Ellis speaks to Asma Khan on her difficulty finding a new location for Darjeeling Express, the safety of her all-female staff, working with Mayor Sadiq Khan and her hopes for the future.
*****
Elsewhere, news that the Café de Paris site is to reopen as Lío, a cabaret and restaurant concept from Ibiza's Pacha group, and Brixton Village is to run its own version of EOTHO for three days from 12 April; "the cost of the scheme will be shared between Hondo Enterprises, the area's landlord, and the market's restaurants".
*****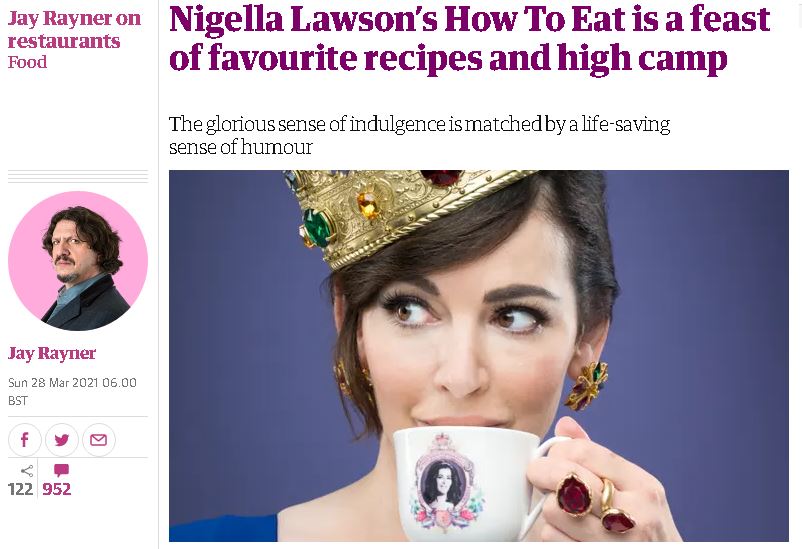 The Observer
"Thank you, Nigella. You've gifted me my family's admiration. I can ask for no more." (The dish in question was less a recipe than a suggestion, to try Yorkshire puddings with cream and golden syrup instead of a Sunday roast.)
This week, Jay Rayner reviewed Nigella Lawson's first cookery book, How To Eat. "It was first published in 1998 and announced less a cookery writer than a beguiling sensibility." (Interestingly, it was published "the same year as Delia Smith's How To Cook, and the distinction between the titles probably served them both well".)
"How To Eat is both serious indulgence and joyous high camp. It contains not just dishes but whole meal plans… there are the essays and opinions, robustly held." It's actually "less a "how to" manual, than a "why not?" manual, full of exuberant essays about the joys of eating alone or why you shouldn't be afraid of making your own mayonnaise".
Steering away from recipes he cooks regularly, like the ham braised in cola, Jay cooked "a lightly boozy Thai clam hotpot full of the hefty waft of basil and ginger" and "bouncy, crisp prawn fritters" as well as the Yorkshire pudding dessert.
*****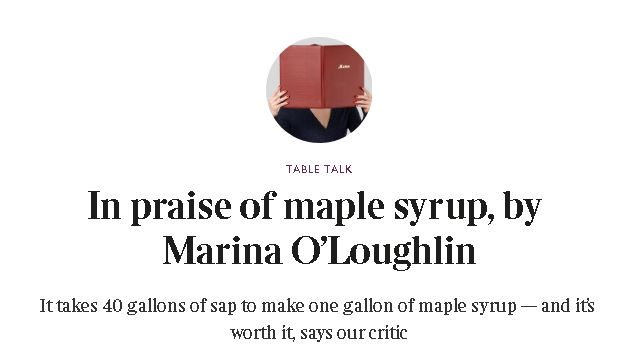 The Sunday Times
Marina O'Loughlin is obsessed with American breakfasts, "glorious things heaving with eggs and butter, blowsy, cinnamon-scented pastries and golden French toast, thin strips of crunchy bacon you could eat like crisps". With maple syrup on everything – usually "bad, or fake".
Real maple syrup is different, and "fabulously weird… sweet sap bled out of trees and boiled up to put on your granola — what a curious, mysterious elixir". Maple syrup's sweetness is "tempered with complex backnotes: chicory and buttered toast, coffee and wood smoke and vanilla", savoury notes that "make a perfect marriage with meat".
Marina traces the use of maple syrup in savoury dishes back to "Quebec's cabanes à sucre — sugar shacks, remote outposts where the region's production (and worship) is at its most intense". Over the years, the shacks started serving "a distinctly Québécois menu with syrup coursing through its veins". Inspired by this, chef Martin Picard ("the Montreal king of culinary excess") opened Au Pied de Cochon Sugar Shack in 2009.
"Picard twisted the rusticity of the sugar shack into something, well, breathtaking, one of the most strange and wonderful restaurant experiences I've had in a life of chasing around the globe in search of food."
*****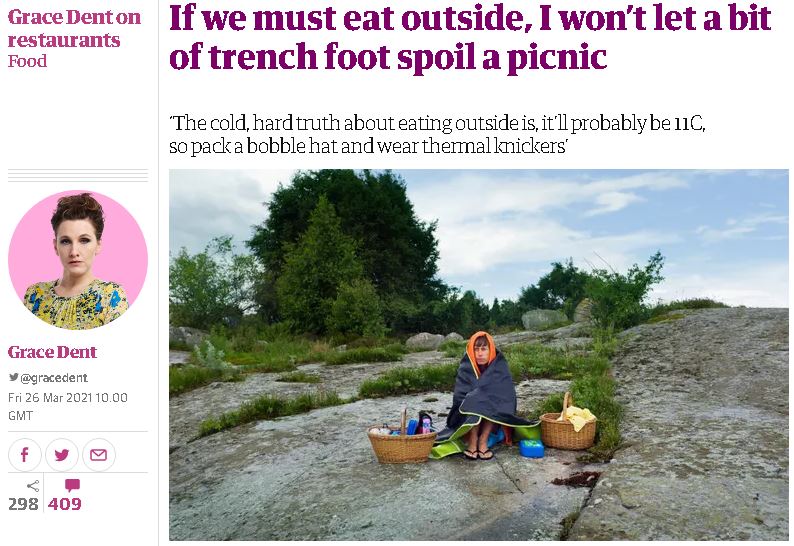 The Guardian
"All dining until mid-May at least – which is an arduously long period – will involve eating outside."
Grace Dent points out the very real differences between "eating outdoors" ("that first, delicious mouthful of Cornish pasty on a windswept beach or a sandwich pulled from a plastic box halfway up Scafell Pike") and "eating outside" ("when your local landlord assembles a £25 Dunelm gazebo in a loading bay and passes it off as a "deluxe dining terrace"").
"Still, if outside is all we're permitted for now, and it's a way to kickstart the economy, then I'm committing to the cause." And in fact, "we have as a nation trained all our lives for 12 April 2021".
And if you haven't booked for 12 April already, be warned: "Britain is already booked up, and will be until late autumn".
"While everyday polite and cautious folk have shilly-shallied about thinking they should probably make a booking, be aware that a hyper-organised element of society has for the foreseeable future reserved every patio seat, every afternoon tea sun terrace, every weekend dinner table and, for that matter, every holiday cottage in the British Isles."
Let's hope, as Grace does, that they honour every reservation, whatever the weather.
*****
The Mail on Sunday
"The only thing I really know about Nigerian food is that I really want some more."
Tom Parker Bowles for YOU Magazine tried out two at-home kits of "fine Nigerian cuisine". First, the Chop, Chat and Chill Kits from Chuku's which produced flour tortillas to stuff with beef and jollof quinoa, along with a side order of suya meatballs with a "magnificent sauce" it was "sufficient for two greedy people, and will leave you smacking your lips with joy".
The box from Brixton's Chishuru was "a revelation" – "chef Adejoké Bakare sure can cook. By now, the box contents may have changed, but that talent won't be going anywhere". Tom's box contained cassava fritters, pork asun ("a Nigerian peppered meat dish"), "exemplary jollof rice" and even pudding.
"Both Chuku's and Chishuru offer a delectably modern take on West African classics. An entry, at least for me, into a whole new world of delight. When restrictions eventually end, Tottenham and Brixton await."
*****
And also…
The Scotsman reviewed the best and worst supermarket Easter eggs.
*****
The Telegraph treated readers to not just one but three articles on hot cross buns, in advance of Easter next week; choose from traditional, alternative or gluten and dairy free, while The Independent looked into the meaning of Passover foods.
*****
The Financial Times asked readers to nominate their "top tables" for a post-lockdown meal out in London restaurants.
*****
Bristol Live reported on the planned pedestrianisation of Cotham Hill, which will provide a huge boost to the hospitality venues there.
*****
Manchester Evening News reported that restaurants have been "flooded" with reservation from 12 April; "customers are 'biting their arm off' to get a booking even in a less desirable mid-week, mid-afternoon time slot" – and if you want to visit D&D's 20 Stories, you'll have to wait until at least mid-June. Also, local success story Rudy's is to open the seventh branch in its pizzeria chain, in Stockton Heath.
*****