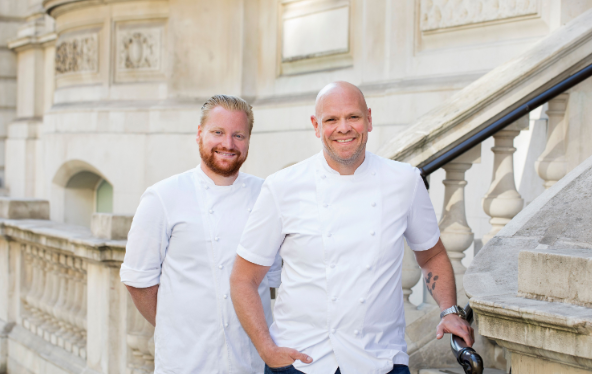 Kerridge's Bar & Grill will open as an outdoor pop-up, called Kerridge's Garden Grill, from April 12 until May 16.
The 46-cover terrace will be located on a mezzanine level, which is situately directly above The Garden (where the hotel's executive chef André Garrett's Mediterranean-inspired menu will be available daily, also from 12 April).
At Kerridge's Garden Grill will be head chef Nick Beardshaw, who will be cooking seasonal dishes in a space that has been transformed into a "garden oasis", the group says.
"What a great opportunity to bring Kerridge's Bar & Grill to another area of this beautiful hotel", says Tom Kerridge.
"I love this new space – it's a bit of a secret garden, and Nick and I want it to feel like a fun barbecue with friends, the perfect way to celebrate the lifting of lockdown!
"We've got some Kerridge's classics, and some terrific new dishes with the best British ingredients the season has to offer."
Dishes will include Grilled whole lobster with herb butter; Cornish day boat turbot with seaweed tartare sauce; Sirloin steak; and a debut Beef burger with Ogleshield cheese and pulled pork.
All main courses will be cooked on the grill and accompanied by Kerridge's signature triple-cooked chips, salad and Béarnaise sauce.
Starters will include grilled scallop with English asparagus, baked potato mayonnaise and malt vinegar beurre noisettes; and Cornish crab cocktail with avocado bavarois, toasted sesame, pickled cucumber and treacle bread.
Desserts will feature Amalfi lemon tart with raspberry coulis; strawberry and basil trifle with white chocolate crémeaux, elderflower jelly and shortbread crumble. There will be plenty of champagne.
"We want to encapsulate the essence of British spring, and what better way to do this than to create an English country garden at the heart of our hotel," says Thomas Kochs, Corinthia London's MD.
"An alfresco lunch, cooked in front of you, with a refreshing glass of Champagne is the perfect way to enjoy the new season, and we are delighted to partner with Laurent-Perrier."