Our weekly summary of what the national and local restaurant critics were writing about in the week ending 27 November 2022.
*****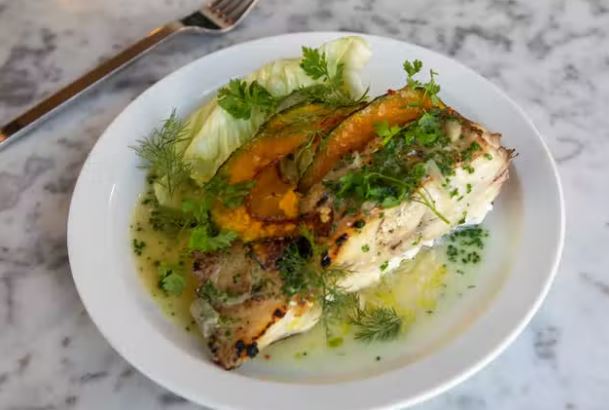 The Evening Standard
Jimi Famurewa visited Straker's in Notting Hill to see if lockdown Tik Tok sensation Thomas Straker could bring the magic IRL.
"What is absolutely not in doubt is that the narrow Golborne Road location is already one of the hottest spots in town."
Straker is "best known as a tousle-haired, butter-foaming king of viral recipes, whose slick, rapid-cut instructional videos… amassed an enormous online audience" during lockdown. But he is also "a classically trained chef — initially at Ballymaloe and then with stints at The Ledbury and Dinner by Heston Blumenthal — who grew up hunting, foraging and fishing near his family's smallholding in rural Herefordshire".
The "unfussy modern British" cooking was enhanced by "exceptional" flatbreads, with only a few misfires that could be attributed as "eminently fixable issues one might expect from a first-time restaurateur".
"A crackling and permanently-rammed burst of convivial restaurant cool… Straker has conquered the digital realm and possibly cracked the code of aspirational deliciousness for a new generation."
*****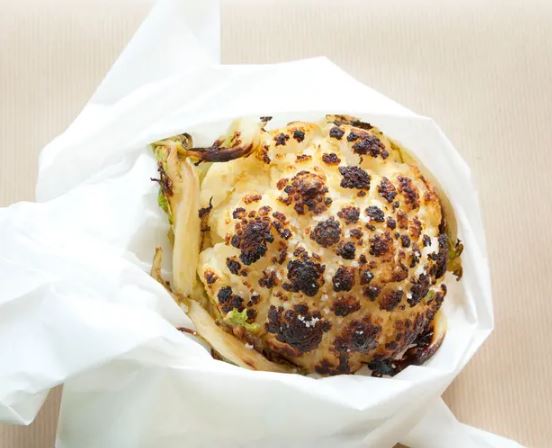 The Guardian
"Treat your first visit as a trial run."
Grace Dent was at Miznon, part of "an international chain run by the Israeli celebrity chef Eyal Shani that serves stuffed pitas and sides such as whole roast cauliflower [pictured] and lima bean stew". Casual browsers might "think twice, because the menu – in green and red ink and comic sans font – is deeply confusing and, worse, dares to feature jokes".
"It is noisy, staffed by what seems a cast of thousands, set in a charmingly unfussy room and offers high-quality, Tel Aviv-influenced street food."
Grace realised that "the trick here is to keep your nerve, set aside all British fears of wackiness and let the chaos envelop you, because the food is extraordinarily good" – the "run-over" potato has "dogged my dreams for weeks" ("actual carbohydrate heaven").
"Nothing about Miznon is wholly serious or gives a stuff about rules; all they care about is that you bumble back out of the door wholly sated and with your top trouser button loosened."
*****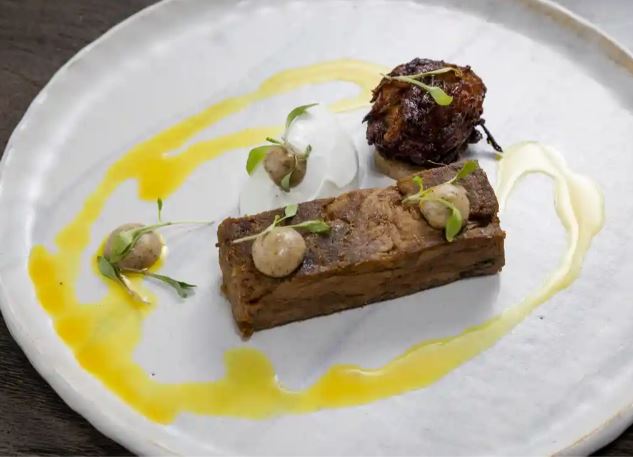 The Observer
This week's review from Jay Rayner was The Black Bull Inn in Sedbergh, which "might come across as a rather fancy pub" with a "very good chef in the kitchen" – which it is, but so much more.
At first glance the menu is a "parade of burgers and sandwiches… alongside soups with doorstep slabs of bread", but look closer and there's "a chickpea and lentil curry for example, or a pork and kimchi stew, or perhaps crispy Korean beef with shiso and sesame".
Head chef Nina Matsunaga "was raised by Japanese parents in Dusseldorf, and brings those influences to bear on the ingredients from the surrounding hills and meadows, but in a thrillingly loose-limbed, lets-be-having-you sort of way".
The rear dining room (an "austere space with raw wood panelling hung in turn with large charcoal landscapes") shows off some "lofty culinary ambition" without the usual "side order of dreary, puckered formality. It's still very much a pub" with "jolly" service.
*****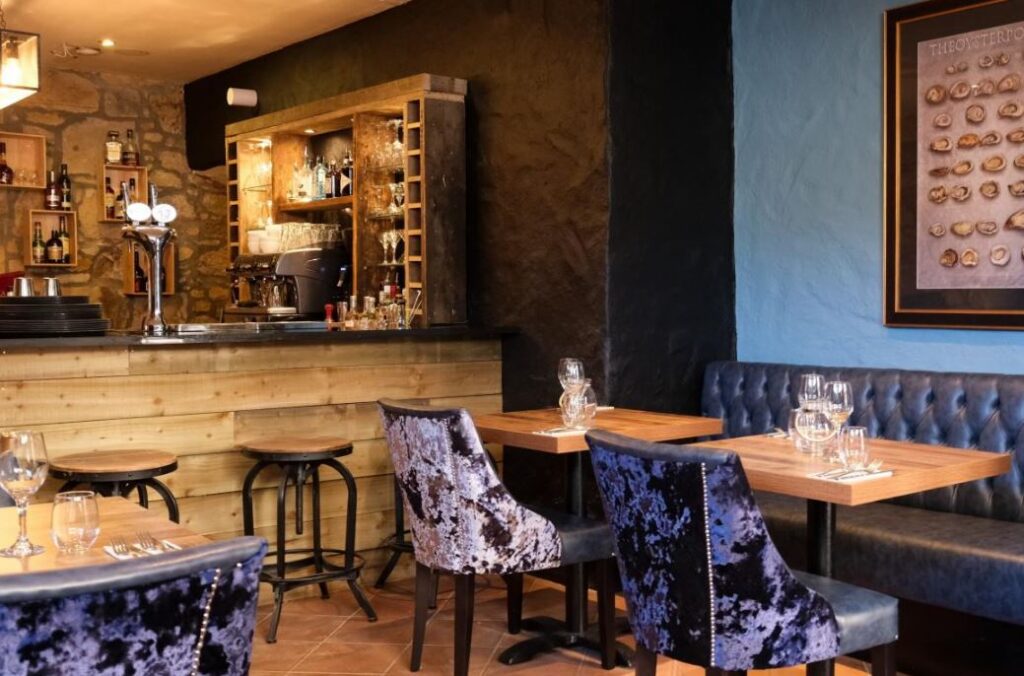 The Times
"A fancy place without any real fanfare; elaborate fare from around the world with a local-pub vibe."
Claire Sawers reviewed new "fine-dining bistro" Jack 'O' Bryans in Dunfermline ("Scotland's ancient former capital and newest city" where "peacocks… occasionally wander up [the] high street").
The space is a "laid-back mish-mash" with "elegant views over the ornate iron entrance into Pittencrieff Park" and "staff are warm and helpful, with no unnecessary fine-dining patter".
"Bryan and Michelle Coghill lived in Portugal and Spain for more than 20 years" in the hospitality trade, and – with their son Jack now at the stoves – bring an experienced Iberian touch to the menu of "luxury tapas". Jack's a trained pastry chef, so "it's definitely worth leaving space at the end of a meal for his finessed puddings".
"There is a thoughtful blend of luxurious sauces and zingy flavours to keep the palate interested across the meal… although the dishes leap between continents and cultures, those we try blend well."
*****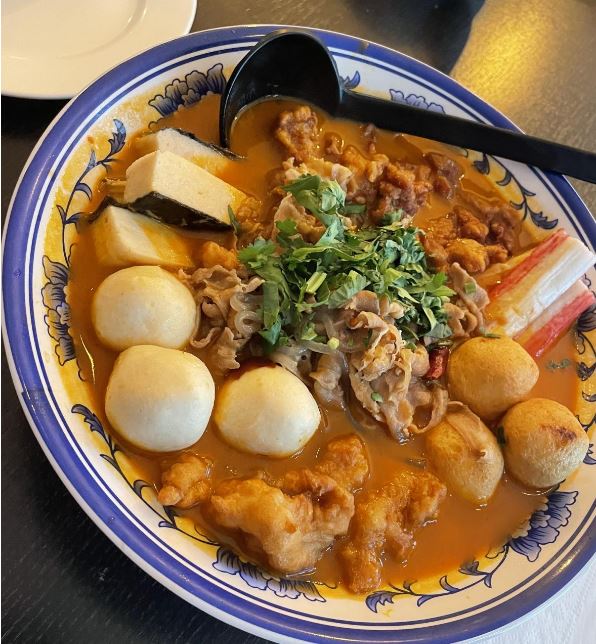 The Times
"I have just fallen in love with a restaurant myself. I think for the very first time."
Giles Coren is very keen to tell us about the new love of his life, a restaurant (unsurprisingly very close to his office) he found "one wet lunchtime a fortnight ago" and which "looked neither promising nor unpromising".
There's no English language website at Noodle & Snack, but there is a menu, plus "ten or twelve specials" of northern China written in Mandarin.
The soup in his Chongqing street noodles was "intensely good" with quality wheat noodles "the like of which are rare in this country: chewy and firm, with a very slightly nutty texture"; a plate of dumplings was "unbelievably delicious".
He's been back lots since that first visit (five times in eight days) making friends with the staff; he "wanted to try a soup I had seen an old guy eating, with noodles and chicken and pork and two kinds of fish ball on the top, which he seemed to be loving so much he had all but climbed in and become part of it" ('everything' soup, pictured above) – "it drew tears of nostalgia for a 1970s Shenyang childhood that I never had".
*****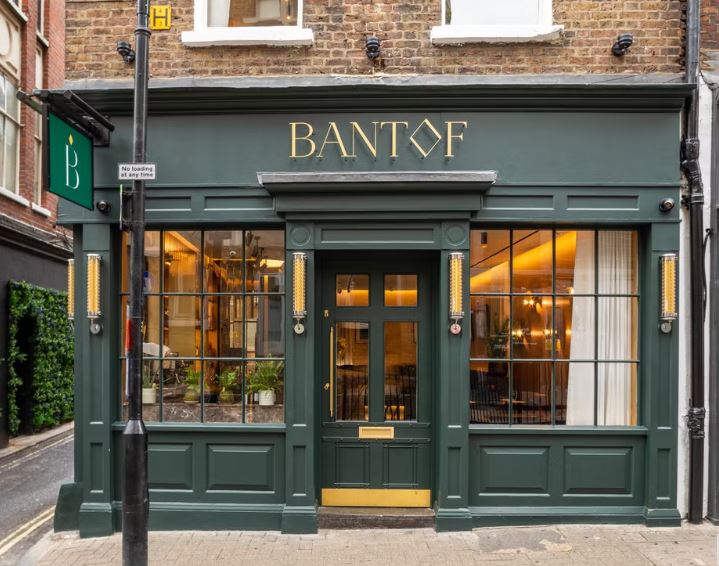 The Independent
"A new generation of Soho hangout with cocktails that tell a story."
Lucy Thackray was enchanted by Bantof, a "particularly slick cocktail bar" with the "polish of a swanky member's club" and a touch of the "spirit of historic Soho" ("a place for art, late nights, networking and, dare we say it, bad behaviour"). There's inventive cocktails, sharing plates such as "Rainbow Mini Burgers" and art for sale upstairs.
"If it plays its cards right, this will become a legendary pre or post-night-out hangout."
*****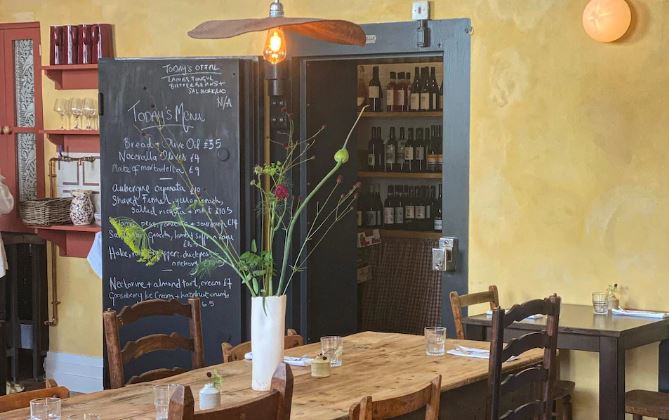 The Telegraph
"A love song, a paean to rich, hearty rural bliss."
William Sitwell gave five-stars to Emilia, the osteria with "a dream-like quality" that's taken over the former Lloyd's Bank building in the pretty Devon town of Ashburton.
From the "Italian-inspired menu" he ate "impeccable tagliatelle, glorious roast fish and an apple pie so perfect it's almost unreal".
*****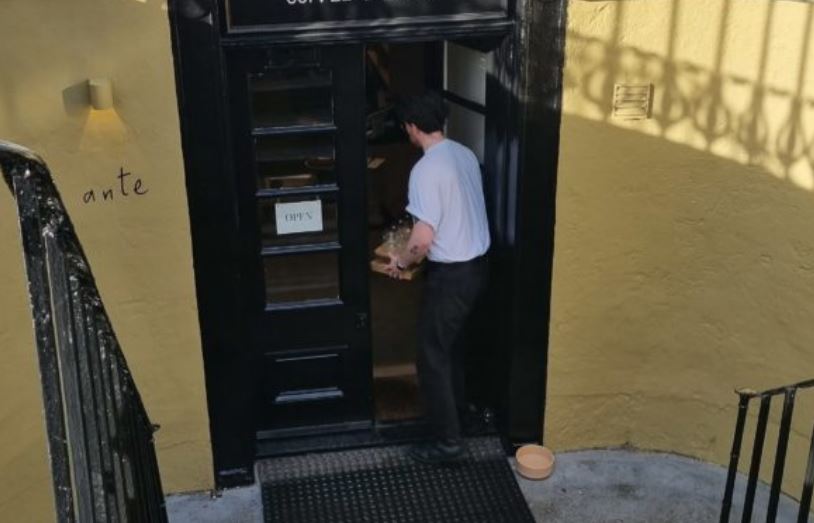 The Scotsman
Gaby Soutar followed the hipster crowd she'd spotted from her bus, and discovered Ante, a basement "bakery and coffee project" from Spry wine bar and bottle shop upstairs.
"It's very plain inside. Beige, but serviceable, and there's a counter, with bakes behind it. There's also a breakfast, lunch and cake menu. When things are gone, they stamp SOLD on the printed food lists." Coffee is "great" and the cakes, which "didn't look hugely appealing, but that's only because there was zero icing and they were all Victorian brown" were "delicious".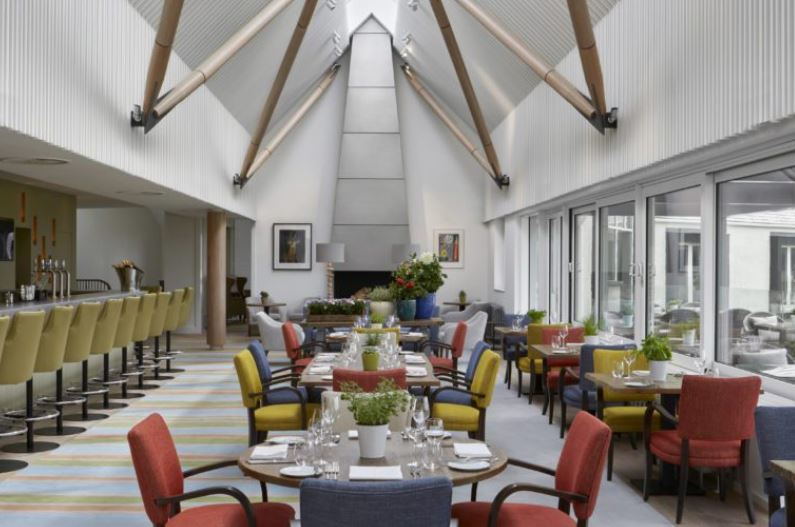 On Islay for the third time this year after never visiting before, Rosalind Erskine visited The Machrie, a golfing hotel that's "worth a visit for food or a cocktail at the bar". The only restaurant (pictured above) has "large floor to ceiling windows overlooking the 18th green and down to the beach…  a treat on a sunny day".
*****
And also…
In The FT Magazine, Tim Hayward reviewed Cavita, which "redefines London's Mexican food scene"; the menu "lists foods that are properly, challengingly rustic, but presented elegantly and imaginatively".
*****