Here is our weekly round-up of what the national and local restaurant critics were writing about in the week ending 27 March 2022.
*****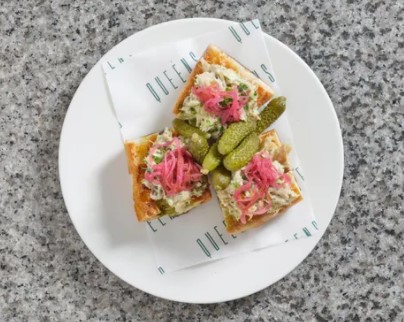 The Observer
"Let me introduce you to Queens Wine Bar and Bistro in Liverpool which, in dark days, can show you a very nice time indeed."
On the train to Liverpool, Jay Rayner was pondering on the plight of Ukranian people fleeing the invasion, on a very different type of train journey. Philippa Perry encouraged Guardian readers to "remember to enjoy yourself as much as possible. It doesn't help anyone if you don't enjoy yourself."
Jay's responses are more than the "terrible self-justifications of a man who, in a time of war, is merely reporting from the frontline of lunch. Self-justifications they may be. That doesn't necessarily make them wrong."
Queen is "located down Queen Avenue, a narrow shopping arcade of handsome Grade II listed buildings", and looks as though it's been there far longer than 2019. The food is "true to the word "bistro"… encouraging ingredients with the occasional flourish, but with nothing to make the eyes widen with too much curiosity, or to distract you from the conversation you're having".
"None of this will make the world a better place. None of it will make the bad things stop. But enjoying it really won't make things worse, and it may make you feel a little better. That's all we can ask of lunch."
*****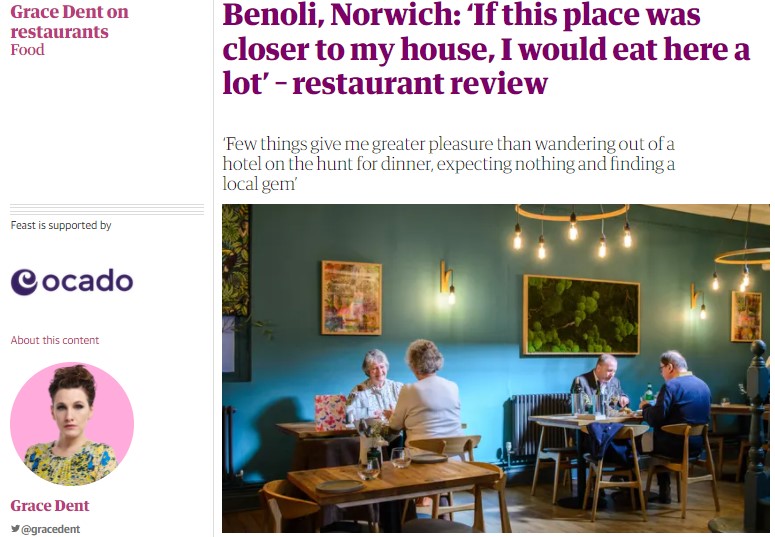 The Guardian
Grace Dent was in Norwich ("a great place for structureless mooching") this week, berating herself for not visiting the area for over a decade; "good things are happening in this nook of East Anglia".
She knew that Benoli was no ordinary Italian restaurant from the moment she set eyes on the "cheesy weirdness" that was the parmesan croquettes ("like furious Shredded Wheat preparing for battle").
It's a "modern, three-floored Italian hidden up an alley in the city centre" run by "brothers Ben and Oliver Boon". The menu is "hectic and helter-skelter, Japanese-influenced in places, and then – oops – we're in eastern Europe" and there's no skimping on portion sizes.
"Boon can really cook… if Benoli was closer to my house, I would eat here a lot."
It's a true "local gem" – not "perfect – some mouthfuls are just too much, some dishes are erratic, and if you come expecting a soothing plate of dough balls, you may be a bit disappointed – but the Boons are striving, experimenting and delivering some sort of greatness".
*****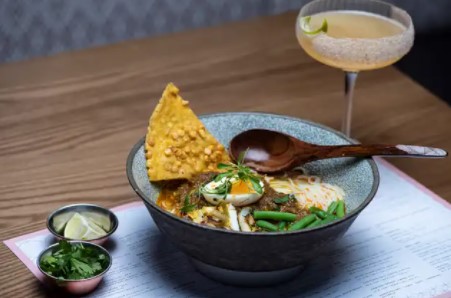 The Evening Standard
David Ellis reviewed Lahpet, in St Martin's Courtyard – now re-named The Yards – in Covent Garden, and now can't live without its Burmese food. The rakhine mohinga ("what they helpfully translate as fish noodle soup") has "heat that travels, gets into the blood, makes you feel good. A cure for all ails".
"I've no idea if Lahpet is authentic, although I imagine restaurants there don't look like they've been outfitted exclusively using Made.com."
*****
David also broke the news that Robin Gill is launching a new project: "a true neighbourhood restaurant — the kind of place that everyone would like to have at the end of their street, that you could come to every week". Maria G's opens in Kensington this June.
Another new place is on its way from a chef that built a massive Instagram following uploading recipes during the pandemic; Thomas Straker is opening an eponymous restaurant (Straker's) in Notting Hill this June (he was originally due to open Acre in Queen's Park).
*****
Also in The Standard, the new café that's helping refugees to gain UK-based employment, references and skills. Trampoline, from the team behind Nemi Teas (itself a social enterprise) helps refugees to overcome the Catch -22 of not being able to get a job in the UK due to having no UK experience. With 14 branches planned, this will help plug the hospitality shortage as well as making significant savings for the government.
*****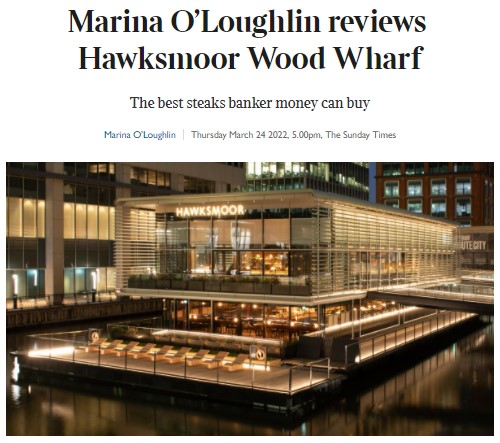 The Sunday Times
Marina O'Loughlin reviewed the new branch of Hawksmoor in Wood Wharf; the chain was one of the few restaurants she disagreed with the late AA Gill about. He sneered at the quality of the beef at the Covent Garden branch, while Marina's first impression was that it was "that rarest of things: an instant classic" (and still jam-packed to this day).
Always "something of an outlier", with founders who "weren't finance bros or beardy beef bores, but the kind of excellent nerd interested only in the highest form of their obsession", Hawksmoor has always remained sexy and cool, however "entirely manufactured". Will this "latest outpost on an architect-designed pontoon in Canary Wharf must finally sound the death knell to any scintilla of cult status?"
This is, of course, the company that took New York by storm, "and if they can make it there … well, Canary Wharf's a stroll in the park. Hawksmoor continues to be a class act. Sorry, Adrian".
As an added bonus, there's an impressive three-course "express menu" for £26 for the workers not on bankers' salaries; "for the quality (and quantity), this is a steal".
*****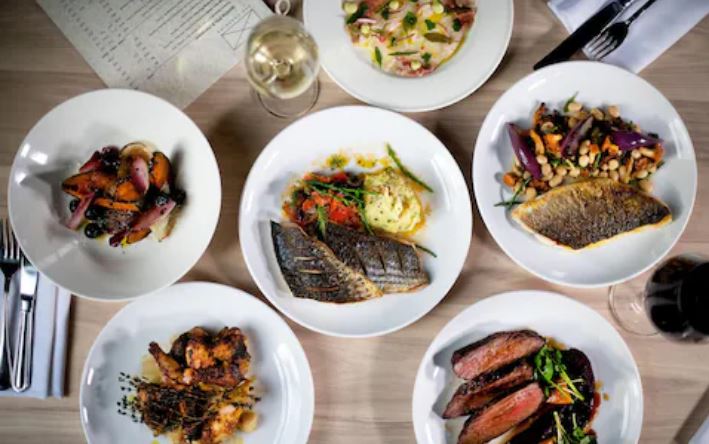 The Telegraph
"Good, clean fun."
William Sitwell reviewed The Crossing in Barnes, which is "as spic and span as the surrounding environment is leafy", and popular with local mums.
"The design and décor are clean too… a little at odds" with the menu of "rural, rustic and filling" food. "Here I detect the hand of the chef Anthony Demetre, who consults on the menu. He is an exacting and tidy chef who loves butter and cream and the gutsiest food of France."
William was smug that he "ordered better" than his lunch companion: a "delightfully rich and well-balanced plate of lobster bisque" followed by "an utterly glorious confit duck", finishing with chocolate soup.
The duck was "the sort of dish that has that miraculous quality of making one glad to be alive, glad to be a human with taste buds and hunger. Barnes, be grateful for this dish, it really is a thing of epic wonder".
*****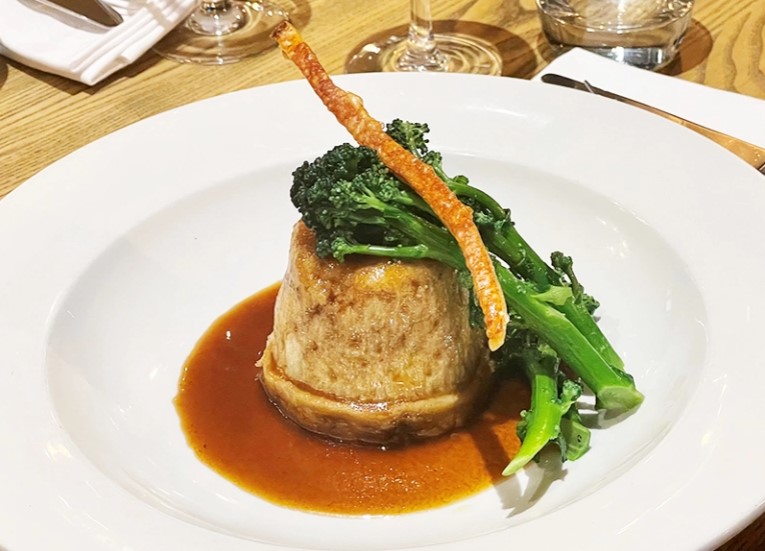 The Mail on Sunday
Tom Parker Bowles for YOU Magazine was in Windsor "in search of a decent pub lunch" and found "a glittering jewel" at The Greene Oak.
The pub is "on the outskirts of town" and has "a menu that seems far removed from the average gastro-pub yawn" and "a proper kitchen with ambition, talent and no stinting on the pleasure", run by two ex-Ivy chefs.
Tom praised the "crisp bar-snack brilliance", "comfortingly, resoundingly old school" main courses and "damned good value… just £18 for two courses".
*****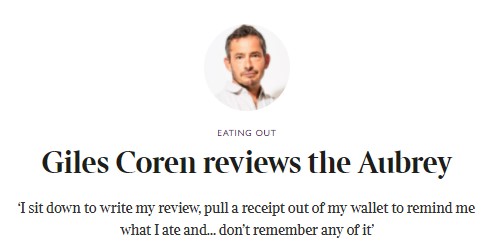 The Times
"I sit down to write my review, pull a receipt out of my wallet to remind me what I ate and… don't remember any of it".
Giles Coren had three pints (and a nap) before turning up for dinner at Mayfair newcomer The Aubrey; more cocktails there, plus sake, wine and Japanese whisky helped him to completely forget the meal.
He's deduced what he had from the photos on his phone and the receipt, which – luckily for his expense account as it was almost £400 – his friend paid for.
*****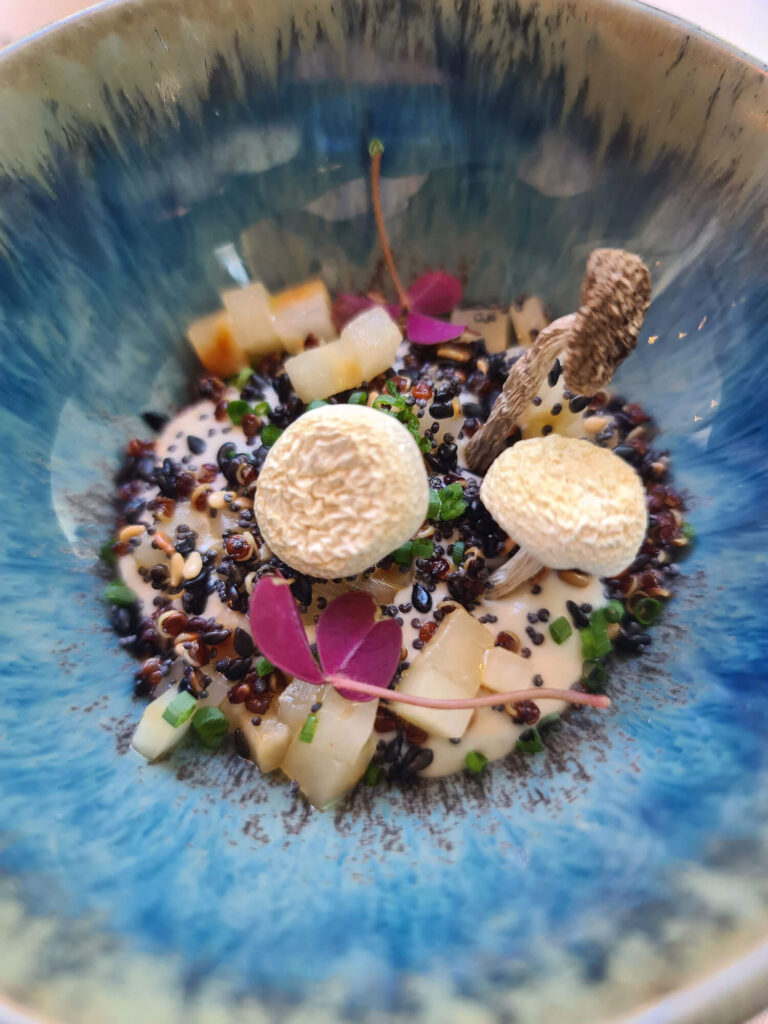 Koffmann & Vines
Koffmann & Vines reviewed 1771, "a grown-up restaurant" on the Pimlico site that was for many years Como Lario, and briefly Liv. Former Anglo chef Mark Jarvis head up the place and is "one of those rare chefs who combines creativity with discipline, exuberance with restraint. He thinks outside the box, but the box is perfectly delineated".
"Flavours are exceptional and well-balanced. Everything on the plate is there for a reason and all the ingredients work together in harmony."
And also…
In The Scotsman, Gaby Soutar tried out the "all-day sit-in menu" at Bakery Andante in Edinburgh, which has added a Broughton Street café to their Morningside and Leith branches (the former of which sustained her through lockdown).
"They're quite traditional in their sweet creations. You'll definitely find brownies, Victoria Sponges and scones, though you're less likely to get brookies and Biscoff-injected doughnuts."
*****
Manchester Evening News reported that Simon Rogan has hinted at a return to Manchester; "the chef behind Lake District restaurant L'Enclume, which was awarded its third Michelin star last month, has said that he'd come back to Manchester 'in a heartbeat'."
*****
Birmingham Live reported on the opening date (April 25) of the new Solihull branch of Kibou.
*****