Here is our weekly round-up of what the national and local restaurant critics were writing about in the week ending 25 July 2021.
*****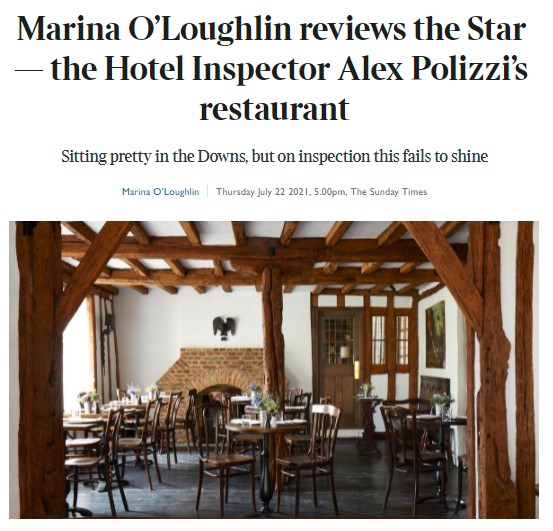 The Sunday Times
"What to do when the restaurant you've travelled quite far to review probably shouldn't be open to paying guests yet?"
Marina O'Loughlin turned the tables on The Hotel Inspector Alex Polizzi this week, by visiting the newest establishment in her (and mother Olga's) portfolio, The Star in Alfriston, in the "impossibly picturesque setting… amid the beautiful South Downs".
"Despite kicking off with a perfect retro cosmopolitan… things went rapidly downhill."
Yes, "beds and linen were heaven", "breakfasts were good" and "staff struggled manfully to paper over the many cracks", but staff shortages were clearly an issue – at one point, Marina discovered 75-year-old Olga Polizzi "helping with turndown" – she's never read "a less appealing menu" and the bill was an "astonishing work of creative accounting".
"This hotel has the potential to be a beauty. Sometime."
Searching for a plan B, Marina found Fork in Lewes ("lovely little place, with its pared-back modernity and sun-dappled, leafy back garden") but "it wouldn't be right to review on the basis of a picnicky lunch when evening menus are a far better showcase of a smart chef's talents".
Next, she tried the Rathfinny wine estate's Tasting Room restaurant, with "glorious views"… and a fully booked lunch service.
The Ram Inn in "enchanting" Firle was a "gorgeous-looking old boozer" but served up a depressing Sunday roast, "with the exception of a terrific cauliflower cheese". Just up the road, Beanstalk, an "almost hidden fairyland of superb baking" had such a "surfeit of extreme English beauty" that it brought out her "ugly Glaswegian truculence".
*****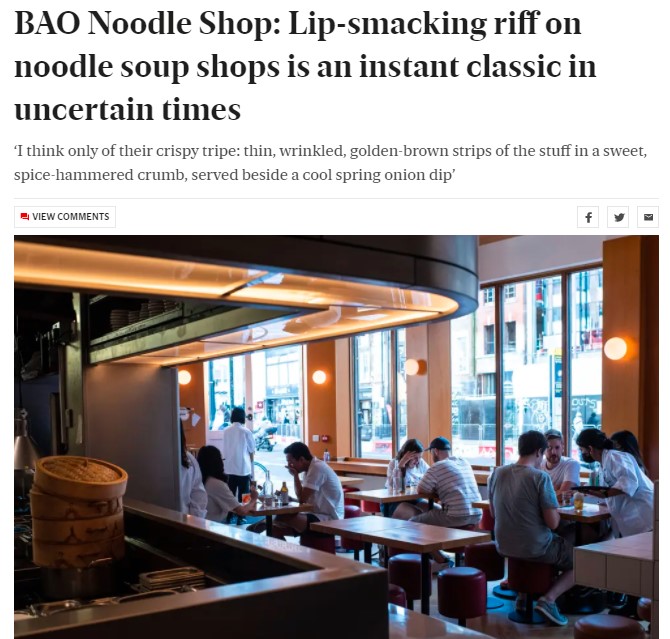 The Evening Standard
A "perfectly timed, messy distraction from a twitchy post-lockdown atmosphere".
Jimi Famurewa in The Evening Standard visited the latest branch of Bao, a "hyped" noodle shop in The Shoreditch space that was once home to Andina. It's "a hall of glossy timber and brilliant white tile with a basement karaoke bar like something from a Wong Kar-wai film".
"Unlikely frontrunner for dish of the year" goes to the crispy tripe, the "decidedly unsexy, old-fashioned offal" rarely found on menus nowadays. And it's just "the deep-fried jewel in the crown of what is a very, very special opening".
An "ode to Taiwan's sainted, ever-mobbed beef noodle soup shops", Bao Noodle served Jimi up with dishes that "seemed to be all crescendo; dispatched in a gasping blur of raised chopsticks, licked fingers and cooling sips of crisp Taiwan Beer".
"One of the most talented hospitality groups in the city has unleashed a transporting, instant classic."
*****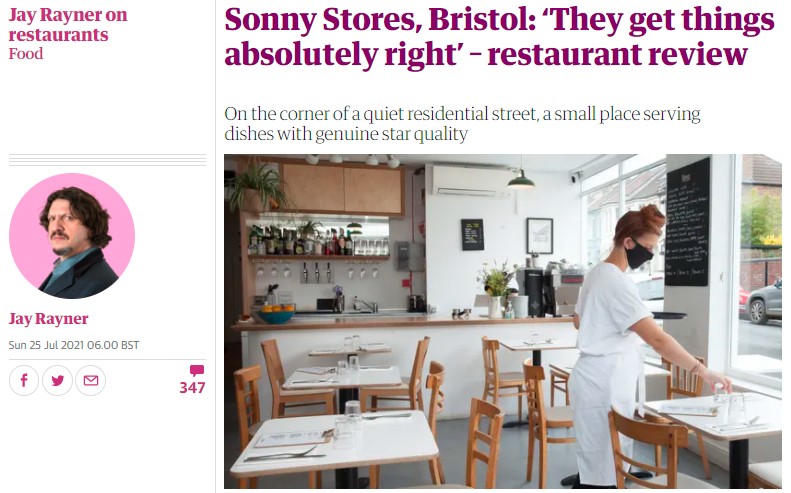 The Observer
"I am babbling like a love-struck teen, but it is all so very babble-worthy."
To Bristol for Jay Rayner, and a visit to Sonny Stores, a "humble, whitewashed space… on a corner in residential Bristol" a location which one could never "mistake it for the famed River Café. Until the food starts arriving. And then: oh my. Gosh. And thank you."
Chef-patron Pegs Quinn spent five years cooking at the River Café before moving to Bristol and cooking at Bianchi and Pasta Ripiena, before running a pizza delivery during lockdown. They opened Sonny Stores as an Italian deli last year, but it's now a full-blown restaurant with "with a blackboard menu that changes throughout the week [and] space for 16 inside" and a kitchen that "isn't merely unafraid of big flavours… it's thrilled by them".
Often, dessert is where balls are dropped, but at Sonny Stores even the desserts are "immaculate"; Jay's meringue and peach pudding was "pure sunlight".
"I leave with a surge of jealousy. Behind all the surrounding front doors are people who can pop over the road for a plate or two here any time they like, funds allowing."
"Bristolians who care about their dinner, and the city's thrilling independent restaurant sector suggests they are many, should give thanks."
*****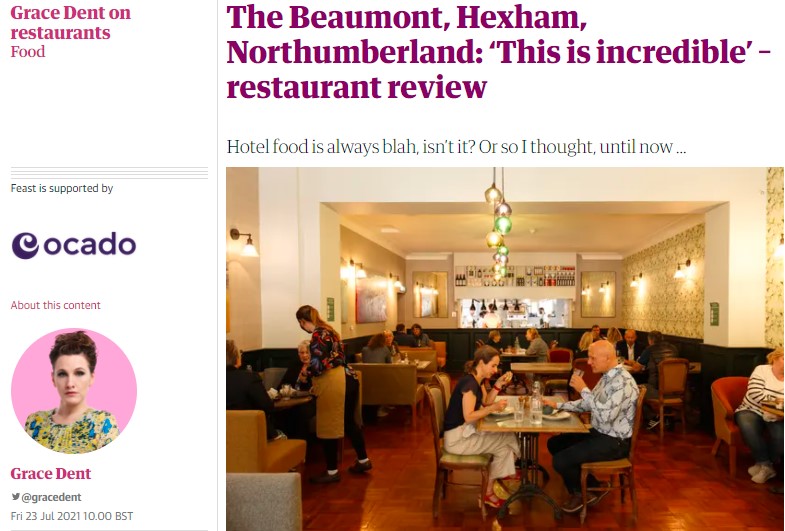 The Guardian
"Never, in the roughly 347 times I've been served mackerel on MasterChef, has anyone done it so well."
Grace Dent admits that "not a single local will thank me for alerting you to this chic, recently renovated… townhouse-style hotel… because, until now, it has been largely Hexham's secret".
She spent her childhood visiting Hexham, and on a recently return trip, tried out the "very fine restaurant" at The Beaumont (overlooking the abbey ruins) almost by mistake. She hadn't meant to eat at the hotel, but, hours after check-in, "walked into The Beaumont's dining room with a pillow-creased face and asked if they could fit me in".
The menu was "filled with surprising, imaginative, delicious-sounding things; a touch finickity, perhaps, but definitely on the right side of accessible". Service had an "air of chipper, diligent, business-as-usual hospitality". She only meant to have a starter (the mackerel mentioned above) but "for research purposes" had a main and dessert too.
"Intriguing, well-judged, wholly devourable food for which I'd happily travel from London again…. So far in 2021, The Beaumont is in my top three."
*****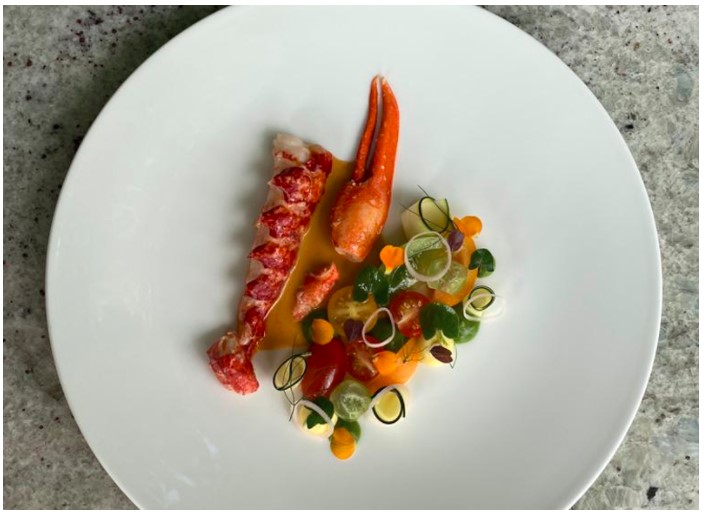 The Mail on Sunday
"We adore this place."
Tom Parker Bowles for YOU Magazine is the first of the critics to make it to The Fordwich Arms' new sibling, in the Kent countryside
"There's much to love about The Bridge Arms, a place that mixes old-fashioned boozer with resolutely modern restaurant." The pub side is "all ancient beams and parquet floors" while the dining room is "high-ceilinged and flooded with light".
"Staff are young, bright and brimming with delight, while the menu is every bit as thrilling as a new Jack Reacher" – it's the "very essence of midsummer England" – and the wine list is "filled with decently priced lovelies".
"With everything, there's an innate culinary intelligence, and elegant technique too" And because it's a TPB review, there's plenty of "grunt", "ovine vigour" and "bite" too.
*****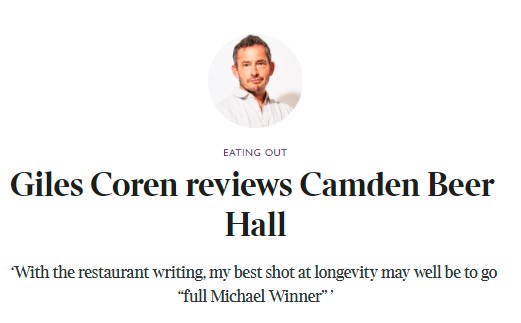 The Times
Giles Coren recently used the word "historic" in his review on Tom Simmons in Cardiff, and was soundly reprimanded by some readers with long memories, who claim that it was Micheal Winner's word and that he wasn't allowed to use it.
So of course, Giles went "full Winner" and parodied the late restaurant critic, declaring that he would henceforth "stick to a handful of places near me that I already know and like, go there only with celebrities, big up new openings owned by my friends, rant about appalling service whenever I am not adequately kowtowed to, and do nothing in terms of describing the dishes, beyond announcing which are historic and which are not".
But was Michael Winner just "a (very knowing) caricature of an angry fat little Jewish man, brimming with absurd opinions and prejudices, and absolutely the last person to be looking to for creative inspiration" or was he actually "the greatest restaurant critic who ever lived"? And which one was Giles parodying?
Firstly, off to Camden Beer Hall, a "German beer hall with Italian food" from "dear old friend" Jasper Cuppaidge and "dear, dear pal" Theo Randall that was all "all quite, quite historic".
Less historic was a meal (with celebrity friends) at an empty Viet Grill, which "pivoted to a delivery hub during lockdown" but "has proved unable to pivot back into anything vaguely resembling a restaurant".
A solo meal ("my favourite person to be with") at Defune in Marylebone was followed by a "new modern Greek place called Ino, from the wonderful Andreas Labridis" (of Opso fame), accompanied by a lady who'd bid for him in an auction ("I went for millions").
*****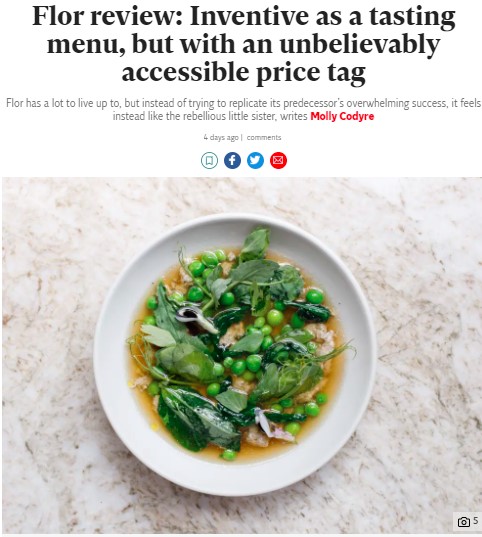 The Independent
Molly Codyre was a big fan of ASAP Pizza during lockdown ("daily exercise motivated by gastronomical reward"), and booked at Flor as soon as lockdown was over. She found it "tucked underneath the railway at the mouth" of Borough Market, a "blink-and-you'll-miss-it kind of spot that epitomises the term hole in the wall".
"Going to Borough Market for dinner is a special experience. It is the closest I have come to feeling like I'm on holiday in recent months, and it made me nostalgic for the experience of exploring new places."
A "trial and error approach to cooking… finds itself sprinkled throughout the menu in many weird and wonderful way". The "inventiveness" and "air of considered simplicity" comes "with an almost unbelievably accessible price tag".
"Despite two years, one pandemic and one overwhelmingly successful pizza pivot, Flor has remained both reasonably priced and steadfastly sure in what it does."
*****
The Telegraph
William Sitwell eschewed a restaurant review this week in favour of writing about 'Freedom Day' and the first pint he ordered at the bar; "a simple pleasure – and, lockdown has taught us, a precious one".
Also, he interviewed Kate Nicholls, CEO of UKHospitality, on his podcast; she says that "restaurants and pubs should not be blamed if there's a spike in Covid cases as a result of the lifting of restrictions". "The last thing anyone wants is to have the industry scapegoated."
*****
And also…
The Financial Times reviewed Fenn, from the team behind Hackney's NEST: "I first encountered Fenn on a dark, rainy evening. Yet the inclement conditions were offset by the warmth of the service and quality of the cooking… extremely attractive food and an adventurous wine list".
*****
Gaby Soutar for The Scotsman visited "gorgeous new" Edinburgh café Argyle Place in Marchmont; it has a "very soothing and Zen-like vibe inside" and hearty portions of sandwiches, salad and baked goods.
*****
The Manchester Evening News revealed the news of a third branch of Sugo, and reported on the forthcoming – and long-awaited – opening of "historic Salford pub" The Black Friar, which needed emergency repairs last week after a car crashed into the place.
*****
Bristol Live reported on the opening of a branch of Coppa Club in a former PizzaExpress.
*****
Recent News from Harden's