Our weekly round-up of what the national and local restaurant critics are writing about, for the week ending 23 May 2021.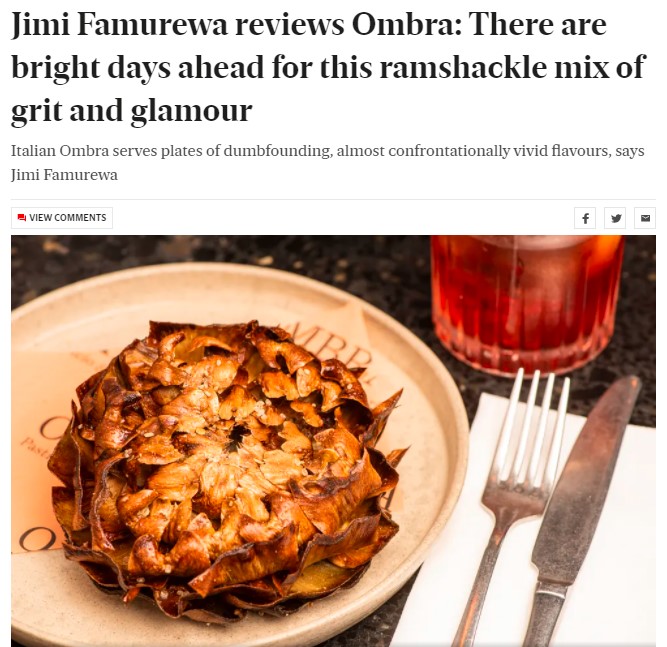 The Evening Standard
"Few restaurants embody the pandemic era spirit of perpetual adaptability like Ombra in Hackney."
For his first "back in the room" meal, the Evening Standard's chief restaurant critic Jimi Famurewa reviewed the "ramshackle mix of Italian-inspired glamour and grit" that has produced one "new innovation" after another with each lockdown. He's happy to report that "they have also resumed indoor dining with an impressive flair, calm and lack of fuss".
Originally Venetian, the menu now "ranges freely across Italy's regions" from a "fryer-heavy cicchetti section" onwards to a "lavish" dessert selection. There's possibly an overly heavy hand with the salt, but the "intensity of the flavouring… feels very much a feature rather than a bug". Chef Ibrahim's "genius is to create ostensibly simple dishes that conceal exacting chef's technique and dumbfounding, almost confrontationally vivid flavours".
Ombra, "having pivoted valiantly for so long", is "finally able to do what it does best; pointing, perhaps to brighter days, and clear skies ahead".
David Ellis in The Evening Standard reported on Jikoni becoming the "UK's first independent restaurant to go carbon-neutral" and also reveals plans for an eight-strong chain of Greek restaurants called Smashing Plates, coming in June from The Athenian team.
*****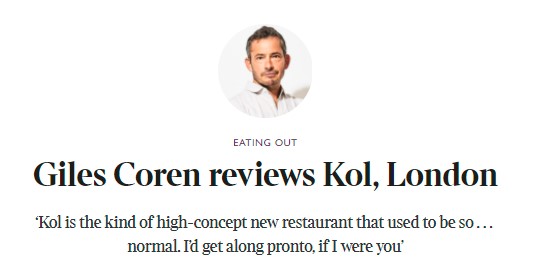 The Times
"There is something special about finished dishes of such quality being presented almost ready to eat, leaving just a bit of scooping and folding to the jaded punter, that is very post-Covid."
Giles Coren reviewed Kol, which he called a "world-class, genre-defying, entirely new and original modern upscale Mexican restaurant" that had the misfortune to open in 2020, when – in between lockdowns – it was "simply inconceivable".
He knew before visiting that "Kol would be some kind of supersmart, glitzily etiolated modern Mexican joint because the guy in charge, Santiago Lastra, launched the Noma Mexico pop-up in Tulum in 2017, which was a massive big hairy deal for a lot of people", but the "bespoke and entirely unique" room impressed him more than he expected – "high restauration" if you will. (He also seemd particularly concerned with the "smoking hot Mexican handsomeness" of the staff.)
It's "the kind of high-concept, simultaneously traditional and futuristic new restaurant that used to be so… normal".
Santiago Lastra is "all about the finest British seasonal ingredients presented in traditional Mexican arrangements with supermodern Michelin three-star technique". Guests can have a "four, six or nine-course tasting menu"; some courses Giles didn't love, but others had "heat and blood in abundance".
"I'd get along pronto, if I were you." (26/30)
*****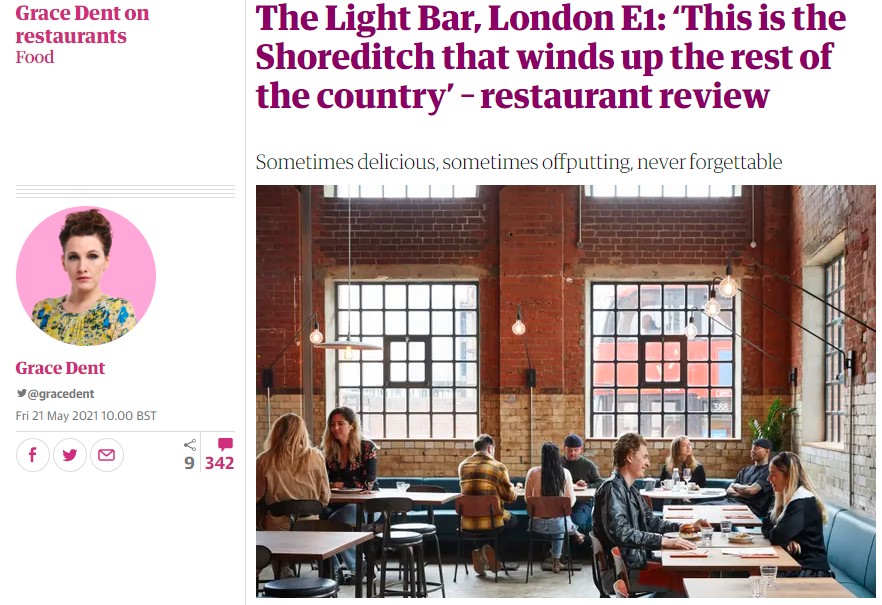 The Guardian
Shoreditch is "alive and well, and I've had a banana-flavoured old fashioned and some monkfish yakitori to prove it".
Grace Dent visited the reborn Light Bar in Shoreditch, the three-storey former power station built in the late 1800s that was at the centre of Shoreditch's original rise as the "magnet to the young and wilfully edgy".
The ground-floor restaurant is called The Engine Room, and "it is flatteringly lit and elegant, with open brickwork, navy leather and bronze features"; there's also a cocktail bar upstairs and a fine-dining space above that.
"The menu is eclectic, surprising and at times peculiar"; "part Mad Hatter's Tea Party, part Japanese yōshoku spot" (there's a chocolate barbecue sauce Grace was fascinated with). The cocktail menu "pays tribute to ye olde Shoreditch… If you are a 40-plus reformed clubber with a working knowledge of the area, prepare to feel sentimental on reading that list, and then to feel very, very old".
With a "chef who refuses to be bland, and who bombards his diners with flavour; sometimes delicious, sometimes offputting, but never forgettable", "this is exactly the Shoreditch edge that winds up the rest of the country".
*****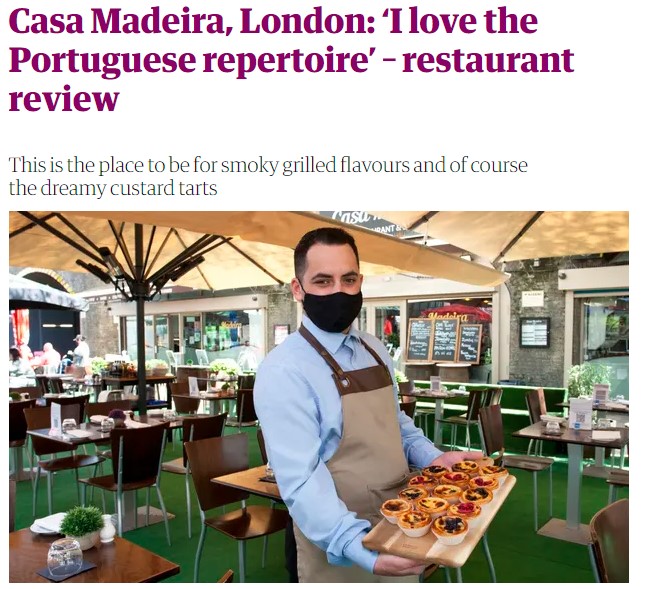 The Observer
"I love the most familiar bits of the Portuguese repertoire."
Jay Rayner had often driven past the restaurant featured in this week's review, but never stopped in; Casa Madeira can be found "tucked into the railway arches under the line from Waterloo" on Albert Embankment, right opposite MI6.
Originally a café, renowned for their Portuguese custard tarts, which are now made in Wandsworth kitchen. "If you've ever eaten a pastel de nata in London, it probably came from them… On a good day they can make 30,000." There's now a trio of businesses along this stretch, including a deli, and another on "South Lambeth Road, the heart of London's Portuguese community".
Booking for a special occasion (a milestone birthday, possibly, but certainly a last night of freedom before a hip replacement, which will make him "part man, part crockery"), he enjoyed dinner alongside a "mixed crowd". Service is "sweet and solicitous" but the kitchen felt understaffed, so "cultivate patience". "But the food, when it arrives, is everything."
"There is very little in the way of flummery coming out of that kitchen. It is solid ingredients, treated with due care and attention." Even better, "prices are reasonable and in places extraordinary" – referring to the £55 turbot, almost a third of what it would cost at Brat.
We wish Jay all the best with his recovery; some "fabulous" guest reviewers will provide entertainment in his absence.
*****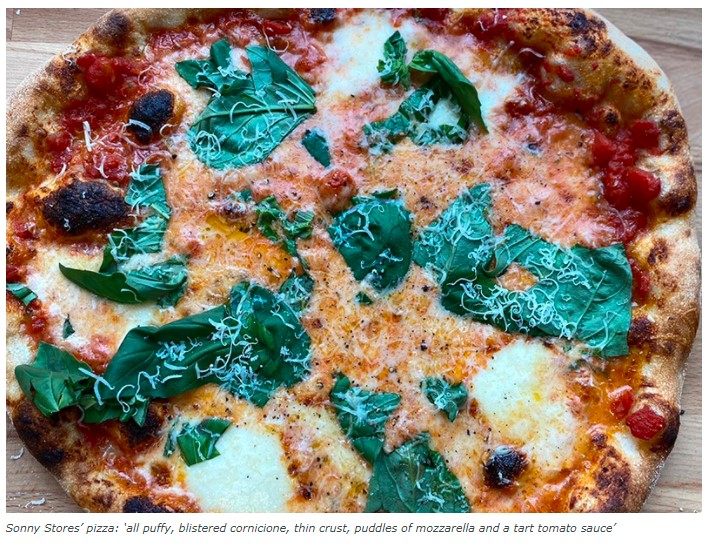 The Mail on Sunday
Tom Parker Bowles for YOU Magazine was in Bristol testing out Sonny Stores, "an Italian restaurant on the site of an old off-licence in Bristol's Southville", eating a "seemingly endless cavalcade of plates".
He advises that you "have to order everything", because "the food here is River Café quality, at almost local café prices". Chef-proprietor worked at the "peerless West London institution" for four years, so the reference is not used lightly.
The "beautiful food, charming service and incredible value" had Tom wanting to lick his plate clean – and ordering everything on the menu, from fresh pasta "as delicate and joyous as a Puccini aria" to "tiramisu, light as a cumulus cloud". "Yet another Bristol belter."
*****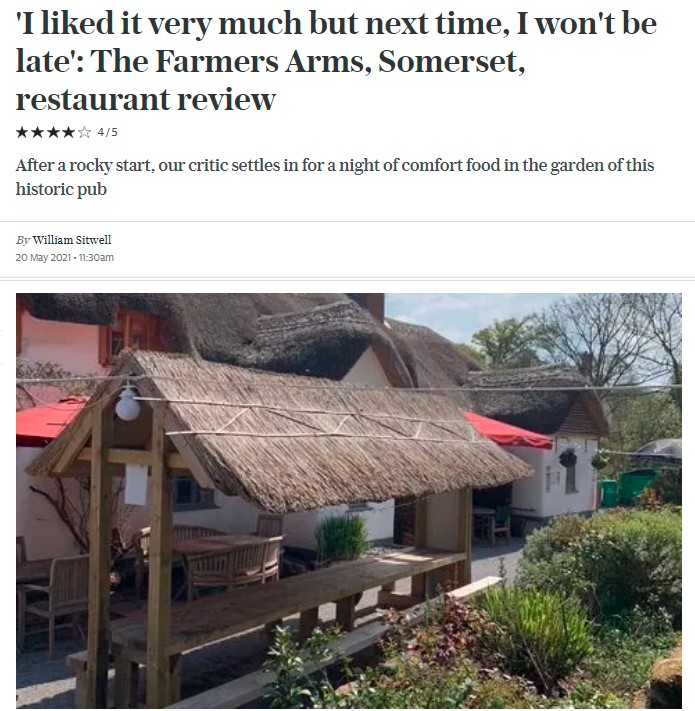 The Telegraph
William Sitwell had an initially "terrifying" welcome at The Farmers Arms, having arrived 13 minutes late. But once the host had settled (and announced his arrival to everyone present as "a man from the telly"), everything was forgiven and she was "all smiles and jollity and charm".
The Farmers Arms is a "large white building covered in dark thatch" in deepest Somerset; their menu makes good use of "the chef's Josper charcoal oven".
Eating outside at the specially-constructed "thatched-roofed wooden tables and benches", warmed with "animal skins to sit on and blankets", William and his wife enjoyed their meal. "I like this place very much."
*****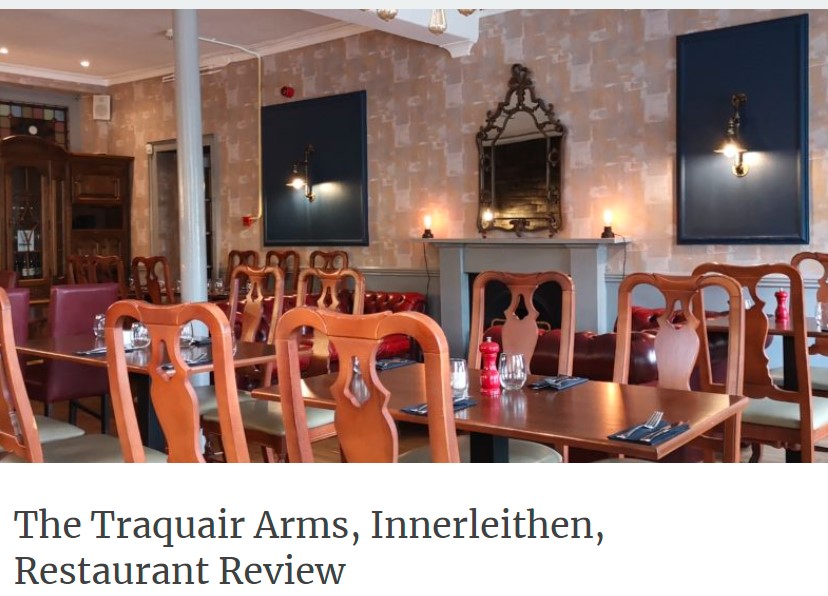 The Scotsman
Catriona Thomson enjoyed her first post-lockdown indoor drink with a meal at the "historic" Traquair Arms in Innerleithen; she even persuaded her daughter to be designated driver so she could embrace the moment, event though it was Monday lunchtime with "the sun barely over the yardarm".
"Munro-sized portions" of pie and mash helped to soak up the beer, which was followed by a chef's special of Irn Bru cheesecake (surprisingly "elegant").
"This simple pleasure… filled my heart with optimism for the future."
*****
And also…
Jo Ellison in The Financial Times asked "Why can't London protect great dining institutions like St John's Wood's Harry Morgan? In her article entitled "Chicken soup and the soul of a city".
*****
Manchester Live reported on the opening of Society, a mega-food hall in a "£1m venue, from the founders of Assembly Underground in Leeds, [which] has taken over the former Pitcher and Piano site near the Bridgewater Hall".
*****
Also in Manchester, the £1m, all-pink, Boujee has opened, including "an entire champagne room dedicated to Laurent Perrier's pink fizz, and a selfie room complete with Barbie and Ken boxes to pose" in.
*****