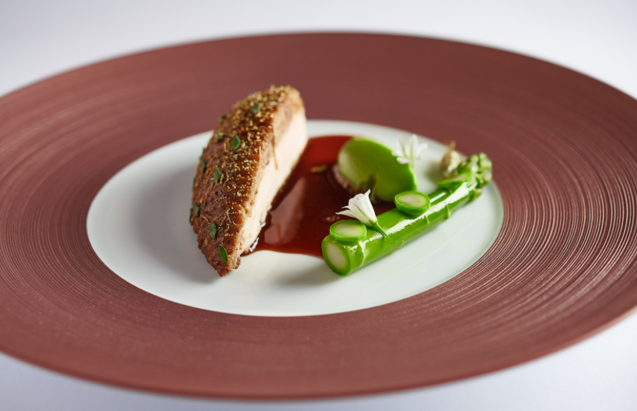 Adam Handling's eponymous flagship restaurant, Frog, has finally reopened its doors this week, and has talked of impressive booking figures, as well as that ever elusive star.
The team said it received more than 1,000 reservations within the first 24 hours of going live. It has been a trend across the industry, with some sites – Dockett No. 33 being one of them – claiming to be full until January 2022. But, still, 1,000 in 24 hours is quite the number.
Handling and his team have refreshed the interiors and, according to them, "elevated" the a la carte and tasting menus. It's sister bar, Eve, is re-opening with a new cocktail list, developed in the bar's cocktail lab.
Handling called his new menu an "art piece", and said it is his "best food ever". It comes with a reduction in opening days (now Wednesday – Saturday lunch and Tuesday – Saturday dinner), which has been introduced to enable the team, both front of house and kitchen, to "concentrate on faultless execution".
New snacks include 'duck and crispy pancakes', 'pea and wild garlic tart' and, waffles and caviar.
New starters on the a la carte menu include 'langoustine, scallop, lemongrass', 'veal sweetbreads, lemon, truffle', and mains will feature 'pigeon, beetroot, pink peppercorn', and 'turbot, mussels, pak choi'.
Handling's tasting menu features his signature 'wagyu lobster' and 'Balmoral chicken, asparagus, wild garlic', giving a subtle nod to his Scottish roots.
Handling said: "I couldn't be more grateful to finally be able to welcome guests back into my flagship restaurant again.
"I'm lucky to have such an incredible team behind me and, after spending so long working behind the scenes of the restaurant, it'll be great to get back in the kitchen and personally thank all my guests for their ongoing support – what better way to do that than giving them the best experience they've ever had in my restaurant?!
"I've restructured my operations team, so I'll be back in the kitchen full time – I'm going in all guns blazing. I'm chasing that Michelin star!".