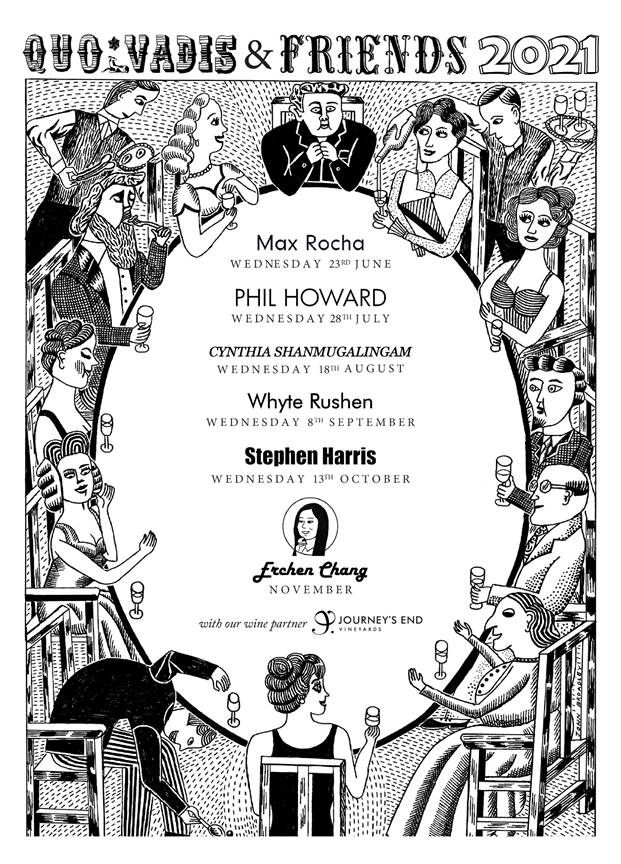 Quo Vadis has announced the line-up for part one of 2021's Quo Vadis & Friends series. As hospitality reopens, such a regular expression of the industry making a comeback makes welcome reading.
The series, now in its fifth year, sees Jeremy Lee invite some of the most talented chefs in the country to join him in Soho.
2020 was obviously a bit of an anomaly, though Quo Vadis still managed to welcome friends to cook under the restrictions. Chefs Angela Hartnett, Thomasina Miers, Fordwich Arms, Luca and Black Axe Mangal came along. While joyful, it was not quite the same.
This year, Lee has invited some of the most exciting up-and-coming chefs into his kitchen. They will be Max Rocha, Cynthia Shanmugalingam and Whyte Rushen. Erchen Chang of BAO fame and industry titans Phil Howard and Stephen Harris will also cook.
Kicking off on June 23 will be Max Rocha: a London-based, Dublin-raised chef, who has cooked at London institutions St John Bread and Wine, Spring and River Cafe.
Rocha is planning to open a cafe towards the end of this summer called Cafe Cecilia on the canal off Broadway Market, "with a focus on simple, unfussy, seasonal cooking", as is the current trend.
Tickets for each supper will be released one month ahead of each date, with exclusive priority given to Quo Vadis members one week ahead of general release date.