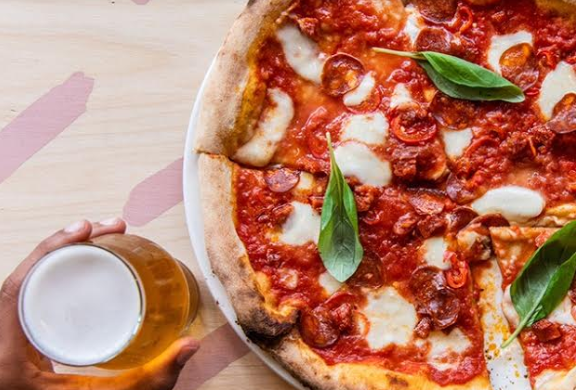 The South London sourdough pizza and craft beer brand Four Hundred Rabbits will launch a brand-new flagship pizzeria, bar, gelateria and coffee shop at Elephant Park on Friday May 28.
The new 80 cover site will be the first restaurant to open inside the 'Park Central East' area of the much-anticipated Elephant Park development.
Located next to Elephant & Castle station, the new site offers 54 seats inside the restaurant and a further 26 outside on the terrace.
Served alongside its 'London sourdough' pizza will be craft beer from breweries such as Lost & Grounded, Gipsy Hill and Deya; Negronis on-tap (still – apparently – the cheapest in London at £4 each); and a Four Hundred Rabbits' first in the form of 'hutch-made' gelato in a rainbow of flavours including roasted pistachio, rhubarberry sorbet (a rhubarb & strawberry mix) and vegan coconut.
Founded by ex-DJ brothers Daniel and Duncan Edwards back in 2015, Four Hundred Rabbits takes its name from Aztec mythology, as Daniel explains: "At Four Hundred Rabbits we love fermentation. When we were trying to figure out the proper origins of it we found that the Aztecs worshipped a goddess of alcohol and the god who first discovered fermentation.
"According to folklore these two got it together one night and created many offspring who were known as the Four Hundred Rabbit Gods. These rabbits lived the good life, constantly partying and getting up to mischief, with alcohol involved more often than not.
"At Four Hundred Rabbits we also celebrate fermentation and two of the best things it has given us: pizza and beer. We want our restaurants to be a place for good times only. It's what the rabbit gods would have wanted. And after this last year, we need the good times more than ever".