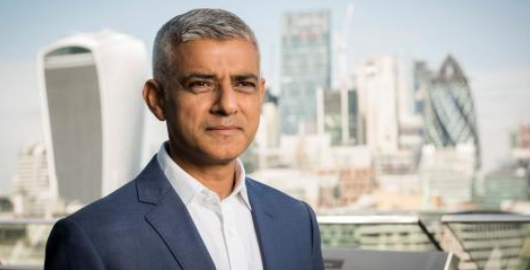 The Mayor of London has launched a campaign to entice tourists – from Britain and beyond – into the capital, which he has said is the most diverse and exciting city for food culture in the world.
Sadiq Khan's 'London Eats' project will encourage visitors to support the hospitality industry as part of the city's year-long 'Let's Do London' project, which has been designed to boost the fragile economy.
Khan has brought on big names. Asma Khan, owner of the Darjeeling Express restaurant in Coven Garden, along with Angela Hartnett, First Dates star Fred Sirieix, and MasterChef judge Monica Galetti will help with the promotion of the city's top drinking and dining spots.
Singer Jessie Ware, football manager Harry Redknapp, and Drag Race UK star Bimini Bon Boulash joined Khan in Chinatown to launch the initiative on Monday.
Khan said: "The capital is the engine of the UK's economy, but our retail, hospitality, culture and nightlife have been impacted hugely by Covid-19.
"By getting out and supporting them, while following public health advice, we can protect central London's unique eco-system of shops, hospitality and world-leading cultural venues and boost our economy."
Stimulus is much needed. According to analysis by City Hall using numbers collated by VisitBritain, consumer spending in central London by overseas tourists fell by £7.4bn throughout 2020, with domestic tourists spending £3.5bn less.
Before the coronavirus pandemic hit, nearly 18 per cent of the UK's hospitality jobs were based in London, employing around 568,000 Londoners.
Mr Khan said: "The hospitality sector has been one of the hardest-hit by the impact of the pandemic with too many jobs lost and under threat.
"As the government continues with the roadmap and as more businesses are able to open up, we are joining with famous chefs, foodies and hospitality venues to celebrate our city's world-renowned industry.
"Together we will be sharing our favourite places to eat and drink in London and highlighting the huge range of exciting event sand openings that will be taking place this summer."
Kate Nicholls, CEO of UKHospitality, added: "After a year of crisis in hospitality, London Eats is just the boost we need, to remind people that it's safe to come to London and enjoy the best gastronomy that the planet has to offer.
"London now has hundreds more reasons to visit, with something for everyone – you may not be able to travel around the globe but you can transport yourself through eating out across the capital."
Recent News from Harden's