Our weekly round-up of where the national and local restaurant critics are reviewing and what they are recommending, for the week ending 22 March 2020 – the week that ended with all UK restaurants, cafes and bars being closed due to the coronavirus outbreak.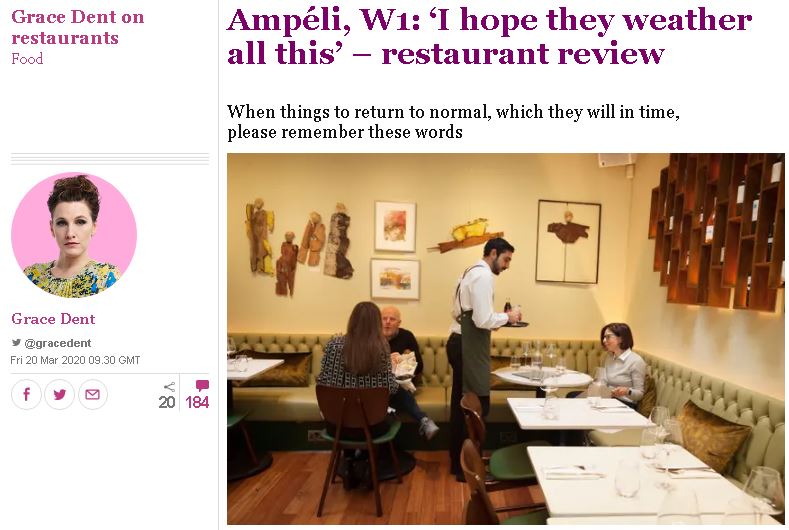 "On the face of it, writing a restaurant review right now seems utterly ludicrous." Grace Dent for The Guardian visited Ampeli three weeks ago, "in a time before the big farfalle purge of 2020" – "it now feels as if back then was a very different landscape, and a very different time of eating".
She ate on the "ever-so-slightly less gorgeous ground floor" – go for the "prettier and… more romantic" mezzanine when it re-opens. Even on a Monday night, it was "heaving" – but Charlotte Street "is one of London's best bets for an impromptu, high-standard dinner" ("when things return to normal, which they will in time, please remember these words"), and all just "a quick hop and skip from Oxford Street, but a more elegant world entirely".
Dishes come from Jenny Pagnoni's family and "the brainwaves of head chef Oren Goldfeld" (ex-Nopi). Grace are "delicious" ate onglet steak shish with charred broccoli, potato à la plancha and sweet, caramelised yoghurt, followed by "a pretty, moist semolina cake with pistachios, candied pumpkin and cardamom syrup".
"Ampéli is a cool-headed repositioning of Greek-Mediterranean food, one of the first of its kind in London. By 9pm that evening, we were one big happy room of diners, laughing and gossiping and bashing our way through the fully Greek wine list. For a restaurant critic, it was just an ordinary evening. I won't ever take that for granted again."
"All the staff were fantastic, and so proud of this venture; I hope they weather all this." (23/30)
---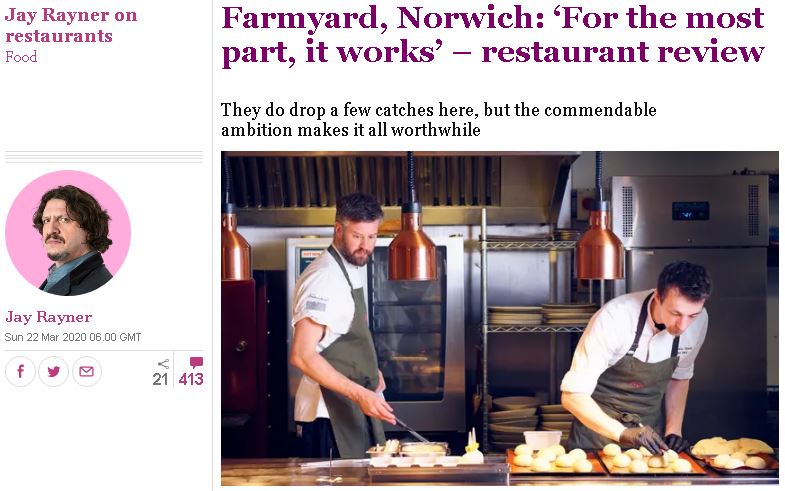 Jay Rayner for The Observer realises that saying he feels "maternal" and protective about new restaurants is a "grossly patronising thing to say to a crew of experienced chefs", but some – including Farmyard in Norwich – make him "feel like one of those parents standing in the wings during the auditions for Britain's Got Talent, watching my kids". He is "desperate for the kitchen to succeed" (and also "terrified they'll drop the catch").
The menu here is "ambitiously all over the place… such a random, swooping collection of dishes… not so much restless as on the run". It "draws its inspiration from Mexico or Japan, north Africa or Spain, and a bunch of places in-between. It demands so many skills, so much understanding of how various techniques, spices and dishes sit within a culture, that misfires seem almost guaranteed".
The chefs describe their offering as 'Bistronomy', which was "first coined in Paris in the early 90s by skilled chefs tired of the puckered and stiff atmosphere in the city's grandest garlanded gastro palaces. They wanted to continue being creative, adventurous cooks, but within the frame of a relaxed bistro, with the encouraging pricing that implies".
"For the most part, it works. There are misfires, but often dishes show "solid and reliable… cooking". Some dishes on the menu are "a gentle joke built around understatement. Ham, egg and chips are lumps of smoky, salty, collapsing ham hock, with a cured egg yolk and a big knot of deep-fried, spiralised potato". Jay's main course was a "roast chicken dinner that has polished its shoes and combed its hair" with a side of "shredded brassicas" that showed "a cheery act of attention to detail". Desserts included a "re-engineered Snickers Bar" with miso caramel and a steamed ginger pudding ("a gentle all-in-one hug and back rub").
Farmyard fills a clear niche in Norwich, "for restaurant goers who are happy to give the kitchen permission to try just a little harder and attempt just a little more".
Jay's take on the coronavirus crisis is as follows: "Right now you may not be considering visiting restaurants, but you will do so again. In the spirit of support for the restaurant sector, this column will continue making recommendations."
---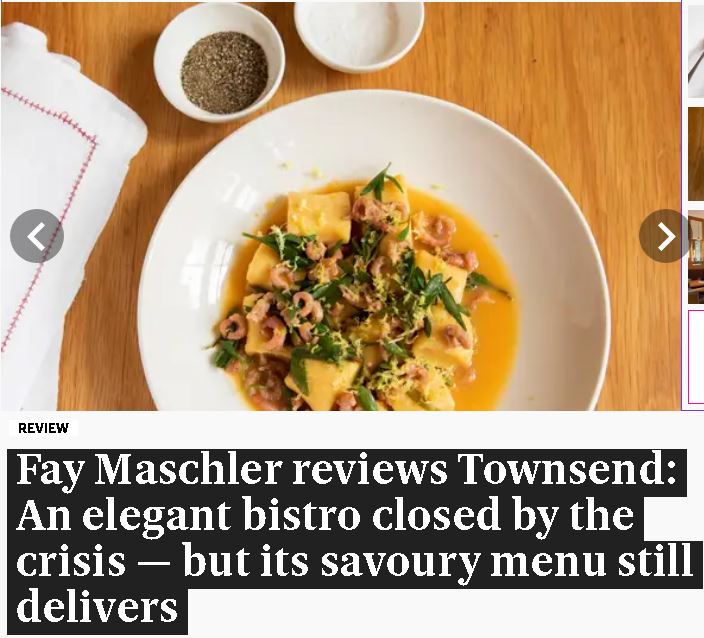 The Evening Standard reported on the London restaurants that have closed over the week, those which are offering takeaways, some which are donating their unused food to schools and vulnerable Londoners and those offering discounts or meals to NHS staff. There was also an article on how to support the restaurant industry through the current crisis (order takeaways, buy vouchers, cookbooks or merchandise, donate to crowdfunders and charities, or even hire top chefs to cook for you in your home). Tom Kerridge's Pub in the Park and the London Coffee Festival have been postponed.
Fay Maschler managed to squeeze in a review "before the government guideline advising against visiting restaurants, bars and pubs", visiting the Whitechapel Gallery's latest incumbent, Townsend. Her daughter was very keen, approving of the "surroundings in muted colours… stylish and gently lit".
It's the "creation of Nick Gilkinson from Garden Café and Anglo and head chef Joe Fox, previously at Petersham Nurseries"; "staff wear welcoming smiles and the malleable fairly priced menu creatively acknowledges the important role of plants".
Fay ate, on her several visits, "bacon scones with goats curd and chives" (several times), "crunchy fried squid… with a vivid green smoked chilli and wild garlic mayonnaise", Paddock farm pork pie and slow-cooked pork belly; her daughter's fish soup had "that saffron-enhanced deep rust colour that bodes well". Desserts included "beautifully cooked" poached Yorkshire rhubarb with rosemary shortbread; "wines are well sourced and priced, particularly at the upper end".
Townsend are now delivering "their signature dishes and favourite wines", and also offer "a care package of fresh food and store cupboard essentials". (***)
---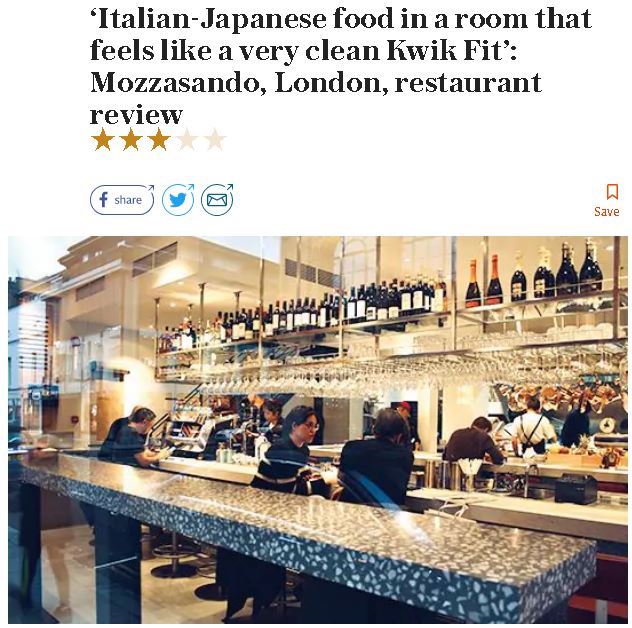 William Sitwell for The Telegraph is the first of our regular critics to review this "Italian-Japanese fusion place" in Chelsea, "in a room that feels like a very clean Kwik Fit".
It's a fusion of "the idea of mozzarella – that Italian cheese – and katsu sando – traditionally a Japanese sandwich with fried pork between soft white bread"; there's also salumi boards, which come with "fabulous focaccia". William tried the cotoletta sando,  a "veal rib-eye on song with a chorus of aioli, pickled cucumber and jalapeño" with skinny fries. They were "very good", as toasted sandwiches go.
William's three-star rating would have been five if he hadn't caught one of the many staff members (the only one not in a Kwik-Fit-esque boiler suit) wiping the plate of his "extremely good" cheesecake with a finger before serving it. (***)
---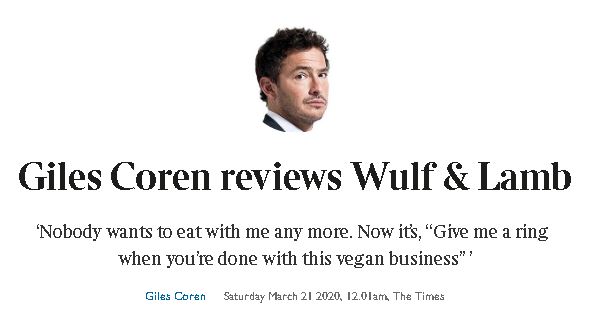 The "stratospheric levels of smugness" of Giles Coren for The Times' Saturday Magazine with his "vegan until 6pm" lifestyle has left him bereft of people to eat lunch with. So he was forced to take his wife for lunch at the new branch of Wulf & Lamb on Chiltern Street,  a "big and imposing, glass-fronted, stripped back and modern and entirely plant-based" restaurant.
He liked the original branch in Chelsea, but it was lambasted by other critics for "really awful service, grotty food, rudeness, shocking prices and cynicism. They didn't like it being a planned rollout with a clear business plan or jumping on a bandwagon", either.
Skipping over his comments about poor people being fat, he liked most of the dishes they tried. The "excellent" jackfruit and lentil 'Wulf pie' didn't have riced potato on top (horrors), but the Wulf burger was "terrific" ("and the French fries were as good as Burger King's") and the sweet potato and zucchini fritters were "crisp and savoury sweet and many-layered". He had more cooking tips for the zucchini tempura ("cut out the central seed aisle, which holds too much water") and the "gopping" chilli non carne ("like your worst student veggie nightmare"). (12/20)
---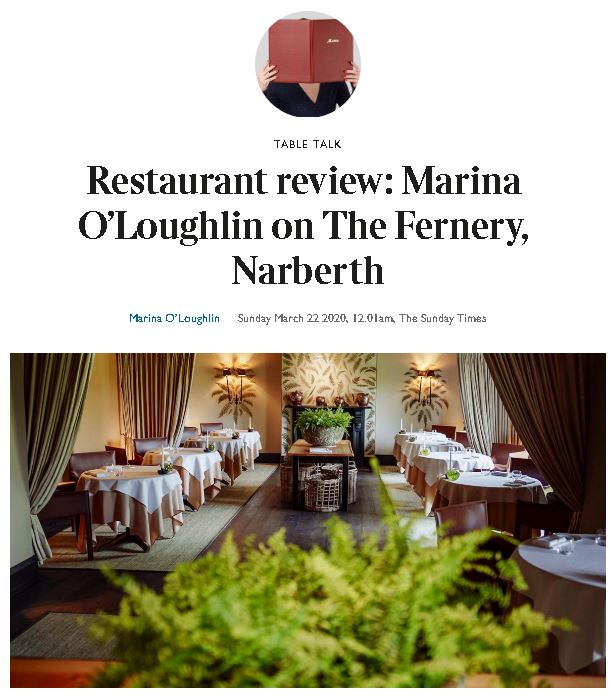 The Fernery, Grove of Narberth, Dyfed
With Wales appearing at "No 6 on a leading travel publication's Cool List for 2020", Marina O'Loughlin for The Sunday Times Magazine raced off to Narbeth to see what it was all about. But Narberth doesn't seem to know or care that it's "now officially cool": "with its antique shops and delis and eccentric seafood restaurant, it's an organically reared theme park for the small "c" conservative".
The Fernery, the fine dining option at The Grove ("a recently chic'd-up hotel 10 minutes from town") "is almost defiantly Not Cool", with "fern-themed interior… hushed-reverence, over-upholstered and be-linened starchiness", reminiscent of big city hotel dining a few years ago. There's none of the mandatory hipster features of today's London restaurants, no "ostentatious fermentation or aged cows or hand-thrown pottery dishes weighing the same as a small tractor".
"There's zero doubt what they have in their crosshairs here, all guns blazing for a Michelin. There's the newish chef, Douglas Balish, and his twinkler-studded CV", the "expensive and recondite wine list" and the "bill that has you wondering if they have on-site defibrillation kits".
It's "tasting-menu-only" which Marina finds "draining", although she warmed to the place, with its "young, mostly female staff", "wonderful sommelier" and "Balish's cooking", which is "big on the deceptively simple". There's the odd bit of "silliness" (celery sorbet) and tiny portions, but overall the "old fine dining as fine art" concept works here, and suits the place and the customers ("the only beards round here are of the Paul Hollywood variety, entirely devoid of man buns or tattoos").
"It's hospitality that makes this lot special, their tolerance of special requests… they answer all manner of annoying questions happily, with charm and wit." Marina also visited the sister restaurant, Coast, near Coppet Hall beach, and received the same welcome. "Anything to oblige seems to be the house style round these parts. How deliciously uncool of them."
And also…
The Scotsman's food and drink section was dedicated to the news rather than a review: the restaurants offering deliveries, the pizza restaurant-turned drive-through takeaway (@pizza), the distilleries producing hand sanitiser and the aid being fundraised for hospitality workers.
---
The re-opened "world-renowned" Gymkhana was reviewed in The Financial Times: "the exceptionally hot Indo-Chinese halibut is only for the brave".
---
The Manchester Evening News reported on the early March opening of Doner Haus in the Corn Exchange, a restaurant (sibling to a Glasgow joint) aiming "to reinvent the doner, promising lean meat and plenty of other specialities brought over from Berlin's lively food scene". There are "subtle Bauhaus influences" in the design, the doners are "pure bliss", "there are a surprising number of options for vegetarians and vegans" and a "smarter, restaurant version of the currywurst served on roadsides right across Berlin".