Our weekly round-up of what the national and local restaurant critics were writing about in the week ending 22 August 2021.
*****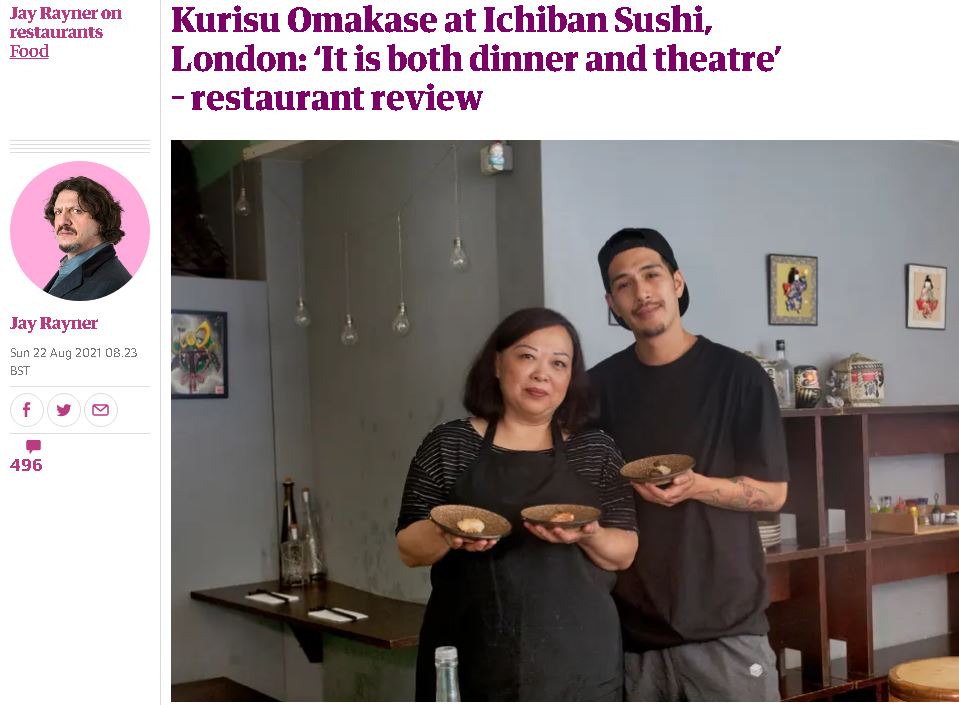 The Observer
"I do not hesitate to say that what's being served here is some of the very best sushi in the UK today."
Jay Rayner secured himself a sought-after spot at the Kurisu Omakase at Brixton's Ichiban Sushi over three months before his booking, beating countless other "napkin-sniffers" and "invisible hordes" trying to "be first through the door of the next big thing".
The restaurant is a short walk away from where Jay lives, and he's been going since it opened in 1999. The chef at Kurisu Omakase, Chris Restrepo, is none other than the owners' son, who often helped out at weekends as a boy, and in doing so, found his calling. After securing a place at "the prestigious Tokyo Sushi Academy" he has returned and runs a tasting menu on Sundays and Mondays.
"There's oceans of technique on display, but there's so much more than that. There is character and narrative and wit. Restrepo is chef as story teller."
"Tiny, jewel-like courses" are served around a low counter by Chris, using "his brazier of glowing coals, his blow torch, sauces and, of course, his blonde-wood case of fish"; each course "comes with notes" ("provenance matters") and stories.
Word has "got around. Endo Kazutoshi of the revered Endo at the Rotunda turned up one night, as did some of the crew from the Araki. Serious chefs are coming down to see what Restrepo is up to".
Getting a place might be "terrifyingly competitive" and the "£108 price tag is hefty" but "compared to similar offerings in London it can only be classed as good value" and it's "so very worth it".
*****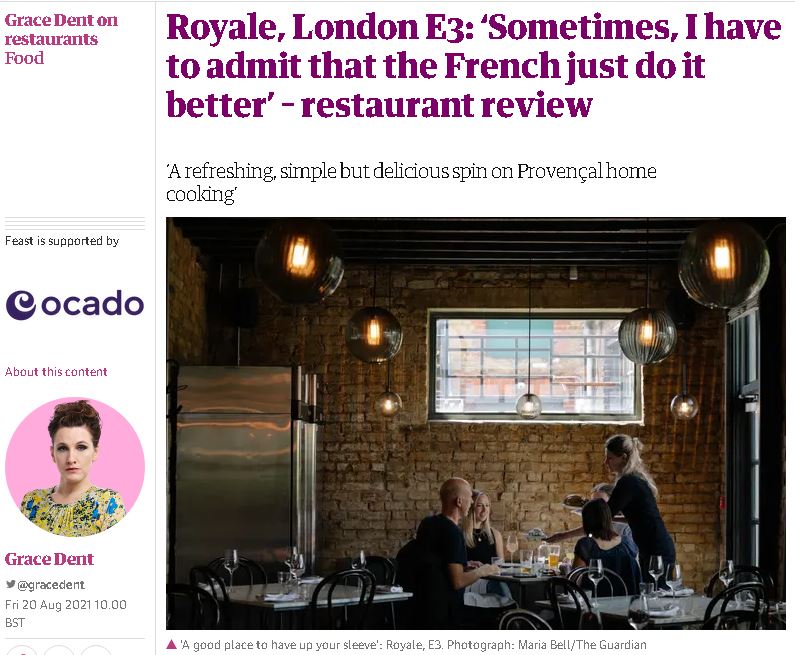 The Guardian
"Sometimes, I have to admit that the French really do do it better."
Grace Dent broke her own rule (to never "leave the house on a Sunday to go out to eat") to try out Royale at the East London Liquor Company; it's a "spin-off from another very good restaurant, Leroy in Shoreditch" and serves "almost exclusively rotisserie chicken".
In a "long, pretty, exposed brick room with an outdoor terrace", Chef Lucy Timm is serving "a refreshing, simple but delicious spin on Provençal home cooking", with the rotisseried corn-fed Anjou chickens the main event, served simply with roast potatoes and jus.
"Intriguing cocktails" from the "severely underrated East London Liquor Company" help jolly things along on a quiet Sunday; service, "just as at Leroy, is relaxed but bright and knowledgable".
"Worth leaving the house for."
*****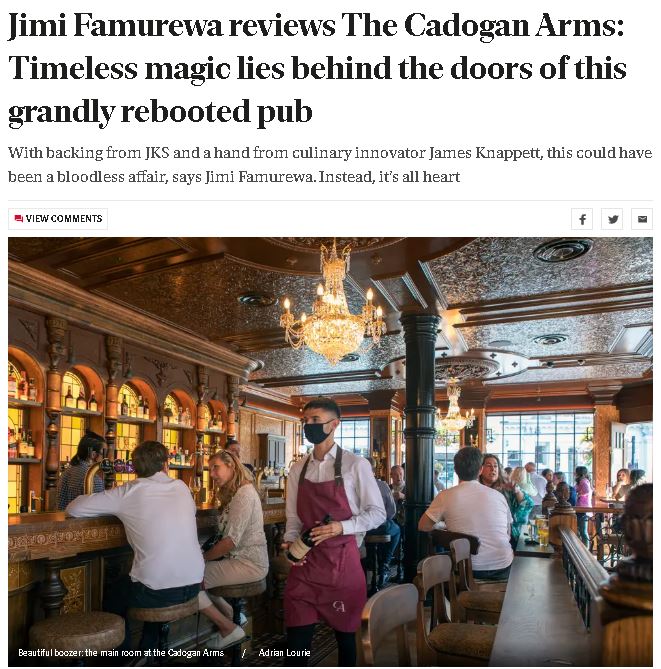 The Evening Standard
Jimi Famurewa is back after a break in Norfolk with a review of The Cadogan Arms, the rebooted grand London pub that's part of a "partnership between publican Dominic Jacobs and all-conquering restaurant group JKS, operating under the culinary direction of Kitchen Table's James Knappett".
First impressions were of a "caramel-tiled, wood-accented and palatially huge glossy glitter ball of a bar" and food of "a full-blooded, all-caps spirit of generous intensity from the off".
With the bar-snack-style starters, Jimi recognised that there's "a real, subtle art to making these ostensibly simple pub standards land correctly".
The Cadogan Arms "is an old-bones, purist's pub, restored with sensitivity, run with palpable affection and afforded an extra culinary gear by the pedigree of its team. It is a pub run by people who actually like them".
*****
Also in The Standard, an article on Oxeye, a project six years in the making from Masterchef: The Professionals winner Sven-Hanson Britt; opening in Embassy Gardens in October.
David Ellis revealed the first pictures of The Engine Rooms in Finchley, from ex-Taka chef James Harrison.
*****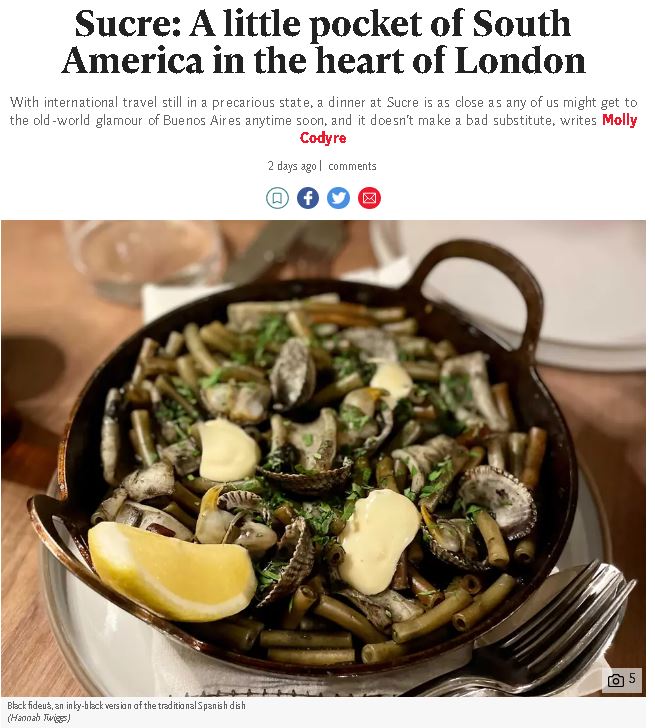 The Independent
"As close as any of us might get to the old-world glamour of Buenos Aires anytime soon."
Molly Codrye "felt a million light years away from London" when she visited Sucre, the transplanted Argentinean restaurant from chef Fernando Trocca (whose original Sucre opened in Buenos Aires in 2001), which is housed in an "enormous space on Great Marlborough Street".
"It takes real skill to transplant a popular restaurant in an entirely new country. Trocca seems to have almost picked up a slice of Buenos Aires and dumped it in Soho."
The menu is "gargantuan – spanning continents and cuisines but still heavily anchored in South America" and split by cooking method ("charcoal fire, wood oven and stove").Trocca's take on the Peruvian dish causa was "one of the best things I've eaten since I started writing about restaurants a few months ago".
If you want to carry on partying after dinner, the downstairs bar, Abajo, serves "experimental cocktails are served futuristic in style in long, capacious glasses set atop lit-up coasters".
*****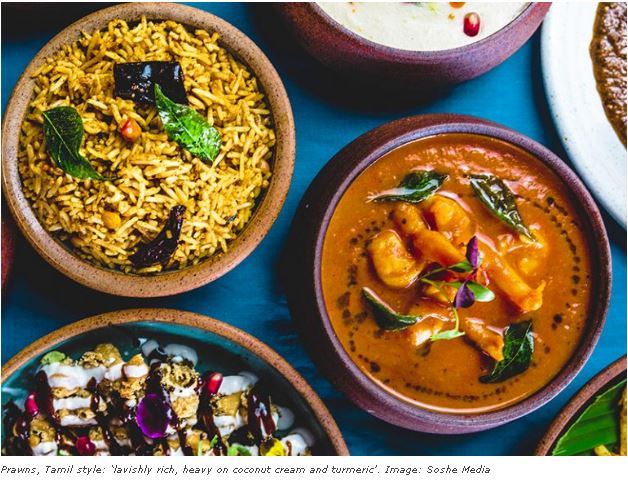 The Mail on Sunday
"Flavours move effortlessly from big and bold to subtle and delicate, with not so much as a dreary nibble."
To Bristol and Tamil cuisine at Nadu for Tom Parker Bowles; located in the Stokes Croft area of the city (a "freethinking, fiercely independent and occasionally, after dark, on the edgier side of bohemian" spot that's "also one hell of a place to eat").
Nadu "is a stellar Stokey addition" – opening (and closing again for lockdown) just before Christmas 2020; the menu is "all fragrant curries, vibrant sambals, fluffy rice-hopper pancakes, and the ever-present scent of coconut, cinnamon and chilli" and "service is warmer than a Galle sunset".
"This is food to make the heart sing and tastebuds holler with joy, a Tamil triumph with real tiger's bite."
*****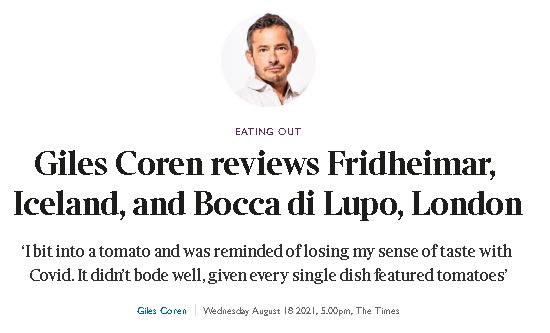 The Times
Giles Coren "bloody loved Iceland", but on his recent trip he ate at Fridheimar, in a restaurant inside a tomato greenhouse powered by geothermal energy and producing 370 tons of – if you believe Giles – utterly tasteless, "Martian" tomatoes a year. (10/10 for weirdness and look, 0/10 for taste)
Once home, he raced into Bocca di Lupo, "a place of homage to the great regional cooking of Italy, home of the actual tomato", where the "supremely flavour-aware chefs" soothed him with "one of the great dishes of my year so far, a plate of dense, chewy paccheri with meaty shards of gurnard and a sauce of tomato and chilli". (8.5/10)
*****
The Scotsman
Gaby Soutar reviewed Sylvan, a new vegetarian/vegan restaurant in Glasgow, which she found " very appealing"; the "low-intervention wine, beer and cider shop" at the back was also handy.
"It has the meditative feel of a yoga studio, which was accentuated by… relaxed and hip staff." The menu (which had looked "a little greige and papier-mache-esque" on Instagram, had "a lot of intriguing options" that were "filling too, for those who gripe about meat-free meals not being hearty enough". (17/20)
And also…
In The Telegraph, just two stars from William Sitwell for Side Hustle, the "Mexican take on the classic British pub" at NoMad London: "peas with avocado? It's a crime against the culinary arts".
*****
Exciting news from Birmingham Mail and Asha's Indian Restaurant, which enjoyed a celebrity visit from Tom Cruise, filing yet another Mission: Impossible sequel nearby. The Hollywood actor posed for photos and asked for second helpings of chicken tikka masala.
*****
Bristol Live reviewed Cloakroom Cafe, the "converted Edwardian public toilet that reopened in 2019 as a unique coffee house"; it "feels like a blend of Hogwarts lavatory and Central Perk Café"
*****
Recent News from Harden's