Here's our regular summary of what the national and local restaurant critics have been writing about in the week ending 22 May 2022.
*****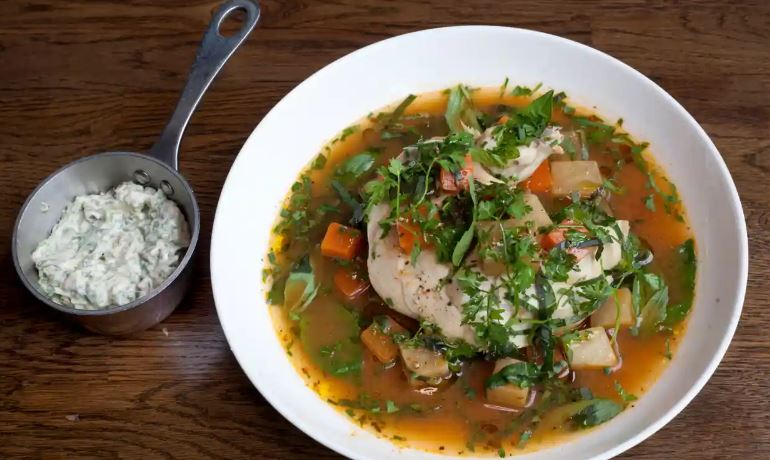 The Observer
"Every menu description conjures up an image of how happy you will be eating it. Not a single one lets you down."
Jay Rayner identified the "tribe" at Les 2 Garcons as "the chattering middle classes," which he firmly counts himself one of.
It's a "tiny French bistro" in Crouch Hill with just 22 seats and "a lot of blackboards for the scribbling up of beguiling specials" that "could have been designed with… me in mind".
The two garcons in question are Robert Reid who was "head chef at Marco Pierre White's Oak Room when it held three Michelin stars" and Jean-Christophe Slowik, "a front-of-house veteran who had worked at Le Manoir and at Harvey's, Pierre-White's original launch pad, before opening his own neighbourhood restaurant, L'Absinthe, in Primrose Hill".
"The dishes here could have been served at any time over the previous nine decades. They just might not always have been quite so good."
"A true bistro is not there to surprise or dazzle… it is designed specifically to be your comfort zone. Les 2 Garçons is about as complete and delightful an expression of that as I have come across in a very long time."
*****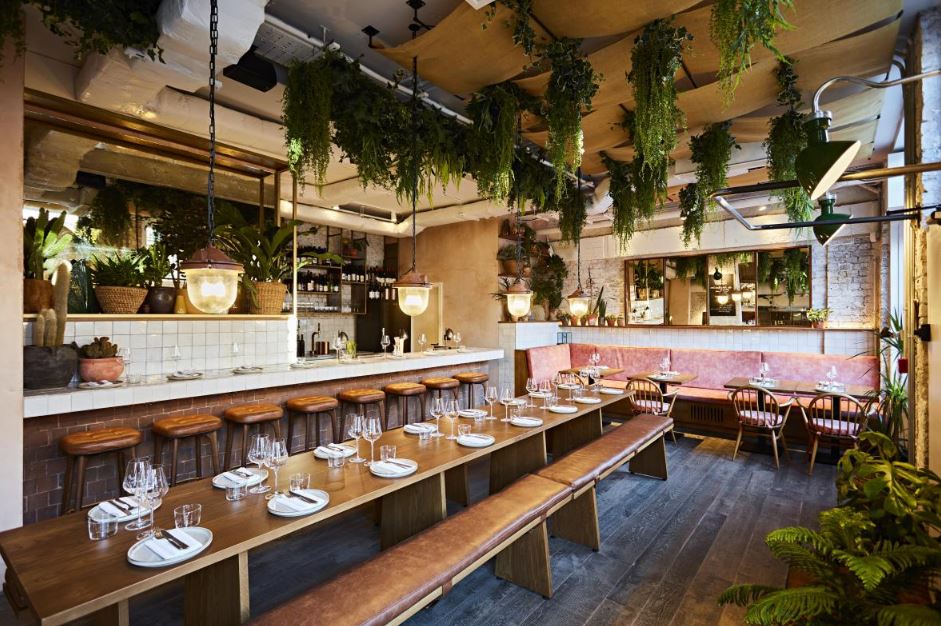 The Times
Giles Coren dined at Carmel in Queen's Park as an antidote to lunch in three gentlemen's clubs in a week, "like some sort of turbocharged Bertie Wooster".
Carmel is a new-ish "venture from the Katz brothers of Berber & Q, one of the great disruptor restaurants of recent years and as different from the Garrick model as you can get". The menu "is also a long, long way from… clubland: nothing potted or devilled here, nothing shot, nothing on toast". Instead there are "delicious-smelling" things "on squishy Middle Eastern sourdough".
The only problem – especially in comparison to those gentlemen's clubs where "terrific" wines are "a quarter of the price they would be in a restaurant, if you could find them" – was that the only wines at Carmel are natural (or "Emperor's New Piss" as Giles calls them – "Is it a conspiracy? Does anyone really think this stuff is delicious?"). (21/30)
*****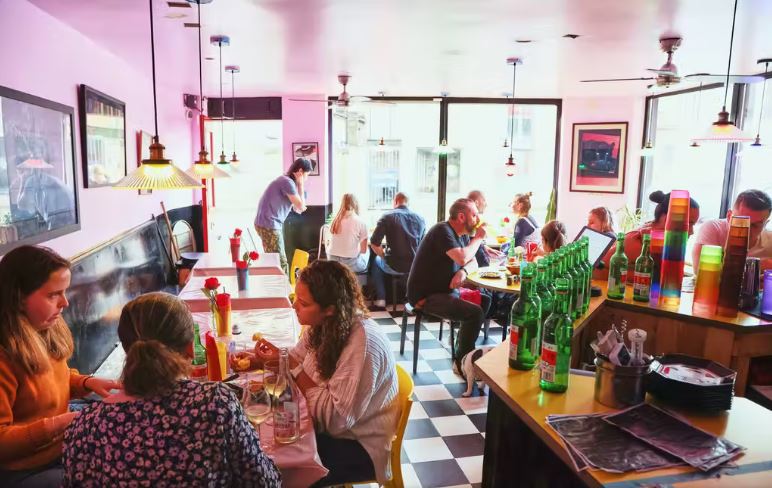 The Evening Standard
Arriving at Facing Heaven, the "new, expanded iteration of hit Hackney-based vegan Chinese Mao Chow," (which closed earlier this year, RIP), Jimi Famurewa felt like he'd stepped into a "dangerously raucous east London house party circa 2009".
Mao Chow's "atmosphere of semi-organised chaos" remains "intact," although the same can't be said of the food at Facing Heaven, which wasn't quite the "potent, sneakily proficient cooking" of its predecessor.
Yes, there were some occasional "real, pulse-pounding brilliance", but also some heavy-handedness with the spicing – the "kitchen's sense of proportionate use was wildly out of whack".
The better dishes "show Denis and his team, as well as being masters of aesthetic and atmosphere, are capable of injecting vegan food with creativity, playfulness and intensity" – with a little more "finesse," Facing Heaven could shine amongst London's plant-free restaurants.
*****
Also in the Standard, a round-up of London's best sustainable restaurants, from Silo to Blacklock ("London has no shortage of places proving that some things do taste as good as sustainable feels") and best ice cream and gelato shops, from Gelupo to Oddono's.
There was also news of a Smithfield sibling for Nest in Hackney and Fulham's Fenn; Restaurant St. Barts is due to open in September, overlooking the church of St Bartholemew the Great (hence the name) and "will explore modern British cuisine with a focus on "hyper-seasonal" produce from small-scale farmers and conservationists", serving a 15-course tasting menu.
*****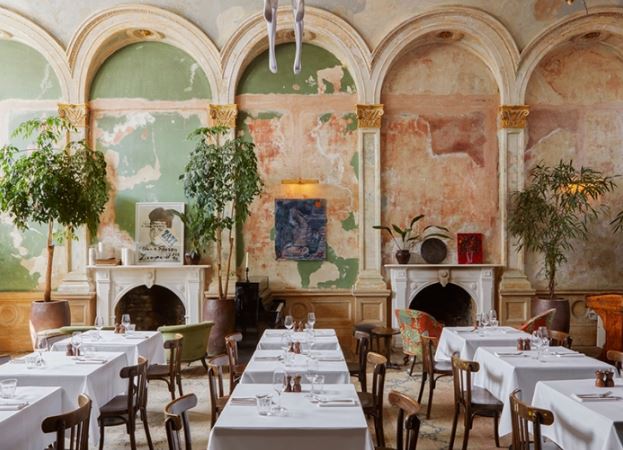 The Mail on Sunday
"A sliver of immaculate chocolate tart renders us both speechless, a rare thing indeed."
Tom Parker Bowles for YOU Magazine reviewed Sessions Arts Club, the "elegantly faded Italian palazzo, all soaring arches, ornate cornices and tastefully peeling plaster" where "hugely talented chef" Florence Knight's cooking "effortlessly matches the surroundings".
"Flavours can be big and bold" but "there's delicacy, too", while "service is every bit as fine as the food… warm without being over-familiar, with a genuine knowledge of the food".
"Sessions Arts Club, like all good restaurants, is not just about the menu. But fun, real fun – the one ingredient that really cannot be bought."
*****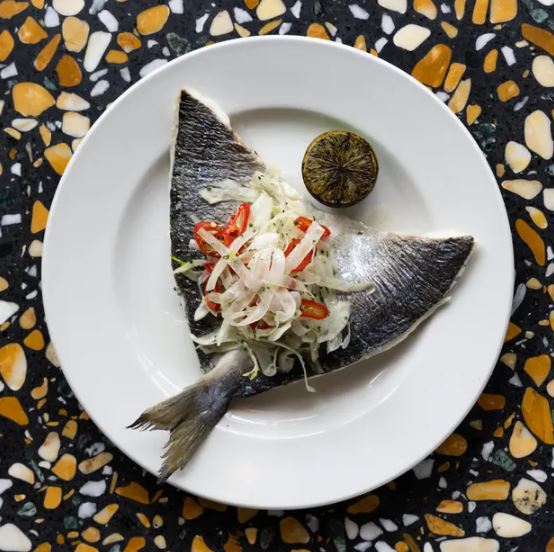 The Guardian
"Why open a gigantic seafood restaurant with little care or attention to the fine culinary art of fish cookery?"
Grace Dent absent-mindedly booked at Goddard & Gibbs without realising that it's in a hotel; the website and PR suggested that she was "off for dinner at a tiny, independent restaurant down some Shoreditch back street" rather than the "enormo dining room" she arrived at.
Inside, it's a "modern, airy, Santa Monica-style seafood brasserie, with large, luxurious booths for group eating, tasteful jazz music and fuzzy, flattering lighting" within the new One Hundred Shoreditch hotel (previously The Ace).
Things went downhill when the food arrived. The "website… promises a thoughtfully curated, almost all-pescatarian menu," but all the dishes had "few flourishes, scant innovation and often little flavour at all". The 'catch of the day' (pictured) "lacked anything saucy, oily or buttery to help it along, apart from some shaved fennel and… thinly sliced scotch bonnet".
"Goddard & Gibbs is a confused restaurant that's perfect for people who are on holiday in Shoreditch, who may want to drink heavily and have a lovely time talking to friends, and who don't really care if they don't remember a whole lot about dinner."
*****
The Scotsman
Cat Thomson reviewed identical meals from the two new Indian takeaways in her home town of Penicuik near Peebles; "I know better than to declare one the absolute winner… the best result is that two local restaurants got our custom, so everyone's a winner".
Also in The Scotsman, there was news of two new openings at Bonnie & Wild in Edinburgh. Celebrity chef Tony Singh has opened Radge Chaat in the premium food hall, and Glasgow's Stack & Still pancake restaurant is set to open there soon.
*****
And also…
In The FT Globetrotter, "London's most majestic Platinum Jubilee afternoon teas" – how to "mark the Queen's 70 years on the throne in sybaritic style" at the capital's smartest hotels.
Also, a review in FT Magazine of The Elderflower, Lymington, where you get "a lot of chef time for your money"; "This Hampshire restaurant is the kind of place I'd suggest you travel a great distance to enjoy."
*****
Richard Vines went solo this week for the Koffmann & Vines blog; he reviewed Pahli Hill Bandra Bhai, FKA Pali Hill, "which occupies the old Gaylord site near Oxford Circus".
Chef Avinash Shashidhara grew up in Bangalore and spent "more than a decade at The River Café" – the same "devotion to quality produce and seasonality… along with a lightness of touch" is evident in his cooking here.
"Skilful, ingredient-led cooking transcends national cuisines. It's the Esperanto of taste."
*****
Birmingham Live reported on Black & Green, the new 16-seat restaurant outside Birmingham being opened in June by Great British Menu chef Andrew Sheridan of Craft Dining Rooms.
*****