Here's our regular summary of what the national and local restaurant critics have been writing about in the week ending 19 June 2022.
*****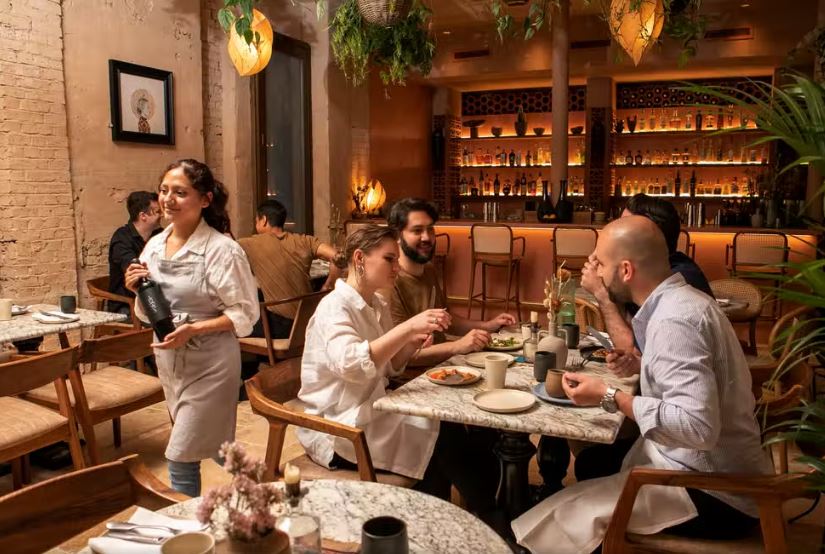 The Evening Standard
"The world of hospitality is in a rictus scramble to recreate pre-pandemic bonhomie without the necessary staffing capacity to do so. There is no need for me to labour that point every week."
Despite the caveat above, Jimi Famurewa gave 4/5 stars to Cavita, the new and "already absolutely stormingly good" Mexican that opened in April with "flavours which, all at once, have both familiarity and a flash of vividly drawn, jolting unexpectedness".
"Adriana Cavita's debut is confident, composed and marked by an immense sense of quality." The chef delivers "a confident, knockout combination of abuela-level domestic generosity and top-tier chef's technique". This isn't altogether surprising, considering that she "was working at El Bulli as a teenager" and has a degree in gastronomy.
"Cavita feels, set against the wonky chaos of many other current openings, like a scintillating, fully-formed reminder of exactly how it should be done."
*****
Also in The Standard, news that Ynyshir scooped the top UK restaurant awards at the Estrella Damm restaurant awards (other restaurant awards are available!) and a round-up of the best London restaurants with terraces for al fresco dining (when the weather allows).
*****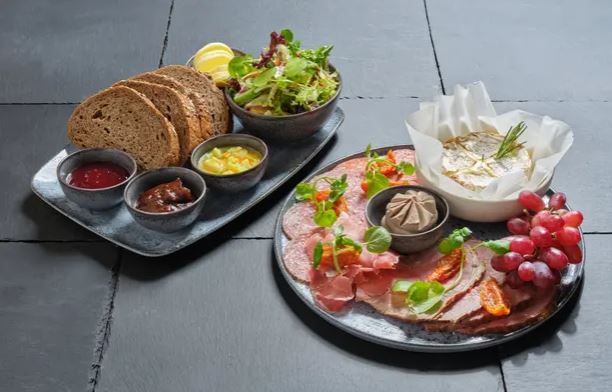 The Guardian
Grace Dent reviewed the cafe at Bassenthwaite Lake Station, a disused and now fully restored train station in the Lake District, where you can have "thoughtfully put together" breakfasts, "generous" sharing platters (pictured above) or a "sturdy" afternoon tea ("dainty bites and tiny ramekins have their place, but I much prefer an afternoon tea that incapacitates") in the former booking hall or in the carriage of the "full-sized replica of a French SNCF steam train" that sits by the platform going nowhere.
"Never in a million years did I expect to find crisp pulled salt-and-pepper seitan with chipotle vegan mayo in a casual cafe just off the A66, but magical things are happening."
It has "been satisfying to watch Bassenthwaite Lake Station go from strength to strength since it opened last summer. Yes, it's a train that goes nowhere, but the food is wonderful".
*****
The Guardian's Zoe Williams also wrote about the recent awards given to Ynyshir, whose chef-patron Gareth Ward trained at Hambleton Hall and Restaurant Sat Bains – the latter of which topped the Harden's UK Restaurants Top 100 last year, so it will be interesting to watch our survey results this year!
*****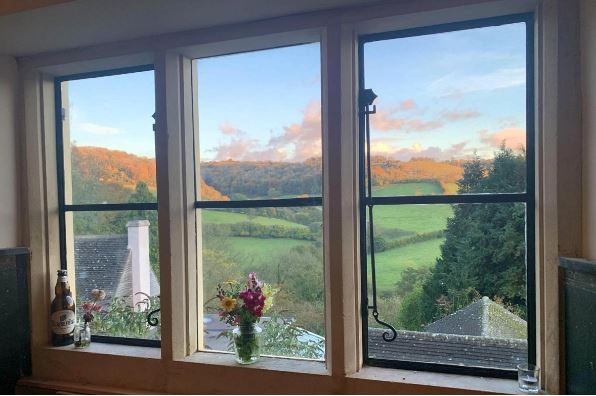 The Times
A surprisingly moving and genuine review from Giles Coren this week.
Inspired by Cider with Rosie, as so many of us were, Giles has long wanted to go to The Woolpack, the pub in Slad where Laurie Lee grew up and lived until his death. But he was "worried that my visit would feel inauthentic, if not to those inside, then at least to me" – either that or it would be full of American tourists or like a "theme park for reading group ramblers with… technical socks".
The landlord of the Lamb Inn at Shipton-under-Wychwood ("the best pub in the county"), Peter Creed, assured Giles that The Woolpack is a "perfect country boozer" with "brilliant food"; the recommendation of a man whose "genius has been to revitalise two crumbling Cotswold pubs and make them beautiful and true and cherished by regulars but also staggeringly modern" is not to be sneered at, so he found a circular walk with The Woolpack at half way point and marched the family off.
"As we turned right from the bar and into the main dining room, a window opened out over the valley to the most beautiful view you will ever see from a pub."
The menu was "small serifed type on a white A5 sheet with just the sort of Fergus-Henderson-on-the-Wold energy I would expect to find in a place I'd been sent by Peter Creed" and was "Sheer. Bloody. Poetry." (with "top-quality, unponcey" burgers for the kids).
"The cooking was all first class, service was efficient and very helpful and kind. Vibes were super-warm and the blend of bustling proper country pub with genuine destination dining… a joy to experience." (28/30)
*****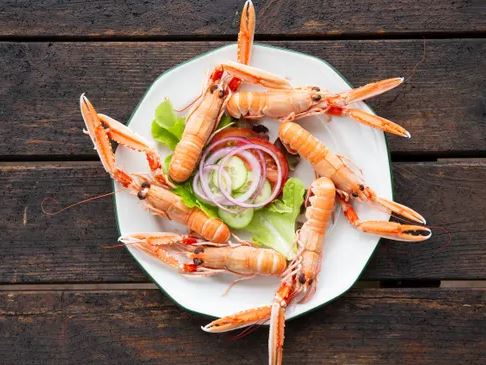 The Observer
Standing in for Jay Rayner, the Reverend Richard Coles was in the "surprisingly remote" Kintyre Peninsula of the Western Highlands, which he has visited for years (as did Paul McCartney, who wrote a song about it).
The Seafood Cabin, with views over Arran "so majestically lovely you have to blink a couple of times to make sure you're not seeing things", is a family business that serves local seafood, smoked fish and not much else from a newly-built "oak-framed barn" (it used to be an actual cabin but outgrew the space). It has got the formula "exactly right, more popular every year, and consistent with it".
"The food is great and good value – lunch for five with wine and pudding came to £126.50 – but what makes it so special, and so popular, is the setting."
The first version of this summary credited Jay Rayner for the review rather than the Reverend Richard Coles, for which apologies.
*****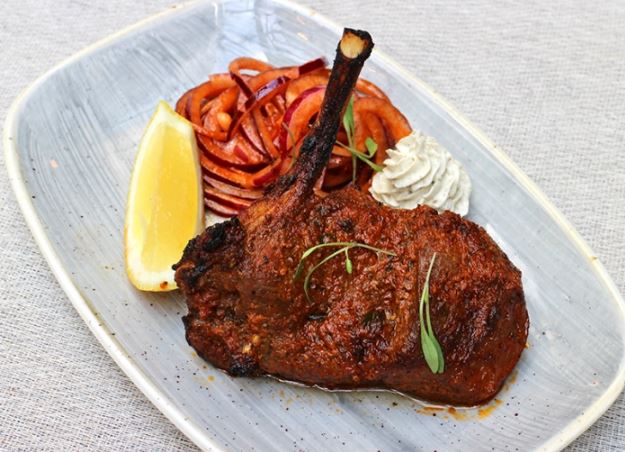 The Mail on Sunday
Hot on the heels (or possibly before, given magazine publication lead times) of Jay Rayner, Tom Parker Bowles for YOU Magazine reviewed Black Salt in East Sheen, "the sister of the ever-sublime Dastaan".
He was served "the vindaloo of my deepest, most fevered dreams… many miles removed from the brutal, one-note brow-beading heat of its bastardised curry house brother" and "simply one great dish among many".
"Black Salt has been open for less than a year and is already up there with the best. Head chef Manish Narain Sharma is a talent to watch."
*****
And also…
Marina O'Loughlin for The Sunday Times was in New York at Gage & Tollner: "the Big Apple has got its mojo back".
*****
In The Scotsman, Catriona Thomson reviewed The Court House in Kinross for Fathers Day; "the exposed stonework shows the scars of bars from its previous legal incarnation, and if these walls could talk, I'm sure there would be lots to say".
The lunch they had was "not complicated grub, but what is noticeable is that it is freshly assembled, well presented" fare and there's "friendly staff".
*****
"When Armageddon comes, I want to be in Bristol." Tim Hayward for The FT Magazine, was at Caper and Cure, where "even the weirder wines have me weeping soft tears of joy".
*****