Our weekly round-up of what the national and local restaurant critics writing about, for the week ending 19 April 2020; the country is in lockdown, with restaurants, cafes and bars officially closed a month ago, due the coronavirus outbreak.
You can still support your local and favourite restaurants, though – many are offering takeaways or deliveries, or you can buy produce, meal kits, vouchers, cookbooks or merchandise. Check out their social media pages for details (all available on hardens.com)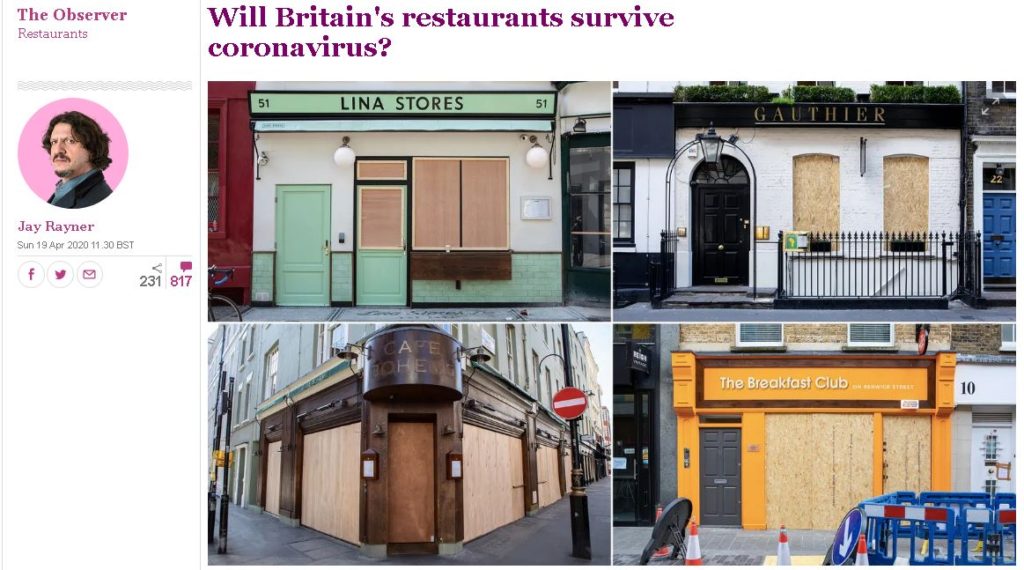 The Observer
Jay Rayner asked the question that's on everyone's lips, "Will Britain's restaurants survive coronavirus?", with a haunting pictures of Soho's boarded-up restaurants.
He talked to restaurateurs including Sam Hart, Will Beckett (of Hawksmoor group) and Angela Hartnett. Richard Corrigan, who only just opened Daffodil Mulligan before the lockdown, expresss his concerns: "If this was a three-month closure, we'd get through. The real issue we're facing is a six-month closure which, in the absence of any cash flow, will exhaust us".
"Gary Usher of Elite Bistros, who has six much-loved restaurants across north-west England, including Sticky Walnut in Chester and Kala in Manchester, says he is trying to "remain positive" but it's tough." Without the government's "80% salary replacer, Elite Bistros would have closed". And when lockdown is eased, Usher will still "need between £15,000 and £20,000 just to restock our restaurants with ingredients".
Angela Hartnett shut her restaurants earlier than the lockdown, to enable European staff to get home to their families. With uncertain futures, and the government's clampdown on foreign employees, she doesn't know whether they'll return.
"If we want restaurants to return to trading, if we want them all to reopen their boarded-up eyes, we need to give them our business as soon as we feel able to do so. It's as simple as that."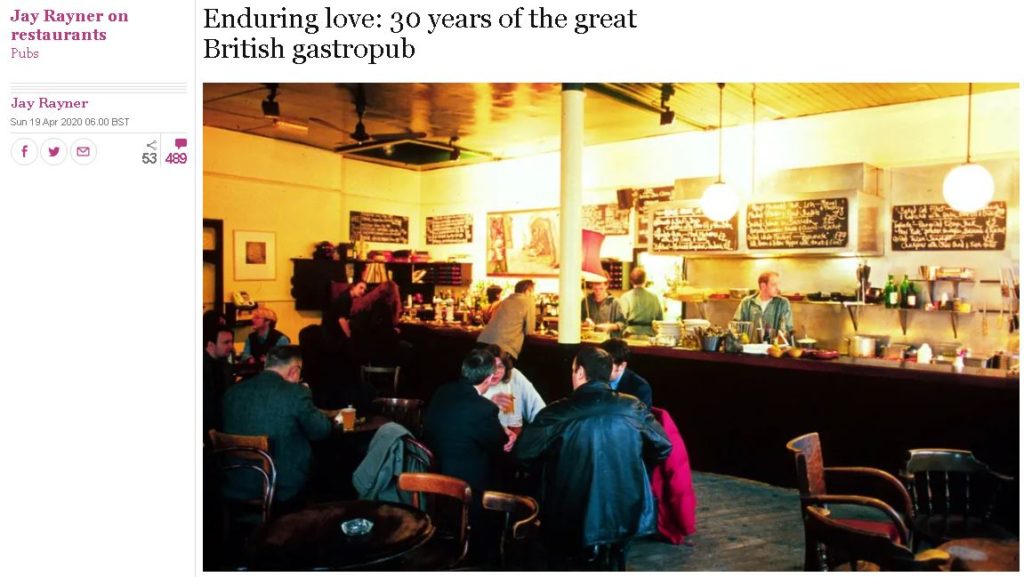 In another article, Jay Rayner got in early with celebrating next year's "30th anniversary of a movement that has shaped Britain's food landscape" – the gastropub. "These were indeed the braised lamb shank years. And the pork belly years. And the sausages in onion gravy years."
Jay's own wedding catering was by David Eyre at The Eagle ("Regularly… cited as Britain's original gastropub"), which was cleverly sited next door to The Guardian's offices. "The Eagle's midwife was a change in the law, forcing the mega-breweries to divest themselves of a slab of their tied properties. Pubs suddenly became cheap. Here, then, was a business model: low rents, bare-bone fit-outs mostly involving a sander, and booze sales to subsidise the kitchen. Quickly, it caught on."
"For all its many positives – who doesn't like mismatched furniture and a bowl of artisanal pork scratchings? – it's not been universally popular." (Not to mention that some just hate the name, including Rob Shaw, of London's Anchor and Hope, who finds it "cringe-worthy".)
So many pubs changed direction that it started "a very British kind of culture war: people who loved their old boozers complained that they were being cleansed from them" while "middle-class tossers" (which Jay includes himself amongst) "who'd never felt especially comfortable in the saloon bar gave thanks that there was now a ready source of wasabi peas and over-oaked Chilean chardonnay".
It's not just London that experienced the phenomenon: there's The Sportsman, launched in 1999, when "self-taught chef Stephen Harris took over a blocky old pub overlooking the sea near Whitstable" and The Angel at Hetton. "Outside of urban areas, Britain's gastropubs have become the equivalent of France's country inns, a source of reliable, unchallenging food."
Some London gastropubs have gone Thai; both "west London and Birmingham have seen the rise of Desi pubs, offering stonking tandoori grills, curries and roti", but "there's always a place for traditional pub food, re-engineered to be so much better than the originals" – Jay name-checks Lancashire's Cartford Inn ("I swooned over their oxtail, beef skirt and suet pudding") and The Parker's Arms near Clitheroe ("where chef Stosie Madi makes a killer black pudding sausage roll").
"The gastropub is now whatever we want it to be. As Stephen Harris says, "It doesn't matter what you serve, as long as you do it well.""
---
The Evening Standard
The Evening Standard reported on Pret a Manger re-opening 10 shops on Friday 17 April, near key London hospitals; they are staffed by volunteers and offer 50% discount to NHS workers.
Monday to Thursday, The Evening Standard is recommending London foodies to follow on Instagram, including Bloomberg's Richard Vines and his "not entirely earnest guides to preparing cassoulet a la Koffmann with a tin of baked beans, or exploring Thai cuisine via a portion of Ainsley Harriott's own-brand cup-a-soup". Vines is also "trying out some of the new food delivery services around the capital, with recent posts showcasing dinners from the likes of Mayfair fine-dining favourite Benares, as well as suburban restaurants Lahore Eastcote and Bombaylicious". It's "a bit of fun to be found in difficult times – and a reminder that not everyone is spending lockdown making sourdough".
---
The Sunday Times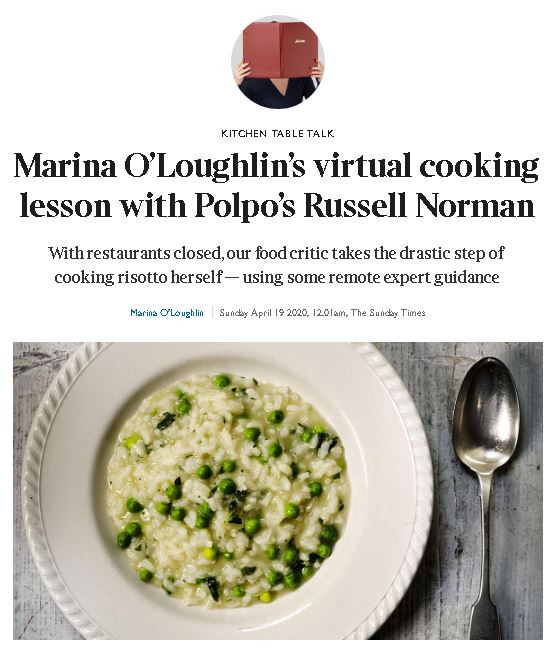 "I'm trying something different for this sadly restaurant-bereft column: virtual lunch".
Marina O'Loughlin of The Sunady Times 'met' with Russell Norman, owner of the Polpo chain of restaurants, and major foodie influencer ("I'm pretty sure few people beyond the streets of Cannaregio had any idea what cicchetti were before Polpo's menu of Venetian small plates").
Russell has recently recovered from Covid-19, having picked it up on a recent business trip to Venice; "It was horrible and quite frightening — psychologically quite dark, too. I'm very grateful to be better and able to smell and taste again — both senses completely disappeared for three weeks".
Together, via the medium of Zoom, they cooked "the spring-like simplicity of Venice's risi e bisi: risotto with peas, also perfect for the kind of ingredients we're likely to have in cupboards and freezers". Marina didn't have the exact ingredients ("plebeian arborio" rather than carnaroli rice), but still made a passable risotto, with "improbable quantities of grated parmesan".
"We sit in our distant, separate kitchens eating; the food makes me happy and Norman is charming company. But I still wish we were sitting together in a restaurant."
---
The Times
The Times' restaurant critic Giles Coren, reveals that he resigned from restaurant reviewing after 25 years, just before the lockdown began.
"Even eating out for so-called "pleasure" had become the most accursed of busman's holidays: there was nothing new under the sun, I'd tried everything, eaten everything, written all my best sentences long ago, and just didn't have the energy any more to seek out the special little places no one has heard about."
Now he can't write about restaurants, he is "rejuvenated, not writing about bloody restaurants. With their stupid menus and fancy plates and fattening puddings and pompous "concepts" and endless waiting for the stupid card machine and all the driving and all the tears and shouting over bad reviews and all the rage from stupid kids about "cultural appropriation" and all the nasty hissy infighting on social media".
He's starting to miss it though, so might take his resignation back.
Giles' wife, Esther Walker, is more honest about missing all her favourites ("the realisation was like a bomb that wouldn't stop going off. More and more of my favourite things drained away from me"); to be fair, though, she doesn't have to write about them afterwards, unlike Giles, who had to squeeze out "1,500 words of meandering sub-foodie wibble" each week .
"If eating out at fantastic restaurants whenever you want to, free of charge, without having to do a minute's work in return, sounds like a nice life, then I am here to tell you: it is."
For now, though, she's stuck "in my kitchen, with the world's rudest customers".
---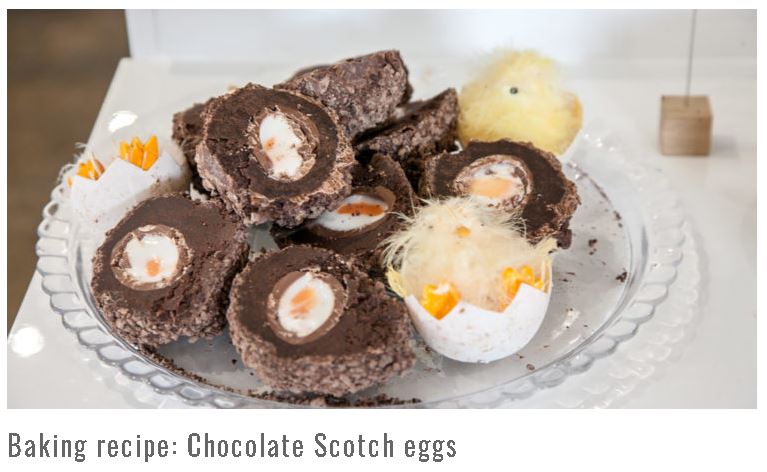 The Scotsman
The Scotsman produced more thoroughly entertaining news stories, from recipes for chocolate Scotch eggs and IKEA's meatballs to a virtual map of where to buy flour (and not just in Scotland!), and plans for a drive-thru branch of Greggs in Glasgow.
---
The Bristol Post
The Bristol Post highlighted the launch of Morrison's supermarket's launch of food boxes designed specifically for Ramadan, which starts on Friday 24 April, and also reported on fast-food chain McDonald's, who have released several of their recipes to recreate at home, including "a PDF of the official Happy Meal design for crafty parents to print out and use at home".
---
The Guardian
The Guardian's Grace Dent is "teetering on the brink of agoraphobia; let's call it agoraphobia-lite". She's not looking forward to the lifting of the lockdown:
"I, like millions of others, may be treading water in a difficult place, but at least it's the known unknown".
---
The Telegraph
The Telegraph's Tomé Morrissy-Swan reported on the online database that's helping to alleviate the "seismic impact on the farming industry" that coronavirus and the restaurant lockdown is having. Farms to Feed Us was set up by Cathy St Germans, who founded the Port Eliot festival. and "seeks to facilitate links between farmer and consumer".
---
And also…
Tom Parker Bowles for the Mail on Sunday again published nothing.
Recent News from Harden's