Our summary of what the national and local restaurant critics were writing about in the week ending 19 March 2023.
*****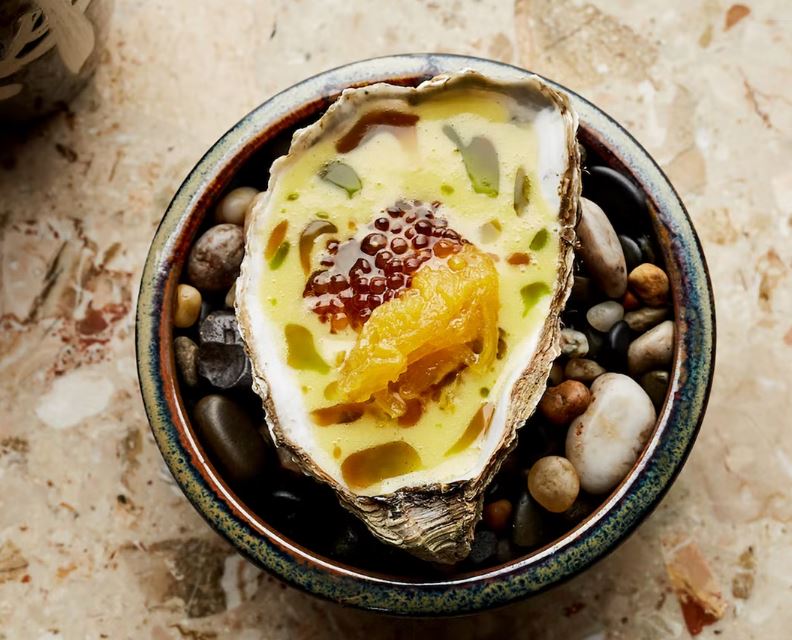 The Independent
"Sexy, slick, mischievous and delicious."
Hannah Twiggs reviewed the expertly reinvented Humble Chicken, now offering a "shiny new Japanese eight-course tasting menu "with a European accent"" at the site of the Frith Street yakitori original.
"Anyone who dined at 1.0, critic or otherwise, will tell you that the cooking has always been excellent. At 2.0, it's sublime, but it doesn't take itself too seriously" despite the £115-a-head price tag.
She predicts that 2.0 will "captivate diners of all creeds", which is why "midweek and mid-various food-related crises, all 18 covers are packed and the air is filled with the conviviality of Londoners fully engaging with the experience".
*****
Also in The Independent, Kate Ng was in Weymouth at Catch at The Old Fish Market, whose (relatively new) tasting-menu-only format delivers "an earnest love letter to seafood and the fishermen who provide it". The partnership with the fishermen runs deep, and the restaurant only serves what is caught that day, even changing dishes between customers; "it's an extraordinary way to run a restaurant, and it really, really works".
"A carefully curated… menu, seafood treated as respectfully as prize pieces of meat and an extraordinary relationship with local suppliers is what makes this restaurant… stand out."
*****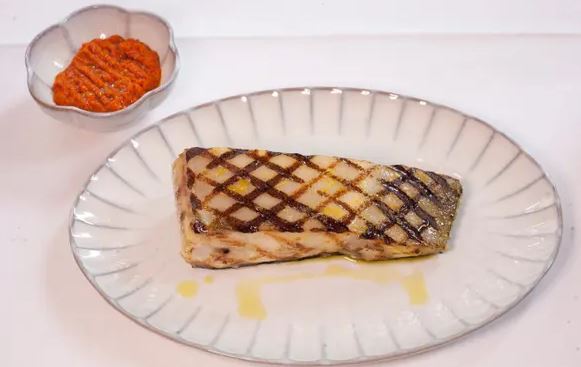 The Observer
Jay Rayner went to Socca, the new Mayfair hang-out from Samyukta Nair. He doesn't usually frequent places inhabited by the "metallic Lurex set, wide-eyed and stiff-browed" but went to Socca because the chef is "the great Lyon-born Claude Bosi, who is a rare and delightful creature" who "cooks complex, precise multi-Michelin-starred food, but rarely loses sight of the need to sate appetites".
"I knew it would be punishingly expensive, but I was genuinely excited." (On the subject of price, best quote of the year so far goes to: "It's not cheap, in the way the Himalayas are not flat and Boris Johnson is not honest.")
Ignoring the "kick drum'n'bass thwack of high-volume tunes" aimed at a very different demographic than was actually present, it's an elegant setting (he obviously wasn't sat in steerage like Jimi Famurewa last week), and mostly the food is "very good". Mis-steps include yesterday's focaccia, chunky dauphinoise and Swiss chard tart dessert that's "like eating a sweet solidified cabbage soup".
"I travelled hopefully. I wanted it to be fabulous, a restaurant which put the world on pause. I wanted that utter fabulousness to mitigate the price. But it was strange and uneven rather than the perfect it should be."
Jay also reviewed kitchen gadgets in the March edition of Observer Food Monthly
*****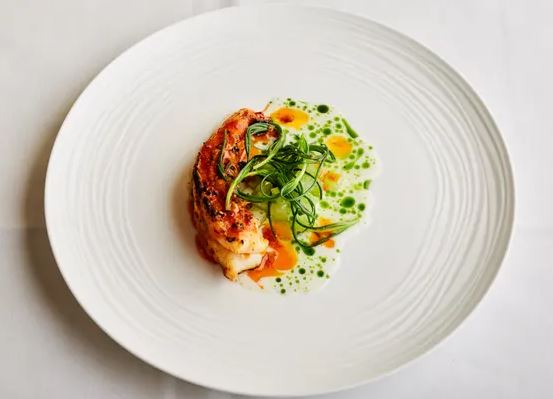 The Guardian
"A mature, special-occasion restaurant."
Grace Dent went to Kew to try out Hawthorn, on the former site of The Glasshouse (RIP); "people who loved it will warm to Hawthorn, too, because they've changed very little– not even the tables and chairs".
"This is fine dining, but not the painfully fancy sort with which, by course nine, you find yourself staring at a bowl of fluid gels on an aerated bisque and wondering when real dinner will get going."
"Ingredients are distinctly British, but they're made with a gesture to Italian and French cuisine." Grace's roast hogget was "aesthetically sublime, yes, but… also very good" and the tiger prawn in 'nduja butter (pictured) was "one of the sweetest, plumpest, most sating things I've eaten all year".
"Hawthorn isn't for fickle new-restaurant-opening-chasers who want to take a selfie next to a disco glitter ball in the loo. It's for locals with lovely things to celebrate… [it]may be the epitome of safety, but it is also probably one of the restaurants of the year."
*****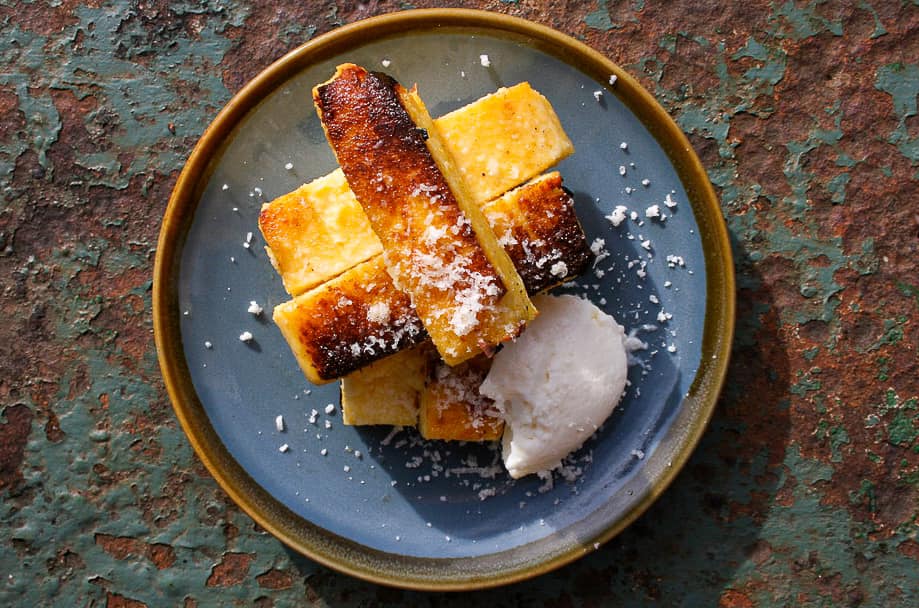 The Telegraph
"The checklist of dreams: location… parking; outside seating; a fun hotchpotch of chairs… tables made from neighbouring trees; colourful art, hanging stars and curtains; a shop selling baskets, cards, wrapping paper and chopping boards; and a vast, white-domed wood-fired oven."
William Sitwell found himself full of admiration at The Lost Kitchen on the outskirts of Tiverton in Devon, a beautifully converted a barn into a restaurant "with an enveloping, welcome-to-our-cave spirit".
"Old-school locals may harrumph at the exotic menu" which is "a grab from around the world of whatever dishes feel cosy, shareable, rustic and informal. More Shoreditch than Devon, it's an international menu to cure a hangover" plus pizzas and colouring to keep the kids quiet. (****)
*****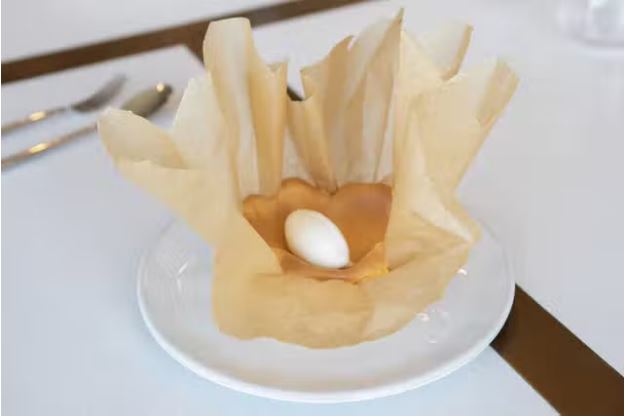 The Evening Standard
"Here is another bullishly priced, handsomely appointed and instantly mobbed opening that just doesn't withstand much close scrutiny."
Jimi Famurewa headed to Battersea Power Station to review Joia, the "thrusting new venture from acclaimed Portuguese chef Henrique Sá Pessoa" within the "sprawled grandeur of its 15th-floor space" in the art'otel there.
When a critic uses expressions like "never actively bad", you know they have had a disappointing experience and are trying to make the best of it. Jimi summed up the whole meal by describing one of the "impressively befuddling desserts", a pão de lo (pictured) that was "vertiginous. Visually impressive. Confounding in a strange but occasionally compelling way". (Another dessert came with chorizo ice cream.)
All of his meal "lurched, haphazardly, from forgettably luxe to clumsily experimental" with "perplexing moments" and occasionally "outstanding" ones too.
The Iberian menu "invites unfavourable comparison" with places and chefs who simply do it better, and cheaper. "If we had done a shot each time I wistfully invoked Nuno Mendes's Lisboeta then, well, we'd have all had to be carried out of there."
*****
Also in The Standard, news that the Quality Chop House Café is to re-open on March 27th, serving "a chop house lunch "in a speedier fashion" and in a more casual setting".
*****
The Scotsman
Gaby Soutar visited the new sibling to Edinburgh's Hope Omurisu, an izakaya also called Hope, where she enjoyed yakitori, original cocktails and the signature omurice; "warming comfort food and the sort of service that makes you feel well loved". (16/20)
*****
Also in The Scotsman,Rosalind Erskine visited a new bar in Partick; West Side Tavern "seems to have taken inspiration from 70s pubs with a hint of New York style". It has a "warm, welcoming atmosphere" and an "Italian American inspired" menu with pizza, pasta and small plates. A "welcome and fun addition to the vibrant food scene that's unfolding" in the suburb. (14.5/20)
And also…
In the Financial Times, a review of Maresco, a "brilliant concept, poorly executed". Stephen Lironi has "taken spectacular Scottish seafood and given it a Spanish twist. But where on earth is the salt?"
*****