Here is our weekly round-up of what the national and local restaurant critics were writing about in the week ending 17 October 2021.
*****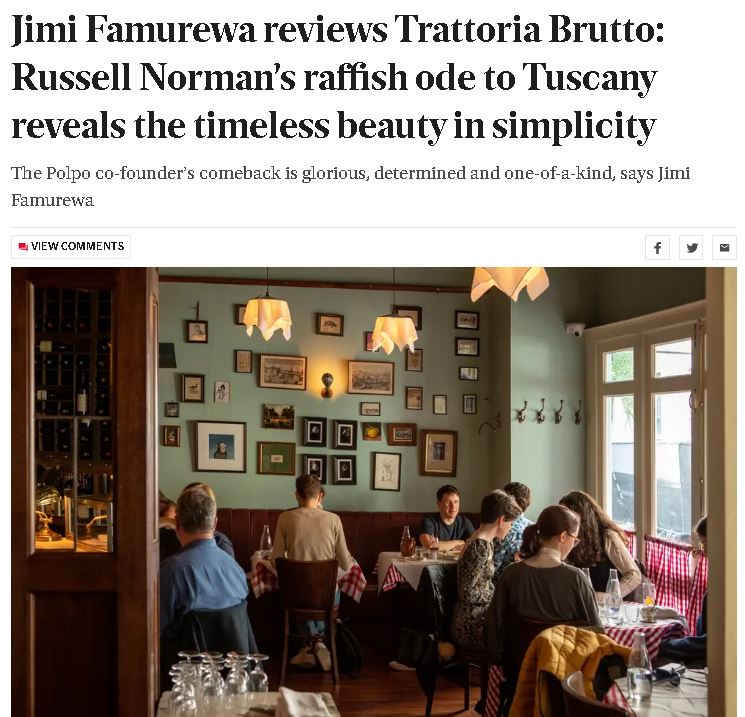 The Evening Standard
Jimi Famurewa is the first critic to publish a review of Russell Norman's Brutto (although Marina O'Loughlin's Instragram feed tells us she was there at the weekend, so we can expect her contribution soon).
It's across the road from the site that "was once Polpo Smithfield", which was once part of a 17-strong chain; "the demise it represents helps explain the genesis — and, crucially, the refreshing, uncomplicated brilliance — of Brutto".
Visually, "it's a place that you sense has existed in Norman's head for quite some time", where "every detail rewards scrutiny" and "the deftly conjured mood is one of familiarity, nostalgia and a kind of swooning, old-school romance".
We're going to be hearing a lot about the coccoli: Marina disagrees with the name, but would agree with Jimi's summary of a "holy trinity of sourdough tang, lactic freshness and salty pork… I honestly don't think it's hyperbole to say they are, at a swoop, one of the year's best dishes".
*****
Also in The Standard, David Ellis interviewed Marco Pierre White on the eve his first new restaurant opening in a decade. Mr White's opens in Leicester Square on November 1st.
*****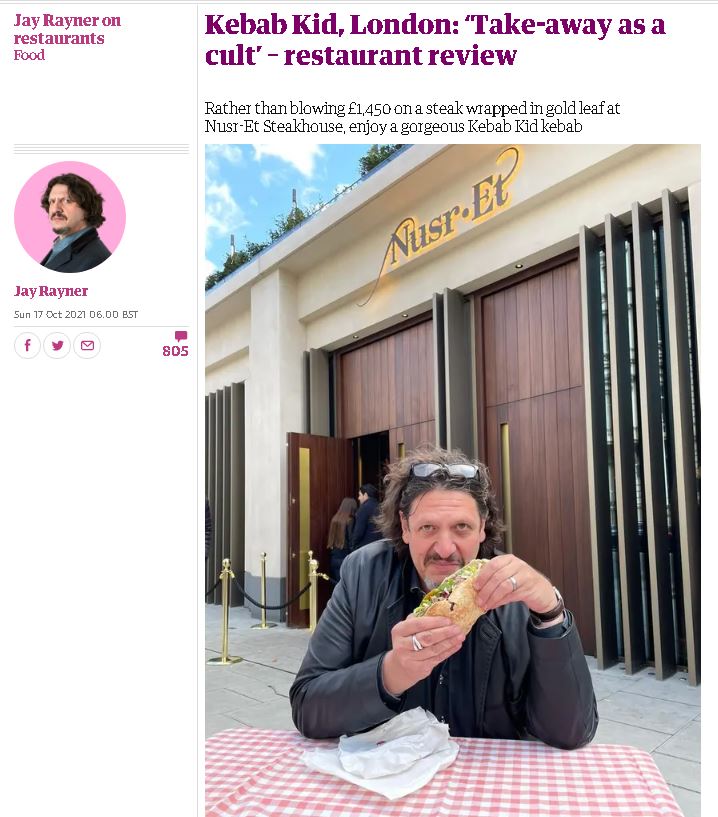 The Observer
The photo that accompanies this week's review shows Jay Rayner set up at a temporary table outside Nusr-Et, enjoying his takeaway meal from Kebab Kid – and saving himself hundreds of pounds in the process. "It's a ludicrous gesture, but then the Nusr-Et Steakhouse is a ludicrous restaurant, and one stupid turn deserves another."
From Kebab Kid, he ordered wings, falafel, two sharwarma kebabs (one for the photo) and baklava, all for far less than the "gold-wrapped baklava" at Salt Bae's place – which costs £50.
"It is take-away as cult, especially among London cabbies, which naturally means you'll find customer reviews online saying it's not all that. It is all that."
In another (utterly charming) article, Jay cooks timpano with Stanley Tucci.
*****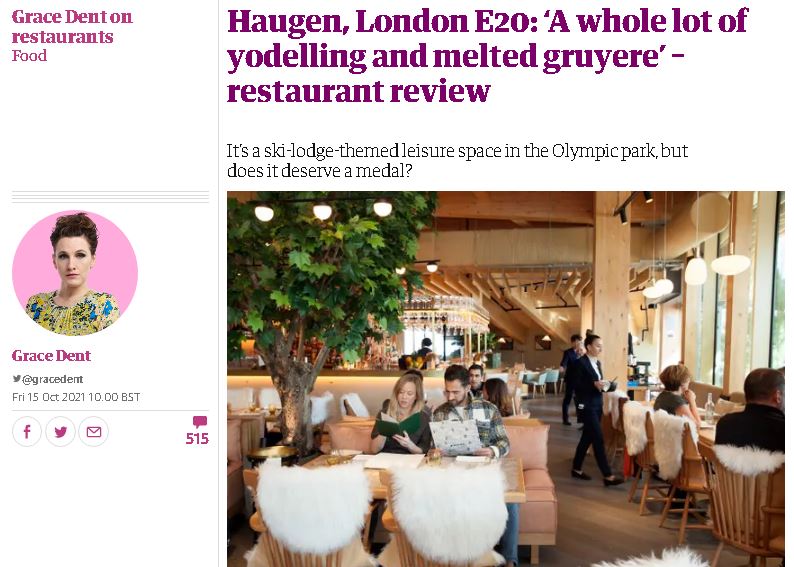 The Guardian
"Colossal, shimmering and jaw-dropping."
Grace Dent reviewed Haugen, the "impossible to miss… multi-floored, pagoda-shaped, alpine-themed fondue restaurant that's appeared in the Queen Elizabeth Olympic Park" near Westfield Stratford
After a first visit at which she failed to get noticed, Grace's second attempt was clearly noted by the management and "the brightest and best staff were on hand".
Fondue should be fun and kitsch, which Haugen manages, "but what's sabotaging it presently is the quality of its produce". The kitchen is "utterly hampered by someone's desperate need to make profit. Nothing felt or tasted as if it has been made from scratch" – as is so often the case with "many of these huge, tourist-magnet restaurants".
*****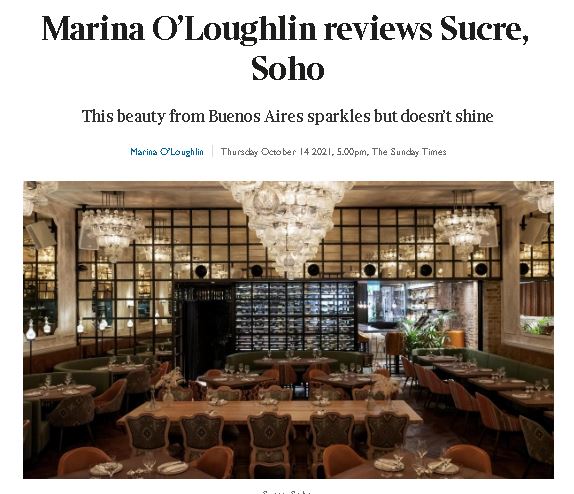 The Sunday Times
Marina O'Loughlin was at Sucre, the "beauty from Buenos Aires" from "bushy-tailed, lionised chef" Fernando Trocca.
The venue is "properly dazzling. A striking building, the former London College of Music, done out in a kind of hectic, fin-de-siècle glamour". But it's also very noisy, filled with a "designer-clad, performatively loud clientele".
The food? Not so dazzling. "So many dishes here miss the mark, one after another. Some are just a shimmer away from being excellent" while others were "just badly thought out and constructed", and seriously over-salted.
Sucre "sparkles but doesn't shine".
*****
The Mail on Sunday / YOU Magazine
Tom Parker Bowles tracked down some "authentic Mexican fare in the least likely of locations". A la Mexicana is in the outer suburbs of Birmingham, and is "the sort of home-style, family-owned place you'll find all over Mexico"; "to have somewhere this wonderful, in a distant Birmingham suburb, is nothing short of miraculous".
"Inspired by a rave review from the ever-reliable Meat and One Veg blog", Tom raced there by train. It's "not particularly smart" ("wedged between large electrical showrooms, on an unlovely stretch of Midlands A-road") but the food is "very good indeed". Tortillas and salsas are "made fresh every day" – tacos al pastor brought "a small, greedy tear to my eye".
*****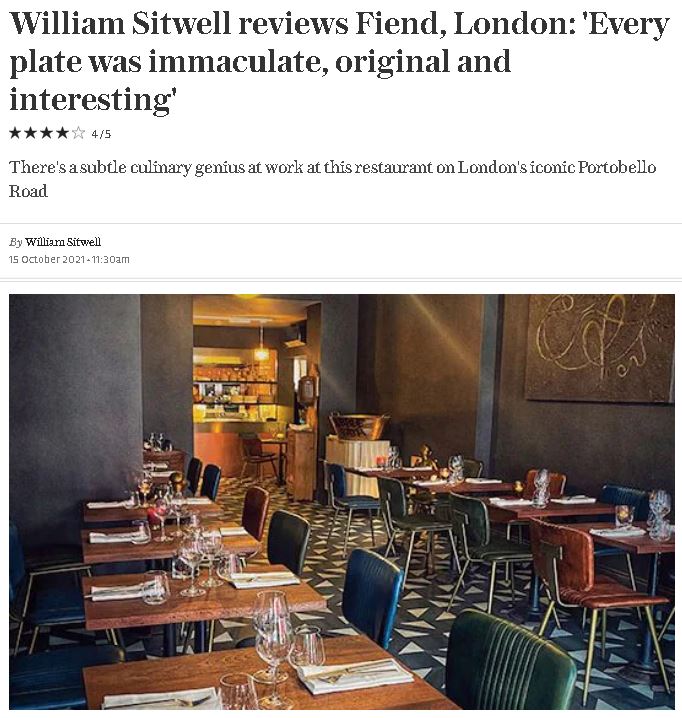 The Telegraph
William Sitwell was back in familiar territory, reviewing Fiend in Notting Hill. The venue and menu are equally "spartan and eclectic" (although the terrace is "pleasant").
"Every plate [was] immaculate, original and interesting without the feeling that the diner had to be dragged under by intel", and "revelations kept coming".
An "astonishing display of subtle culinary genius". (****)
*****
And also…
In The Scotsman, Catriona Thomson visited Dawyck Botanic Garden Cafe (7/10) and Gaby Soutar endured "the extreme sport that is eating street food in Scotland", with a meal from Tony Singh's shipping container venture Radge Chaat in Edinburgh. "My taste buds had felt as if they were going into hibernation, but now they've been wired to the electricity and reanimated." (8/10).
*****
In The FT Magazine, Tim Hayward reviewed Nancy Silverton's "outrageously good" food at Pizzeria Mozza: "Goethe thought architecture was music, frozen; Silverton proves that meatballs are beatitude, minced".
*****
Birmingham Live previewed the lavish decor at Quvali, a new high-end Indo-Persian restaurant opening in Brindleyplace next month; meanwhile in Moseley, a new French restaurant (on the same site as the owners' previous venture Little Blackwood), Le Petit Bois is offering £100 platters of snails and seafood.
*****