Our weekly round-up of what the national and local restaurant critics writing about, for the week ending 17 May 2020; the country remains in lockdown, with restaurants, cafes and bars officially closed due the coronavirus outbreak, possibly until July. Green shoots of recovery are showing, however, with fast-food chains opening drive-thru branches and more cafes opening for takeaways.
You can still support your local and favourite restaurants; many are offering takeaways or deliveries, or you can buy produce, meal kits, vouchers, cookbooks or merchandise. Check out their social media pages for details (all available via hardens.com)
The Observer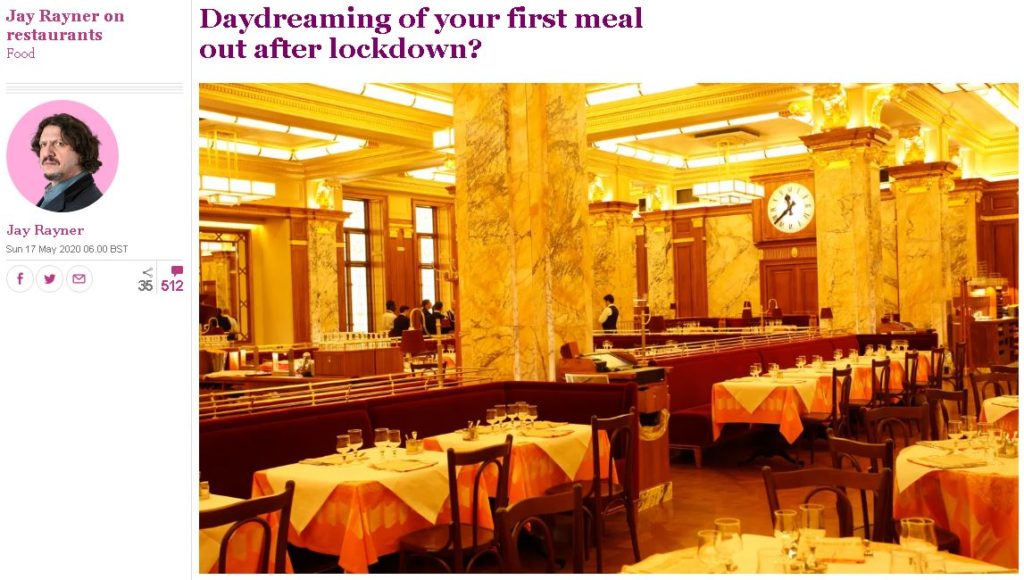 Like so many of us, Jay Rayner is wondering where his first post-lockdown meal will be. Questioning his close friends, he's realised that many of their first meals out will be French (that "faithful homage to the Parisian brasseries", Brasserie Zedel, features highly). Why do we have such an "enduring love affair with the cuisine of France"?
There's the history of course, both distant past (the arrival of the Huguenots in the 16th century, Auguste Escoffier at the Savoy, "a nod to L'Escargot, which once had a snail farm in the cellar, and of course, Mon Plaisir, one of London's oldest French restaurants") and recent (the late 70s sitcom Robin's Nest, which starred Richard O'Sullivan as the languorous Robin Tripp, the "uber-modern 70s male… which meant he was great in the kitchen. Which meant… he could cook French food").
Of the key openings of the "modern restaurant boom", two were "avowedly French" (Bibendum and Harvey's) and Kensington Place, while officially "modern European", included dishes "which couldn't be more French if the writers of The Simpsons were in charge of the stereotypes". Henry Harris, who started at Bibendum, "has spent much of his career gifting us rugged French food".
French restaurants, by and large, haven't jumped on the delivery and takeaway bandwagon, either before or during lockdown; "the demographic using Deliveroo, Uber Eats and the rest simply doesn't go hunting through the digital meadows for a good cassoulet when they're hungry". ("Also, many French classics are far less portable… soupe à l'oignon, complete with a crouton and gruyère lid… may well arrive looking like a Portaloo on the third day of Glastonbury.")
"A takeaway Chinese is a domestic ritual the grammar of which we understand. We associate French food with a restaurant experience" – often the quintessential one, with "terrines, cassoulet and crème brûlée" (although this may be a "generational" assumption).
Looking back over his 20 years of columns, Jay observes a "constant Gallic twang", and notes that the French dishes receive the most feedback (or "cooing" as he calls it).
"In Paris the waiters can sometimes compete for an Olympic gold in rudeness. But the British French restaurant is something else. It's a place designed, in our imagination, to convince us everything is going to be OK. Unsurprisingly, that's what many of us crave right now."
---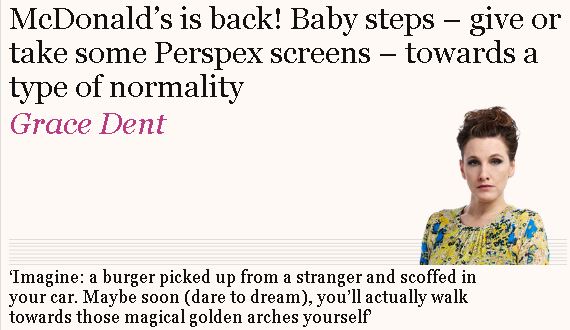 The Guardian
Despite the headline rejoicing in the re-opening of McDonald's takeaways, Grace Dent's column is rather sweet. Describing the scent of a freshly baked pain au chocolat to her housebound mother, she "realised that in the new world perhaps one of my scant actual skills will come in useful: my powers of description. Perhaps from now on, and for many years to come, my restaurant column will be largely taken up explaining what it's like outside the front door to folk who are far too terrified to leave home".
"As lockdown loosens, perhaps my job, which is certainly ridiculous, might actually take on some poignancy. Britain feels divided into those who are ready for freedom and raring to forget Covid-19, and those who will never forget. The latter will not be rushing down Wagamama any time in 2020. They won't do communal tables, touch the flappy menu or use the wine glasses. "
"As faint green shoots appear in the restaurant world, I wonder which side everyone I love will be choosing."
"I would give my back tooth – the one with the silver filling – to eat afternoon tea with my mother. In a rowdy room close to Buttermere that's full of women and birthday treat outings. A room filled with three-tier cake stands, pots of tea and extra pots for hot water. With sultana scones, clotted cream, jam and laughter. I don't think this can ever happen. But if I shut my eyes and imagine, the view from here is lovely."
---
The Evening Standard
The Evening Standard reported on the green shoots of recovery in London as lockdown eases; yes, it's only 11 M&S cafes opening for takeaway, and more drive-thru branches of Burger King and McDonald's opening, but it has to start somewhere.
In the 'restaurant recreations' section, there's a recipe for the famous maple syrup and smoked bacon scones from Covent Garden's Frenchie (last week it was Adam Handling's cheese doughnuts if you're up for the challenge and have four types of cheese and fresh black truffle in your fridge.)
If that's all too much effort, you can just drool over the photo story rounding up all the Instagram posts of the amazing home cooking that London's chefs are producing.
---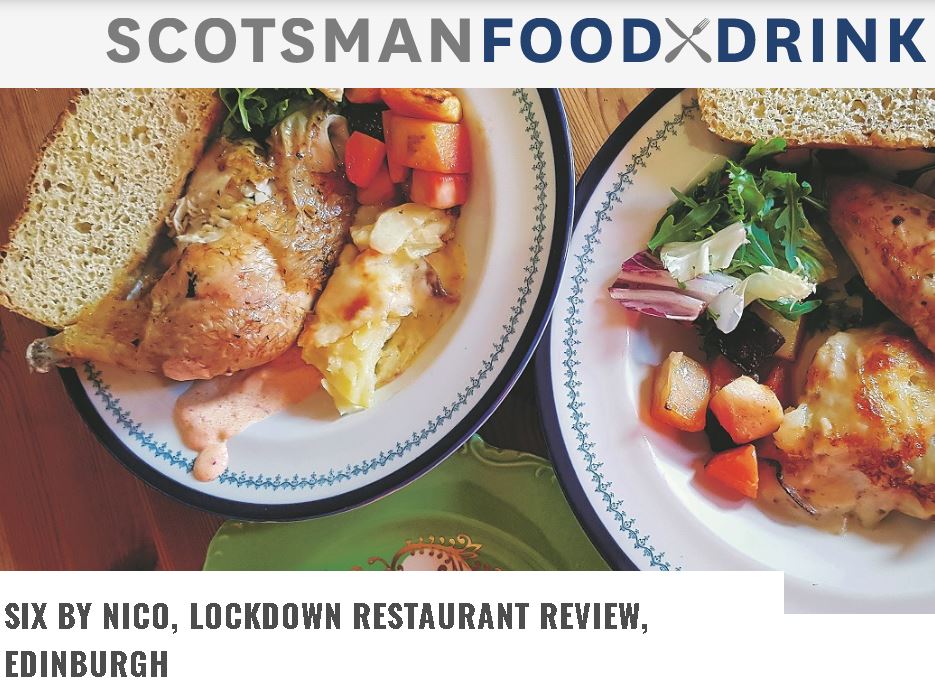 The Scotsman
Gaby Soutar reviewed another restaurant delivery this week; Home by Nico can be ordered by anyone within a five-mile radius of the Edinburgh or Glasgow branches of Six by Nico.
"It's strange to think of all the fantastical pre-covid Six by Nico concepts – Alice in Wonderland, Guilty Pleasure, Illusion –which inspired the menus they'd serve. Perhaps now it would be zeitgeisty to do House Arrest, with oven chips and out-of-date packet noodles, or Loungewear, featuring white food, so you wouldn't wreck your favourite pyjamas or sweatshirt."
"Rather than six courses, Home by Nico is four courses for four people, to be used within three days. There didn't seem to be any theme as far as I can tell." (The week after, there was a 'Catalonia' theme.) "There is cooking/reheating involved, and each box comes with instructions, a list of allergens and the £82 price includes a bottle of wine." The instructions could have included a list of ingredients and menu, though.
The four courses were pithiviers, a whole corn-fed chicken with a side of "gruyere-topped potato gratin, with a cheese to potato ratio that was almost equal", an orangey treacly sponge cake and a cheese course ("a slab of the fantastically creamy brie Baron Bigod").
"Excellent effort." (80%)
And also…
Marina O'Loughlin's regular spot in The Sunday Times has been replaced by the annual Rich List this week, while the Corens discuss the "joys" of having Giles at home, re-arranging the larder and criticising the placement of dirty dishes in dishwasher.
---
The Financial Times reported on the return of fine dining in Switzerland: "Michelin-starred restaurants open for business as country's hospitality sector becomes first in Europe to reopen". "People want to go out again."
---
Looking abroad for inspiration, The Independent reported on the mini greenhouses being used in Amsterdam to keep restaurant diners apart, and the Swedish restaurant serving just one guest a day. Closer to home, there's a recipe for Warburton's crumpets.
---
With no restaurants to review, The Telegraph has published a book review next to William Sitwell's last column back in March: Nikita Lalwani's third novel, You People, "unfolds in a London restaurant, Pizzeria Vesuvio, which has square tables, candles, carnations and… food is cooked by Tamil chefs from Sri Lanka, many of them illegal immigrants".
Recent News from Harden's