Here is our weekly round-up of what the national and local restaurant critics were writing about in the week ending 13 June 2021.
*****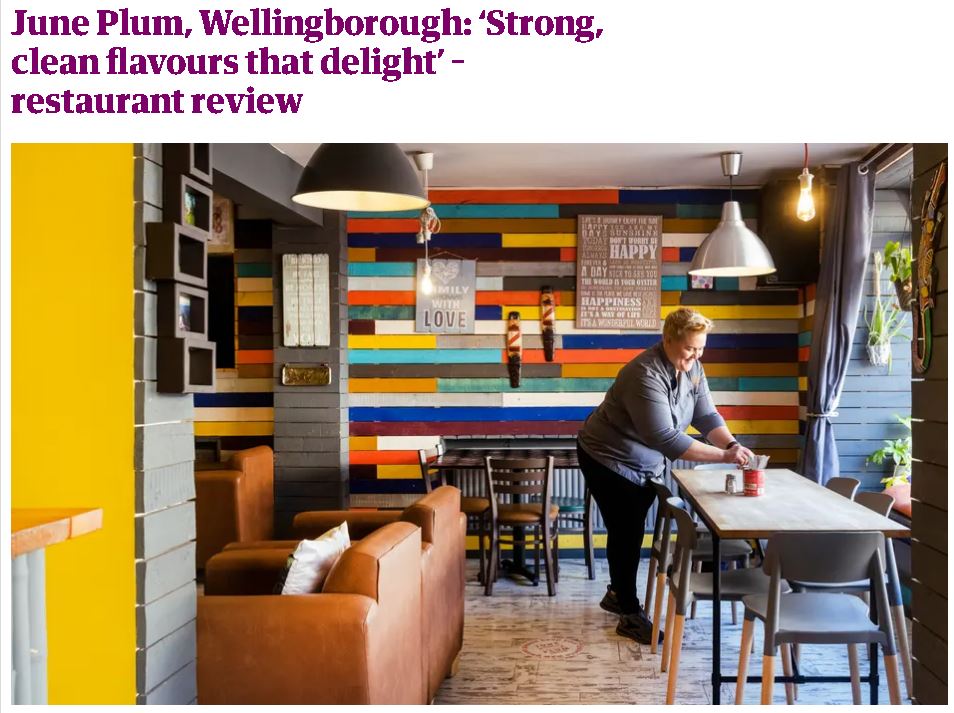 The Observer
"The Caribbean cookery here deserves to become the pride of Northamptonshire."
Standing in for Jay Rayner this was Rev. Richard Coles, who introduced us to June Plum, a Jamaican restaurant in Wellingborough, Northamptonshire, near where he lives , in what he calls a "Dark County" for foodies: "we have some terrific food producers and wonderful cooks, but not many restaurants that fulfil their promise, or last long if they do."
June Plum, then is a "glittering jewel in a surprising place"; "strong, clean flavours that delight" are served up by Jamaican-born chef-patron, Jodi Jenny, who originally ran a food truck called Jamrock that Richard discovered in B&Q's car park, and thrived on takeaways during lockdown.
With differing levels of heat options, Richard plumped for the curry goat which was "as good as any I have eaten" – including "in the Caribbean" – and for customers wanting something different, there's also "the best macaroni cheese I have ever tasted, on the menu, too".
*****
If you're missing Jay Rayner, an article on the 10 cooks who changed the way we eat was published on Sunday 13 June, based on his lockdown cookbook reviews.
*****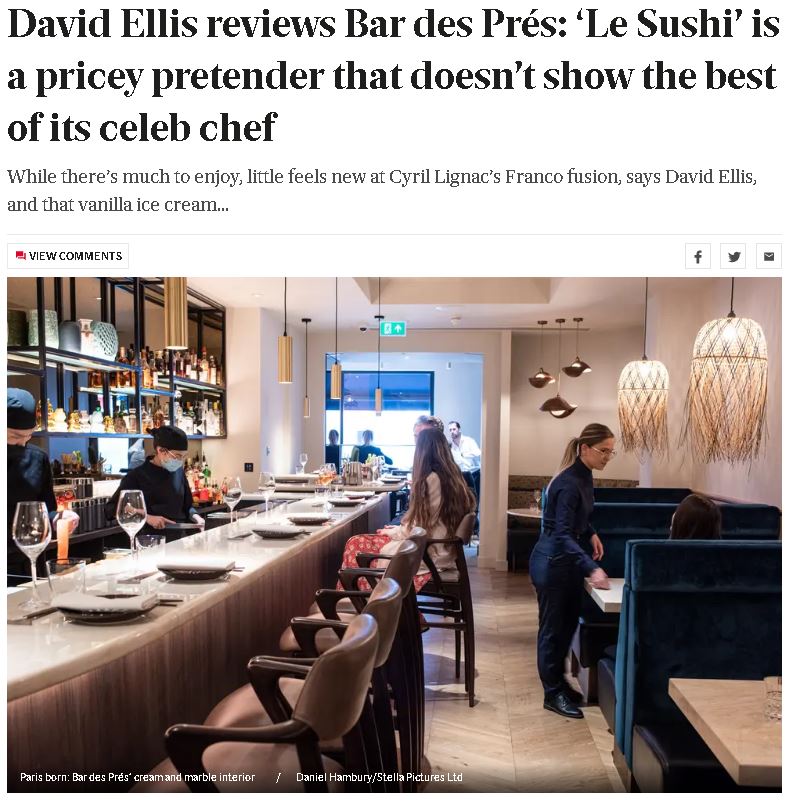 The Evening Standard
No review from Jimi Famurewa this week (his article was about the Euros, which is something to do with football, apparently). We were rewarded with a glut of articles from the Standard's other writers instead:
David Ellis, editor of the Reveller, reviewed Bar des Prés, the new place from French celebrity chef Cyril Lignac, who has shaken off a decade of Jamie Oliver comparisons (which "stem from Lignac building his fame repeating our Jamie's tricks: overhauling school dinners, teaching disadvantaged types, opening Le Quinzième (the Fifteenth). But he gave up the copycat stuff yonks ago") to open this expensive-looking "Franco/East Asian" ("mostly Japanese") restaurant in Mayfair, replacing Indian Accent.
Disregarding the "frightening prices" if you can (dinner for two with no pudding or coffee just scraped under £300), there's "lots to enjoy", although he recommends you steer clear of Lgnac's signature vanilla mashed potatoes, which "brought to mind microwaved Carte D'Or".
"London isn't short of really first-rate Japanese places: nothing here is new" and as the celebrity himself doesn't seem to be actually cooking, why not wait for him to open a patisserie instead (which is what he's known for across La Manche).
Also from David Ellis, an update on the forthcoming (now July 2) opening of the "enormous" (nearly 300 covers) and "palatial" Florentine-inspired Ave Mario from the Big Mamma group; and news of a new Clapham pub. On the site of Kazbar, and four years in the making, The Saxon opens June 14 from the team behind Ten Bells in Spitalfields, the East London Pub Co, with four floors and a rooftop terrace. A menu of "gastropub favourite" small plates, brunch and Sunday lunch should keep the place busy.
*****
The Standard also reported on London's best ice cream parlours, and a pasta pop-up (Otto) from Phil Howard and "his upcoming protege Thomas Straker", on July 5 & 6 at Richmond newcomer Flour + Water.
*****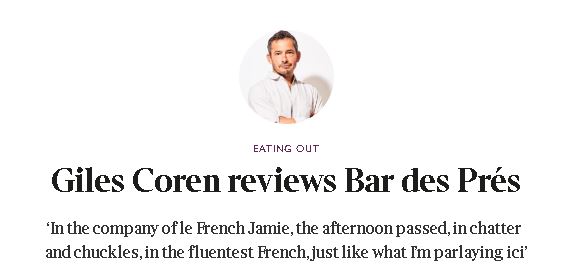 The Times
Giles Coren also reviewed Bar des Prés, mostly in unreadable pidgin French, calling Lignac "une certain jeune grenouille charmante".
He describes Lignac's newcomer as "a great-looking little joint" with a arble bar and cosy booths "rammed to the gills with men in their late thirties dressed as hedge fund managers".
"There was a lot of raw food, there was also a lot of hot, crispy food. Which was music to my ears." The Parisien Bar des Prés only serves raw food, because the rent is too high to have a kitchen, apparently. Giles chose a random selection and was "rewarded with a procession of brightly coloured, sharply accented, beautifully fresh and precisely plated European variations on Japanese themes, and vice versa".
Many of the plates may "sound like rather frantic, attention-seeking microdishes for easily bored oligarchs and their squeaky-faced wives, and I wouldn't necessarily argue. But they are the best of their kind that I've come across in a long time".
"I loved every mouthful."
*****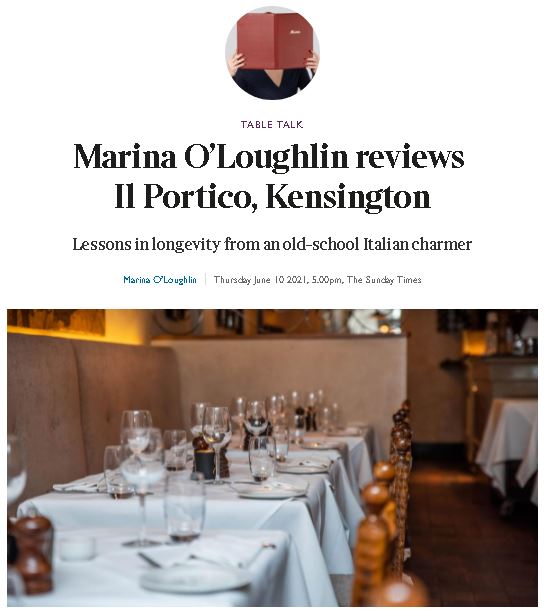 The Sunday Times
"How, in an atmosphere of febrile novelty-seeking, do you keep a restaurant full — never mind year after year but decade after decade?"
Marina O'Loughlin paid a visit to Il Portico to answer her own question; it "has existed in one shape or another for four generations of the same family", (even "the chef has been with the business for 32 years") and she'd never even noticed it until owner James Chiavarini got in touch.
The cooking may be a tad old-fashioned, and was a little too autumnal on her visit, but the Emilia-Romagna fare was "textbook" and it's obvious to Marina (a new devotee) that "this little place thrives because it makes diners feel special. It is beloved."
Also worth noting is that "Chiavarini is just about to launch Pino, a pizza and wine bar, a couple of doors down in their former pizzeria. I'm imagining something like the enoteche that line Bologna's ancient streets: tradition and forward-thinking, a killer combination."
*****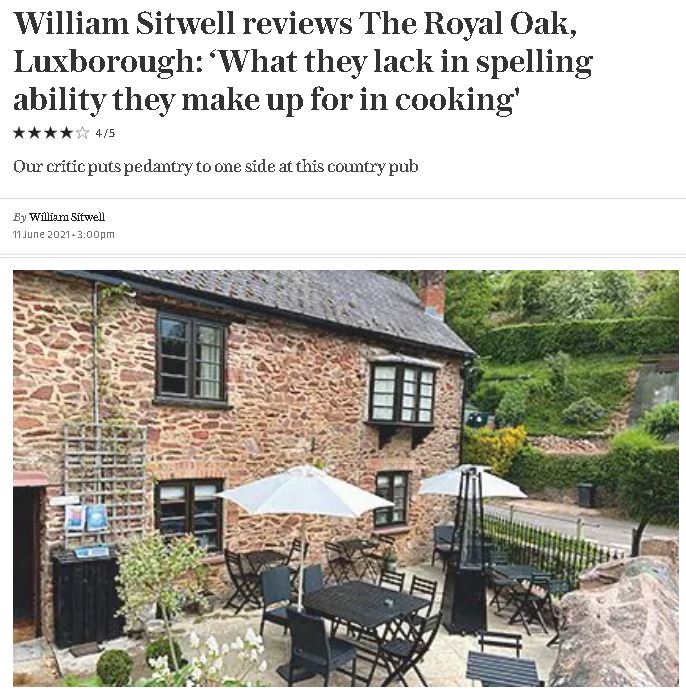 The Telegraph
"This is the sort of food I yearn for – the ultimate definition of a good time."
William Sitwell enjoyed a " very happy evening" at The Royal Oak in Luxborough, a "handsome 14th-century Somerset inn" ("all wooden beams and flagstones and cobbles and stone walls and open fires and ales") nestled "in a valley of Exmoor National Park about three hills and a field away from the Bristol Channel".
A multitude of mis-spellings on the menu had him "in a vexed state of mental anguish", but "what the chef or the manager or owner lacks in spelling ability they make up for in cooking", which was as "respectable, delicious and wholesome as the welcome and service".
"Dogs, no phone signal and a feeling of happy harmony" completed the evening. (4/5)
*****
The Mail on Sunday
Just like Ravinder Bhogal standing in for Jay Rayner last week, Tom Parker Bowles returned to inside dining at The Wolseley, to delight in "restaurant as pure theatre, a spectacle as much as a lunch, with its vast and ever-moving cast of doormen and greeters, maître d's, waiters, barmen and boss".
"To walk into The Wolseley is to slide, seamlessly, into another world, a place where the irks and indignities of normal life are shaken away like raindrops from an umbrella."
With "an atmosphere so rich and thick you could spread it over their warm, crusty baguettes", it's definitely not about the food, although that's always "there's always something you want".
"It is as it always is, comfort as a class act. All around us, bread is broken, wine slurped and old acquaintances renewed. London is alive once more."
*****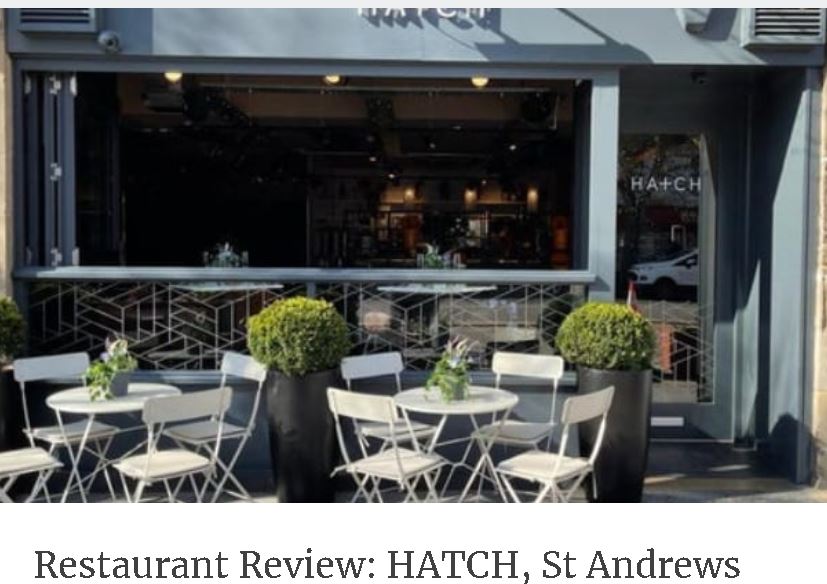 The Scotsman
Gaby Soutar headed to St Andrews to try a Fisher & Donaldson fudge doughnut, but got diverted by newcomer Hatch (surprisingly not "named after the food service vents that we've become used to during lockdown") where she had a "marvellous" meal.
Chef-patron Julie Dalton served up a winning meal of small plates, some of which "crept along in ballet slippers" while others "steamed up in steel-capped bovver boots, then kicked the door down", all in a good way. There was also a "fantasy cocktail", "punchy" sides and "interesting" puddings. (8/10)
*****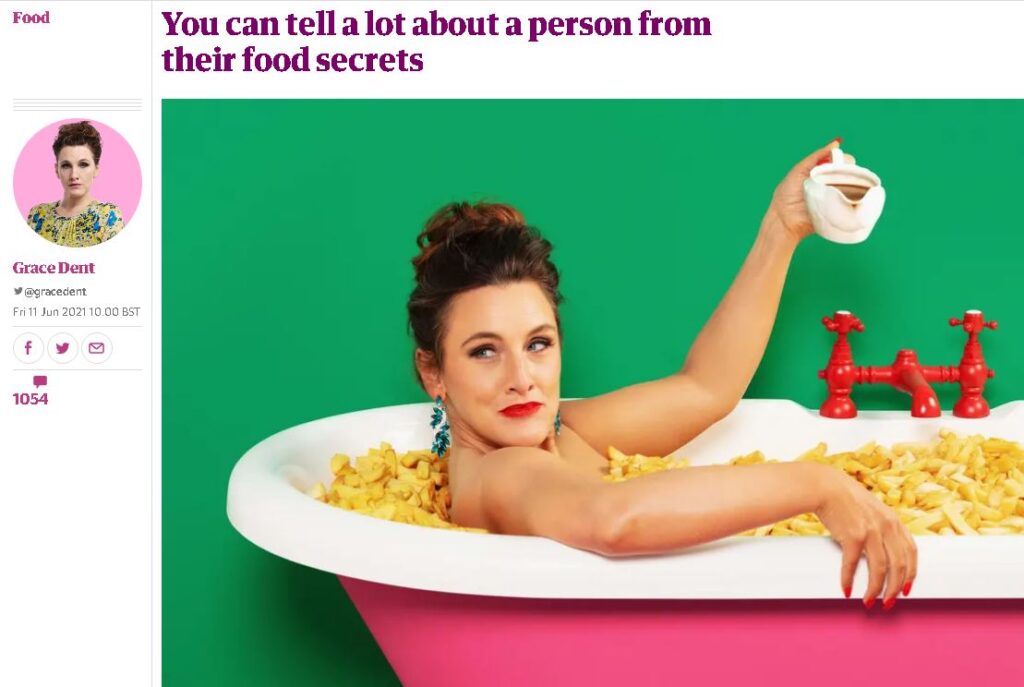 The Guardian
"Go-to breakfasts, secret snack concoctions, favourite biscuits and the details of their regular Domino's pizza order: that's when you see the real human being. "
Grace Dent sat in a bath full of chips to promote her new podcast series, Comfort Eating, in which she asks celebrities to reveal "what they eat behind closed doors".
"What we eat, in pyjamas, to make us feel comforted, happier, self-soothed or loved is very, very personal. It's also often a little embarrassing."
*****
And also…
In The Financial Times, Tim Hayward reviewed " high-quality avian deconstruction" at Humble Chicken in Soho: "a savagely crisped crust, built by layers of tare and a thick smear of karashi mustard, elevates chicken liver to something rich and rare".
*****
Recent News from Harden's