Our Easter Sunday round-up of what the national and local restaurant critics writing about, for the week ending 12 April 2020; the country is in lockdown, with restaurants, cafes and bars officially closed since 20 March due the coronavirus outbreak.
You can still support your local and favourite restaurants, though – many are offering takeaways or deliveries, or you can buy produce, meal kits, vouchers, cookbooks or merchandise. Check out their social media pages for details (all available on hardens.com)
Week 3 of lockdown brought some melancholy and reminiscence from our regular critics.
---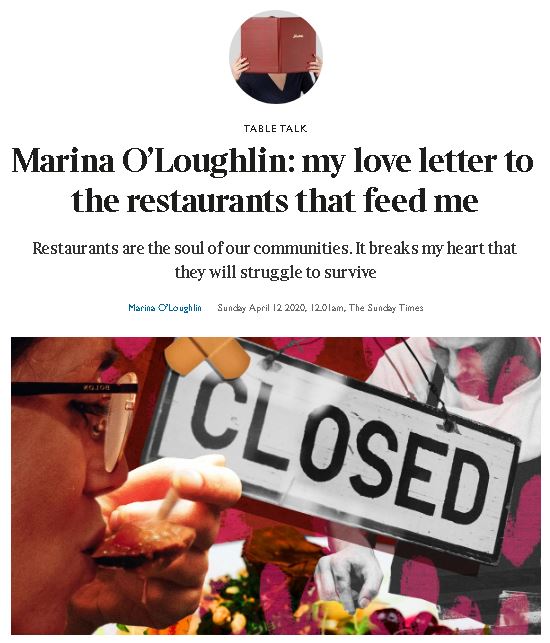 The Sunday Times
"It's a philosophical question I'm unable to answer: what is a restaurant critic when there aren't any restaurants? I'm currently the appendix of journalists, the chocolate teapot of critics, the icing on the cardboard cake."
Marina O'Loughlin for The Sunday Times was feeling nostalgic. Her article this week began with her 13th birthday meal in a hotel, covered working in restaurants in Edinburgh and Glasgow and finally "hitting London and finding it a promised land of impossibly cool places".
"Restaurants are about so much more than eating. I do not understand those people — and there are a surprising number of them — who sneer at the concept of paying someone to feed you delicious food in beautiful surroundings."
"Restaurants are where people come to celebrate, declare their love, catch up with families and old pals, or simply put the world to rights over great dishes and fine wines. Even OK dishes and drinkable wines, frankly."
Marina even gave a history lesson about the first "proper" restaurants ("in France in the 18th century, post the revolution") and their cultural importance ("What kind of civilisation isn't based on the rituals of breaking bread? In refugee camps, the first rackety, hand-knitted businesses that spring up are those to feed people.")
"It's restaurants' stories I like to tell, not prissily parsing ingredients and technique. Restaurants can be shallow or profound, serious or silly, enchanting or infuriating. They can create memories that last a lifetime."
"This awful virus hasn't just struck down individuals, but whole industries. Restaurants, my dearest loves — bistros, temples of haute cuisine, trattorie, tavernas, ramen-ya, greasy spoons, all of you — get well soon."
---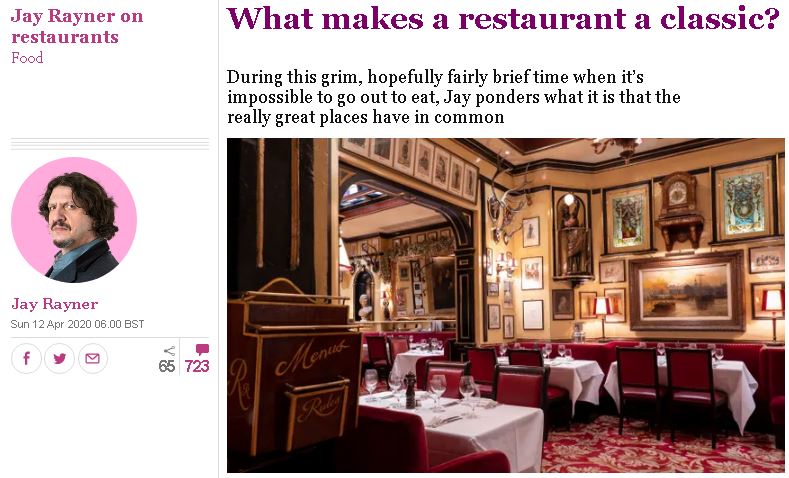 The Observer
"I became a restaurant critic because the job sounded like fun. I stayed a restaurant critic because I love restaurants. I always have. The best ones are a special kind of theatre; the kind that offers a show and makes sure you never leave hungry."
Now he's "a restaurant critic with nothing to criticise" Jay Rayner for The Observer will be "week by week… looking at themes across the joys of eating out"; this week he mused on what makes a restaurant endure.
One of his favourite childhood restaurants, "Giovanni's, off St Martin's Lane" is still going, with much the same menu ("I imagine change would be about as welcome as a neo-brutalist concrete extension to St Paul's Cathedral"). Similarly, Oslo Court "rolls its eyes at pretty much every decade since the 1970s", and Rules, "which has traded in Covent Garden since the late 18th century serving fabulous British standards, including the sort of suet sponge-clad steak and kidney pudding you should bury your face in" sticks to what it knows, with just three "custodian" owners in all that time.
"Not all classics trade in the retro, but they do all trade in comfort." When Jeremy King and Chris Corbin took over The Ivy in 1990, it became so popular that people would wait months for a booking on reputation alone, and then would be "horrified to discover the menu offered shepherd's pie, fish cakes, and sausage and mash". Regulars actually went for the "fabulous service" and "because they felt truly looked after". Just like at Le Gavroche (open since 1967), with its "very classy bistro food… delivered with Aston Martin quality panache".
---
The Evening Standard
The Evening Standard reported on the cancellation of this summer's Taste of London festival and chef Robin Gill's new weekly online supper clubs.
---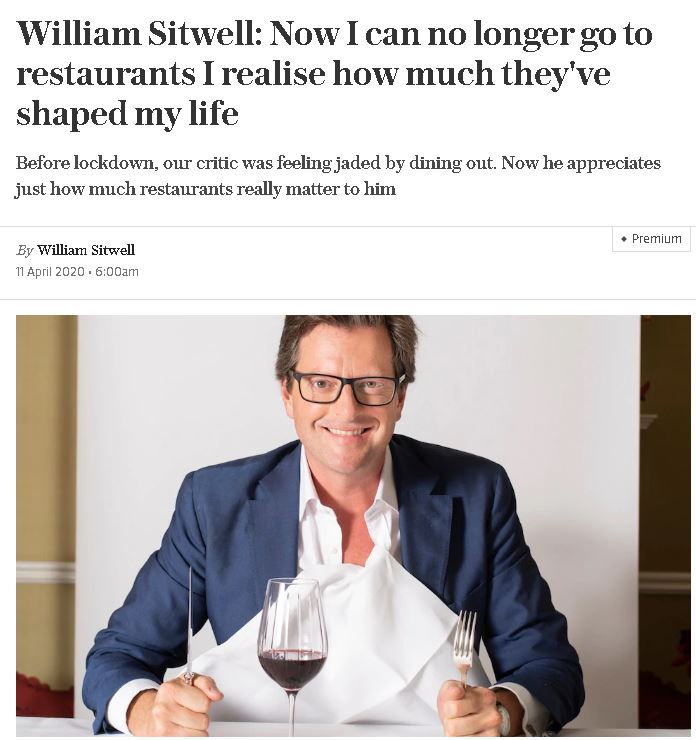 The Telegraph
"Those of us who love to eat out are left only with the vicarious pleasure of imagining it."
Another wistful article from William Sitwell of The Telegraph, who is "at home, staring out of the window and dreaming of what I might eat after the crisis, quietly chastising myself that, just a few weeks ago, I felt I was tiring of all my endless eating out".
Having just published a book on the subject, William also gave us a short history lesson, including the Bernard Levin interview in 1962, when he described the "state of Britain's culinary scene" as "disgusting" (he went on to use further, equally unflattering adjectives: "lazy, inefficient, dishonest, dirty, complacent, exorbitant") and the transforming effect of the arrival, in April 1967, of the Roux brothers from Paris. Their restaurant, Le Gavroche, trained many of today's top chefs: "perhaps the Rouxs' greatest legacy".
William's first experience of "serious, upmarket, gourmet dining" was in 1993 when he was sent on a mission by The Sunday Express to rile Marco Pierre White into making headlines at his "eponymous new restaurant at the Hyde Park Hotel". ("My colleague and I behaved impeccably and later battled to get our expenses paid for the exorbitant lunch from which we had no story.") He also touches further on the Nineties, and the "holy trinity of Britain's new culinary stars", Rowley Leigh, Alastair Little and Simon Hopkinson, and their differing takes on French gastronomy and fine dining.
William's article jumps around chronologically, mentioning the Eighties after the Nineties (possibly only to mention that Alan Crompton-Batt, the first of the great modern restaurant PRs, once threw glass of wine over him) and in content, taking in MasterChef, Sally Clarke (and her obsession with Alice Waters), his campaign against slates instead of plates, tasting menus, street food, Bristol and just the tiniest hint of his "vegan set-to".
"Today, new technology allows us to book tables, stand in virtual queues and split bills with the tap of an app. And the nation's energy and enthusiasm for food has seen great restaurants launch into every corner of the country."
"After the plague, once again with beautiful, extraordinary choice at your disposal, formed from hundreds of years of history and made distinctly better in recent decades, where will you eat?"
---
The Scotsman
The Scotsman produced another batch of brilliantly quirky news stories, from the launch of a Fray Bentos tinned vegan pie, to homemade recipes for popular convenience foods (creme eggs, Wagamama's chicken katsu and Pizza Express dough balls) to the lockdown launch of a Jägermeister scented bathtime treat. The Jäger (Bath) Bombs "will turn any bathwater vibrant green and are infused with distinctive Jägermeister aromatics including aniseed, sweet orange and cinnamon". A more serious article explained the tradition of eating fish on Good Friday.
---
The Guardian
Grace Dent for The Guardian described what she's doing with her time now that "tons of utterly pointless, life-robbing faff has been snatched away" – the commuting, grooming and endless meetings about meetings.
"This open-ended separation feels often unbearable… I lie about for hours, letting the cats use me as heated furniture, re-learning all the two-letter bridging words in Scrabble. And above all, I tell myself over and over, this has been only three short weeks and I am fortunate."
The Guardian helpfully also provides easy bread recipes for those lucky enough to have flour but no yeast.
And also…
Tom Parker Bowles for the Mail on Sunday again published nothing, joined this week by The FT.
The Independent produced articles on food banks, whipped (Dalgona) coffee and hot cross buns.
The Times' regular restaurant critic Giles Coren and his wife, Esther Walker, mused about home education in their new column.