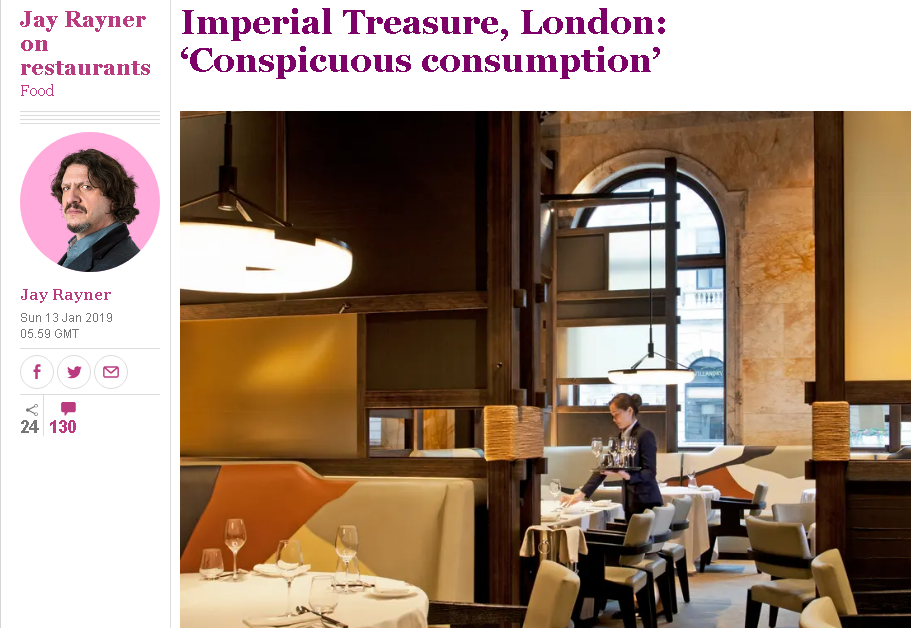 Did the chefs at Imperial Treasure recognise Jay Rayner when he visited for The Observer? They chased him to the toilet, so one presumes so. Why then, did they take away his Peking duck (for which he paid a "nose-bleeding… shameless" £100) half-eaten? Astonishing. It tainted the rest of his meal, and his review.
Imperial Treasure is a palace of "conspicuous consumption", a "huge marbled space just off Pall Mall, with ceilings so high they are hidden in the shadows" and "battalions of heel-clicking waiters". The food is "merely adequate", however, especially given the prices – over £370 for five people with just one glass of wine each.
This "swaggering, self-important London debut is not fabulous. It's ill-judged and ill-timed. Most of all it's a waste of a nice duck."
***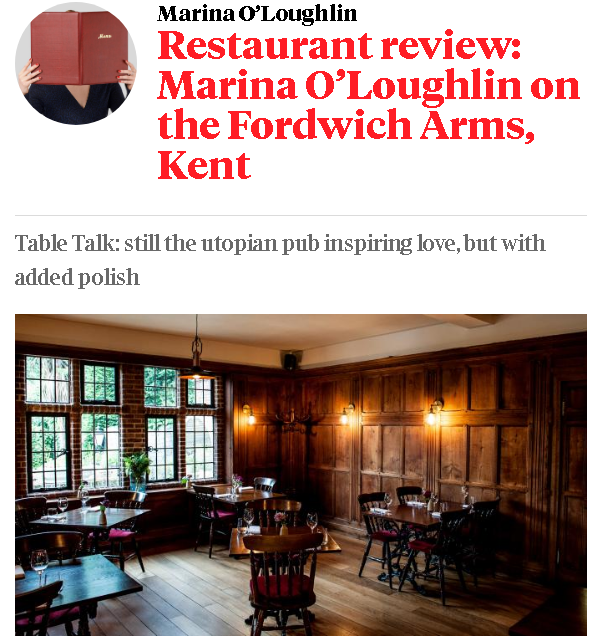 Marina O'Loughlin in The Sunday Times visited the newest Kent hotspot The Fordwich Arms, which namechecks "Pavlovian-for-critics stimulus" The Clove Club in its heritage. It's already received "a flurry of national reviews".
She's visited several times, watching the pub bed in, experiment and improve, "as invested as a stage mother ", and "it has always been relaxed, jolly, a place to come both with dogs for pints, or dates for the full eight courses, spendy wine and meaningful eye contact".
Snacks are "seriously blissful" (potato crisps with cod's roe are "like macarons for Poseidon", and the duck liver parfait comes with "hot, fluffy doughnuts. I have nothing but unabashed, panting lust for this"). Even the "curious, wintry accompaniments" to the sea bass work together, and the bread is "like discovering a whole new set of taste receptors".
"The Fordwich started out with soaring ambition and zero pretension, the cooking a big, open-hearted grin of a thing." And then it was awarded a Michelin star… prices have risen, subtlety and simplicity have been lost. It's still "breathtaking", just not the same.
***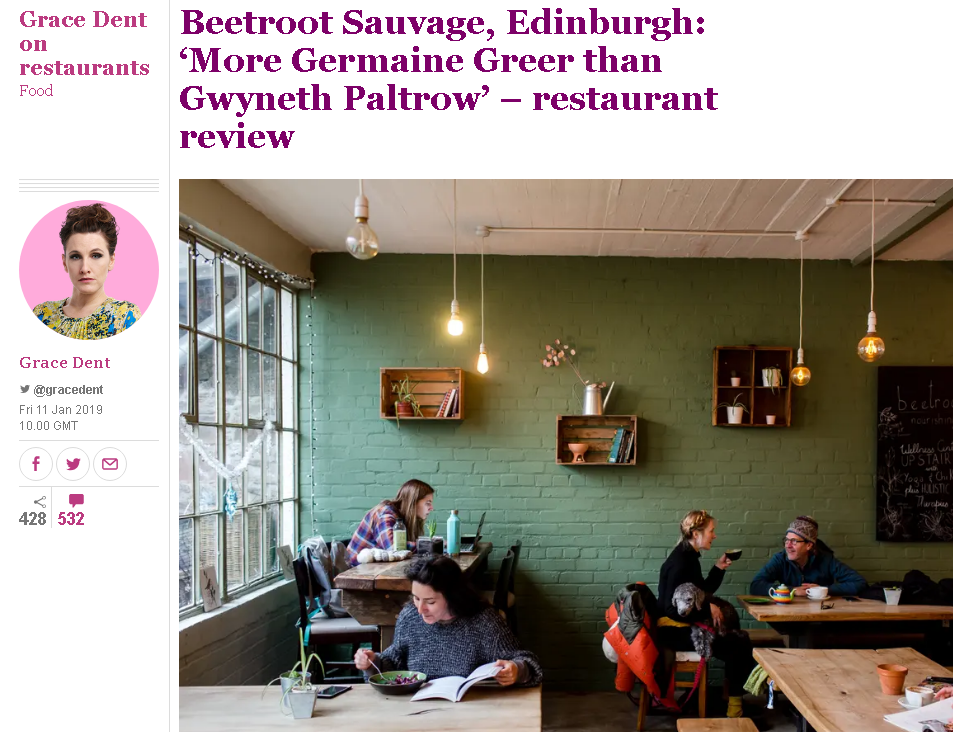 Grace Dent for The Guardian mostly chooses "cruelty-free" dishes on a menu, so Edinburgh's new 'vegan cafe and wellness centre' is definitely her kind of place, even with the added "blurb about blissful energies, joyful eating and magical safe spaces" on the website.
It's "a boho-style cafe-restaurant, more shack than chic, serving a thoughtful, ever-changing vegan menu"; the lentil dish named 'Dahling I'm home' was "glorious", and a vegan twist on French toast with banana and bacon was deemed "successful". It's certainly not the new veganism represented by Deliciously Ella and Farm Girl – "more Germaine Greer than Gwyneth Paltrow, but it has an enormous heart". (21/30)
Grace Dent was also interviewed this week about her life as a restaurant critic.  
***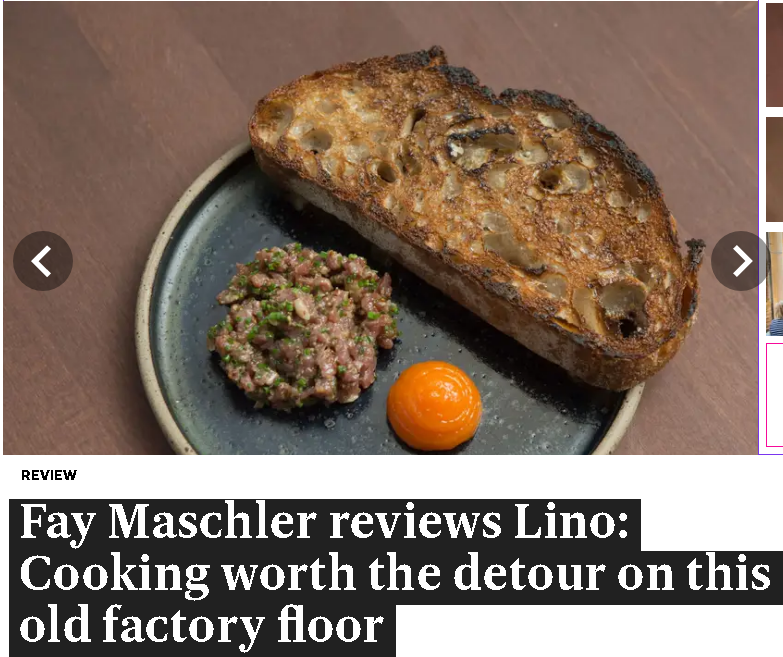 Fay Maschler in The Evening Standard visited Lino for her first review of 2019, and was very pleased she's not doing Veganuary, as there was only one dish on the whole menu (including puddings) that she could have eaten.
The cuisine and general principles (with an "aim to re-love, re-use and re-imagine") pleased her enough to use the word 'woke': "healthy, evolved, carefully considered, woke food that looks for edge and emphasis in pickles, ferments, smoke and salt and virtue in the scrupulous husbandry of resources". The location, however, is a "rather freaky spot" – a former "linoleum factory (obvs) adjacent to St Bartholomew's Hospital" with "wasted space" and "marooned marble tables and sofas". ['Obvs' too – has Fay been watching YouTube tutorials on 'youthspeak'?]
Watch out for the "snacks that can up the bill", even though they are "delicious"; Fay also recommended the "notably well-crafted breakfast and brunch menus".
***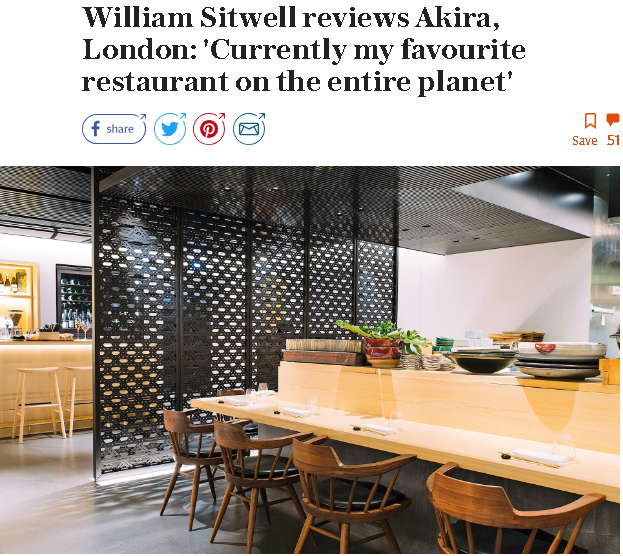 The Telegraph's new critic, William Sitwell, visited the restaurant at the relocated Japan House in Kensington, thoroughly enjoyed a visit to the gents' ("you never forget your first Japanese lavatory") and declared it "currently my favourite restaurant on the entire planet".
***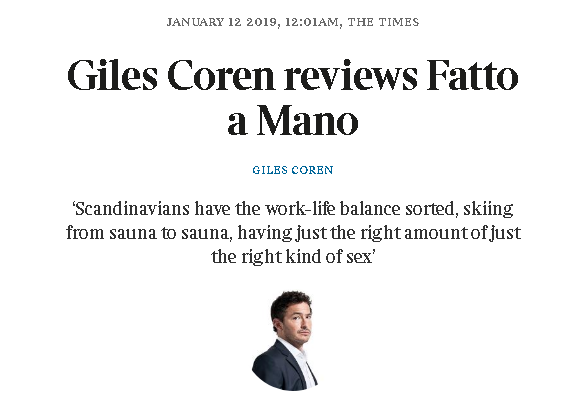 Giles Coren visited the third and newest branch of Brighton's favourite pizza company Fatto a Mano. He really couldn't face going anywhere smarter with two under-eights "drenched in sea water" in tow (and no doubt diners everywhere appreciate that).
The Lanes branch is a "two-floored, big-windowed, on a corner, bustling with vigour and fun"; the Coren clan ate downstairs, which is "cosy, noisy, bit cramped, great fun" and enjoyed "phenomenally good" delivered by "incredibly jolly" staff who were "excellent with kids and passionate about their pizza".
An added bonus is that the pizza is free for kids – Giles usually just eats their crusts, but one taste of the "billowing, fluffy Neapolitan" style pizza and he ordered his own, "smudged with that spreadable, spicy pork sausage", and his daughter enjoyed her first ever tiramisu – which she claims "has changed my life". (31/40)
***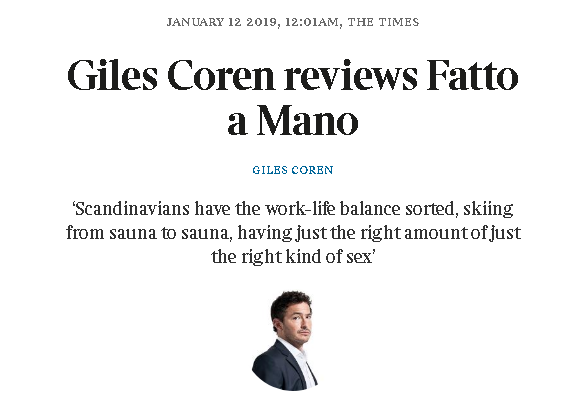 Tom Parker Bowles for The Mail on Sunday delivered an unusually harsh two-star review to Korean-Japanese restaurant Inko Nito, which he described as "an ocean-going bore". He'd much rather be eating street food in Taipei, Bangkok or Mexico, you know (and told us so, at length, once more).
"Cash has most definitely been splashed" on the venue, a sibling of Roka and Zuma, but the food, from a "DIY Pick And Mix menu… that skips gaily between Japan, Korea and China", in realisation "rarely lifts its head above the average". And they leave the bill (to which service has already been added) open: "slyly expensive mediocrity that appeals to neither palate nor purse".
***
And also…
We're going to start sharing the restaurant reviews from The Scotsman and regional newspapers (please feel free to send any links or reviews from your local papers to editorial@hardens.com):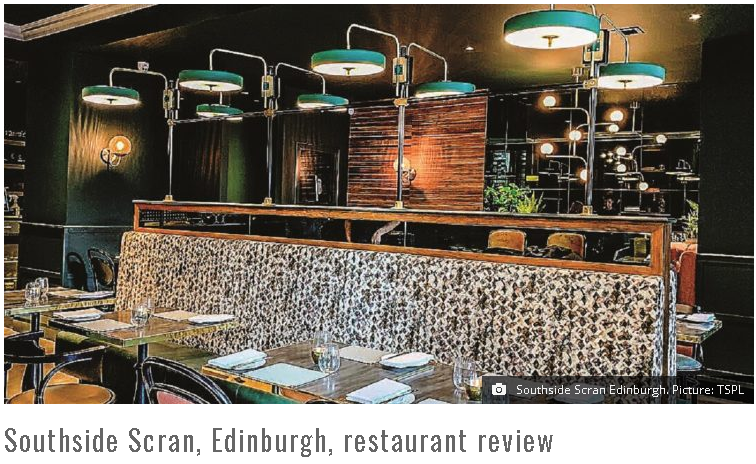 The Scotsman's most recent review, from Gaby Soutar, was a visit to Tom Kitchin's new joint, Southside Scran in Leith. She loved the decor (by Michaela, Tom's wife), but liked the "huge helpings" more, and the Southside cocktail that was "as fresh as the mouthwash you'd use after being told off by a Morningside lady for swearing". A "classy interpretation" of duck a l'orange was a hit, as was a spice Highland lamb, but " the real heroes were the side dishes", including wagyu potatoes. A "lush" chocolate tart finished the meal.
***

Manchester Evening News reviewer Emily Howerd visited the latest foodie sensation to land in Manchester, skipping the queues by eating early to review the long-awaited outpost of Dishoom, "inside the newly-renovated Manchester Hall". There were teething issues in evidence: "perfect beer snacks" sadly had no beer available to wash them down with, but still the "deeply nourishing comfort food" (non-meat dishes were better) will keep the queuers happy. "Running successful restaurants in London is no guarantee of making it in Manchester, as operators like Burger and Lobster have learned before scuttling back down south, tail between legs. The best, like Hawksmoor, came with humility and respect for the city and reaped the rewards. Dishoom looks set to do the same." (****)