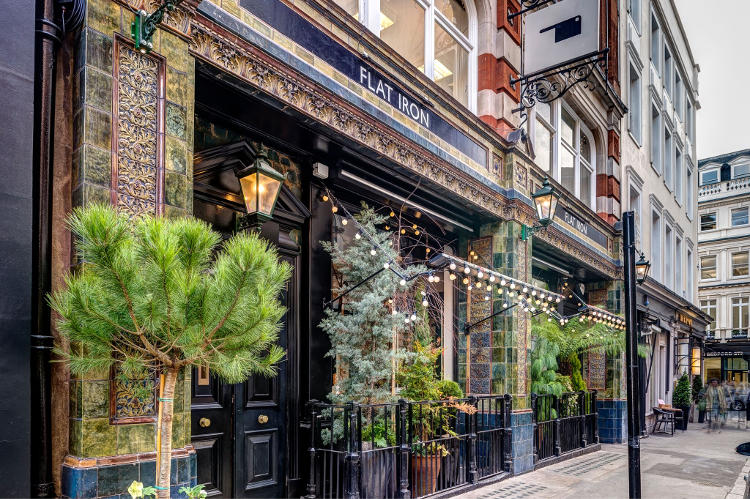 Affordable steak house Flat Iron has secured a £5m investment to expand the brand.
The move follows an ambitious opening in King's Cross last year, which continued the concept, albeit in a 'poshed up' fashion, at a 110-cover site on Caledonian Road.
Flat Iron, described as "simple, yet very effective" by reporters, has sourced a loan from ThinCats, according to The Caterer, a lender specialising in medium-sized projects and will support the restaurant group's growth over the next three years.
It's not the first wedge: Piper, a private equity firm, took a £10m stake in the company two years ago and recent financial results have been positive – Flat Iron reported pre-tax profits of £456,110 in the year ending August 2017.
The restaurant was founded by butcher-cum-restaurateur Charlie Carroll in 2012 and there are now six sites in London.
The group will open its seventh branch on January 21 on Tooley Street in London Bridge, and a second site in Spitalfields in the summer. There is a third restaurant expected later in 2019.
Flat Iron is showing how it's done in the niche left by Gaucho's redundant Cau brand, which the steak chain sacrificed to save the enterprise as a whole last year.
Charlie Carroll, founder of Flat Iron, said: "We are optimistic for the future, trading remains strong and we are seeing an increasing number of quality opportunities on the property side."
Dave Sherrington, director of regional business development at ThinCats, said: "Charlie and his team are precisely the type of people we want to back and this deal is a great example of alternative finance disrupting the banking market to allow a UK SME fulfil its potential."
Recent News from Harden's