Our weekly summary of what the national and local restaurant critics were writing about in the week ending 11 September 2022.
*****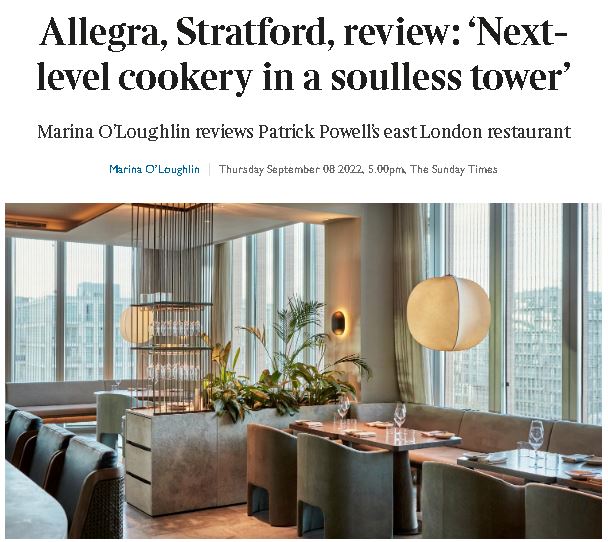 The Sunday Times
The Stratford hotel in east London is "a building that Ridley Scott might have rejected for Blade Runner as too comically dystopian". Inside, on the 7th floor ("suspended between a design hotel and the Manhattan Loft Gardens apartment block") is Allegra, Patrick Powell's first solo restaurant, that Marina O'Loughlin "had so many nudges towards" she could no longer ignore them.
First impressions were unfavourable; "this part of London isn't scary, it's just bleak, a monument to construction as investment".
But then the food started arriving, from a menu "rippling with excitements". Powell's cooking is "intelligent rather than clever-clever" and "it's all so well judged, there's never any sense of Bunterish excess. Apart from the bill".
Snacks were "irresistible", main courses "hero proteins" designed to be shared, and dessert from head pastry chef, Arran Schaffer, "moves us to almost speechless admiration".
"Superb food, excellent service in a blank and steely glass tower erupting out of an aesthetically unblessed environment. Can you love the lunch while hating the location? It appears so."
*****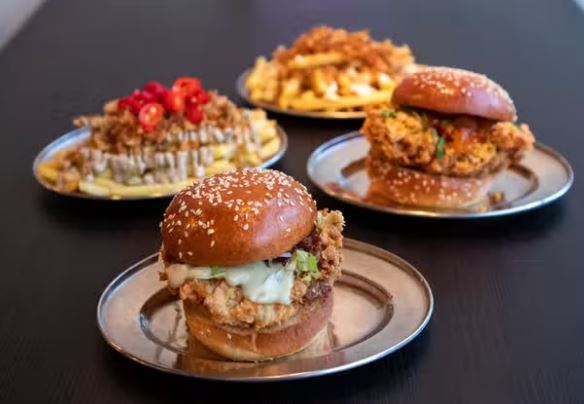 The Evening Standard
"Spirited, genially run, and frequently delicious."
Jimi Famurewa reviewed Valderrama's "the brainchild of chef James Cochran and essentially a home for Around the Cluck, his hit lockdown-era fried chicken delivery business". It's also a sports bar that feels "at times, like it is caught between two versions of itself", but essentially offers "the chance to watch sport in a joyful, elevated and not overly macho environment".
Both the decor and the menu are "comfort, nostalgic escape and teenage id allowed to run riot"; the "spectacular" fried chicken dishes "ally Cochran's Michelin-level, Ledbury-honed technique with a true believer's understanding of junk food's precise, evocative power".
*****
Also in The Standard, an overview of the London restaurants known to have been visited by the late Queen Elizabeth.
*****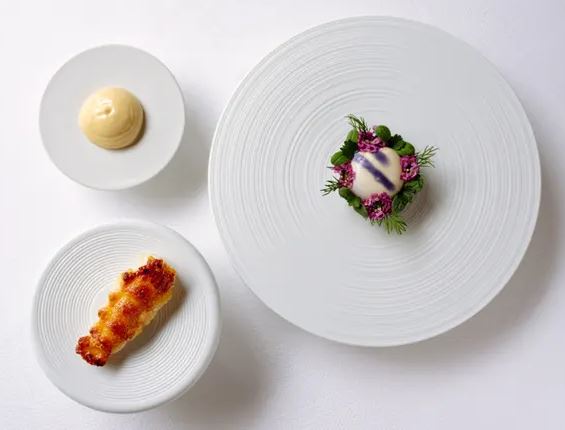 The Guardian
"Special food for the most special of special occasions."
Less than a month after The Sunday Times critic visited, Grace Dent travelled to Newcastle (a "brilliant and often overlooked city") to review Solstice, the second venture by Kenny Atkinson (he also runs House of Tides "a quick amble away along Quayside".
But where HoT is "fine dining in a semi-casual atmosphere", Solstice "isn't just fine dining; it is an 18-course, three-hour tip-toe through dishes so ornately and painstakingly prepared that at times it feels a shame to eat them".
"I'm being 100% honest, the ingredients and genesis of each dish come at you so thick and fast, it can't help but all be something of a blur."
Even the dessert course – often a letdown with tasting menus – was "perfect, pretty-yet-bizarre-looking dessert featuring local honey delivered at least six ways".
"I appreciate the theatre, the pacing and the exquisite attention to detail of the likes of Solstice" which was "easily as impressive" as tasting menu supremos Ynyshir, Moor Hall or Ikoyi.
*****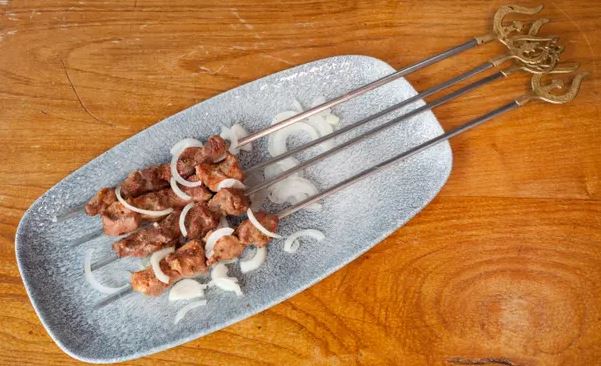 The Observer
Jay Rayner encountered a "thrilling list of edible promises" alongside a "subtle lesson in physical and human geography" at the second branch of Etles Uyghur, "at the leafier Golders Green end of London's Finchley Road".
Most of the "dishes locate this food in China's northwestern borderlands, where the membrane between cultures is at its most porous, waving in the flavours and influences of the Turks and Central Asia" – there's wheat (not rice) and no pork (Muslim) or seafood (landlocked Xinjiang province), while "offal plays a sizable part here".
Big-plate chicken (made famous at "the lovely Silk Road in Camberwell") was "so very huge" for £30 (which fed two plus leftovers) and was "thick and sustaining, as if engineered with a harsh wind off the Mongolian steppe in mind".
"The Uyghurs are too often in our minds only because of the genocidal crimes being committed against them by the Chinese government. It helps, I think, to gain an edge of an understanding of the deep culture that's being persecuted. One of the best ways to do that is always through food."
*****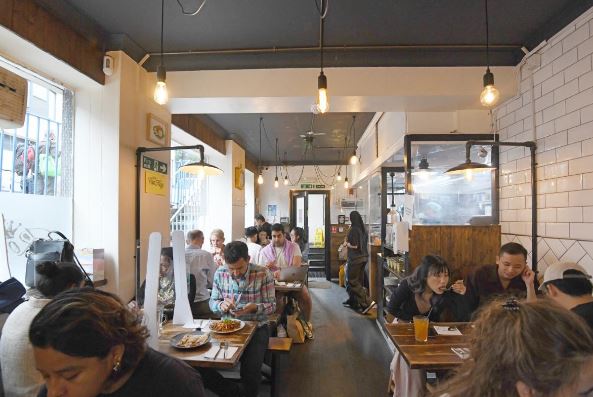 The Times
Responding to a flurry of unusually positive comments on his recent reviews from his Welsh holiday, Giles Coren has decided that, to keep his reviews relevant to the "normal Times-reading professional", he will stick to a realistic budget for the foreseeable future.
"From now on, for as long as the crisis lasts, I will eat cheaply or not at all. I'm sorry if you've just opened an expensive new restaurant but if I can't eat there for, let's say, 50 quid, then I'm not coming."
So when he was at London Zoo with his kids, instead of their usual trip to Singapore Garden for roti chanai ("you don't get out of the Garden for less than a ton, even with kids"), they went to the original Eversholt Street branch of Roti King, "just the place in a crisis. Not only because it is cheap, but because it feels… Well, not cheap exactly. But serious. Unfrivolous".
The rotis were "pillowy crunchy, buttery hot, velvety gooey…with… a pretty serious curry on the side" – and for dessert, "oh my God, the pisang, the sweet, treacly, syrup-drizzled banana-filled roti was just the best thing Kitty had ever eaten". All under £40 for three, unless you order as much as Giles did. (27/30)
*****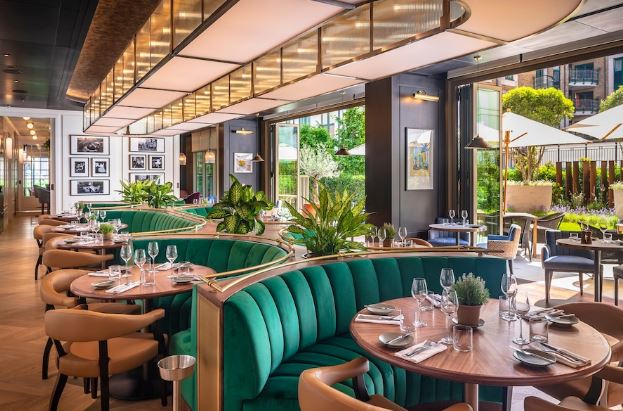 The Telegraph
William Sitwell enjoyed "exceptional food" when he reviewed Maria G's, the latest opening from Robin Gill that the chef claims reminds him of the Amalfi Coast.
It "fees like the private club of a brand such as Gucci or Louis Vuitton", a "chic oasis" located in a new Kensington housing development, that's "honestly cooking some of the most heavenly, divine, delicate and authentic Italian food in London".
"Maria G's is a bewitching idyll of well-orchestrated charm. Perfect for those who live there – far easier to pop out to than southern Italy, anyway." (****)
*****
And also…
In The Scotsman, Gaby Soutar reviewed Dulse, a New Town seafood restaurant and wine bar from MasterChef: The Professionals 2018 finalist Dean Banks, who also owns Haar in St Andrews and can also be found up the road at Dean Banks at The Pompadour; she tried the "sybaritic and rich" lobster crumpet and felt like "a cat on a velvet cushion, being spoon fed Sheba".
Also in The Scotsman, Rosalind Erskine tried to prolong summer by reviewing the upgraded al fresco offering at Glasgow's Bar Brett.
*****
Tim Hayward in The FT Magazine shared his opinions on tasting menus: "Don't. Just don't… 99 per cent of the time, it doesn't showcase a chef's imagination; it masks its absence."
Also in The FT's How To Spend It, "where to power-lunch post Corbin & King" as "London's luminaries nominate their next best tables".
*****
In the Manchester Evening News, a report on Exhibition, a new food hall that's set to open in the former Natural History Museum; it will feature three independent kitchens, two bars and an exhibition space.
*****