Harden's regular round-up of the restaurant critics' musings, from the week ending 9 June 2019.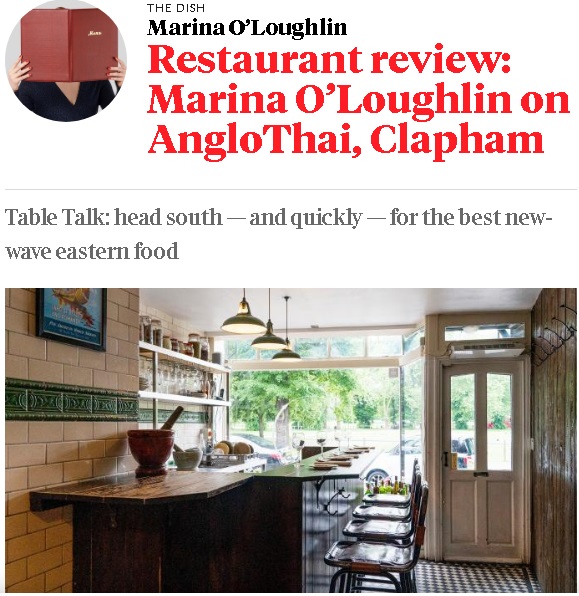 "It's testament to how much I want to eat Chantarasak's food that I'll schlep down here to this ghetto of Zara-clad Freddies and Livvys and sit on a petrol-fumed pavement table watching an unending parade on their way to prosecco and prosciutto picnics on the common." Safe to say that Marina O'Loughlin for The Sunday Times isn't a fan of Clapham, but for a meal from globally-feted Anglo-Thai chef John Chantarasak, she overcame her prejudice.
Open just for June at Counter Culture ("I usually avoid pop-ups like the plague"), AngloThai rewarded Marina with "a big, glorious, tongue-tingling slap of pleasure in the chops", despite the "arse-invading" bar stools.
Like Chantarasak's "background, his food is bicultural"; this translated into Thai flavours ("often arcane and regional, following travels the length of the country") and "best-of-British" dishes. "The cumulative effect is head-spinning in its vivid, stirring pungency… each dish is a mini masterpiece."
Starting off with "jaw-dropping" bread and butter ("blushing and resonant with fermented shrimp paste and a fluffy crust of shrimp floss"), the courses range from "glorious" Dexter beef tartare to "subtle" monkfish crudo, but the "effect on the tastebuds is little short of percussive". The 'main' course of northern ox cheek curry was a "biff-pow of a plateful, a sensory overload".
"Portions aren't lavish" (possibly just an excuse to re-order three of their dishes), wines are "low-intervention" and the mango sorbet to finish was "hectically perfumed".
"This is some of the most interesting Thai food I've eaten, here or in Thailand… John Chantarasak is one of our most tirelessly curious and talented chefs."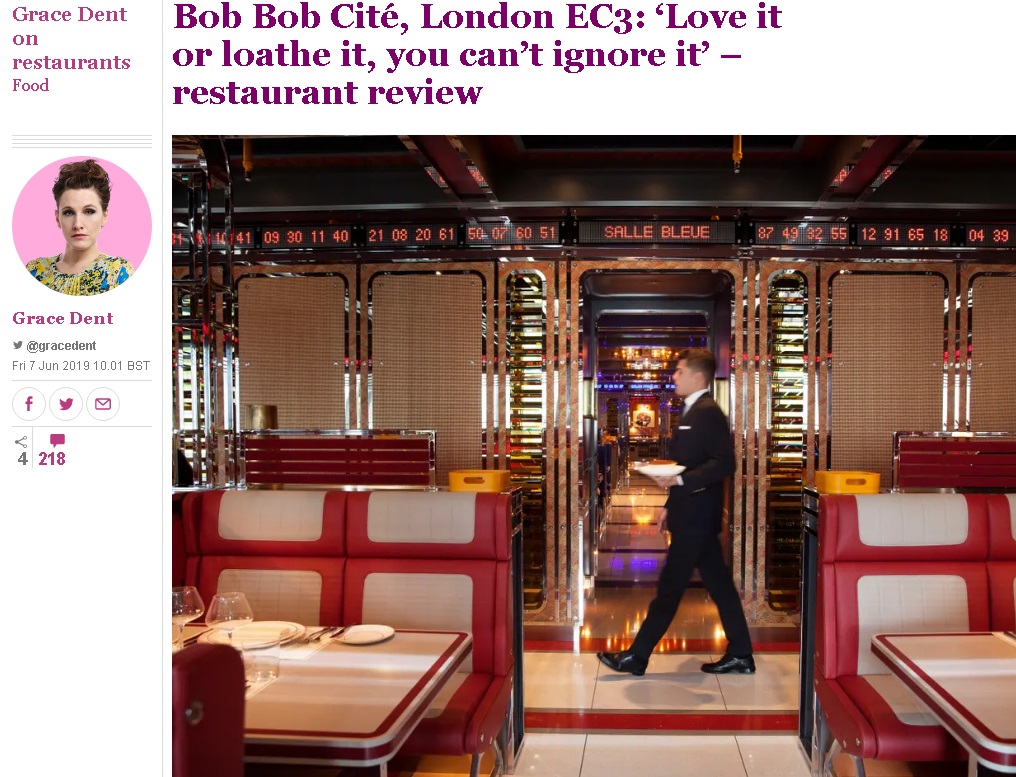 Grace Dent for The Guardian was first to review the long-awaited new Bob Bob Cité, sibling to the famous Soho original with its "press for Champagne" buttons ("as gimmicks go, that one has never got old"). Was it worth the wait? She went twice to make sure.
Located in the "unaffectionately" named Cheesegrater building, it was slated as a "bigger, better, kookier, mid-air" version. Given that the original "feels like a fictitious, Kardashian-class Trans-Siberian Express dining carriage envisaged by Tim Robbins", that's a pretty tall order. But one easily achieved – BBC is "vast, eccentric, luxurious and shiny – oh so very shiny, like having dinner on the bridge of the Starship Enterprise".
"In the privacy of a Bob Bob Cité booth, with such good service and the real world so very far below, there's a level of escapism that is wholly seductive." It's still 1997 here – Grace ate Eric Chavot's "world-class, sturdy onion soup" and "excellent, albeit flamboyant, lemon meringue tart".
It seems that precisely what Leonid Shutov's "eccentric dreamscape needed was a base of solid French cooking" – although you might need to speak "restaurant Esperanto" to translate the menu. Vegetable pie "sent to Siberia, returned to London via Paris" appears as "Le 'Pie' du Maraîcher" and is "a delicate, flat, delicious, prettily embossed, heart-valve-clogging dish" (and costs £21.50).
"Like it or loathe it, you cannot possibly ignore it." (26/30)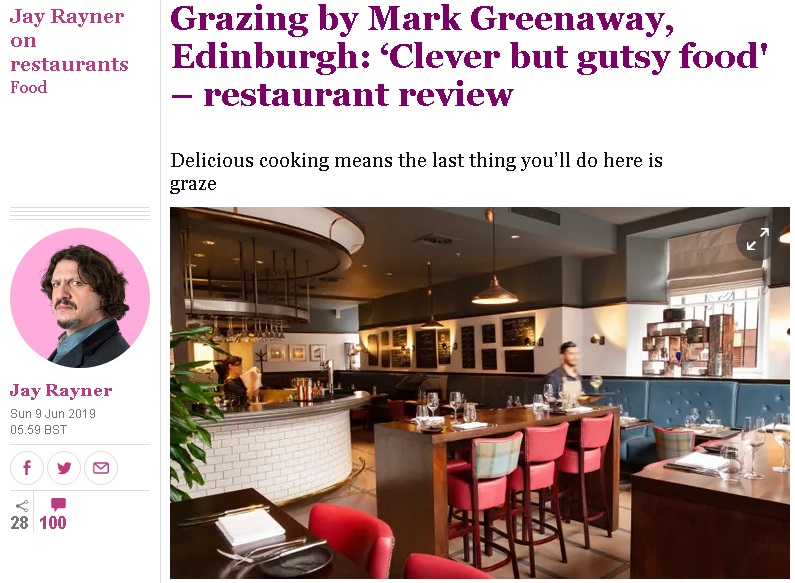 The concept is literally in the name, so Jay Rayner for The Observer had braced himself for yet another 'small plates' restaurant, a "parade of small things, which diners must fight over passive-aggressively, in a desperate attempt to get an equal cut" when he visited Mark Greenaway's new place (having relinquished his other eponymous joint), in a "set of interlocking spaces off the ground-floor atrium of the Waldorf Astoria Caledonian", with "obligatory outbreaks of tartan and lots of dark wood".
But the menu contained only a handful of dishes that could be defined as 'sharing' dishes. Instead of fighting over the last morsel of the best dish, he had a "stupendous" meal; "smart, ambitious but not overwrought food, made by a kitchen which is more interested in your pleasure than showing off", with "cheery" service.
To start with, there was "still-warm treacle and stout sourdough… with "duck skin" butter" that was "bread and butter… engineered for the Marvel Universe… superpowered and so irresistible I eventually have to get it taken away". "Deeply piggy ham hock" was served with a surprise pea mousse, which turned the dish "into a giggly take on pea and ham soup", while a simple dish of pork belly (with "crackling like glass") was "meat and two veg that's had a facial, its nails done and a full blow-dry… drop-dead gorgeous". Best of all was hake with a "shellfish boudin, wrapped in a roll of striped and silky pasta… brought together by a ripe bisque". Even "side dishes deserve note", although a mixed plate of desserts was a "headscratcher".
"I suggest you ignore all the marketing guff and recognise this place for what it is: a serious, sweetly traditional restaurant, serving very clever but still gutsy food, at significant prices, in laid-back surroundings."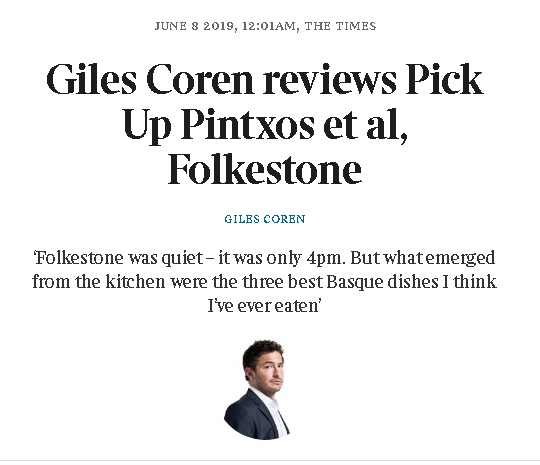 Giles Coren for The Times visited Folkestone on the exhortation of an enthusiastic friend who lives there – and on the promise that it was less than an hour and a half from his front door. And there would be dumplings.
He was taken through "the painstakingly restored old train station" to the Harbour Arm, restored by the Saga billionaire Roger de Hahn over the past few years. He admired the "shipping containers with cool venues in them and outdoor sculpture just everywhere", enjoyed a glass of "sparkling white" from local vineyard Terlingham at the Lighthouse Champagne Bar "at the end of the arm"… and then a "scent of garlic and saffron and shellfish and olive oil" wafted past him.
His friend casually informed him that ex-Arzak chef Gianni Modena "is doing pintxos at the Waiting Room"; Gianni wasn't yet able to serve dinner ("the pork belly had only been cooking for three days and wasn't quite ready") but sent out sherry and a few dishes, which turned out to be the "three best Basque things I think I've ever eaten".
And he still had those dumplings to come, so couldn't stay for dinner at Pick Up Pintxos. At Annapurna, the charming Gurkha owner produced momos that were "delicious and incredibly cheap". Ten "steaming white chicken dumplings for £6… then £7 for ten chilli buffalo momos", with a "wonderful Kathmandu dahl, black and nourishing". But "best of all was the vegetable pakora… every imaginable vegetable suspended in a wondrous beefy crunching vessel of golden deliciousness". A "lovely little family business, a bright, white room with a huge garden out back"; the food's "all homemade, BYO and unbelievably good value".
"I climbed aboard my return train stuffed as a turkey, hardly out of pocket at all and full of the joys of Folkestone."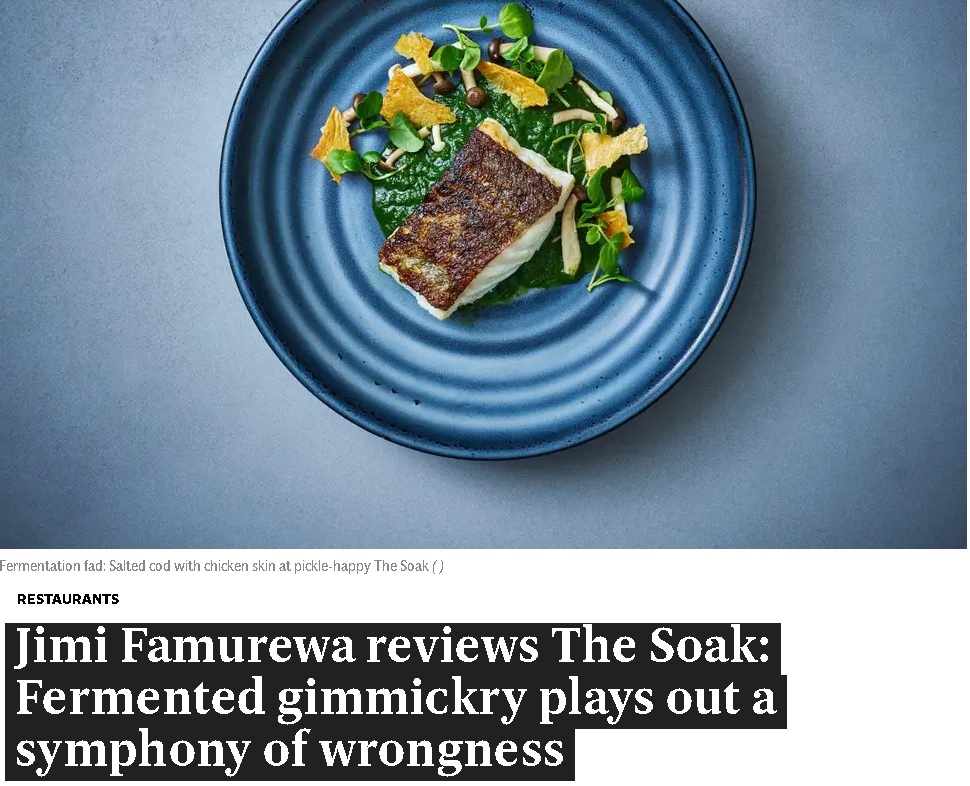 Jimi Famurewa in The Evening Standard followed in Jay Rayner's footsteps of last week; The Observer's man found The Soak – a "fermentation, brining, curing and steeping" place that's "a strange new brasserie in the lavishly corniced, 19th-century interior of Victoria's Grosvenor Hotel" – to be "deeply unsatisfactory" with a strange split personality. How did Jimi fare with this "mad-sounding" single-concept restaurant and its "Noma-grade pickling" ("like one buzzy culinary technique stretched to breaking point as if for a dare")?
"There is enough kombucha (in the mains, in the drinks, in the glaze on a salsify root side dish) to happily drown all the gut health acolytes in California." A glance at the menu previsit gave Jimi a sense of "confidently wielded weirdness", but "this optimism did not survive the arrival of our starters" – which for Jimi's cousin was a cured venison tartare which was "disconcertingly shiny… dramatically unveiled from a glass cloche, billowing smoke" – "it could only have tasted more oppressively smoky if it were served in a pub ashtray". Jimi's own cider-pickled egg salad was "a misery of fridge-coldness and faint brining, with the feel of a deconstructed service station sandwich".
Just like Jay's meal, it wasn't all bad. There was a "strangely compelling" watercress velouté and an "inarguably good" burger followed by a "serviceable" tarte au citron.
Overall, though, the kitchen seems to be "straining so much for current, Instagram-filtered distinctiveness that it occasionally neglects the basics of pleasure" – "a Zone 1 restaurant that presents as curiously provincial".(4/10)
At last! Five stars from Tom Parker Bowles for The Mail on Sunday! Anything other than four would be welcome, but there was never any doubt about the quality of Endo Kazutoshi's cooking since long before Giles Coren's full-marks pre-opening review.
The setting, entered by "private lift, whisked up in velvety silence like a minor Bond baddie on the way to his fate" is "a stand-alone cylindrical space resting on the top of the BBC helios building", where "you enter a world of exquisite hyperbole".
Tom describes his experience as "otherworldly", watching Endo ("culinary ringmaster and third-generation sushi king") prepare each dish, helped by "white-coated assistants… devoted disciples". Nothing is left to chance, "every minuscule detail matters" – the rice is shipped from Japan, the fishermen who supply Endo work only for him. Even the nori seaweed is "unlike any I've eaten before".
Sea bream nigiri is "put into our hand by Endo. That human contact, the dialogue, all adds to its allure… no gesture or action is wasted".
"There are 18 dishes in all, each as thrilling as the last… We sit for the most part in rapt awe, struck blissfully dumb by Endo's art. This is easily the best sushi and tempura I've eaten in London… The absolute obsession with harmony and balance, ingredients and the season."
"The whole dinner is one magnificent symphony, made up of individually harmonious movements." (*****)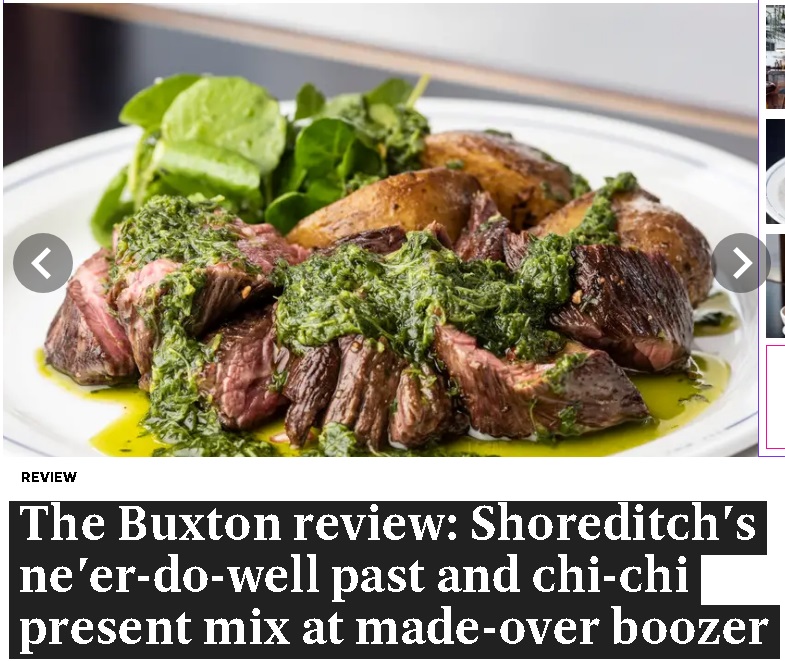 David Sexton for The Evening Standard visited Shoreditch and – inexplicably – quoted several passages from a French guidebook about how Shoreditch has a vibe and a colourful history that everyone wants a part of. The pub he visited is "a complete makeover of an old-fashioned boozer called The Archers… at the southern end of Brick Lane", which has been vertically extended to accommodate "modestly priced" bedrooms and a guests-only roof terrace. It's sibling to Culpeper, not far away.
The "narrow building" is filled with "perching stools" rather than actual tables, making it "not a place to linger"; the food, from Culpeper's sous-chef Jamie Evans, was of the "really good pub dish" variety, using "well-sourced ingredients". "Providing attractive food at a good price" is a necessity for somewhere needing to feed paying guests, but also somewhat of a welcome rarity in these parts.
The Buxton, with its "modest" prices, "carefully designed bedrooms", and " on-trend but unsurprising" modern British fare is "a bit of a lonely pioneer of bourgeois taste in this melee of gawpers, browsers and stuffers". (***)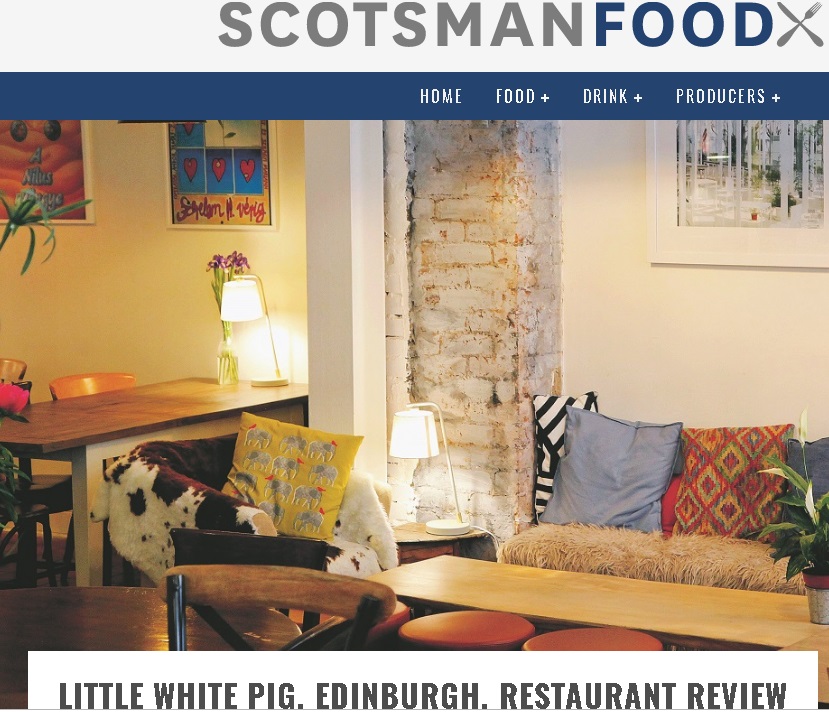 Gaby Soutar for The Scotsman thoroughly enjoyed the "petting zoo welcoming committee" at this dog-friendly new basement gastropub in Edinburgh.
It's a friendly and relaxed place that's "a bit like walking into your posh pal's bohemian New Town living room". It's possibly too relaxed at times, though – "so much so that there wasn't much available at all on our Sunday lunchtime bang-on-noon trip", so don't browse the menu online beforehand!
They bagged the last of the mussels ("unremarkable but good") and the vegan special of hot battered avocado ("like frogs in puffer jackets") and boosted the meal with a selection from the sides, snacks and breakfast menus. Portions were generous, and the only pudding on offer was a sundae ("highly unsophisticated, but excellent dirty tombolas of vanilla ice-cream, caramelised bananas, gooey centred brownie and other contraband gloop").
"There's the feeling of winging it" but Little White Pig has a definite charm, too. (75%)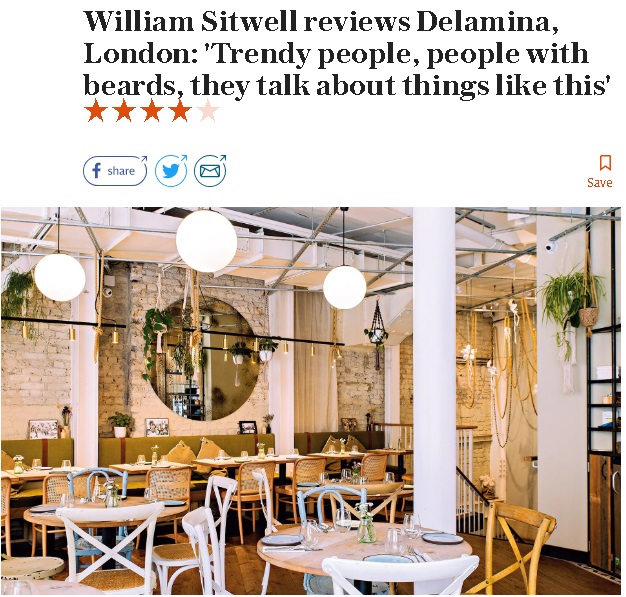 William Sitwell for The Telegraph wandered up the delightfully "wiggly Marylebone Lane" to visit the (not actually that new) Delamina, the "Eastern Mediterranean" restaurant which started as "a Shoreditch pop-up" ("the sort of thing that people chat about in London").
It's a "light and airy, café-style" spot, with a menu that's divided into "vegetables, meat, fish and seafood". His shared 'pita balagan' looked like "the dissected insides of a goblin's brain" but tasted "good: magnificently rich and moreish". Lamb chops with chimichurri were "no oil painting" either, but "wonderfully tender, charred at the edges and succulent", although he'd deny west London access to all hispi cabbage (which came on the side) – as well as all hipster beards, apparently.
A pudding of 'Kadayif nest of cheesecake cream' was "a triumph". Delamina's "tasty, scruffy food" got a Telegraph thumbs-up. (****)
And also…
Tim Hayward for The Financial Times visited "one of the most visually spectacular places I've ever eaten at" – Träkol in Gateshead: "cooking like this is an art".
Recent News from Harden's