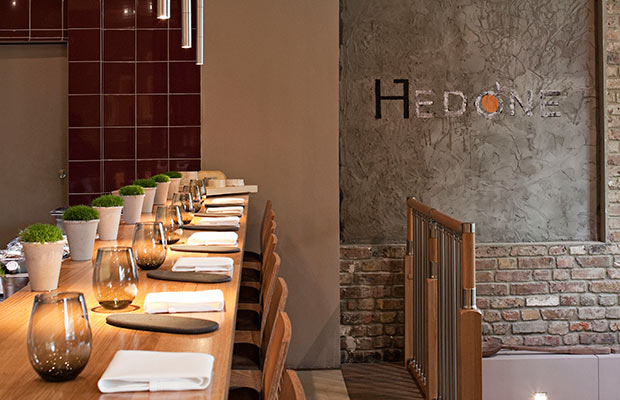 After eight years and one Michelin star, Mikael Jonsson's Chiswick restaurant Hedone has closed. Last service was on June 1.
The closure is a sad one. While Hedone wasn't perfect, it was an inspiring passion project of broad acclaim and ex-lawyer (and Paleo diet follower due to his allergies) Mikael Jonsson's devotion to sourcing incredible produce was legendary. That he didn't receive more than a single Michelin Star was a source of contention amongst many foodies, to whom his achievement demanded two or even three stars in recognition.
On the flip side, it was an expensive and glam-free experience that left even some who acknowledged the quality of the cooking cold.
Two chefs who aired their dismay at the news were Elite Bistro's owner Gary Usher, and Brunswick House founder Jackson Boxer. Both said the closure is a worrying sign of the restaurant industry's shortcomings.
Boxer, who recently opened Orasay in Notting Hill, said: "RIP Hedone. A great restaurant of real ambition. Unusual, divisive, single-minded, purposeful. The closures of Londrino Bonham's Hedone suggest this is a brutal market for innovation and idiosyncrasy right now. Not good. Not good."
Usher, the owner of several high profile north western bistros, added: "Hedone has closed today – big respects. Such a shame, I loved my experiences there. However the industry is not in trouble – the hospitality industry is the most positive, the most welcoming & the most exciting it's been in the 20 years I've cooked in it.". (Fair to say on this last point, though, that the rustic, approachable style that Usher's restaurants target is the antithesis of the brave, trail-blazing style Jonsson followed in Chiswick).
Jonsson launched Hedone in 2011 after touring the world as a food blogger. It earned a star in 2012 and retained it up until its final dishes were plated up. The bakery, which supplies phenomenally good bread to a number of London restaurants, is still open.
The restaurant was a particular favourite for food writer Andy Hayler, who has visited every Michelin Three-Star restaurant in the world, and who lives nearby. It was his favourite restaurant, and he ate there 74 times! You can read his final review here and we'll give him the last word:
I have complained on my blog for some time about the lack of ambition of most London restaurant openings in recent years. So many chefs seem content to open profitable bistros serving capable but unexciting food based on serviceable ingredients. This is understandable from a financial viewpoint, but is frustrating for a diner looking for world-class dishes, with few London openings aiming for the very highest standards of food possible. Hedone is an exception, bringing a level of quality of ingredients pretty much unknown even in multi-starred London establishments. For this reason alone it is to me the most exciting London restaurant opening for years.
Recent News from Harden's