Harden's regular round-up of the restaurant critics' meals, from the week ending 8 September 2019.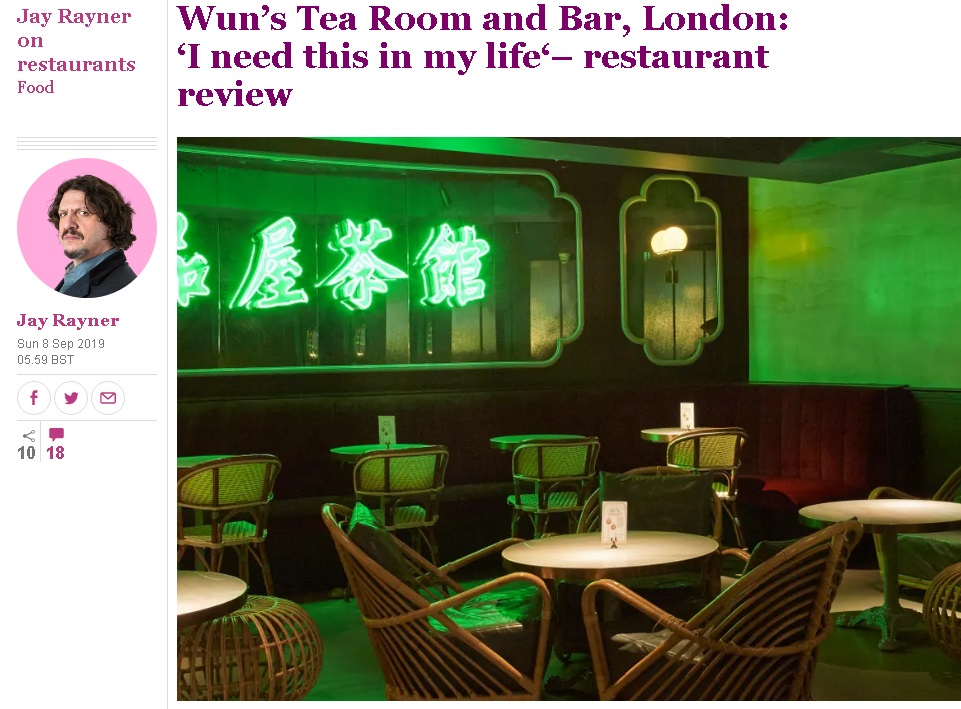 For this week's review, Jay Rayner for The Observer was tempted "to shove just five words at you and leave it at that: sugar skin Iberico char siu".
"The expansion of the Chinese food experience in the UK has been thrilling" – the opening up of China has widened our knowledge of regional food away from the Cantonese cuisine first brought in by Hong Kong chefs. Wun's (from owners Z He and Alex Peffly) takes us back, though, "applauding the many virtues of the food of Canton" in this new Soho joint, a tea room and basement restaurant.
The drinks menu is "in the form of a 12-page newspaper… tightly printed, graphically excitable and frankly baffling", while the food one is "a paper checklist, and relatively short", delivering a "mixed experience", albeit one with highs that "are very high indeed".
That char sui earned an entire paragraph to itself, and he'd also return ("probably by myself so I don't have to share them") for the "wind shelter" fried chilli sardines ("you eat them and worry that your breath will scare away small children the next day") and the "finger licking" barbecue beef spare ribs, "heavily sauced, all dark sweet soy stickiness". The "gran's secret recipe sour plum braised duck" is the "star dish… a big steaming bowl of soft meat and crumbling potatoes in a savoury gravy that you'll want to dab behind your ears".
The skewers, spring rolls and egg custard tarts were less exciting, and service was "cheery if haphazard" (although delightful compared to some examples from Chinatown itself).
---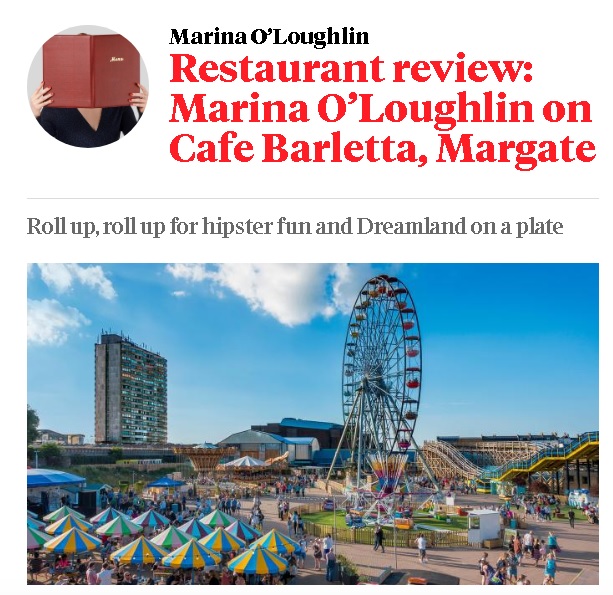 Marina O'Loughlin for The Sunday Times had "hipster fun" at Margate's historic theme park, Dreamland, which "reopened with quite the fanfare in 2015". Even since then, it's changed from the "studiedly referential nostalgia" she'd noted, and has opened a serious restaurant alongside the new "lush landscaping and decent loos, plentiful staff, properly scary rides… jerk barbecue stall, began street food and the inevitable Airstream bars".
She issues a warning about "modern food" – even though it's in a theme park, Barletta serves up "small plates and fish heads and natural wines and roasted carrots (because, well, it's 2019)" from a "short, clever menu" with a "real feel for vegetable-led dishes".
"Flavours are fully in-yer-face and the kitchen is creative with texture" – "even potentially delicate dishes are amped up to Motorhead levels of headbanging: raw sea bass in a kind of butch, tweaked ceviche", for example.
Barletta seems to "operate as part of the amusement park while retaining something of an emotional distance"; there's no theme park nods, no focus on seafood ("as is very much the modish Margate way") – no surprise then that the chef-patron is Jackson Berg from Xiringuito, the "moveable restaurant".
"A superb addition to the town's burgeoning roster of restaurants." Shame it's closing for winter at the end of the month.
---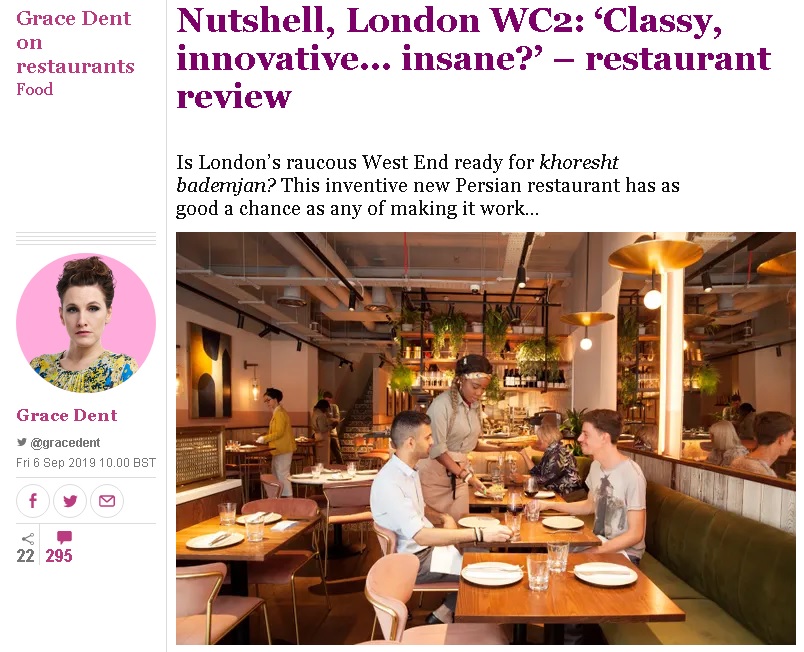 Grace Dent for The Guardian fought her way past tourists and bin lorries to review Nutshell, "the new modern Iranian restaurant on St Martin's Lane" in central London. "You are either insane to open a classy, innovative, Persian restaurant here, serving ornate new spins on meze, grills and stovetop stuffs, or you are very, very clever."
Passing trade may find the menu "slightly mysterious", with unfamiliar words and heavy use of aubergine and walnut ("which Brits admire mostly in a whip"), but Nutshell is "definitely worth a gander", with cooking from ex-Palomar chef Jeremy Borrow. It's "elegant, brightly lit and colourful, hewn from Persian patterns and a palette of greens and pinks".
While Grace "enjoyed the meze more than the main attractions", everything was "prettily plated, and service throughout sweet and bright".
"The fresh bazaar bread, the olive tapenade and aubergine meze… would take me back to Nutshell" – as well as the puddings , one "a very elegant take on Persian zulbia: deep-fried swirls of batter" served with "heartstoppingly good, thigh-expandingly evil fig cream" and the other, a Persian sundae, "one of the capital's prettiest puddings". (24/30)
---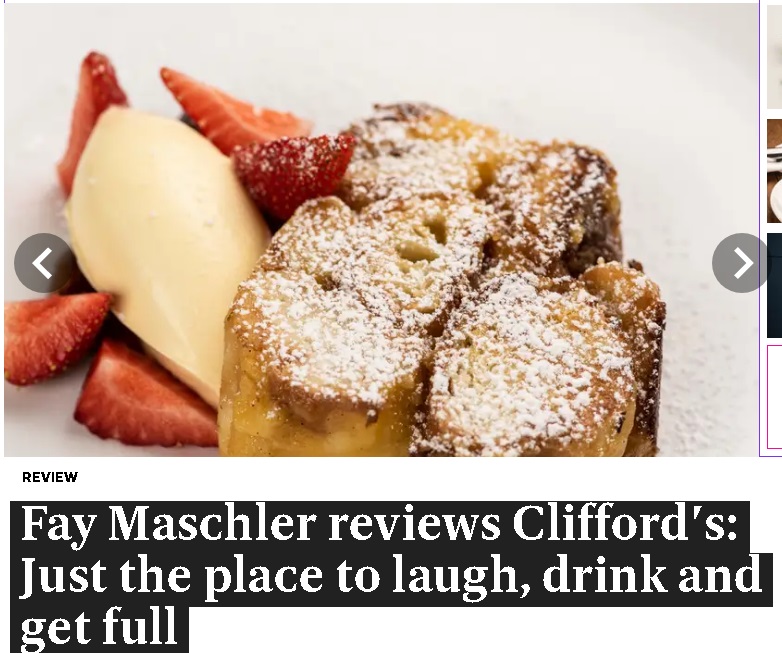 Fay Maschler for The Evening Standard based her entire review on Marco Pierre White's recent "inadmissible" comments about female chefs ("stirring things up again with a clumsy spoon"). She listed her favourite female chefs, pioneers in the professional landscape where the gender balance is "thankfully improving".
Clifford's, a "basement wine bar and restaurant in the heart of lawyer land", is now home to Gemma Ellis, previously at The Harwood Arms. Its "relatively short menu… capitalises on not too much intervention into well-sourced ingredients".
The starter of crispy egg served on a puree of cod's roe ("maybe a cheffy in-joke", as the crispy egg is a signature of one Daniel Clifford from Midsummer House) was envied by those who didn't choose it. Fay had duck Montmorency ("darling Reg's favourite dish") and then an "outrageously rich" croissant bread and butter pudding, while "affogato reminds us of what constitutes a sensible and furthermore efficient dessert". (****)
---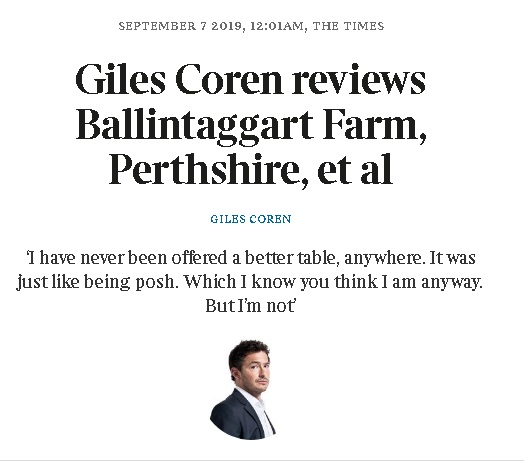 Giles Coren in The Times rounded off his extended holiday with a catch-up of places he visited over the summer. On his way to Devon with the family, he dropped in to visit Paul Merrony and Tracey Petersen (formerly of La Giaconda) in Sherborne, Dorset. They are friends, so he wasn't reviewing, but "I shouldn't deprive you of lunch there if you're in the vicinity".
The couple have taken over an old pub, The Newell (and "closed the pub bit because they didn't want to run a pub") and served Giles, among other dishes, "good charcuterie and great carpaccio… classic baked spinach and ricotta rotolo, a beautiful fillet of lemon sole "grenobloise"…, a kind of Provençal lamb rump and… their famous chocolatey hazelnutty delice joconde".
Next on the list was a pair of impressive ventures "on the banks of the Tay at Pitlochry in Perthshire"; first a "beautifully restored, modern and classic" hotel, The Grandtully, where the food has reportedly changed the lives of the locals. It's owned by the folk from Ballintaggart Farm, just up the road, which is "actually more exciting" – "a restaurant with a couple of rooms and a cookery school, huge and airy, wonderfully converted from the old farm buildings… reminiscent in many ways of the famous Ballymaloe in southern Ireland".
Giles and his seven companions were given the private dining room at the farm, in "a red-painted library with floor-to-ceiling bookshelves…, windows onto the wild hillside… I have never been offered a better table, anywhere". They ate barbecued fennel, home-smoked wood pigeon with "luminous pickled Blairgowrie strawberries", "a huge dish of sliced barbecued bavette" to share, with "dazzling" puddings (strawberry and lovage crème brûlée, and a gooseberry tart).
Closer to home, Giles and his wife ate in one of his wife's favourite locals, Carrots + Daikon, "a darling little Vietnamese place" in Kentish Town. Even on a 'vegan day', he was "blown away" by the pho with tofu. He's also eaten non-vegan there since and loves the beef flank pho and the "light as air and zippy as hell" summer rolls.
---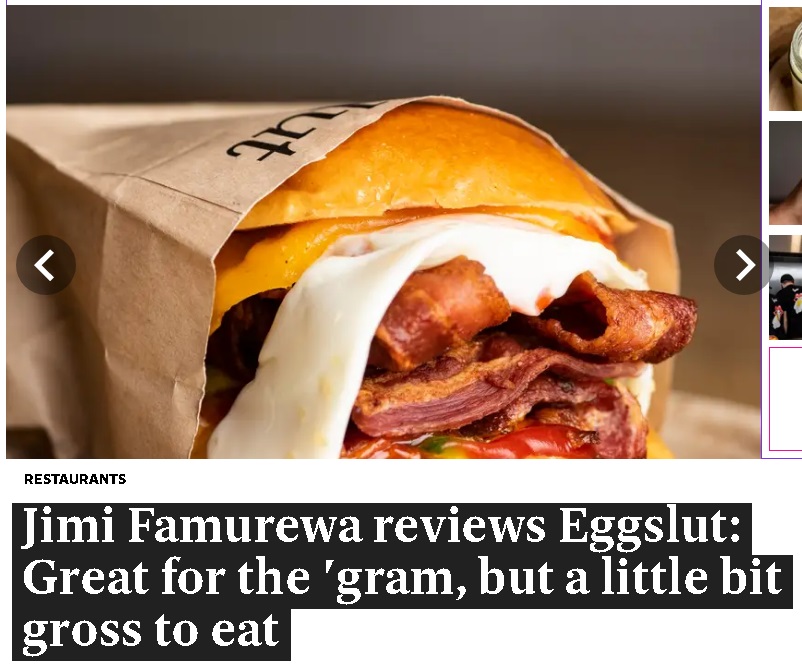 Jimi Famurewa for The Evening Standard was relieved that there was no queue at Eggslut, although the smell of the place almost made him wish there was: "a thick, sulphurous fug… wafted from the doors like a Nineties joke shop stink bomb".
Once acclimatised, Jimi and his companion enjoyed "carefully coddled egg and silken mash potato" that was both "properly strange" and "properly good". Unfortunately, the brioche-scrambled-egg sandwiches that followed were "a literal study in over-egging", with most of the filling ending up in the bag or lap of the eater. "I wondered why no one suggested that eating what feels like about eight scrambled eggs between a textureless bap might be, I don't know, a bit gross?"
"I feel the same about most of Eggslut's food as I do about its wearisome, rib-nudging name. It is playful, it is brash and it is, ultimately, more than a little off-putting."
"It seems to be founded on a fundamental miscalculation around proportion and human willingness to eat lots of the same thing." (5/10)
---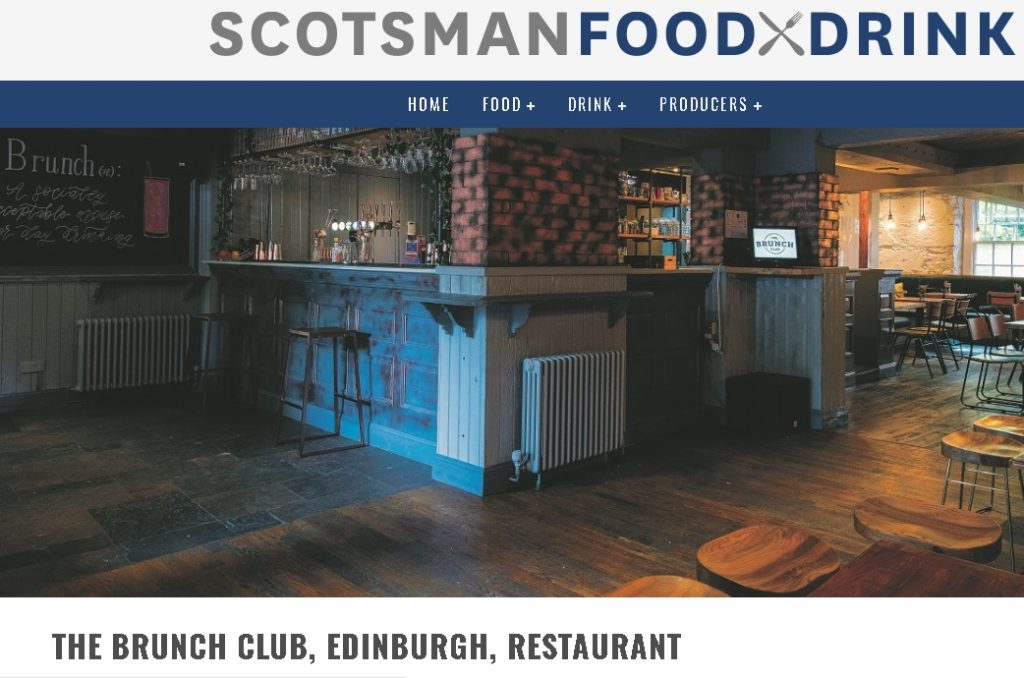 Despite asserting that brunch consists of "a random old assemblage of foods", Gaby Soutar for The Scotsman thoroughly enjoyed the new Edinburgh branch of a Glasgow brunch specialist. In a previously dead basement location, she had to wait for a table on her Sunday visit, so sampled the Bloody Mary menu while waiting. Dishes of US-style fried chicken and waffles, steak and eggs, croque madame and the "unusual brunch option" of fish tacos went down well, followed by banana bread with coffee-infused mascarpone. Sadly for a breakfast-themed joint, the "coffee was awful". (73%)
---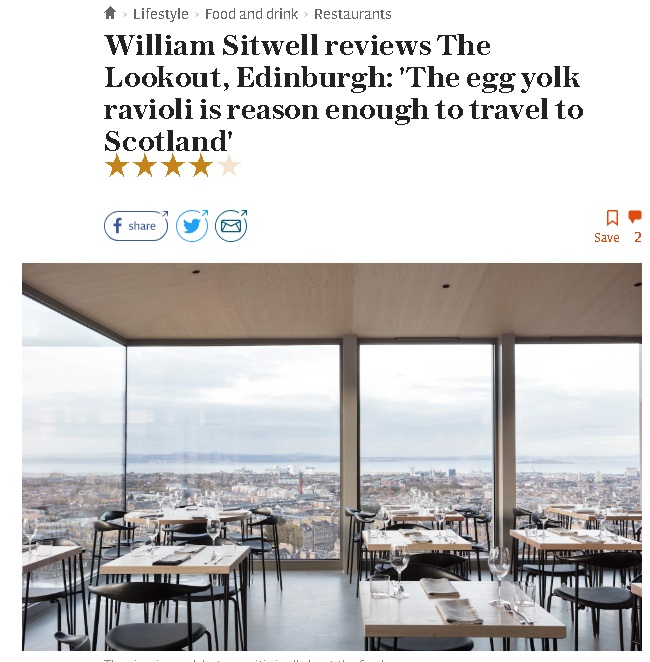 William Sitwell for The Telegraph was also in Edinburgh, "on the top of Calton Hill", at a new restaurant that's "part of an ambitious and bold development called The Collective". Two of the windows in the "beige and glass box" are "designed so you can't see the ground outside and feel like you're floating above the city".
The "sense of calm and serious order" in the vast open kitchen "is matched by the menu, which is brief and precise". A "fine start" was had with freshly baked sourdough with whipped butter and charcuterie.
And "then things got rocking" with the egg yolk ravioli. William's advice is to "order a whole one and do not share it". Underneath eggy mousse, charred leek dust and fried potato "twizzles" was "a little al dente ravioli parcel containing a runny yolk… an outrageously sumptuous concoction, a starter's answer to zabaglione and alone enough reason to travel to Scotland".
The equivalent star of the main dishes was hake with mussels and broad beans, with "every morsel cooked to perfection".
"The Lookout's views are stunning, but what was happening on our side of the glass was so good they could have hung and closed blinds, I would have been just as happy." (****)
---
Stranded at St Pancras on his way to review a Whitstable restaurant, Tom Parker Bowles for The Mail on Sunday had to make a last-minute change of plans and ended up at The Standard across the road. He's been to the original in LA (of course he has) and remembered it as a place that "thought rather more of itself than I did".
Isla, the main restaurant at The Standard, "looks like it's in the lobby" and feels like "sitting in an early Seventies advertisement for Pan Am, with lushly ironic pot plants, Eames-ish chairs and shag-pile carpet up the wall". Service is "a lot more professional and charming than it usually is in this kind of place" although insisted on explaining the menu 'concept'.
In several dishes, "cracking ingredients" are "left alone to strut their stuff", "immaculately seasoned. And cleverly put together too". Chef Adam Rawson "is the real thing, a chef who mixes fine technique with a well-honed palate and a sharp culinary mind" with "glimpses of a very serious talent indeed". (****)
And also…
In The Financial Times, Nicholas Lander "requested a seat at the counter to watch these chefs in action" at Kikuchi in London, which "fulfils most of the criteria for my ideal sushi restaurant".
---
Kathryn Flett for The Telegraph was at Lucky Cat, where "the menu was a bit hit-and-miss, the bill almost a hit-and-run".