This week's Review of the Reviews is somewhat shorter than usual as we are busy finalising the London guide for 2023! We'll be back to normal in a few weeks…
This is what the national and local restaurant critics were writing about in the week ending 7 August 2022.
*****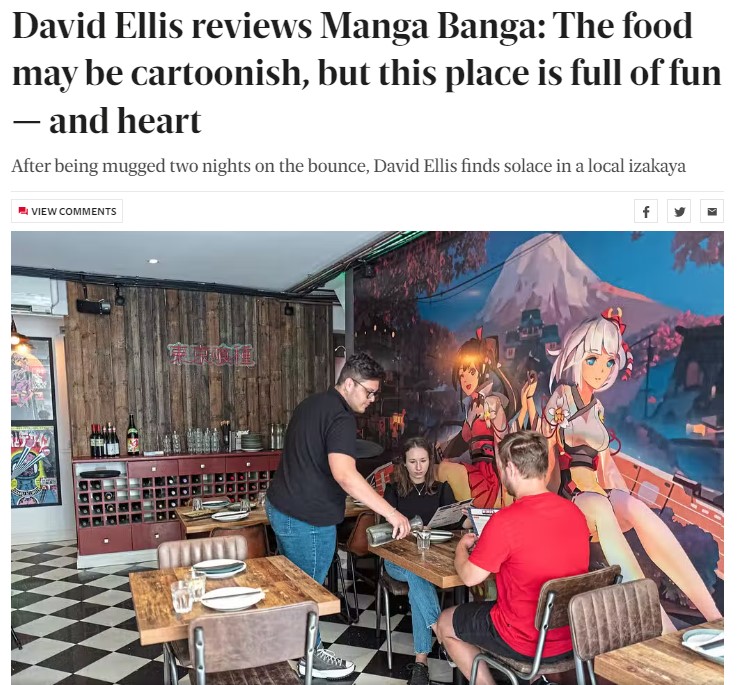 The Evening Standard
After being mugged two nights in a row, in Corfu and London, David Ellis sought comfort, fun and solace at Manga Banga, the newly opened izakaya in Marylebone, which he describes as "a full-blown, fill-the-stomach-up gaff, one for a few beers and a decent bite and heading out into the night".
*****
Also in the Standard, news of a replacement for Mãos, which closed in April (RIP). Cycene, from the Blue Mountain founders, and headed by chef Theo Clench, will open in October.
*****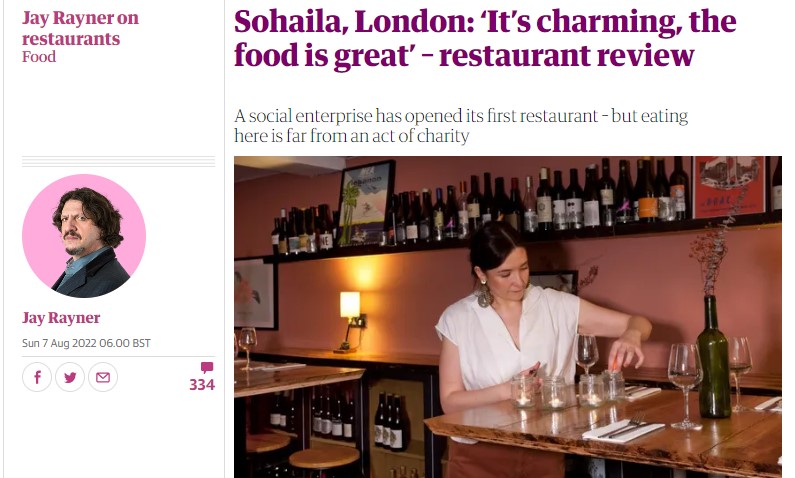 The Observer
Despairing of the shameful waste in some sectors of the restaurant industry (yes, Salt Bae, we're looking at you and your "hyper-expensive gold leaf-wrapped steaks"), Jay Rayner was in Pimlico, trying out the Middle Eastern food at Sohaila.
It's the first restaurant from Fat Macy's, "a social enterprise which tackles problems of homelessness by offering work placements and traineeships in the hospitality industry to people who need help getting out of temporary accommodation".
"Somewhere like Sohaila deserves to flourish. It's charming, the food is great and at its heart is a noble purpose."
****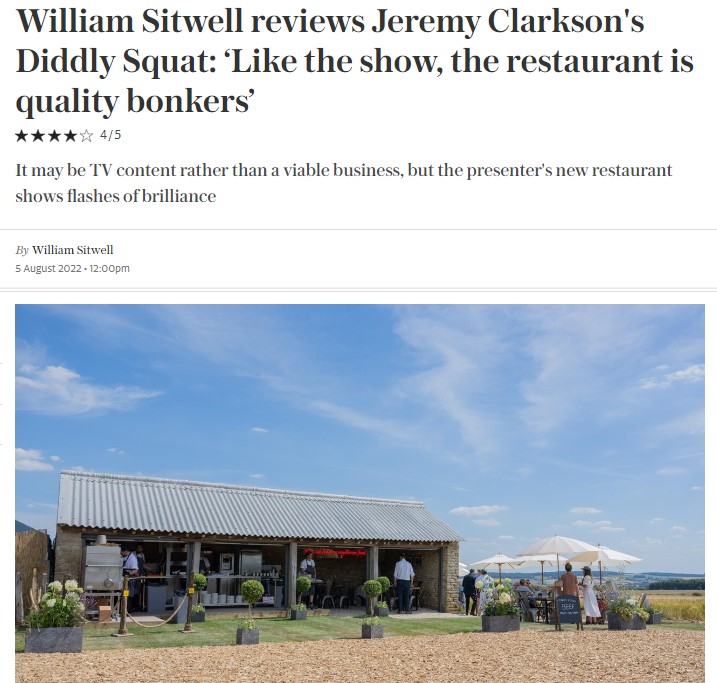 The Telegraph
"This is not a viable business but TV content."
William Sitwell braved a visit to Jeremy Clarkson's made-for-TV farm and restaurant, where he was transported to a converted barn behind a "huge Lamborghini tractor" to eat a "menu of sharing dishes of beef".
*****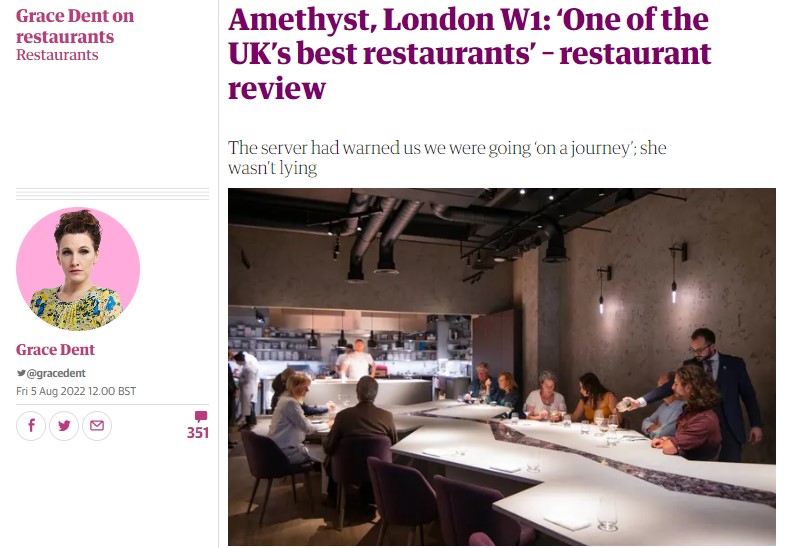 The Guardian
After "10 nights of eating out simply, yet satisfyingly, in south-west France" Grace Dent went to Amethyst, where "Carlo Scotto… has quietly and painstakingly revealed himself over the past few years as one of Britain's most imaginative chefs".
The six-course tasting menu was "a whistlestop tour of Nordic and Japanese cuisine with French and Arabic influences, served seriously and never, ever simply, but with enough fun to keep things lovable".
*****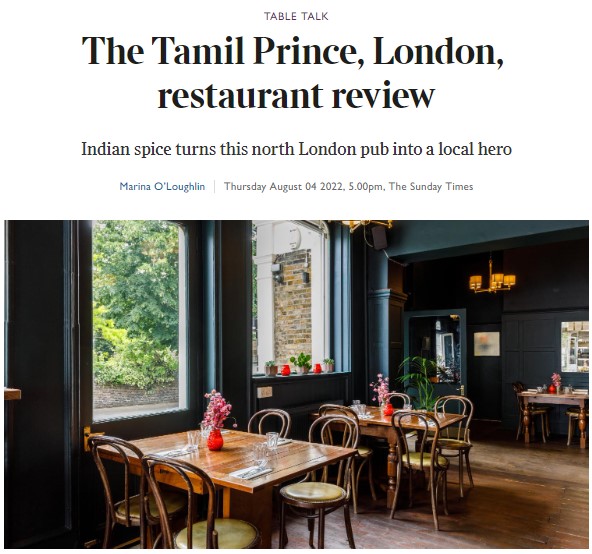 The Sunday Times
Marina O'Loughlin ordered "the big fried puffy thing" (channa bhatura) at The Tamil Prince in Barnsbury on the recommendation of a friend – and because she saw one go past her to another table and did "an impersonation of one of those eye-popping, love-struck wolves from Looney Tunes".
It was "sensational" and "the most fun I've had in any restaurant in a long time" – a dish "that, unusually, offers every shred of the deliciousness its mesmerising appearance promises".
"The great tradition of UK pub curries is all grown-up — and it's beautiful."
*****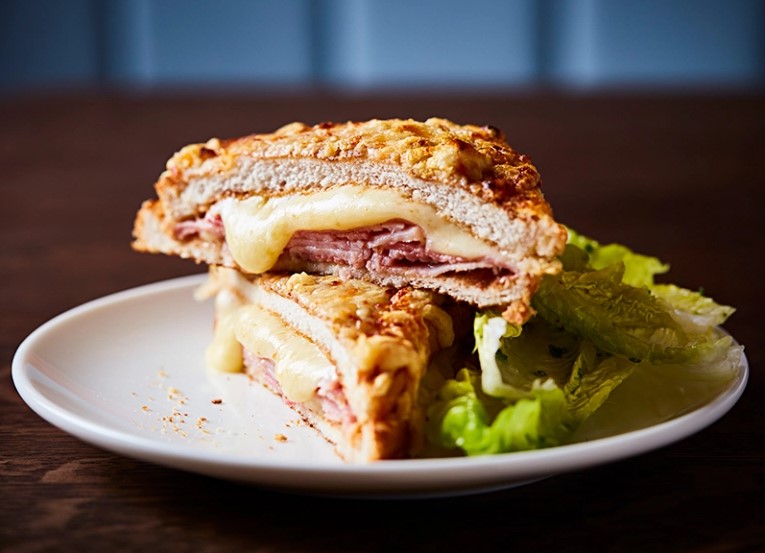 The Mail on Sunday
Tom Parker Bowles for YOU Magazine visited Richoux, "a buzzy Mayfair brasserie with tucker and service worth shouting about".
"OK, so this is not The Wolseley. Nothing ever will be. But Richoux is eminently civilised and stonking value, too. With charming service to match."
*****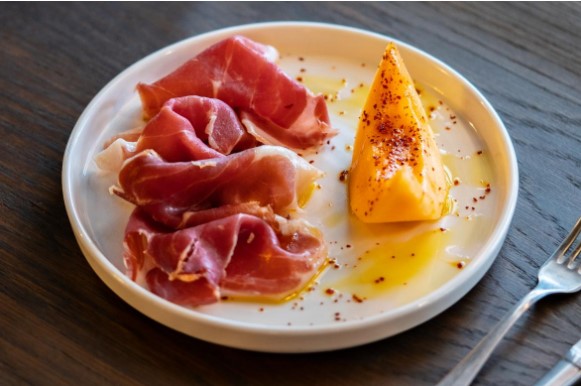 The Times
Giles Coren hates the summer holidays, so headed to the pub to "to dispel the summertime London blues"; he chose The Princess Royal in Westbourne Grove, which – after significant refurbishment and the installation of Ben Tish in the kitchen – is "now one of the most magnificent, sprawling, elegant and beautiful pubs imaginable, with big gardens at front and back" with "great, professional and fun-loving service", "brilliant" cocktails and "food and wine… so much better than you're going to get anywhere in Europe"
*****
And also…
In The Scotsman, a review from Rosalind Erskine on the latest Mowgli opening in Glasgow, a dog-friendly joint "inside the beautiful Phoenix Assurance Building".
"With Mowgli's breadth of food offering… and Glasgow's love of curry, I can see this being a match made in heaven."
Gaby Soutar visited Bowhouse in Fife and watched the swallows from the windows at Baern café while perusing the menu which "reads like poetry to me".
"The lunch menu is casual, it's elevated, and dishes are made with seasonal and hyper-local ingredients."
*****