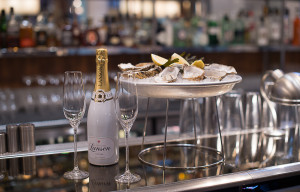 It's September once again, which means three things – school is back in session, the days are already getting shorter, and its native oyster season. To celebrate that last fact we've got the definitive list of restaurants and bars serving the best bivalves in London, according to our annual survey…
HOT NEWCOMER
The Oystermen Seafood Kitchen & Bar WC2
Six oysters and a glass of champagne: £10 (3-5 pm)
A summer opening for pop-up caterers The Oystermen; their new Covent Garden home features shellfish and seafood of all kinds, fresh from the boats, or pickled, smoked and cured by the owners Matt Lovell and Rob Hampton. Craft beers include a bespoke oyster stout – we look forward to sampling the 'Bubbles 'n' Oysters Happy Hour' (3pm-5pm every day; six oysters and a glass of fizz for £10).
FOR A TOUCH OF TRADITION
Native oysters: From £2.50 each. Catch their Oyster Masterclass: £65 pp
"Steeped in history", this 100-year-old institution near Piccadilly Circus is "most atmospheric in the downstairs oyster bar" (there's also a more stately first-floor restaurant). Richard Corrigan presides over "a fab choice of the finest fish, with oysters to die for".
FOR A TOUCH MORE TRADITION
Oyster Selection: 6 for £21
"The equivalent of the best of St James's clubs"; this "bastion of traditional British cuisine" (est 1742, here since 1984) offers a "truly magnificent", "old-school" experience majoring in "wonderful fish" ("the best-ever sole meunière") and "great game" ("it's the only place I've ever had the chance to eat snipe, then woodcock!"). "Long may it survive, even if prices are crazy!"
FOR SO MUCH TRADITION IT'S 'OOZES OUT OF THE WALLS'!
Oysters: £2.75 each
"History oozes out of the walls" of London's oldest restaurant (established 1798) – still one of its most "iconic", whose "olde-worlde, panelled interior"has a "priceless warmth and depth". Many a Londoner still considers it "a reliable old favourite"for "traditional British roasts, games, pies and oysters", but it has seemed more and more "overpriced" in recent times – any more, and it will achieve the Covent Garden tourist-trap status it's heretofore miraculously avoided.
FOR OYSTER HAPPY HOUR
Enjoy half price oysters, from as little as £1, during Oyster Happy Hour (Wed-Fri 6.30-7.30 pm & Sat 5.30-6.30 pm)
"Fabulous oysters" at £1 each during happy hour set the tone at Brett Redman's "smartened up"Hackney pub conversion "with a brilliant raw bar attached". Fish dishes including "superb monkfish"also impress.
FOR SHELLFISH AND CELEB SPOTTING
West Mersea Natives No.2: Six for £24.00
"Nothing makes me happier than sitting up at this beautiful bar, and having a range of oysters and a glass of champagne!" – This "indulgent" Theatreland rendezvous "combines a relaxed tone with a fizzing vibe" and provides "a hard-to-beat selection of shellfish". The recent rebranding and launch under a new name rightly underlines its distinctive appeal to the adjacent main restaurant.
FOR GUINNESS AND OYSTERS
Six Oysters Tasting Plate: £16
"A bit rough around the edges but a proper boozer" – Tom Conran's "busy" Irish pub in Bayswater makes "a refreshing change from most glammed-up pubs", and provides "simple seafood cooked well, great Guinness and a buzzing atmosphere": "I always have a whole crab and spend hours eating it!"
FOR SHELLFISH IN CHELSEA
The much touted shellfish plateaux starts from £48 and includes: Cornish crab, crevettes grises, crevettes rose, shell-on prawns, cockles, 4 x rock oysters.
Oysters from £2 each.
This "wonderful tiled room" off the foyer of Michelin House is a well-known Chelsea rendezvous for "good seafood and a glass of wine". "The shellfish platter is still superb, as is their petit pot de chocolat".
FOR SO-HO MUCH FUN
Six Native oysters: £22.00
"There's just something about sitting on one of the stools" ("they even replaced the old uncomfortable ones!"), and "watching the world go by", at this "fun-and-frisky" Soho haven (a characterful, tiled ex butcher's shop). "Charming"and "flamboyant" staff provide "so-fresh" seafood and "excellent rôtisserie chicken".
FOR BIVALVES IN BOROUGH MARKET
Order the House Oyster Platter: £29.50
Or try their dressed oysters: 3 for £10
"A terrific oyster selection"… "fabulous dressed crab"… "superb mussels" – such are the "fuss-free"delicacies at these extremely popular, "friendly"and "always buzzing" seafood specialists.
Recent News from Harden's