Here's our weekly summary of what the national and local restaurant critics wrote about in the week ending 1 May 2022.
*****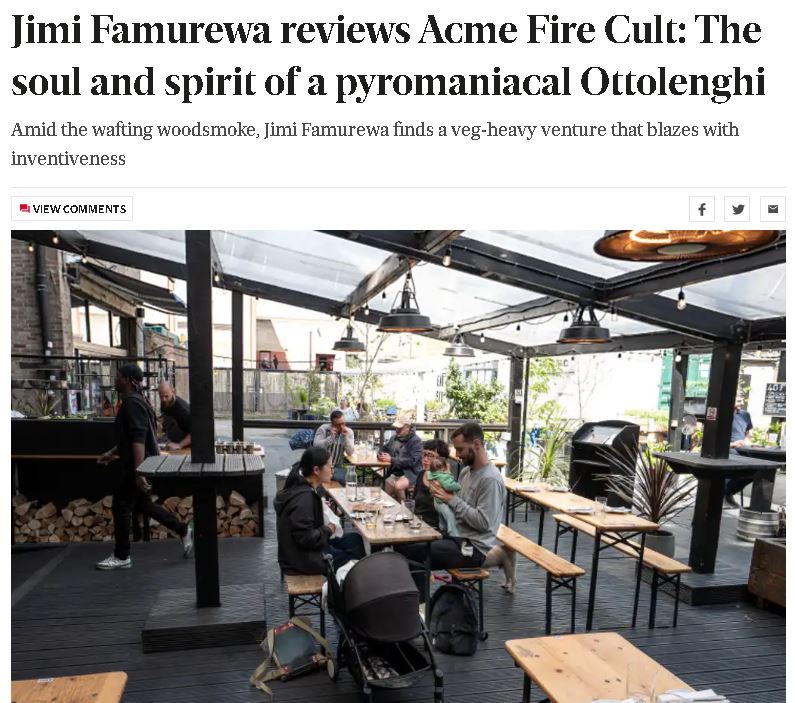 The Evening Standard
Jimi Famurewa reviewed Acme Fire Cult, the 2021 BBQ concept that's found a permanent home at at 40ft Brewery in Dalston.
The epitome of clichéd "east London dining", this "new, mostly outdoor barbecue spot" is a "little black-daubed, industrial oasis" that consists of "repurposed shipping containers" and features "wafting woodsmoke, banked tables and leather-aproned, full-bearded men tending intently to a vast, multi-tiered grill".
A "partnership between former St Leonards chefs Andrew Clarke and Daniel Watkins, plus 40ft Brewery co-founder Steve Ryan", AFC "presents as rustic, butch and familiar" but "is actually attempting something quite novel".
"It has the spirit, soul and craft of a serious restaurant, coupled with a vibrant, veg-heavy menu that feels like pyromaniacal Ottolenghi." Vegetables are "skilfully grilled and extravagantly dressed," while meat and fish "play more of a supporting role".
There are still "wrinkles" but it "blazes with inventiveness," a "world of almost comically huge, umami-forward flavour" (to the point where some blander flavours might sometimes be welcomed).
"Watkins and Clarke are evolving and refining, finding their rhythm, and above all cultivating the sort of fun, creative environment where spent beer grains are turned into handcrafted dog biscuits."
Also in the Standard, a round-up of the best French restaurants in London, from "three-Michelin-starred temples of haute cuisine to neighbourhood bistros".
*****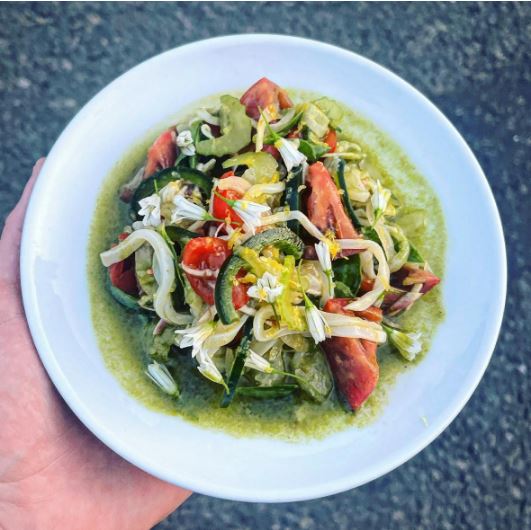 The Sunday Times
"Don't, as I did after a tip from an Instagram pal, google "hot for you" and "Prince Albert". Some of the results would put hairs on your chest."
Marina O'Loughlin reviewed the Hot 4 U "former delivery-only outfit, then pop-up and now residency" ("all the contemporary restaurant CV boxes ticked right there") that's landed at the Prince Arthur pub in Hackney.
The food, which they describe as "playful" includes "their own versions of Marmite and Worcestershire sauce", and they "are unafraid of pairing snails with whisky and bone marrow". Marina went for one of the "crowd-pleaser roasts" but there's lots more on offer, and dishes display "evidence of real creativity and effort".
"Everything is so much better than you expect to find in an old pub… the ingredients alone are noteworthy… I'm genuinely impressed." ("My taste buds are still in recovery.")
The Prince Arthur is "part of a tiny group of three pubs (plus the Plough in Homerton and the London Tavern in Margate) that seems to act as a bit of an incubator for interesting chefs and food concepts". The Hot 4 U team hope to open their "own place sometime in the near future. I'm not at all surprised… I'll be there like a shot when they do".
*****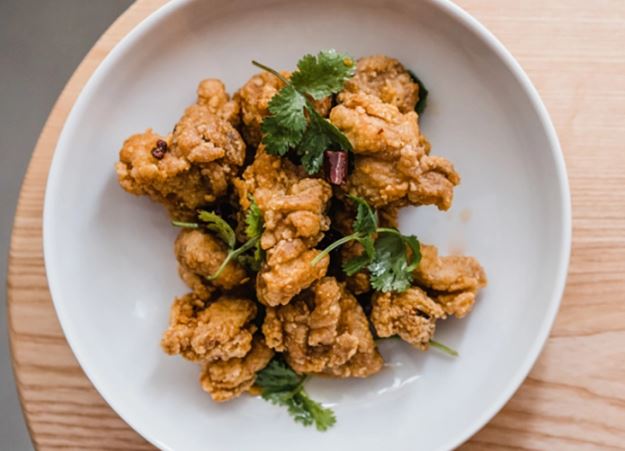 The Mail on Sunday
"Stuff to make the heart sing and belly roar. Oh, and one of the best, and best-value lunches I've had in months."
Just a week after Jay Rayner's review of Yikouchi in Stirchley, near Birmingham comes a review of the same place from Tom Parker Bowles for YOU Magazine – although TPB will have had to submit his review weeks ago for the magazine printing schedule, so we'll never know who went first. All we know is that they were both directed to Yikouchi by Birmingham-based food writer Simon Carlo's blog Meat & One Veg.
Tom was therefore unable to "spin a picaresque tale of just stumbling across a rather magnificent regional Chinese restaurant, run by an English couple". But he agrees with Jay that James Kirk-Gould cooks food "that could hold its head up high in Chengdu" – he "makes no claim to authenticity, yet this is seriously good cooking".
Tom also enjoyed the "serious fudge" made by Cassie Kirk-Gould and recommended that visitors "don't miss Sweetmeat Inc, which you can buy after lunch".
*****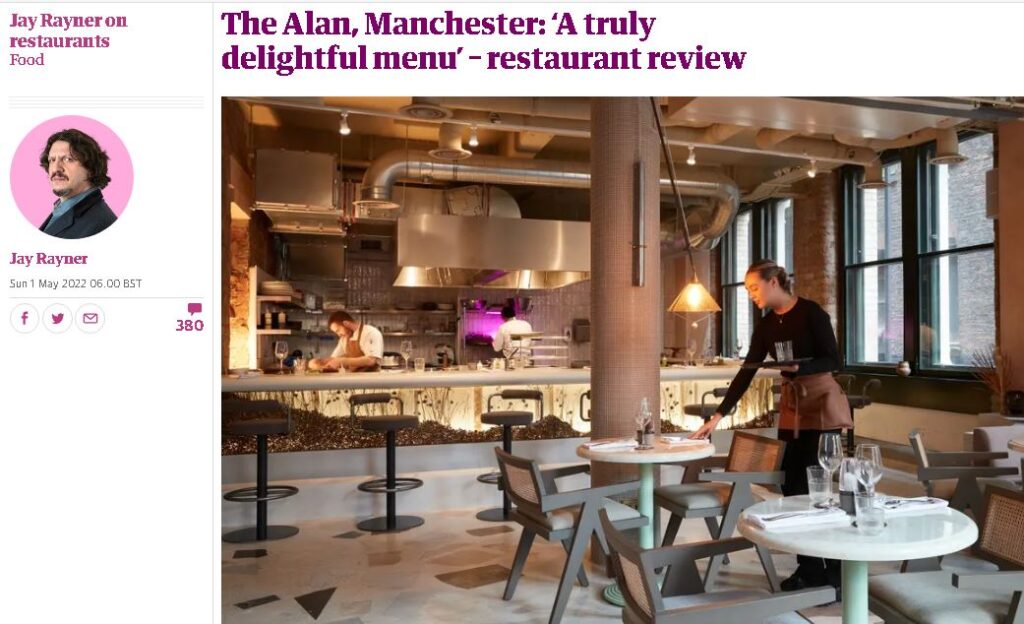 The Observer
Jay Rayner's first impression of The Alan, a "new boutique hotel on the edge of Manchester's Chinatown" was less than favourable – in fact he thought it looked like "somewhere about as popular as herpes".
Even though it was one of the few options available on a Tuesday night (when Jay was visiting to film Countdown), there were only a few tables occupied. ("The Alan isn't just quiet. It feels abandoned.")
But it was Manchester's loss; "the kitchen of the Alan, led by chef Iain Thomas, is cooking a truly delightful and admirably tight menu of diverting dishes, which reveal their joys a little at a time… and all at a price positioned to comfort rather than terrorise".
"Come for the small plates; stay for dessert, because the short list includes… a seriously well-made Arctic roll." Seven-year-old Jay would have been delighted by the "proper desserts that have required care, consideration and a childlike glee".
"The Alan is a hotel restaurant with which you can be on first-name terms. Right now though, it needs a few more pals."
*****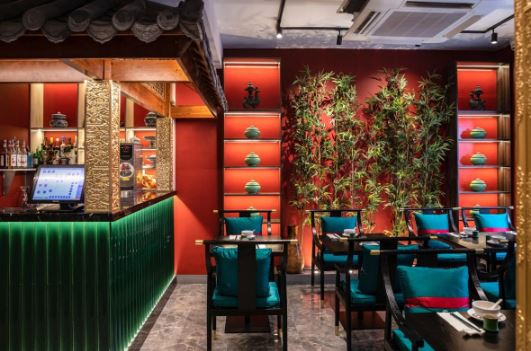 The Times
After a disastrous Chinese meal somewhere on the North Circular, Giles Coren ventured to Soho and Chuan, "a first incursion into Chinatown for the Royal China group of restaurants that, a quarter of a century ago, first dragged me out of Chinatown". It's "a spectacular coals-to-Newcastle foray into Gerrard Street, Chinatown's gaudy main drag and home to a number of places that are not nearly as terrible as they used to be".
As well as "all the Cantonese standards – the famous dim sum, immaculate roasting and fancy fish-driven main courses that its customers have grown to love", there are Sichuan specialities like so many of the other Gerrard Street joints – "all beautifully presented and alive with the mouth-numbing fire of Sichuan peppercorns".
Several of the dishes are declared an "utter triumph" (he's been back six times to check) and "portions are gargantuan and capacious doggy bags… are de rigueur".
There are "fancy dining rooms in the back" but Giles eats in the front section where "service is brisker, but the habitual kindness and competence is always there, along with the tinkly jazz music". (24/30)
*****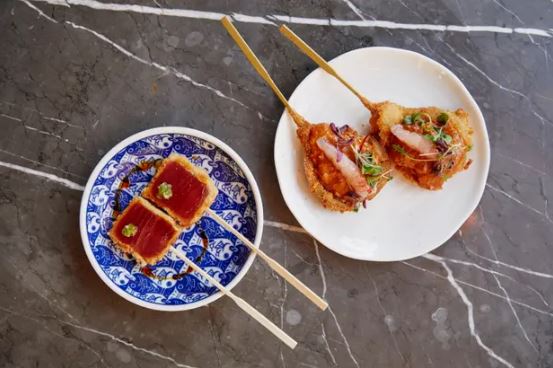 The Guardian
"Any restaurant with a "concept" makes me slightly nervous."
Grace Dent reviewed Dai Chi in Soho, whose "only concept is that almost all its dishes come on skewers, Japanese kushiage-style (ie, pub food)". Here, most of the "skewers are deep-fried and often breadcrumbed, so they're instead describing the restaurant as a kushikatsu, which is big in Osaka". ("There are non-skewered items, too, and all are just as delicious.")
It's possibly more suited to "informal picking and sipping in a bar, rather than to a proper dinner in a fancy restaurant" as it's hard to know just how many skewers you need – unless you "plump for the £38, six-course omakase menu".
But Grace "couldn't fault the love, care and skill at play"; "presentation is artistic" too, although she did have some quibbles ("there are far too few floor staff, and no non-alcoholic options on the cocktail list").
"Dai Chi is the second London restaurant from the people behind Angelina in Dalston," the quirky and tiny Japanese-Italian fusion joint. Here in Soho, "the mood is similarly delightfully odd"; "Dai Chi is clever, unusual, exciting and strange, and it's offering some of the most fantastic cooking in London".
*****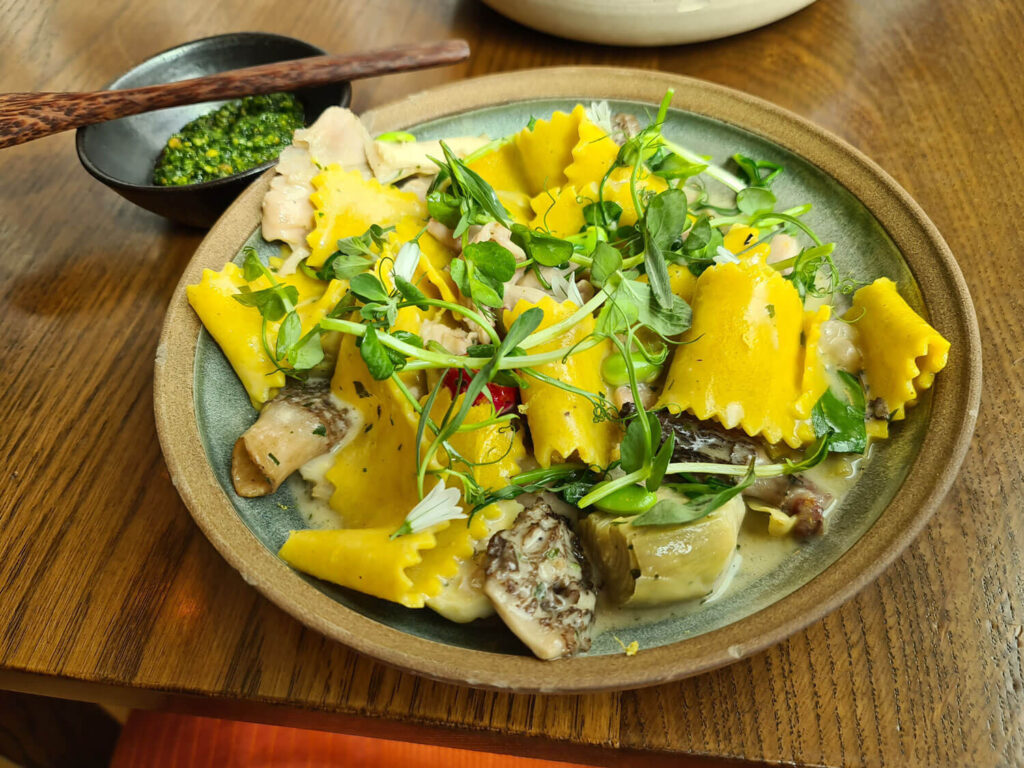 Koffmann & Vines
"Understated and elegant: Modern without some of the distractions of modernity."
Roving reporters Pierre and Richard viewed Hide (in the "more modestly priced ground-floor dining room")where they "enjoyed one of our best London lunches of the past year or more".
The "attractive room" offers views "across Piccadilly to Green Park… but what's on the plate is more likely to garner your attention". From "beautifully plated" food ("colourful and very precise, without an ingredient out of place or superfluous").
Ollie Dabbous "has evolved as a chef since the days of Dabbous and the food is at another level… the quality of cooking is such that he deserves wider recognition as among the finest in London".
*****
And also…
In The Scotsman, Gaby Soutar reviewed street food truck The French Fox, a "turquoise Peugeot J7 van" which is currently parked at various locations on the Isle of Arran, where her family has holidayed for generations. After a meal of "almost everything on the bistro-style menu" her "posse definitely wants this place added to our annual itinerary".
*****
In The FT Magazine, Tim Hayward reviewed Lisboeta, "an audacious launch on sacred turf for iconoclast Nuno Mendes" who serves up "fish that makes you go 'oof'"
*****
In the Birmingham Mail, a review of the frogs' legs at Le Petit Bois in Moseley; worth reading just for the countless amphibian puns. "The quality of food was top notch, the portions really generous. Factor in superb, Michelin-style service and it's hard to complain about value for money."
*****