Our weekly round-up of what the national and local restaurant critics are writing about, for the week ending 29 November 2020.
Restaurants and bars in England are closed between 5 November and 2 December for a second lockdown, after which a strict tier system is controlling whether or not pubs and restaurants can open.
Please continue to ordering takeaways, DIY kits and deliveries from your favourite spots if you can; the restaurant industry and everyone involved in it need our support in what is usually their busiest time of year.
As the stock of pre-lockdown reviews dwindles, we are sharing whatever the critics are sharing with us: delivery reviews, nostalgia, lists of favourite meals and even Christmas news.
*****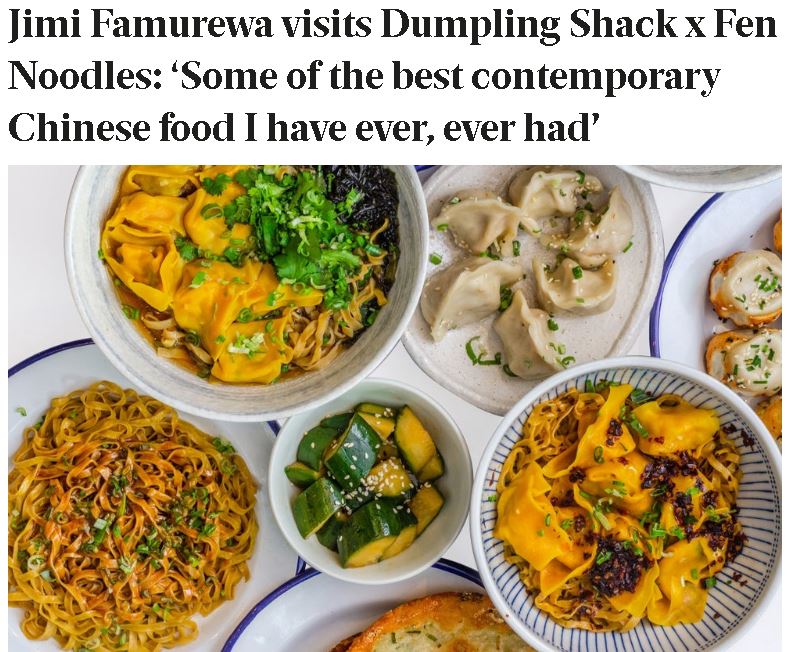 The Evening Standard
"Even in this year of infinite surprises — I do not know if I was quite ready for the enlivening curveball of Dumpling Shack x Fen Noodles' new kitchen."
Jimi Famurewa was in Canary Wharf, somewhere he'd never quite written off as the "culturally barren, money-drunk dystopia" it's renowned to be. He's always hoped that it would "a thriving vertical community stocked with unexpected attractions" – and was proved right when he collected his lunch from The Collective, by Crossharbour station.
Dumpling Shack x Fen Noodles is a spin-off from "married founders John and Yee Li's two street-food businesses in Spitalfields" and serves "a joyous melding of Xi'an, Sichuan and Shanghainese cuisines that marries serious, regional faithfulness with a delirious command of flavour and fun".
"Put simply, it is some of the best contemporary Chinese food I have ever, ever had." Hand-pulled belt noodles, a crispy pancake and a tea, devoured in the sunshine, gave him an "exhilarating surge of comfort".
It's not a restaurant as such, more "very busy dark kitchen with a takeaway operation attached", but Jimi's lunch "announced itself as wholly pilgrimage-worthy" regardless. "In the here and now of a wonkily disorienting year, there is something sort of perfect about this level of brilliance blooming in a place where few would expect it."
"It reminds you — with each hypnotic bite — that even in times of intense crisis, this big, ridiculous city of ours still thrums with small, life-affirming surprises."
*****
Also in The Standard, news that a shipping container restaurant is to open in Brixton, serving classics from the eighties and nineties. It's to be called – of course – Only Fools and Courses.
The second HospoDemo, which will take place on December 7 at 11am in Parliament Square, will call for "more government support for the beleaguered hospitality industry".
*****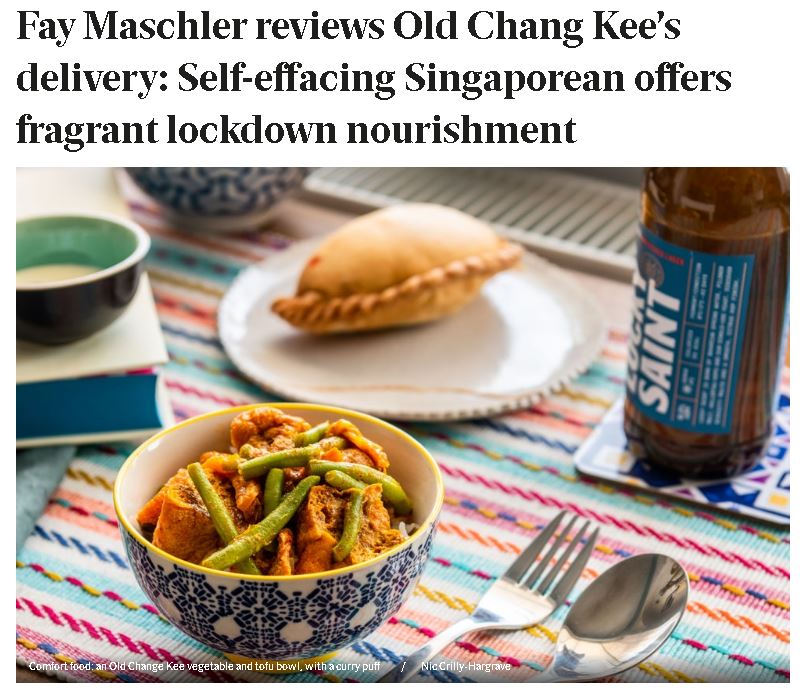 Fay Maschler reviewed the meal kit from Old Chang Kee: "having thought some of the meal kits currently on offer too fiddly, time and pan consuming, expensive and — with no chef de partie supplied — not always a triumph, I like the straightforwardness of Old Chang Kee. Basically just turn on the oven."
Five varieties of curry puff, rice dishes, laksa and curries are available to order, and provide the "perfect lockdown nourishment, self-effacing, undemanding, reassuring, quiet".
*****
Fay's slightly odd week in food included Peking duck delivered from Four Seasons Gerrard Street, a banquet from Ambassador General Store and Goila butter chicken from Mumbai chef Saransh Goila, who ran a Carousel residency in February and has partnered with Deliveroo to make his signature dish permanently available here.
*****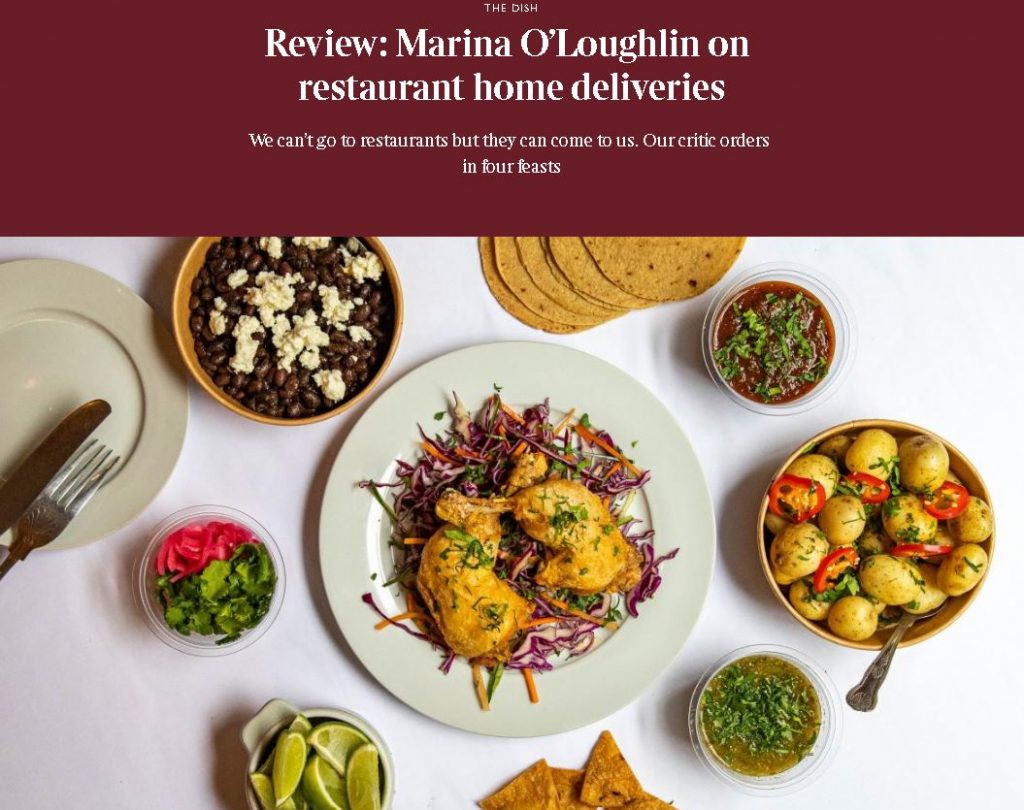 The Sunday Times
We've missed Marina O'Loughlin for the last few Sundays; this week she reviewed no less than four restaurant deliveries ("three that deliver nationally and one grabbed during a working day in London") to make up for it. Even more admirable, she avoided the "grasping tentacles of Deliveroo and its cohorts" by ordering direct from the restaurants.
First up was All's Well from the chef Chantelle Nicholson, "a Marcus Wareing protegée better known for Tredwells in Covent Garden". Her "ethos" is "hyper-seasonal", "sustainable" and "zero waste", and everything looked "divine", packed in "attractive brown cardboard containers" and "the dinkiest jars of various relishes and garnishes cuddling up to the main ingredients".
"Anything that can introduce me to a superlative new variety of potato — Mayan twilight, served with aïoli and sambal — gets a massive yes from me."
Next up was Gujarati Rasoi ("from the mother and son Lalita and Urvesh Parvais"), which started out at Broadway Market in east London and now delivers nationwide; "they've managed to make the food that arrives via courier every bit as electrifyingly good as it was in the restaurant". Assembly was "a doddle" and there are "several vegan dishes" available.
Mexican cooking that's "very much the real deal" arrived from Santo Remedio, care of husband-and-wife team Edson and Natalie Diaz-Fuentes. Even though the Remedy Kit "required a bit more thought", it was "quite the spread" and made her feel like a "restaurant-obsessed tattooed beardy who prizes authenticity above all else and likes getting into fights on social media about cultural appropriation". Not even an exploded tub of gooseberry salsa spoiled the kit – it just added "confusing but completely delicious" piquancy to things.
Lastly, "the Rolls-Royce of home delivery ("with the appropriately high price tag") from Simon Rogan at Home. "There is no denying the labour-intensive nature of the dishes: each has a panoply of little numbered bags, like culinary painting by numbers" and used up all of the pots and pans, but the results were "impressive". However, "this — of all the deliveries — makes me sad that I'm not eating it in its rightful setting [L'Enclume], with all the pomp and ceremony it deserves".
"The sheer number of places doing delivery is astonishing; this is only a tiny, imperfect and personal sample."
*****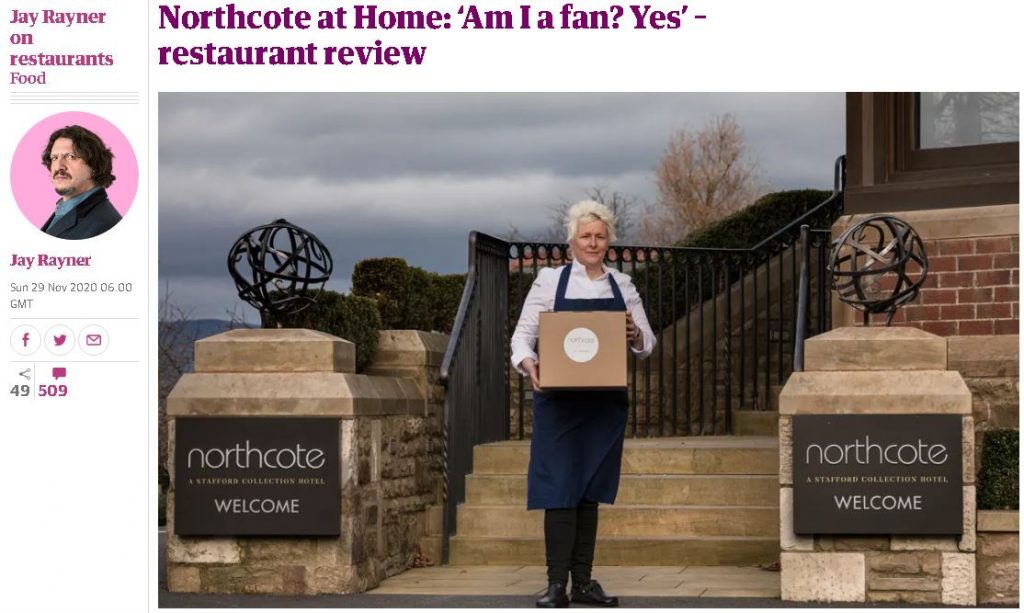 The Observer
For Jay Rayner, "Christmas came early with two gloriously indulgent gourmet boxes sent from Lancashire", specifically Northcote at Home.
"In 2020, I have eaten some great food from some great restaurant meal kits. I've also smeared every kitchen surface with purées, dirtied every pan that I own and ended up at the table frazzled by the effort of getting it all there."
"Happily", the boxes from Lancashire "are that killer combination of great cooking and a Lancastrian instinct to feed". Yes, the prices are "chunky" – the autumn gourmet box is £90 and the 'classic' is £105, both for two – but the portions are generous and can easily be spread over several meals, like Jay did. He treated the boxes like "a bunch of treats, to be taken as you wish, and it both reduces the hassle and spreads the joy".
"It comes packed in recyclable or compostable sheep's wool and the vast majority of the plastic packaging has the resin code 1, which means it's the easiest to recycle. Serious care has gone into this. Is it cheap? No. Is it good value? Absolutely. Am I a fan? Yes? Have I started talking to myself? Sorry, it's this bloody lockdown."
*****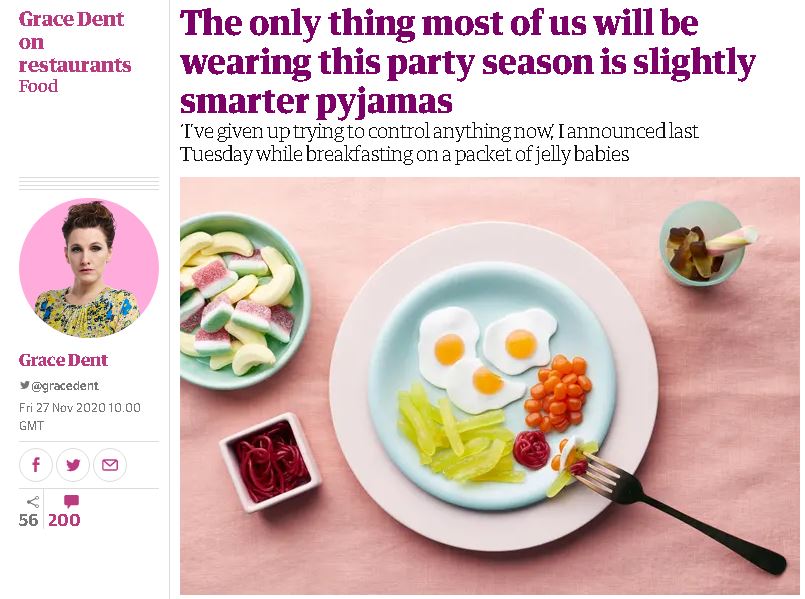 The Guardian
"Life is quite bizarre now that the usual run-up to New Year has been steam-rollered."
Grace Dent is missing the pre-Christmas festivities, the family emails about Christmas dinner and shopping for presents; she's eating lots of sweets and forgetting what day of the week it is.
"I do wonder what we are all actually, secretly eating now that food is being robbed of its places and people and times. Am I the only one skipping breakfast and finding solace in lunchtime crumpets with lemon curd?"
*****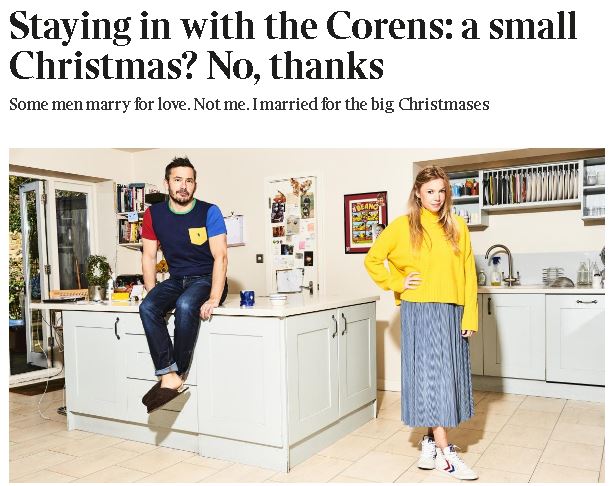 The Times
Giles Coren and Esther Walker are planning for Christmas this week; she would be perfectly happy to abide by the government regulations and only have six people (fewer if she can manage it) on December 25.
"I… did have a tiny Christmas one year. I can't remember what went wrong (or right), but it was just me, Giles and my children, and it was absolute and total bliss… Make a small Christmas compulsory every year, I say, virus or no virus. Now, let's see if we can't cancel New Year's Eve…"
Giles has different ideas, based on the premise that the restrictions are for other people ("I treat them like speed limits and drug laws: marvellous in principle, fine as a general rule") and wants a massive Christmas to make up for the quiet, small Christmases of his youth. He heard about them at school and apparently married Esther to guarantee himself a lifetime of overflowing Christmas meals "with lots of tables stuck together and children and dogs running around and people overeating and playing games and uncles getting drunk and grandparents falling asleep… in front of the Queen's speech and then everyone out for a walk".
*****
The Mail on Sunday
Tom Parker Bowles in The Mail's YOU magazine implored readers to visit 28 Market Place in Somerset once lockdown is over; owners Ben and Vanessa Crofton and head chef Dan Fletcher "had the misfortune of opening in January this year". On his pre-lockdown visit, Tom enjoyed cooking that was "near flawless with a menu that cleaves tightly to the seasons", service with an "intrinsic confidence that doesn't require the constant barrage of statements about concepts and provenance" and a salt beef sndwich that rendered him "".
"28 Market Place is that rarest of things: a relaxed, entirely unpretentious local country restaurant cooking impeccable food that just happens to stir the soul."
TPB also recommended a few "five-star" home deliveries, including the "beautifully packaged" selection of "ready-to-cook meals" from Ambassador General Store and the "excellent food at home" provided by Gary Usher's Elite Bistros.
Lastly, Tom mentioned the charity scheme usually run in restaurants for November and December, in which £1 "is added to the diners' bills, then passed on to homeless charities". He encouraged readers to donate to streetsmart.org.uk to boost their income stream which "will be massively reduced".
*****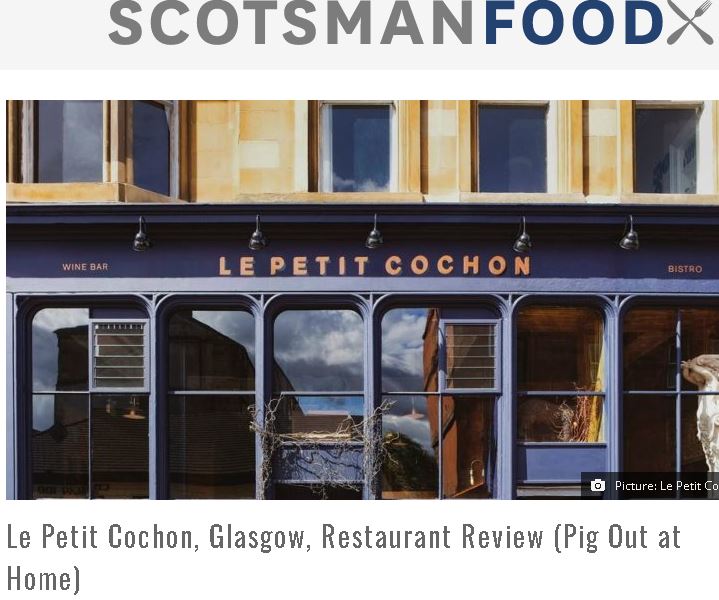 The Scotsman
Rosalind Erskine reviewed Pig Out at Home, the delivery offering from Glasgow's Le Petit Cochon, which can be found by Kelvingrove Art Gallery. She plumped for the Sunday roast option (pudding and cheese too), which she hopes will stay on the delivery menu after lockdown, so "friends… can hopefully come round… for a relaxed weekend meal, none of which requires spending hours slaving over a hot stove".
"If, like me, you've exhausted your regular cooking repertoire during lockdown and are, once again, looking for convenience and to support a local business, Le Petit Cochon should be on your list for a stress-free, restaurant quality weekend treat." (83%)
*****
And also…
The Financial Times asked if food delivery services can save UK restaurants and noted that "Deliveroo and Uber Eats offer a lifeline but high fees drive businesses to launch own versions".
*****
In The Telegraph, Michel Roux Jr described the difficulties for the restaurant trade, the staff at Le Gavroche, the problems that Brexit will bring, the new extended congestion charge and his daughter Emily's struggle to keep her restaurant going just a year after opening.
*****
Recent News from Harden's