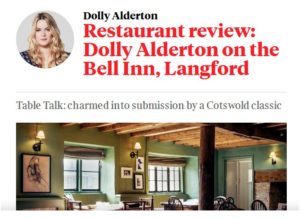 In The Sunday Times magazine this week, Dolly Alderton left a sweltering London for the Cotswolds, and reviewed The Bell, in Langford, expecting to cringe at a village that "fulfils the Cotswoldian prerequisite for chocolate box to the point of saccharine toothache".
But it turns out that she likes this picture-postcard Middle England almost as much as her hero AA Gill hated it.
How could she possibly hate a place that it turns out one of her "last meal on earth" dishes (sea bass with heritage tomatoes) with perfection ("as perfect as Blake Lively and Ryan Reynolds, and as hard to replicate at home"), and serves an "ambrosially satisfying" panna cotta to follow.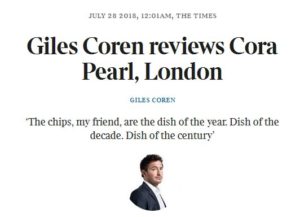 Also in The Times, Giles Coren reviewed Cora Pearl, pondering on the difficulty of 'rolling out' a restaurant like Kitty Fisher's (Cora's big sister, and one of the biggest hits of 2017): "It won't roll out into a pizza chain. You can't have any old fool cooking the food. It doesn't cleave to a genre that can be reduced to a formula and passed around in a spreadsheet."
How do you replicate the sheer "loucheness" of a concept that's "defining characteristic is its excellence, plus imperceptible serendipities to do with location, wit, history and timing"?
But Tom Mullion, Tim Steel and Oliver Milburn seem to have achieved the impossible, and in overdeveloped Covent Garden no less. Cocktails downstairs first, followed by "a meal that improved as it went on, rather than dazzling at the snack stage and then petering out" from an all-new, "approachable" menu by chef George Barson.
Apparently the chips (what can only be described as deep-fried dauphinoise potatoes) are "the dish of the year. Dish of the decade. Dish of the effing century."
So, next time you're looking for "a gossipy 17th-century coffee shop crossed with an 18th-century booze parlour and a 19th-century opium den" and Kitty Fisher's is too busy, you know where to go – and what to order.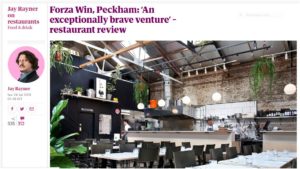 Jay Rayner praised the "exceptionally brave venture" that is Peckham's Forza Win in his Observer review: "In these days of identikit high street chains, it's great to eat in a really unusual place, especially one where the cookery is smart and the ingredients are off-the-scale excellent."
Formerly a "knackered warehouse on a south London industrial estate", Forza Win has opened thanks to "enlightened licensing officers", and gradually improved the kitchen facilities and honed a short, but effective, Italian menu.
Jay ate a "careful and refreshing" panzanella salad, a fried cheese sandwich that was "utter abandonment and filth", a "butch" lamb and celery rigatoni "that demands to be chased around the bowl" and a spatchcocked chicken that was "the star" of the show. All in all, "one of those meals that leaves you mouthing platitudes about the simple things done well".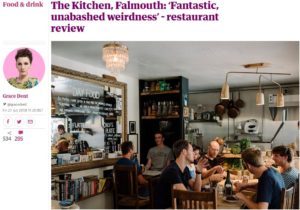 Grace Dent for The Guardian also struck restaurant gold in Falmouth at The Kitchen (26/30): "one of the most fantastic, albeit wonky, boho and flawed restaurants I'll visit in 2018"
Handed a tile on which just seven dishes like ""Rabbit + Scurvy" and "Sea-trout + Cuckoo" were written in block caps with Magic Marker", Grace embarked on a culinary adventure.
"Small portions of exemplary local produce served with unabashed weirdness" just arrived when they were ready. Every dish was "challenging" – venison with beetroot mousse (Bambi + Beets, maybe?) was "part dinner, part crime scene". Even the pudding ("Toffee Apple") was an epic, "Jackson Pollock-style dirty protest" incorporating not just apple and caramel but also rhubarb, black pepper, cumin: "at times orgasmic and at others deeply unpleasant, like a good marriage".
Especially given its (British seaside town) location, The Kitchen made Grace's heart "burst with happiness" but she admits it could be a Marmite experience for many; "it could go either way".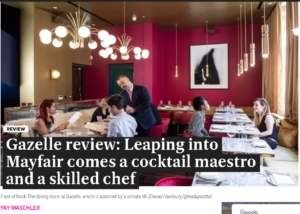 Fay Maschler visited Hot Newcomer Gazelle (***) for The Evening Standard and, despite a rocky start (the lifts that weren't working, the "inquisitorial LED lighting" and "the list of dishes with nary a carb amongst them"), seemed to enjoy it. Chef Rob Roy Cameron's apprenticeship with the Adrià brothers is evident in "discernible" kitchen skills and dishes like "squid cut to resemble pasta flavoured with sandalwood". Desserts are "an element not to miss".
Fay's dinners during the week included Bottles Wines Bar in Spitalfields (food by Sood Family), the Wagyumafia pop-up at Fortnum & Mason, peeled grapes at Noizé and a summer party at Rotunda.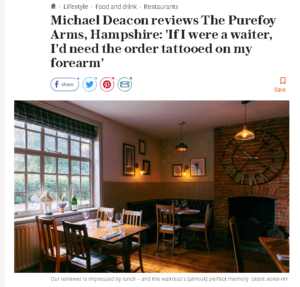 Micheal Deacon in The Telegraph is unnerved by the waitress remembering his entire order (instead of writing it down) at The Purefoy Arms near Basingstoke, where Gordon Stott has recently taken over at the stoves. His lunchtime meal was "not blow-your-socks-off spectacular, but good, well presented, and a cut above a conventional pub", although he didn't try the six-course tasting menu (or the ice cream – and other treats – for dogs). In summary, The Purefoy is "a pub that takes food very seriously, while still managing to be unpretentious, relaxed and friendly".
Once he'd got over the lack of fish on the menu at Liverpool's Wreckfish (****), Tom Parker Bowles  for The Mail on Sunday thoroughly enjoyed the "high-ceilinged, stripped back but comfortable" feel of Gary Usher's third crowdfunded restaurant (joining Black Truffle and Hispi, and to be followed by forthcoming Pinion). Wreckish is "more of the same" – "sensibly priced, unpretentiously good food… with an assuredly modern touch".
But it's a formula that clearly works, and works well; "the warmest of service… a decent, well-priced wine list… local restaurant heaven." Even better, "three courses of assured, often excellent cooking cost an incredible £20 per head". We'd agree with TPB: "If only every town had a Wreckfish."
In The Financial Times, Nicholas Lander explored the west coast of Ireland: "Galway might be the world's most attractive city in which to be a restaurateur".
Recent News from Harden's