Here's our regular summary of what the national and local restaurant critics have been writing about in the week ending 27 February 2022.
*****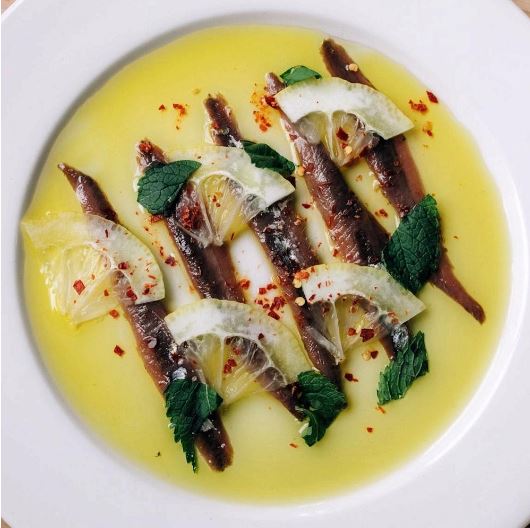 The Sunday Times
To Margate for Marina O'Loughlin, and a meal at Sargasso, a "little beacon of loveliness" that's one of the "improbable number" of "genuinely good" restaurants that have followed the town's recent boom.
"Margate has become an eating destination for the gastrotourist. If you'd told me years ago that this was on the cards, I'd have laughed for a very long time."
Sargasso, the ultimate "Down From London" restaurant comes from "the people behind Brawn, a stalwart beauty just off the Columbia Road that's on every restaurant obsessive's list of London favourites". It "offers a mix of serious intent on the menu and a breezy, ad hoc environment" – plus the "insanely light" Parmesan fritters from Brawn's menu.
"The sea on the restaurant's doorstep influences the menu heavily," and "everything's delivered with joyful, throwaway energy"; "it might not be the kind of place to sink into with port and cigars, but it's as invigorating as the sea air".
*****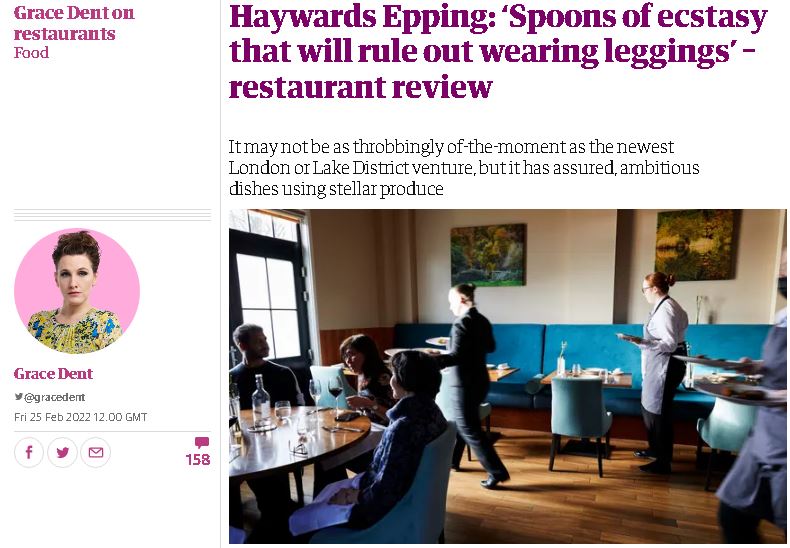 The Guardian
"Rarely… do we see Essex's fancier fine-dining side, which is a shame as the county excels at fantastic, old-school, multi-course, finesse-in-heaps hospitality…" The "bigger problem, of course, is it's just too darn close to Soho, where the fine-dining scene transmogrifies weekly".
Grace Dent found the fine-dining side of Essex at Haywards in Epping, where "chef Jahdre Hayward, his wife Amanda and his small, friendly team" are serving up "serving ornate plates of venison with parsnip and quince or fig with Pedro Ximénez souffle" (the latter being what the suggestive headline refers to).
"Stylewise, Haywards felt, and I mean this in the nicest sense, like being on the set of MasterChef: the Professionals"
Before the first course, when the "very good, fresh-from-the-oven sourdough" arrived, Grace "knew Haywards was a great choice. It may not be as throbbingly of-the-moment as the newest multi-million-pound London or Lake District venture, but it has assured, ambitious dishes, using stellar produce".
*****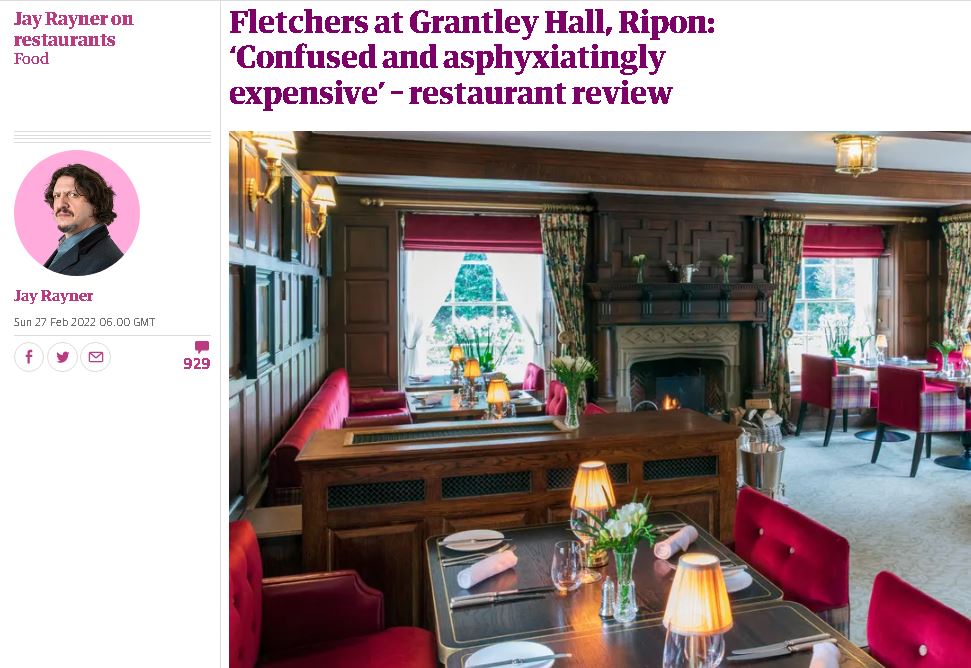 The Observer
At last released from the niceties of the pandemic, Jay Rayner presented a review "thickly buttered with snark"; he couldn't have picked a better victim than the five-star hotel Grantley Hall in Yorkshire, a "grand 17th-century Yorkshire pile" which opened in 2019 and is "over-engineered to within an inch of its gilded, primped and polished life".
"Grantley Hall is hilariously over the top. It's where any reasonable perspective on life goes to die."
Eschewing the flagship Shaun Rankin restaurant, Jay dined in Fletchers, the brasserie, where "staff are cheery" and the decor is "mock Scottish baronial".
"The whole venture is both confused and asphyxiatingly expensive for what it is" – £150 for a three-course meal for two without wine. There was evidence of culinary skill, but also "exhaustingly fussy" presentation and "restrained" flavours.
If it hadn't been for the "brilliant" desserts ("some of the very best examples of detailed patisserie work it has been my pleasure to experience in a long time… like dishes from an entirely different restaurant"), there might have been even more snark than we got.
*****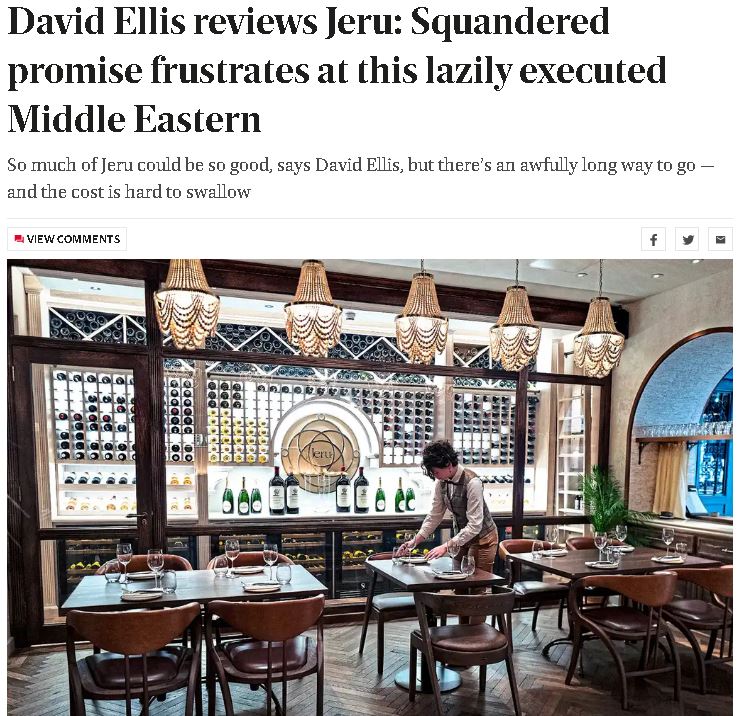 The Evening Standard
"I should have known better. Berkeley Square attracts money hoicked from God knows where and best not to ask."
David Ellis was in Mayfair, where "hit restaurants… are marked by an insistence on glitz, pulsing club beats sans melody, names that don't make sense and what can only be a deliberate disinterest in the food".
Was Jeru the exception? It certainly "had promise" with an Israeli-born Aussie celebrity chef, Roy Ner, at the helm. The promise was "a far-reaching take on Middle Eastern cooking", and the "room is undoubtedly a looker", too.
Oddly, the menu had a quote from the chef about teh importance of bread, but there's no bread on the menu, nor was it offered. "This weird inconsistency — for a menu to recommend something it doesn't have — seemed representative of a restaurant that as a whole needs a good talking-to."
"Jeru could actually be rather good," but David's dishes were almost all frustratingly bad. "This was a night of squandered potential, a menu of possibility corrupted by yawning execution," made worse by a bill of nearly £300.
Also in The Evening Standard, a report on the best place to live in London if you love takeaways. "It's bad news for south-west dwellers however, as the map… suggests that part of the city is something of a takeaway wasteland."
*****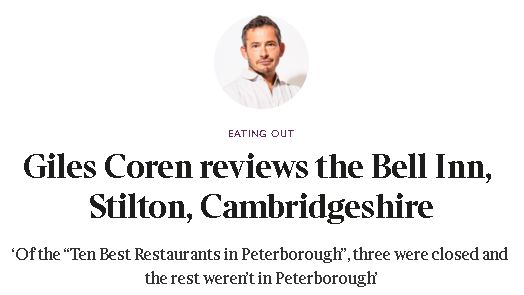 The Times
Giles Coren stopped off at The Bell Inn in Stilton, after asking his readers to recommend places to eat in Peterborough where he was watching a football match. Most responses were "places that were either permanently closed or not in Peterborough", which probably explains why, "in the history of national newspapers", no-one had ever reviewed a restaurant there.
So he plumped for somewhere en route, and was recommended The Bell Inn, a pretty "15th-century coaching inn" in "a sweet, empty, old village with no parking restrictions at all". His review of the food was upbeat but uncomplimentary ("the main thing is that, thanks to the Bell's confident pricing, I was able to put more than £200 into the local economy"). (21/30)
*****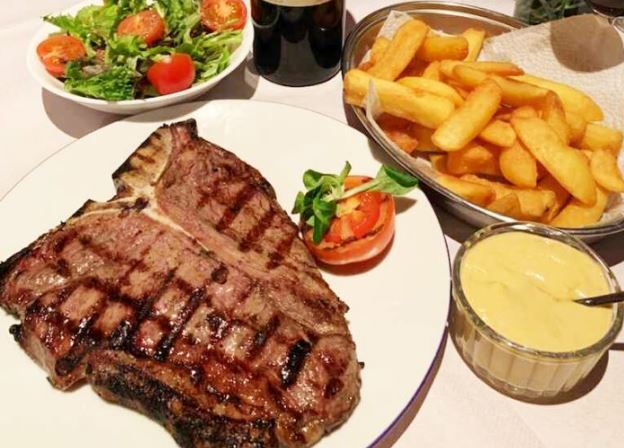 The Mail on Sunday
"There's something deeply satisfying about this simply adorned, fiercely local place."
Craving simplicity, Tom Parker Bowles in YOU Magazine went to Popeseye, the "small, no-frills Olympia restaurant that has quietly plied its trade for as long as I can remember".
"It concentrates on one thing – in this case Scottish steak – and does it very well indeed." Plus chips, which "may well be the finest in London".
There's "no starters or sides (save chips and basic salad), no bread, specials, garnishes or, god forbid, vegetarian options", just two sauce options and "blessed freedom… from the tyranny of choice".
*****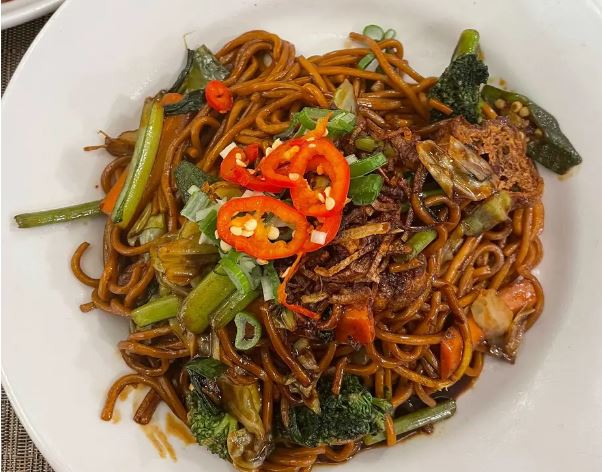 The Independent
"I was searching for home – and in Putera Puteri, that's exactly what I got."
Homesick Kate Ng as been searching for Malaysian dishes that remind of a home she hasn't been able to visit in three years; "hidden away in a quiet corner of Bayswater" she found the closest matches yet to her favourite char kuey teow and hot teh tarik (pulled milk tea), but "the biggest winner of my dinner was the kangkung belacan" (morning glory).
Also in The Indy, Sam Muston visited The Wheatsheaf Inn, in that "unfeasibly pleasant bit of Gloucestershire" that's "prime second-home territory" for west Londoners. It "does not reach for the outer edges of culinary experimentation," but "what it does is draw on it bucolic, rough-hewn surroundings, to produce food with heart, and soul too".
*****
The Scotsman
Three reviews this week: Catriona Thomson went to The Citizen in Glasgow, set in the former purpose-built newspaper offices of The Glasgow Citizen, "one of Glasgow's very first newspapers", which closed down in 1974. It's "pretty swanky, encapsulating all the glamour of the past" and the "food list that caters to a wide range of tastes". "Our verdict in black and white: central, stylish but not cutting edge."
Also, Gaby Soutar recharged her batteries at Rokko Rokkko Desai, a Stockbridge noodle shop in Edinburgh; after visiting her mum in hospital on a dreary night, she popped in for a bowl of "life affirming ramen", cocktail and snacks.
Lastly Rosalind Erskine reviewed "the first UK bar and restaurant from… Italian brand" Doppio Malto which opened in Glasgow city centre in 2021 in a former Jamie's Italian. There's pasta (obvs) but also craft beers (the company started as a brewery in 2004) and "an extensive variety of grilled meats".
"I was pleasantly surprised by Doppio Malto and can see myself returning soon with my nephews or friends as part of much-missed days and nights out in the city centre."
*****
And also…
In The FT, a review of the "amazing project" Prévost @ Haycock in Wansford: "the Baron Bigod had been made into an ice cream, sandwiched between two oat crisps and dotted with gooseberry gel. I could easily have eaten four".
*****
Koffmann & Vines reviewed The Clove Club in Shoreditch, where chef "Isaac McHale's achievements… have been astonishing… a second Michelin star this month… multiple other accolades and awards… the highest-placed U.K. establishment in the World's 50 Best Restaurants".
McHale "cooks imaginatively, putting his own spin on dishes without ruining them with pyrotechnics. You can spot the influences that inform his cooking, but they don't overwhelm it. It's modern classic cooking that is original and quietly thoughtful rather than loudly innovative".
*****
In The Manchester Evening News, a list of the top restaurants with views
*****