Here is our weekly round-up of what the national and local restaurant critics were writing about in the week ending 26 September 2021.
*****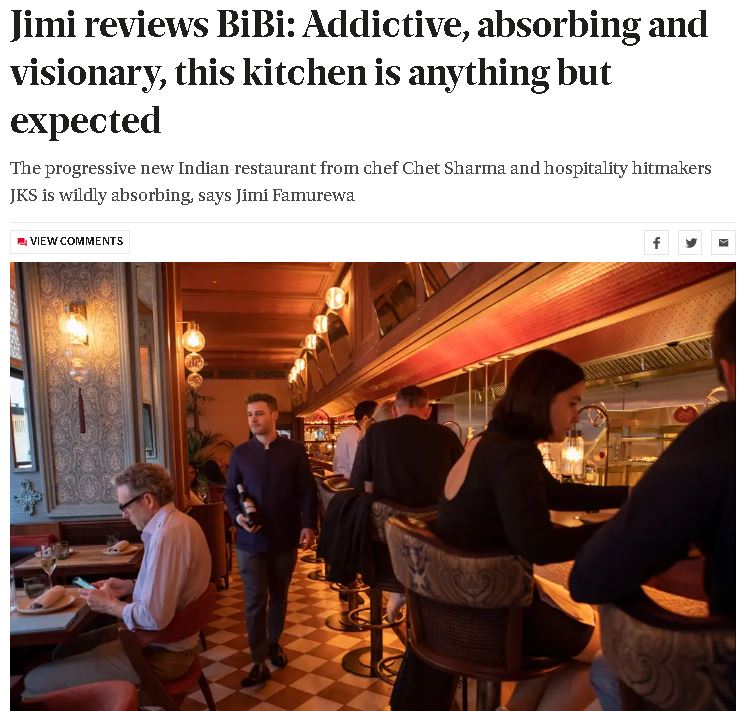 The Evening Standard
Back after a holiday, Jimi Famurewa was the first of the critics to review BiBi, the "swashbucklingly progressive new Indian restaurant" which opened last week in Mayfair, from chef Chet Sharma and "hospitality hitmakers" JKS.
The "slender, elegant little room of dusky pinks, antique mirrors and smouldering lamps" already feels like one of the "bar-setting" openings of the season; it's "ravishing blackened char, fathomless flavour complexity and dazzling tasting menu-level technique, presented in a surprisingly playful and approachable frame".
The playfulness appears in the starters, with recreations of junk food snacks and "winking, lowbrow references". Main courses show off some "Noma-level trickery" and "technical mastery". Jimi's only regret was "not having the time for one of the cute, Solero-ish preserved mango kulfi lollies".
"BiBi lights a fire under a somewhat staid fancy Indian dining sector with personality, vibrant distinctiveness and mesmeric, precisely executed food that manages to look back and thrust forward all at once."
*****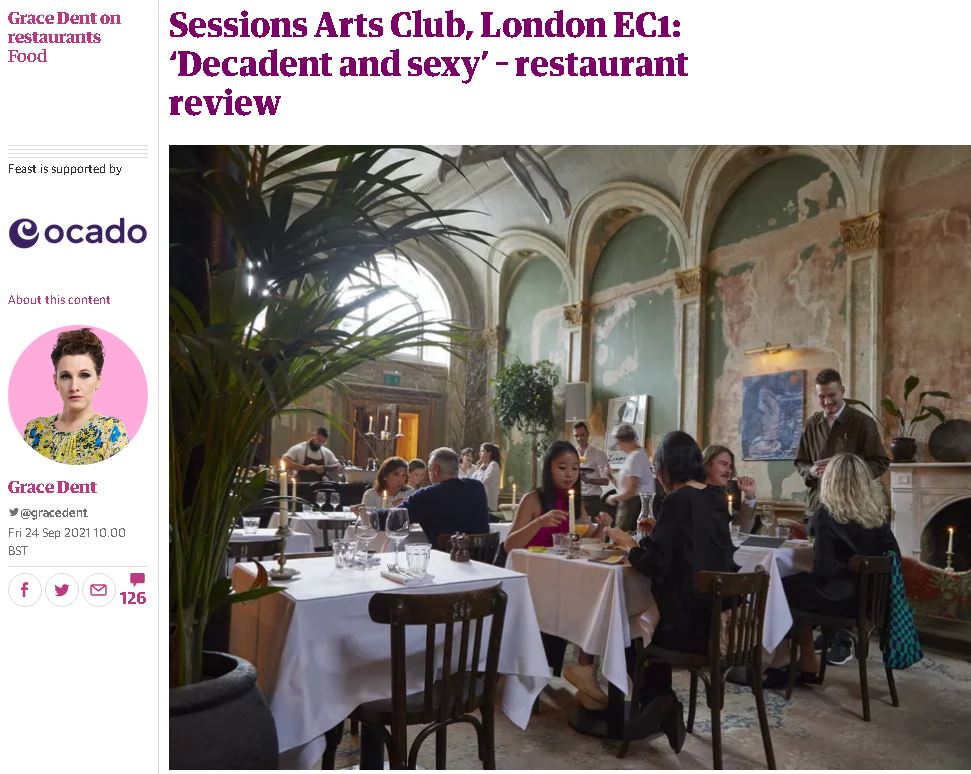 The Guardian
Like Marina the week before, Grace Dent found Sessions Arts Club to be wonderfully louche, "decadent" and " a bit sexy".
It's "not a private members' club, but it has the feel of some of the best ones from the 1980s and 1990s, back when such places were secretive and insalubrious boltholes".
"Part artists' commune, part chic hotel", it feels like "the perfect venue for the excellent, understated chef Florence Knight – previously best known for her work at Polpetto – to choose to set up court". Her "much-emulated, yet rarely surpassed style of cooking" works well in this setting.
"Yes, Sessions Arts Club is infuriatingly chic and dramatically staged" but it's also "hugely convivial".
*****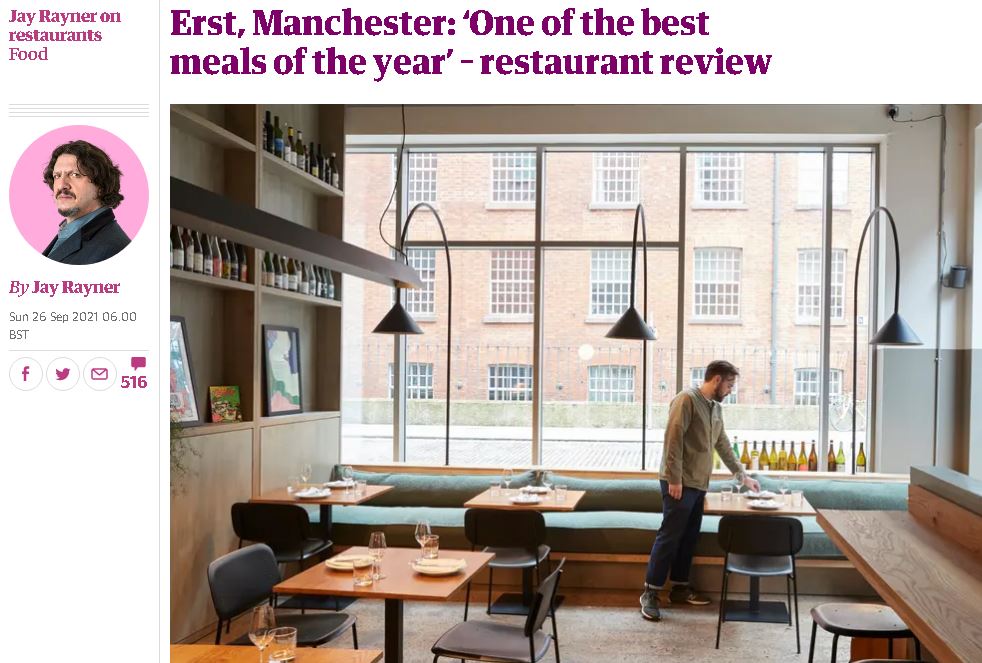 The Observer
Jay Rayner took himself off to Manchester to investigate Erst, "sibling to the small group of Trove bakeries", which started a decade ago in Levenshulme "and quickly garnered a following for their ways with sourdough".
A refreshingly minimalist menu ("just 10 savoury items") matched the decor ("polished concrete floors and… breezeblock walls"). Of those 10 items, one was off, "one is olives and two are bread", so Jay ordered one of everything on the menu, resulting, in a "quiet, unshowy way… one of the best meals of the year so far".
The "modestly priced platefuls… bring on low groans and delicate sighs of happiness". The first of the two bread dishes was a take on Spanish pan con tomate, and was the "best £5 I have spent in a very long time", while the garlic and herb version with lardo was "dripping toast, but as rebooted by Hollywood… the George Clooney of garlic breads".
"Glorious, crowd-pleasing fun."
*****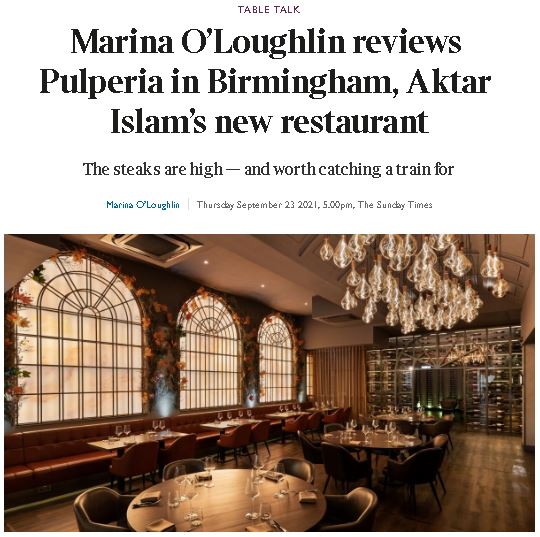 The Sunday Times
Marina O'Loughlin is constantly criticised for not covering out-of-London restaurants, so she's decided to keep the critics happy and only review London restaurants, so they can now moan at her every week.
She's joking of course, although tried to fool us that this week's review was in London. But Pulperia, a new "regional Argentinian" restaurant from Aktar Islam (of Opheen fame) is located in Brindleyplace, in the heart of Birmingham.
It's "quite a departure" culinarily for Islam, known for his "intricate Indian cuisine" but he's "apparently a big fan of the food of Buenos Aires".
"There's been no expense spared here — the restaurant is a blinger." And the food ? It's all about the steaks (although there are other main course options), and lots of it, from familiar cuts to those "reserved for serious beef fetishists". "Meat is superb" and "the grilling is expert" too.
On the downside (apart from the cost), "sides come across as afterthoughts" and "the kitchen needs to cool down on the wild oversalting of that fine meat".
*****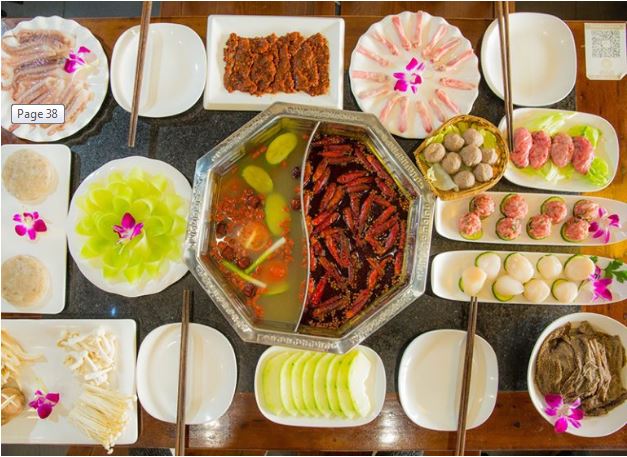 The Mail on Sunday
The joys and "warming goodness" of "communal Sichaun dining" for Tom Parker Bowles in YOU Magazine this week; Shu Xiangge has three branches in London (and one in Coventry) and Tom ventures regularly to the Shepherd's Bush one with his family.
It's a "bright, clean room" with tables specially designed for keeping the hotpots warm. They have chosen two soups for dipping and cooking all the dishes in: "soothing, gently savoury, medicinal" chicken broth and a "seething, blood-red beef fat Sichuan inferno".
"Messy, joyous, life-affirming eating."
*****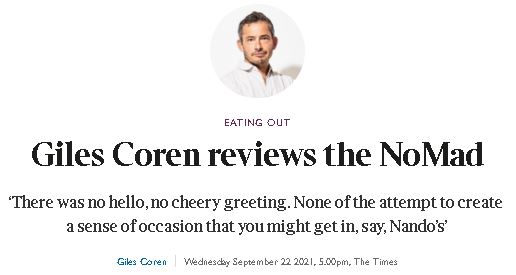 The Times
Giles Coren visited "massive new multimillion-pound hotel and restaurant" NoMad, housed in a former magistrates' court (and he's strangely proud that it's "not the first restaurant I have been both tried and fed in").
The hotel group is big in America, but he'd never heard of it; he was there to dine with a couple who'd won an auction to dine with him and Sue Perkins. The main restaurant in a three-storey atrium is "massive, plant-filled and jaw-dropping" but also "very, very dark and thumping with loud dance music".
The "masked, impressively suited doorman" was more intimidating than the judge he'd appeared before on his previous visit; in fact, "at no stage was there a greeting" from the first few staff members he encountered. The "fun, lively, welcoming" sommelier and two servers "brought things back from the brink of vibe disaster".
"The menu, like everything else here, is scattergun, random and a bit deracinated"; some dishes were "amazing", others – including the signature roast chicken and the plateau de fruits de mer, were underwhelming. (18/30)
*****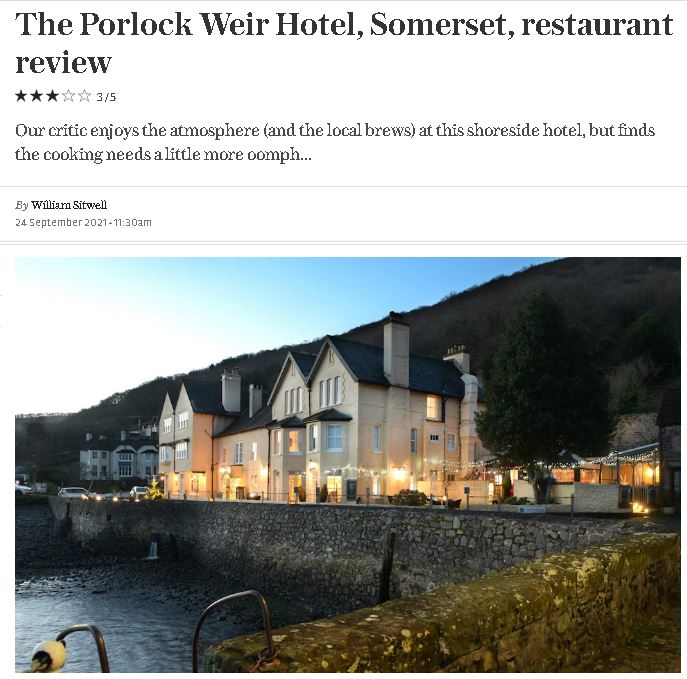 The Telegraph
William Sitwell was in Somerset with his family, at the Porlock Weir Hotel in the coastal settlement of the same name that's "a collection of ancient little cottages, a few shops and a pub".
Having the dog with them meant they couldn't eat in the "rather beige and soulless" dining room, but were offered the "prettier, more atmospheric" library instead, where they shared "half a dozen delicious oysters, of local variety" and a "very fine" pizza, among other things.
They liked the place, despite slightly unhelpful staff and a slightly "measly" seafood platter.(***)
*****
And also…
Manchester Evening News led with an article on the new openings for September, including the long-awaited second Bundobust, which opened – complete with brewery – mid-month.
*****
The Bristol Post interviewed the chef-owner of Wilson's on the pandemic's "devastating impact on his business and the livelihoods of his staff".
*****