Our weekly round-up of what the national and local restaurant critics are writing about, for the week ending 21 June 2020; the country remains in lockdown, with restaurants, cafes and bars officially closed due the coronavirus outbreak since March.
Gradual easing of lockdown rules recently means that restaurant and bars can start planning for re-opening in early July, albeit with socially distanced (possibly only al fresco) dining and drinking. Several restaurants – including high-profile names such as Nathan Outlaw's Siren, Le Caprice and Sardine – however, have already announced they will not be re-opening, while one estimate that "50% of restaurants, cafes and pubs will not re-open" makes for grim reading.
You can still support your local and favourite restaurants; many are offering takeaways or deliveries, or you can buy produce, meal kits, vouchers, cookbooks or merchandise. Check out their social media pages for details (all available via hardens.com)
---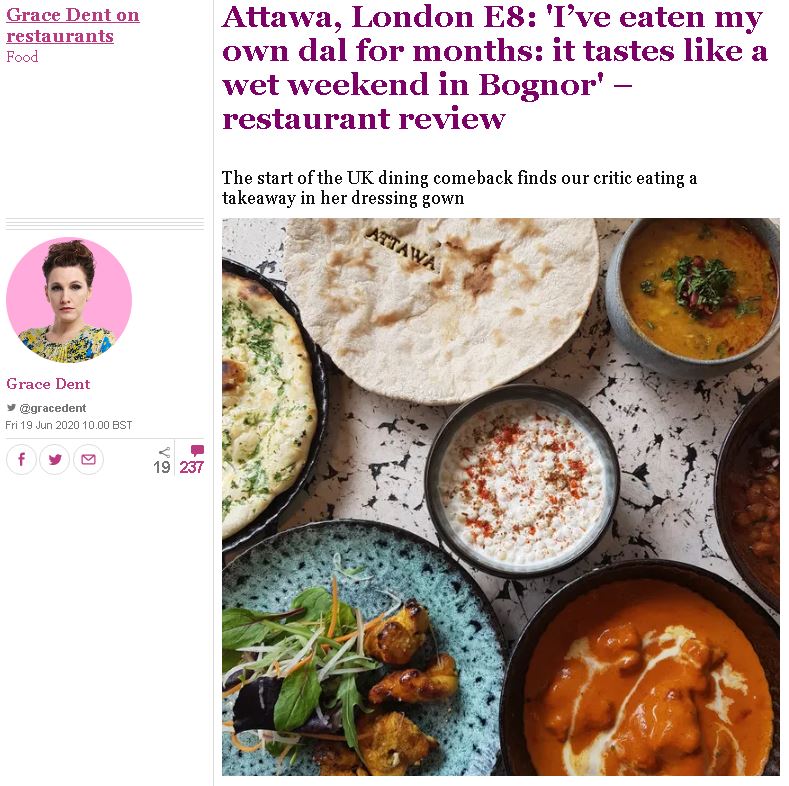 The Guardian
"I miss proper restaurants desperately. I even miss the war of attrition that is a 15-course tasting menu starring yeast fragments, wood ants and pickled bracken, served with tales of the chef's childhood and capped off by a digestif of Fernet-Branca, which tastes of bin juice."
Things must be bad if Grace Dent is missing tasting menus. Luckily, this week, she got to venture out of her house and collect a takeaway from a brave new restaurant, Attawa in Dalston.
" Presently, the UK dining scene is delicate. There are haves, there are have-nots. In the far north, where my family are, there's no delivery restaurant food or takeaway; snaring an Asda online slot is still a nocturnal game of wits." But Central London is seemingly awash with delivery options, from the basic to the "build-your-own-signature-dish hubs… for about £100 and provided you live within five miles of Covent Garden".
Attawa, from MasterChef: The Professionals 2019 semi-finalist Arbinder Dugal, "is the next stage of the comeback". He was about to open his first restaurant "as life erupted" and last week launched a delivery service. The restaurant is "named after the owners' home village in north India", with a menu of Punjabi classics and "handed-down recipes". Grace perused the menu and " felt unable to resist. I've eaten my own dal for months: it tastes like a wet weekend in Bognor. How do they do it at Attawa? "
Palak papdi chaat was "a dreamlike arrangement of potato, chickpeas and crisp, frittered baby spinach" and the "fragrant, creamy" black dal makani was "the stuff of dreams; possibly London's greatest, most pacifying use of lentils".
"When Dugal sketched out the Amritsar khatta ladoo – fluffy, fried lentil dumplings on sweet relish and carrot – he possibly did not envisage them being eaten, 14 hours later, by a northern woman in her dressing gown reaching into the fridge."
"Attawa was worth leaving the house for. These warriors at the forefront of the UK dining comeback – use them or lose them. None of this is perfect, but we don't have time to wait for that."
---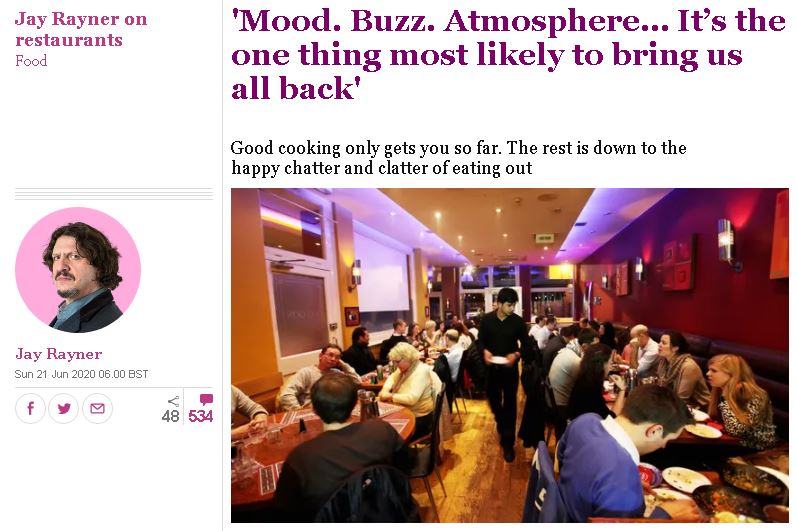 The Observer
"Mood. Buzz. Atmosphere. Call it what you wish. It's the one thing most likely to bring us back to a restaurant, and it's the thing we've missed most in lockdown."
He's mused about service, about al fresco dining, his favourite meals. This week, Jay Rayner devoted his word count to "that most intangible of restaurant assets: the buzz".
He recalled Joe Allen in the 80s, with the "babble of happy voices deep into their theatrical anecdotage, overlaid by the clink of glass on glass, the rattle of the cocktail shaker, and all of it underscored by Jimmy Hardwick's piano" .
Russell Norman, once maître d at Joe Allen and now co-owner of Polpo group of "Mediterranean-inspired small-plate restaurants", worries that "atmosphere will disappear" with the 2-metre social distancing rule currently in place. It's such an elusive balance of the right ingredients.
"All parts of the business contribute to it: a well-managed bar lubricating the chatter, the prospect of getting your hands (and mouth) on certain dishes, the perfectly calculated emotional geometry of good service. The buzz is all these things but, just as the ingredients of a good stew produce another flavour entirely, it is also so very much itself."
The "managed chaos" of Tayyabs in east London provides its own atmosphere – the "clatter and elbows and being barked at by waiters" – as does the "no-nonsense bustle of the sit-down fish and chip cafés of Whitby" (he loves Magpie, but "") and the "downstairs dining room at Richard Corrigan's Bentley's off London's Piccadilly".
"At some point in the next few weeks and months restaurants like Joe Allen, which is still going strong after 40 years, will unlock their doors. The tables will be laid and the stoves relit. These are all functional things. They are literally doable. Reigniting the buzz in the age of social distancing may prove an awful lot harder. "
---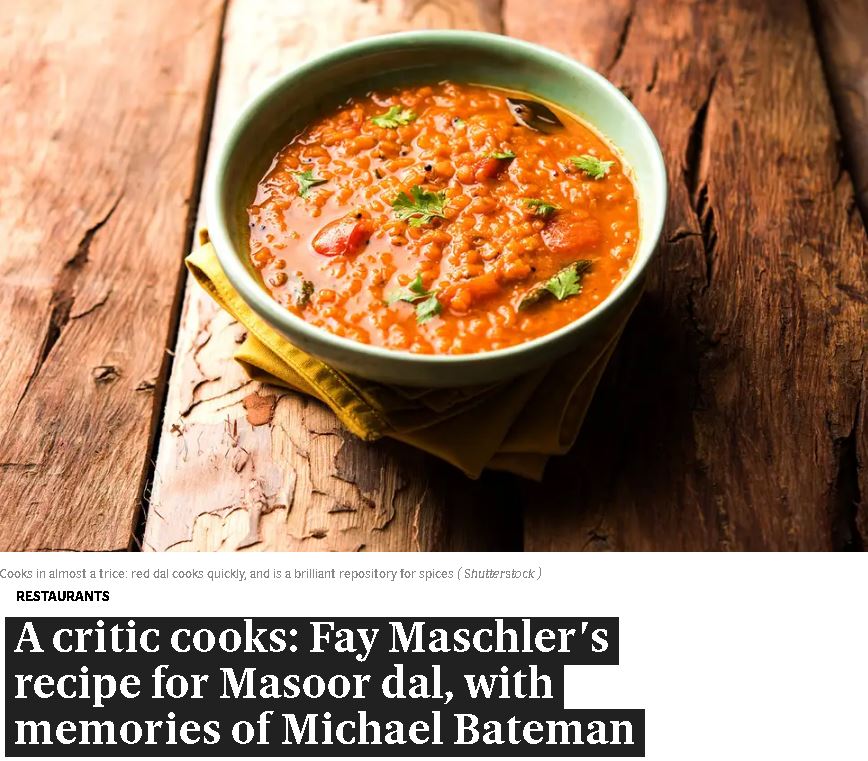 The Evening Standard
Lots of green shoots in The Standard's restaurant section this week. The list of London and UK restaurants with confirmed opening dates will no doubt have been bookmarked, re-read and printed out many times by eager fans.
Slightly less popular, maybe, is the news that the Urban Pubs and Bar company, which has 20 sites across London, will be trialling heat-sensing "fever cameras" when they re-open next month.
Fay Maschler reminisced about the late Michael Bateman, a "gladsome individual" and campaigning food journalist in the 1960s ("Bateman's Campaign for Real Bread sent the sales of wholemeal – championed as beneficial to health in a world of sliced white – rocketing"), and provided a recipe for a relatively quick masoor dal.
---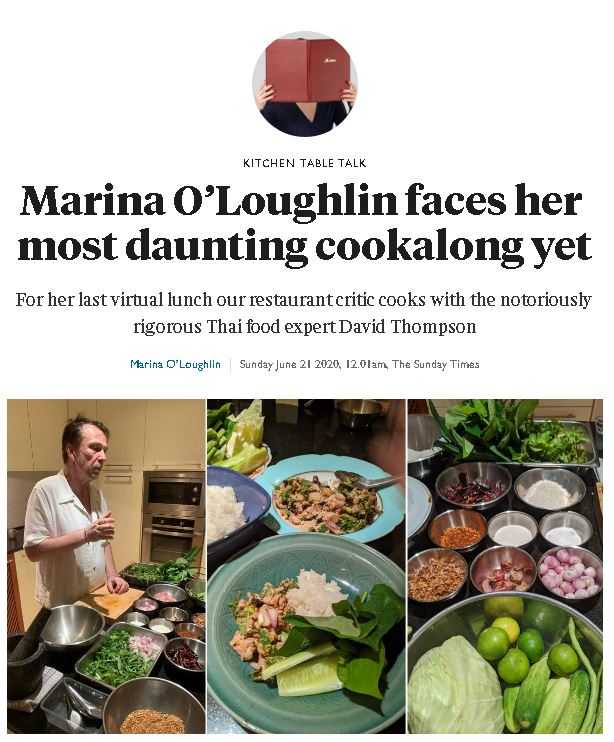 The Sunday Times
This week Marina O'Loughlin was hectored by Daivd Thompson, the "notoriously rigorous" Thai food expert and chef who arrived in Thailand in 1986 on a "Withnailsh holiday" and never left. His book, Thai Food, which was inspired by meeting "an elderly woman rich in the lore of Thai royal palace cuisine", is "widely regarded as the definitive book on Thai cookery".
Together they cooked duck larp with roasted rice ("one of my favourite dishes in the whole Thai/Laotian canon, actually, scratch that, one of my favourite dishes full stop: larp (aka laab or larb), a hectically spiced minced-meat-based salad"), and talked about his restaurants past, present and future (including the now-closed Nahm in London).
Lockdown has rekindled his enthusiasm for restaurants and business projects including a "website portal for the country's best small producers" with a profit-share "so they'll end up making more than they would at the local market".
David implored her to 'use her senses", swore at her and got "quite tetchy". He later admitted he's banned from doing cookery classes, so Marina did well to last the course. The finished dish was "simply, gorgeous: explosive flavours underpinned with subtle touches", so maybe it was worth all the shouting.
---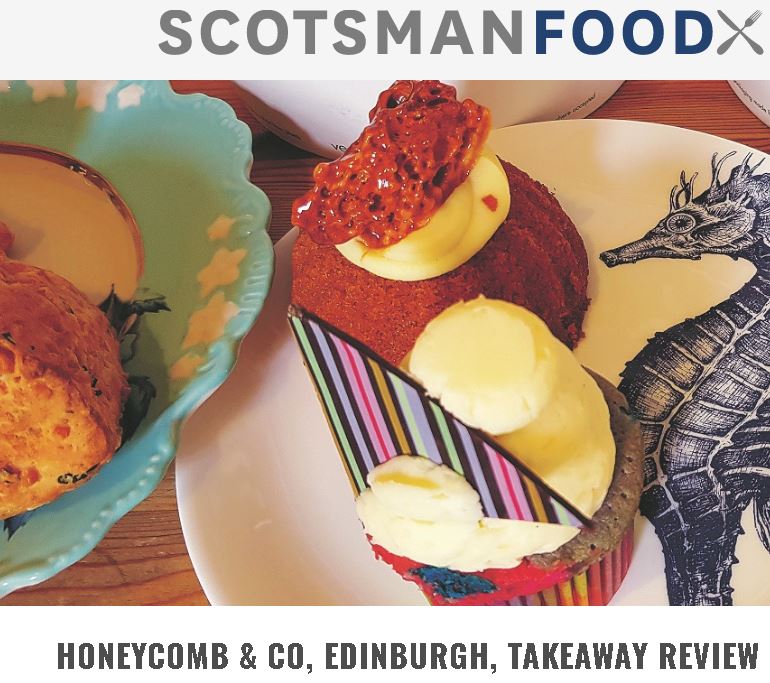 The Scotsman
"Face down in syrup isn't the worst way to go." Misguided advice for reviving bees, or a restaurant review? We're not sure.
Gaby Soutar's takeaway this week was from Honeycomb & Co, the Bruntsfield "all-day modern eatery" that's switched to delivery and takeaway. They pre-ordered dinner and then added a few slices of cake from the 'to-go' section behind plexiglass.
A few items needed heating up, but the chunky tiger prawns didn't get the chance; the "fishy grenades… hot with chipotle chilli and confit garlic" were eaten straight out of the container.
Scottish salmon with "harissa, rose and sultana tapenade" gave a "very mild heat, but also a floral sweetness" while lamb koftas were "meaty comets [that] spread their heated tails down my oesophagus". Summery salads. "asparagus, pea and feta tartlets" and giant "Isle of Mull cheddar, mustard and herb scones" completed the picture.
Desserts included honey and lemon bundt "topped by a thick clot of white chocolate ganache and a "honeycomb shard" like a hunk of moon rock", and espresso and walnut cake "pimped up with a rich mascarpone icing". (80%)
---
And also…
The Corens' joint column in The Times this week saw them miserable (Giles) and delighted (Esther) that for most holidaying purposes, "abroad is shut" this year. Esther never really enjoyed flying  and suffers "Carbon Emissions Guilt" anyway, so she's fine with a trip to Norfolk. Giles "just can't face the uncertainty of booking a thing that might not happen due to forces beyond my control".
---
"It's the togetherness we've missed." Similar to Jay in The Guardian, Clare Finney of The Independent examined what the future of eating out may mean for diners and restaurateurs. "Communal eating is fundamental to human nature and maintaining relationships through it has been millennia in the making."
---
The Telegraph provided a selection of Scandinavian recipes for Midsommar – the summer solstice that's "one of the most celebrated holidays in parts of Scandinavia".
---
The Manchester Evening News looked at what dining out will look like when the city's restaurants and pubs are allowed to re-open; from "decontamination chambers, mannequins at tables and waiters wearing face shields" to "greenhouse style dining pods" and innovative "decontamination chambers".
---
Recent News from Harden's