Here is our weekly round-up of what the national and local restaurant critics are writing about, for the week ending 21 February 2021.
England remains in national lockdown, with restaurants and pubs closed (many are operating a takeaway or delivery service): https://www.gov.uk/find-coronavirus-local-restrictions.
All of Wales is at alert level 4, with similar restrictions to full lockdown: https://gov.wales/coronavirus-regulations-guidance#section-48600
Mainland Scotland is also in a national lockdown with guidance to 'stay at home', with schools returning from today: https://www.gov.scot/publications/coronavirus-covid-19-protection-levels/
Northern Ireland is under strict restrictions until 1 April: https://www.nidirect.gov.uk/articles/coronavirus-covid-19-regulations-guidance-what-restrictions-mean-you
Please continue to order takeaways, cook-at-home kits, vouchers, merchandise and deliveries from your favourite restaurants if you can (we include links to those mentioned); the restaurant industry and everyone involved in it need our continued support.
*****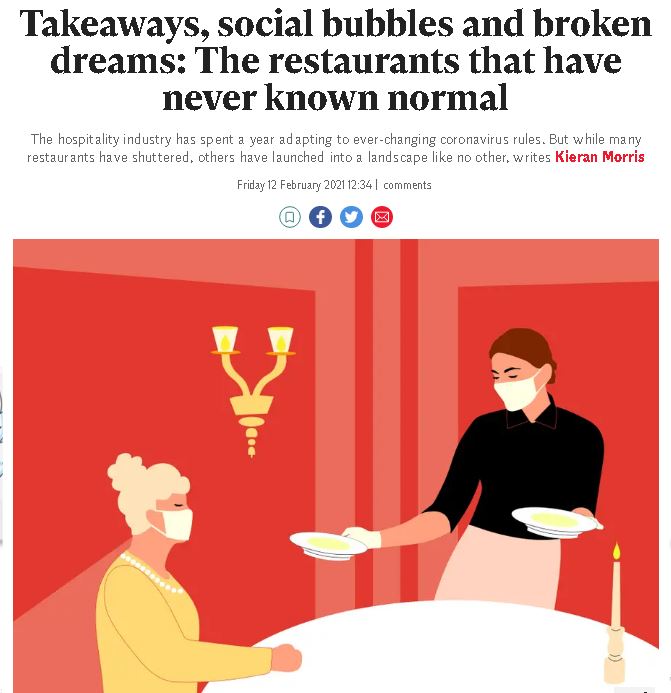 The Independent
"2020 was a year of constant, relentless adaptation."
A true sign of our times is Keiran Morris's article on restaurants launched since the start of the Covid-19 pandemic.
He interviewed ex-Noma chef Santiago Lastro, who spent three years planning to open Kol in Marylebone, only to be delayed by lockdown. Kol finally opened for six weeks in October 2020, and just as the new cocktail bar opened in the basement, London went into Tier 4 restrictions. "At any other time, they would be reflecting on a year of riotous successes."
"Lastra is just one of many in the hospitality industry whose businesses have had to contend with the immediate and dramatic sink-or-swim reaction to the pandemic… Covid seemed almost uniquely suited to destabilise what was already a fragile industry."
Supa-Ya Ramen founder Luke Findlay was also interviewed on his struggle to keep open, which including taking "bubble bookings" for the whole restaurant in July 2020. Harriet Mansell of Lyme Regis newcomer Robin Wylde "remains excited about the year ahead, hardened by the resilience she has had to demonstrate in getting Robin Wylde open" and says, "It's been financial and emotional battery – for everyone, not just myself – but underneath all that, there has been so much kindness and support, and that has kept me optimistic".
*****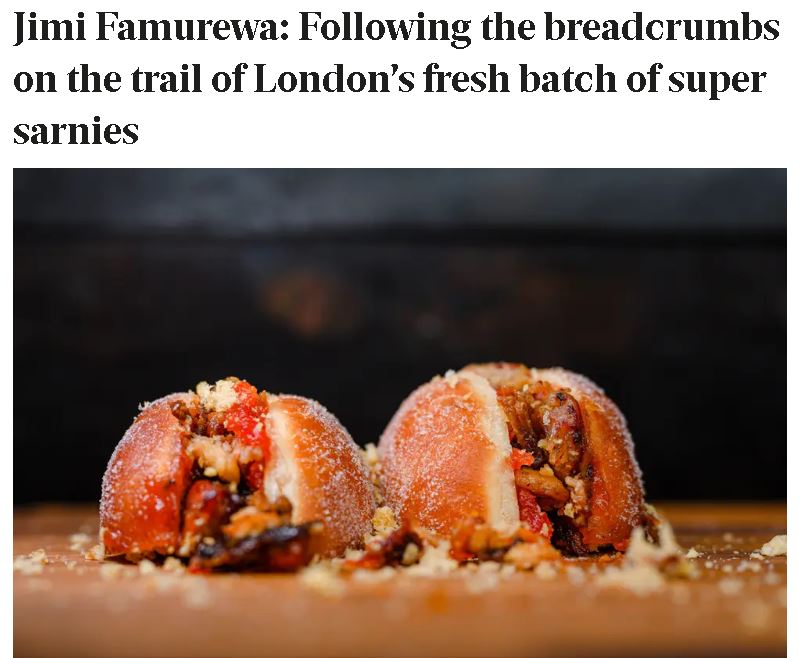 The Evening Standard
"This past year has felt, perhaps more than anything else, like the age of the perpetual queue."
Chief restaurant critic Jimi Famurewa has joined his fair share of these queues, for coffee shops, testing centres and supermarkets. Now, "one of the main things prompting patient waiting, very long queues and unbridled excitement is what we might term the dawn of the limited run, takeaway sandwich".
Hackney's Ombra "have started dishing up porchetta-crammed brutes that sell out in 90 minutes", visitors to Cafe Deco are "triumphantly unwrapping buns filled with smoked hake fritters or cauliflower cheese croquettes" and even "St John's Spitalfields branch "is getting in on the act, lighting up Instagram last weekend with an ox tongue hash roll".
"Why has the age-old notion of something warm and delectable between pieces of bread struck such a powerful chord with pandemic-weary chefs and, um, 'exercise-walking' diners alike?"
Jimi's personal "exploratory sandwich hype safari" began at "cocktail-bar-turned-cafe" Three Sheets in Dalston, which offers "a rotating guest special conceived by a different acclaimed chef each week". Jimi tried the creation from Ikoyi's Jeremy Chan, a soft roll with "slow-cooked pork belly… taleggio-spiked omelette… rippingly hot fermented scotch bonnet slaw" ("like the sort of delicious abomination dreamed up by a line cook on their lunch break").
Also in Dalston, Mangal II's mackerel pide is "an exercise in almost poetic balance and restraint", and "one of the most perfect, exhilarating things you can eat right now".
These cult sandwiches are about "food businesses using Instagram… to drum up much-needed trade. Yet they are also about distilling some of the best things about restaurants — creativity, frivolity, the intangible sense of being looked after — into a portable package; a joyful distraction in stubbornly joyless times".
*****
Also in the Standard, an article from London Shell Co owner Harry Lobek on his potentially career-changing expereince of coronavirus: "losing my sense of smell and taste was absolutely terrifying and sent me into blind panic". "Sight and sound might be our body's more important senses, but smell and taste colour everything in. They add a magnificent depth to life without charging a fortune."
*****
The return of Native from Osea Island to London also features, with an interview with founders Imogen Davis and Ivan Tisdall-Downes on their new partnership with Browns to bring Native's ethical, zero-waste, seasonal and sustainable cuisine to Mayfair. The Essex original will remain open, while Native at Browns is offering dine-at-home kits until lockdown ends.
*****
Wendy's has announced that it is to relaunch in the UK, having left in 2000; the first branch will open in Reading and Oxford this year.
*****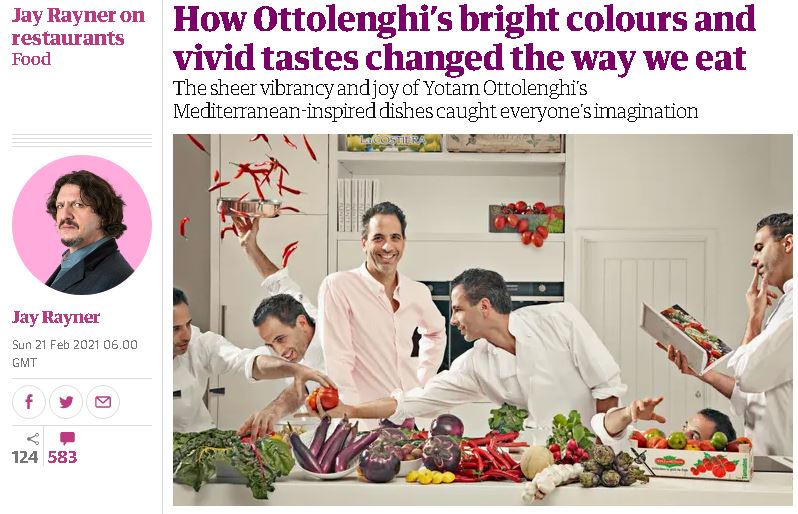 The Observer
"A call to arms, a rebel yell in support of sensuality, vivacity and appetite."
The latest in Jay Rayner's series of articles, "thumbing through his most-beloved cookery books" this week features a relative newcomer. Ottolenghi only appeared in 2008, yet it was a "publishing phenomenon; one which has so far shifted around 7m copies worldwide".
The phenomenon started as a deli in Notting Hill, followed by a sibling in Islington; the displays of "brilliant-looking salads" were a "riot of colour and promise". A column in The Guardian led to the book deal, which introduced us to "the then exotic joys of tahini, sumac and za'atar" and "has literally changed what supermarkets stock" according to Merope Mills, the then Guardian Weekend editor who snapped him up.
"It's not yet 15 years old, but to flick through its pages is to glimpse the self when young, before charring broccoli was a thing. To think, there was a time when all we did was boil it." Jay cooked the charred broccoli salad, lamb cutlets, in "a multilayered marinade of blitzed mint, coriander and parsley" and the apple and olive oil cake with maple icing (which Ottolenghi says is "still on our counter and it sells very well") Jay may have "under-whipped" the frosting, but it "disappears quickly off my counter, too".
"We have moved on, with this book as our guide. We are fluent in harissa, pomegranate molasses and labneh."
*****
The Mail on Sunday
"Blessed are the cheesemongers."
Following on from his butcher recommendations, Tom Parker Bowles in You Magazine lists his top British cheesemongers this week.
At the beginning of the first lockdown in March 2020, with dwindling sales and "huge stocks of highly perishable cheese", cheesemakers across the country "faced their greatest crisis yet". But "the likes of Neal's Yard and The Courtyard Dairy leapt into action, galvanising cheese lovers across the land with their specially created British cheese boxes. Sales flourished, cheeses leapt from storeroom to home kitchen and disaster was averted."
*****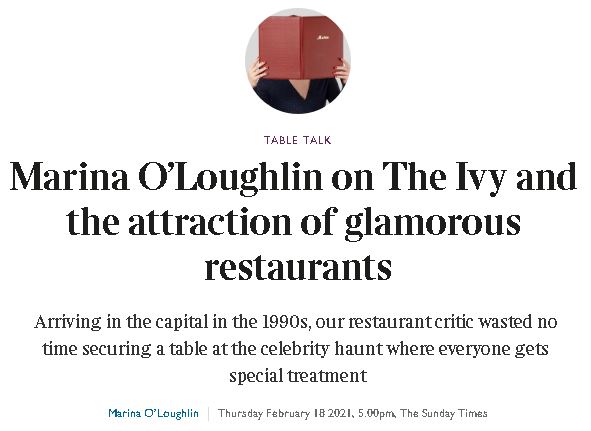 The Sunday Times
Marina O'Loughlin delivers a love letter to The Ivy of old in her column this week. "When I moved to London booking a table there was the very first thing I did", even though it was "famously impossible to get into".
"This was a time of gastrodomes, of vast clattery canteens rammed with the modishly screechy eating food inexplicably arranged into towers." The Ivy "pffted in the face of these fashions" and served its "familiar and happy-making" food ("Then-chef Mark Hix knew how to play his audience like a Stradivarius.")
"At the epicentre of theatreland, the Ivy was where I woke up to restaurants as places of drama and intrigue, providing the perfect stage set with its stained-glass mullioned windows. No two performances were ever the same."
Marina has a few choice things to say about The Ivy's recent history, since it "was sold as part of a package" in 2005 and "there are now Ivys clambering like bindweed the length of the country" and now "no amount of maximalist design can disguise the fact that it's now a brand, less hedonistic and more basic, its cachet expensively stripped". the difference, she rightly points out, is that the original owners, Messrs Corbin & King ("They must always be Messrs, this pair, as bonhomous and beautifully tailored as any Edwardian gentleman.") "are restaurateurs before businessmen, more interested in the diner's whole experience than the bottom line" whereas new owner Richard Caring is "the opposite".
"The stardust has moved elsewhere. West Street is no longer permanently pocked by paparazzi. That past Ivy drenched even this nobody-from-the-provinces with a spangly coating of restaurant magic. I've been searching for it ever since."
*****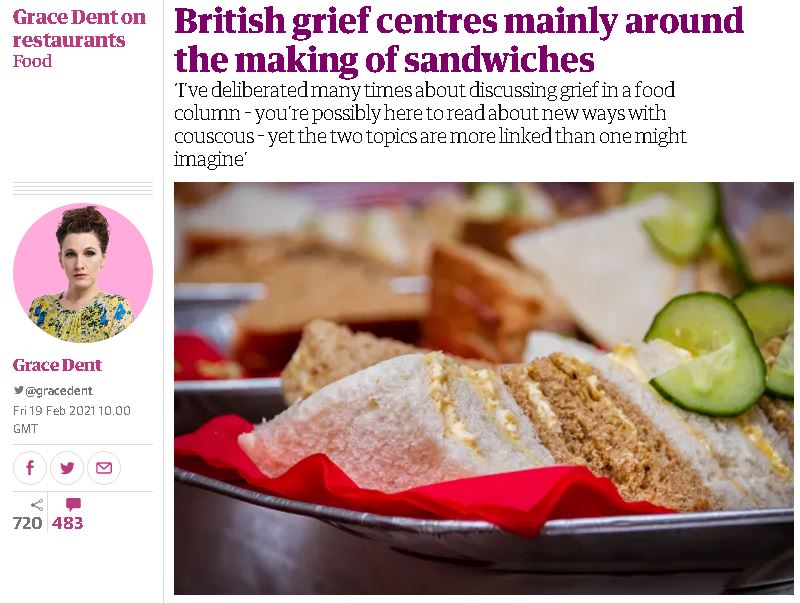 The Guardian
"There is no known fixed point to stumble towards, featuring people and faces and hugs and stories and scones on three-tier cake stands."
Our condolences to Grace Dent, who has been away caring for her dying mother in recent weeks. Her return column this week understandably looks at the food of wakes and funerals of her past and how different they were to the small, socially distanced funeral permitted for her parent. The lack of the "good send-off" of the past, in "a chintzy hotel or the pub's back room" with "tinned salmon on Mothers Pride, sliced pork pie and jam tarts" has left her with " a strange, awry sensation".
"We bury our dead, sad in spirit and very much empty of stomach. Full of love, but not of egg mayo and cress sandwiches, cut into neat triangles and piled on a stainless-steel platter. It's an odd sort of grieving, is this."
*****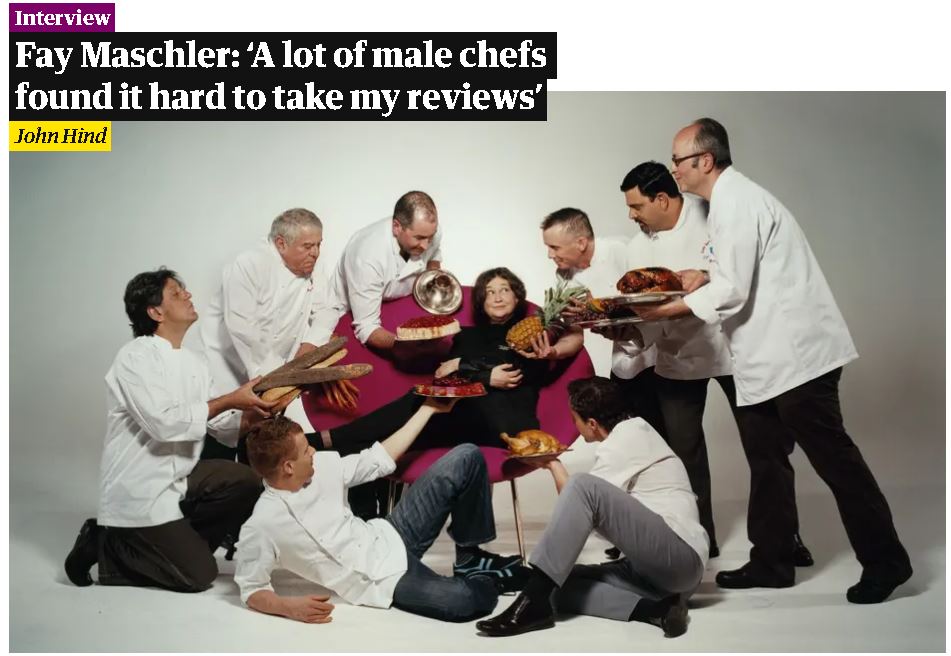 Observer Food Monthly
"A lot of male chefs early on found it hard to take my reviews; they couldn't bear it, really. I had unpleasant letters and death threats."
Former Evening Standard critic Fay Maschler was interviewed on her life in food this month. She discussed her anonymity, raising her children as restaurant-goers, watching London's restaurants scene grow and living with her sister during lockdown. She managed to drop in a mention of her sister's restaurant, of course.
*****
And also…
In the Financial Times, Tim Hayward unwraps "The magic of the meal box"; "Nobody wants to say it but the best hope for restaurants' survival is getting customers to pay more."
*****
Manchester Evening News reports on a new Chinese and Vietnamese underground market hall that will open after lockdown; Hello Oriental is set over three floors and has been created by local Chinese restaurant Ocean Treasure.
*****
Birmingham Live lists the 19 new restaurants to try after lockdown.
*****